Aucun produit dans le panier.
Caractéristiques
Caractéristiques techniques
Récompenses
Galerie
Support
ROG Strix GeForce RTX™ 3050 OC Edition 8GB
ROG Strix GeForce RTX™ 3050 OC Edition 8Go de GDDR6, design amélioré aux performances thermiques exceptionnelles.
Multiprocesseurs streaming NVIDIA Ampere : Le tout nouveau Ampere SM offre un débit FP32 multiplié par deux et une meilleure efficacité énergétique.

Cœurs RT de 2ème génération : Bénéficiez d'un débit deux fois supérieur à celui des cœurs RT de première génération, ainsi que de la fonction RT et du shading simultanés pour un tout nouveau niveau de performance en matière de ray tracing.

Cœurs Tensor de 3ème génération : Obtenez un débit jusqu'à 2 fois supérieur grâce à la sparsité structurelle et aux algorithmes d'IA avancés tels que DLSS. Ces cœurs offrent une augmentation massive des performances de jeu et de toutes nouvelles capacités d'IA.

Ventilateurs axiaux optimisés avec ventilateur central à rotation inversée pour générer moins de turbulences.

Le slot de 2,7 pouces accroît la surface de refroidissement pour pouvoir exploiter pleinement le potentiel des trois ventilateurs axiaux.

Le Super Alloy Power II comprend des bobines en alliage spécial, des condensateurs en polymère ultra-résistant et plusieurs phases d'alimentation à haut voltage.

GPU Tweak II offre un réglage intuitif des performances, des contrôles thermiques et une surveillance du système.
Revues vidéo
We ran Furmark to heat up the card and found it maxed out at 55 degrees Celsius while staying really quiet at only 32.3 dBa so there is still some headroom for overclocking.
ASUS ROG STRIX RTX 3050 OC レビュー! 12100Fでゲーム実プレイ検証 !見た目も静音性も最強グラボ!【自作PC】
Review ROG Strix RTX 3050 OC Edition
You can play all latest games in 1080P without problem. Combined with the special design and successful cooling of the ASUS, we have a very successful model here.
GEFORCE RTX 3050: THE "BUYABLE" 30 SERIES !
Best mid-range PC Setup with new Nvidia card
RTX 3050 Best economic graphics card ever!
RTX 3050 Best economic graphics card ever!
The cheapest graphics card with RTX features | RTX 3050 Review!
Video review from the channel TheTanelChannel. Rating 9/10
Video review from the channel HDTanel. Rating 10/10
Video review from the channel Konsumer
Video review from the channel UldonsTV
On the other hand, ASUS has done an overkill brutality with this STRIX OC version – the card is silent above all, incredibly cool even at the highest load and boosts solidly more than the declared figures, some 130MHz plus.
The ROG STRIX OC version gets the absolute maximum quality that ASUS offers you. Whether it's cooling, the VRM components themselves, we can even talk about the look because this card looks expensive.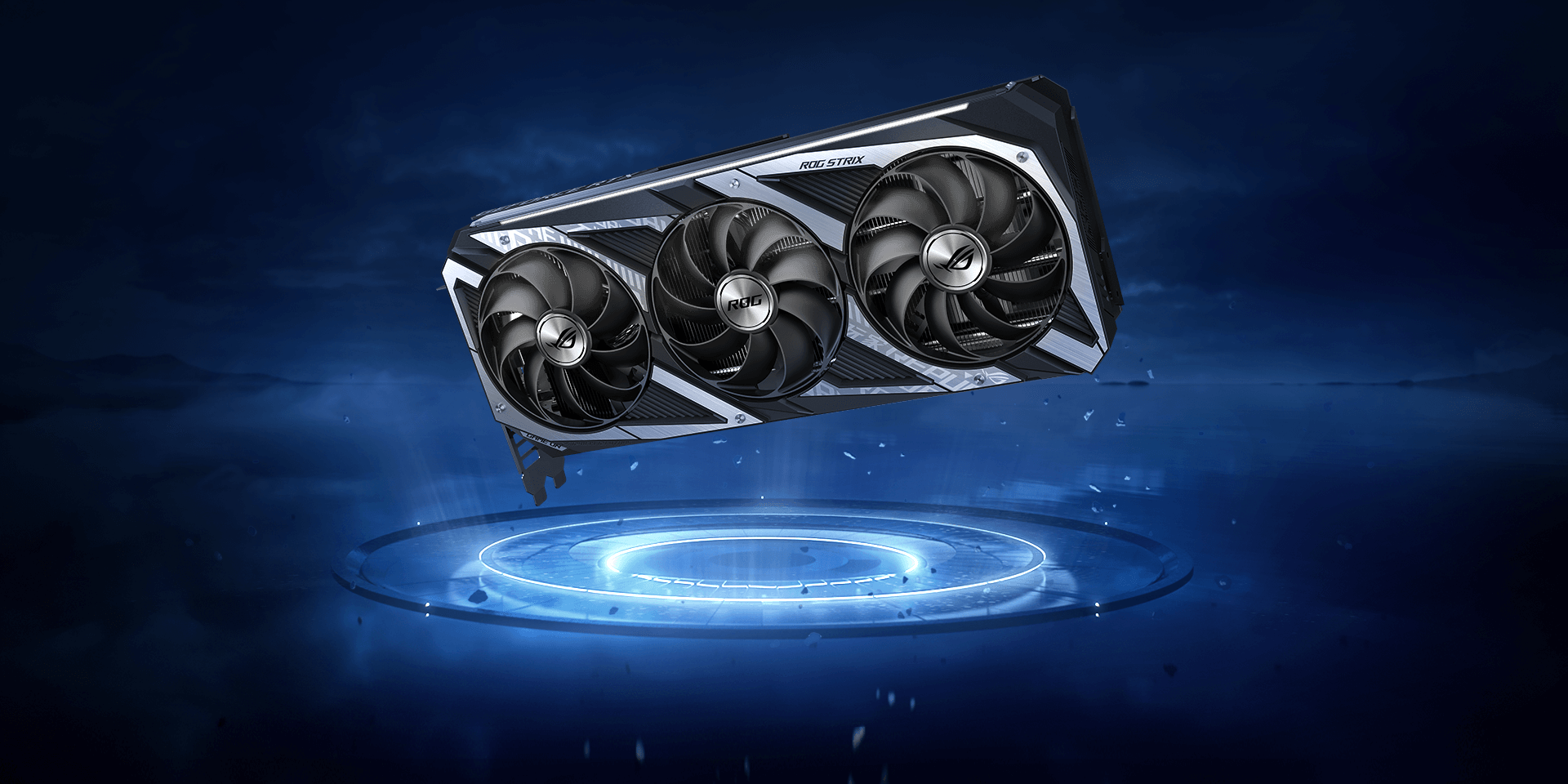 ROG STRIX
GeForce RTX™ 3050
ROG STRIX
GeForce RTX™ 3050
Prenez votre envol
La ROG Strix GeForce RTX™️ 3050 a été conçue de A à Z pour repousser les limites de la performance. Au cœur de son design réactualisé composé d'un revêtement métallique, se trouvent des ventilateurs axiaux dont le schéma de rotation a été modifié. Un radiateur plus gros se trouve sous les pales, paré pour les charges thermiques les plus exigeantes. Le circuit imprimé réserve quelques surprises, tandis que la plaque arrière n'a pas été oubliée et a reçu plusieurs améliorations. Pour les joueurs souhaitant exploiter au mieux l'architecture NVIDIA Ampere, les nouvelles ROG Strix sont les cartes graphiques vers lesquelles se tourner !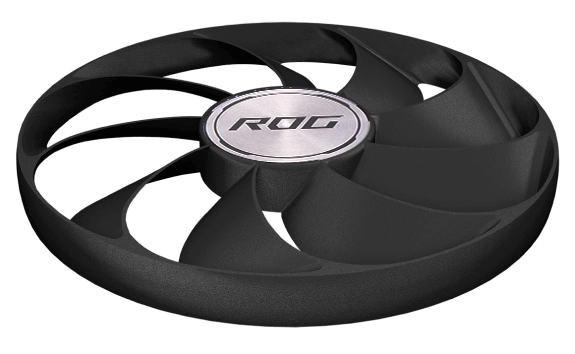 Ventilateurs
VENTILATEURS AXIAUX
Entièrement repensés pour la nouvelle génération de cartes graphiques ROG Strix, ces ventilateurs présentent un moyeu plus petit, des pales plus grandes et un anneau améliorant la pression descendante de l'air.
Ventilateurs
Nouvelles directions
Les deux ventilateurs latéraux tournent dans le sens inverse des aiguilles d'une montre afin de réduire les turbulences. Pour éliminer les bruits indésirables, le mode Stop met tous les ventilateurs à l'arrêt lorsque les températures du GPU sont en deçà des 42°C et que le système consomme peu d'énergie.
Radiateur
MaxContact
Nous avons accordé une attention spéciale à la façon dont la chaleur est acheminée vers le ventirad grâce au nouveau design des ventilateurs. Nous utilisons pour cela un processus de fabrication qui polit la surface du dissipateur de chaleur et améliore le lissage au niveau microscopique. Cette surface extraplate est en contact direct avec le dissipateur afin d'améliorer les transferts thermiques.
*à titre d'illustration uniquement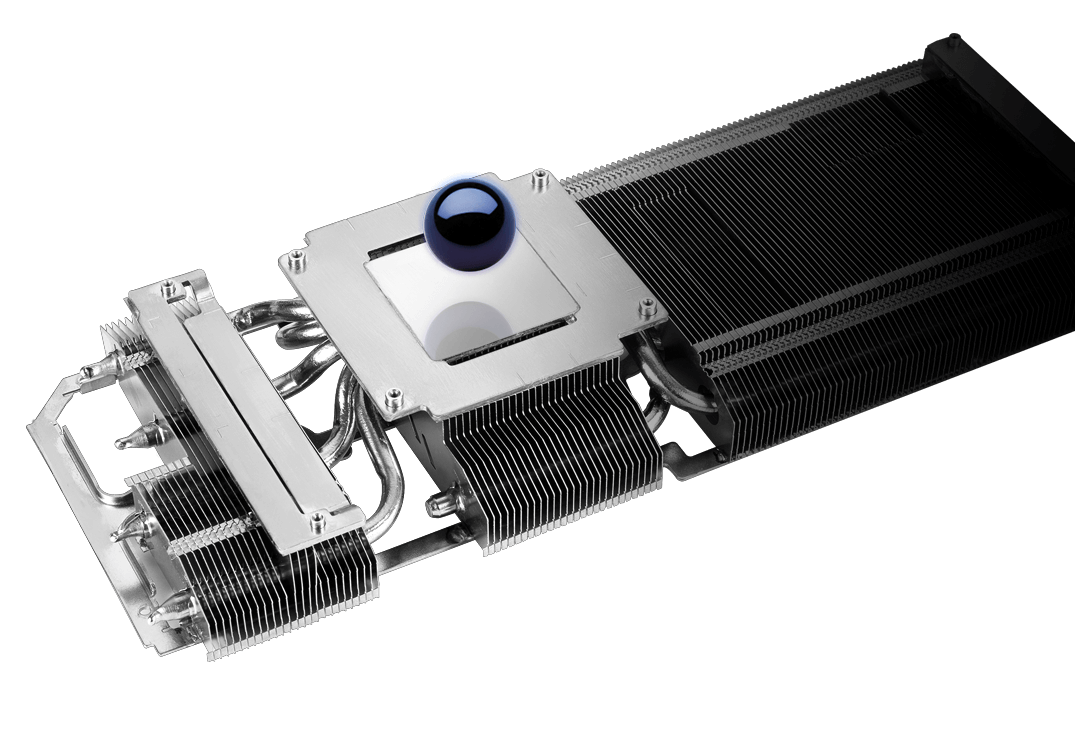 Hauteur augmentée
Radiateur
SLOT DE 2,7''
Le dissipateur thermique envoie la chaleur dans des caloducs qui la transportent dans des ailettes sur une surface de 2,7 pouces.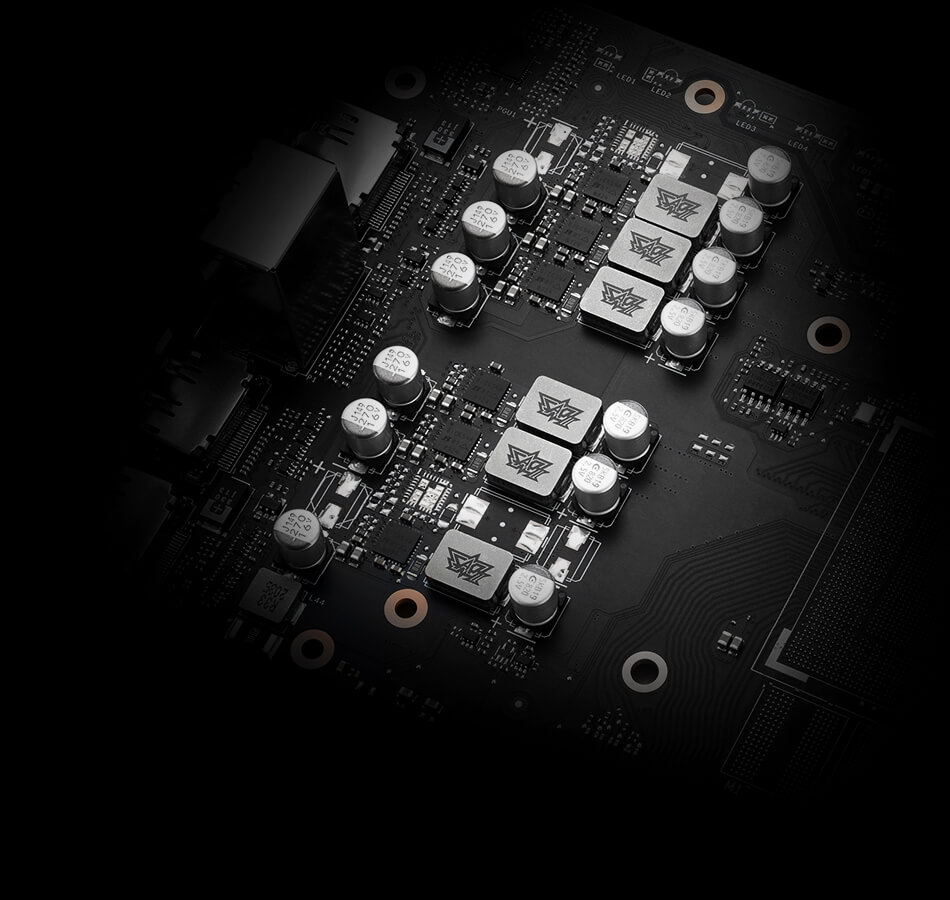 Circuit imprimé
Composants premium
Nous avons sélectionné des condensateurs, bobines et MOSFET de grande qualité pour fournir des centaines de watts en une milliseconde. Les composants Super Alloy Power II sont soudés au circuit imprimé à l'aide de nos processus de fabrication automatisés sophistiqués Auto-Extreme. Les joints lisses sur l'arrière du circuit imprimé et l'absence d'erreurs humaines permettent de garantir que chaque carte graphique respecte nos spécifications.
*À titre d'illustration uniquement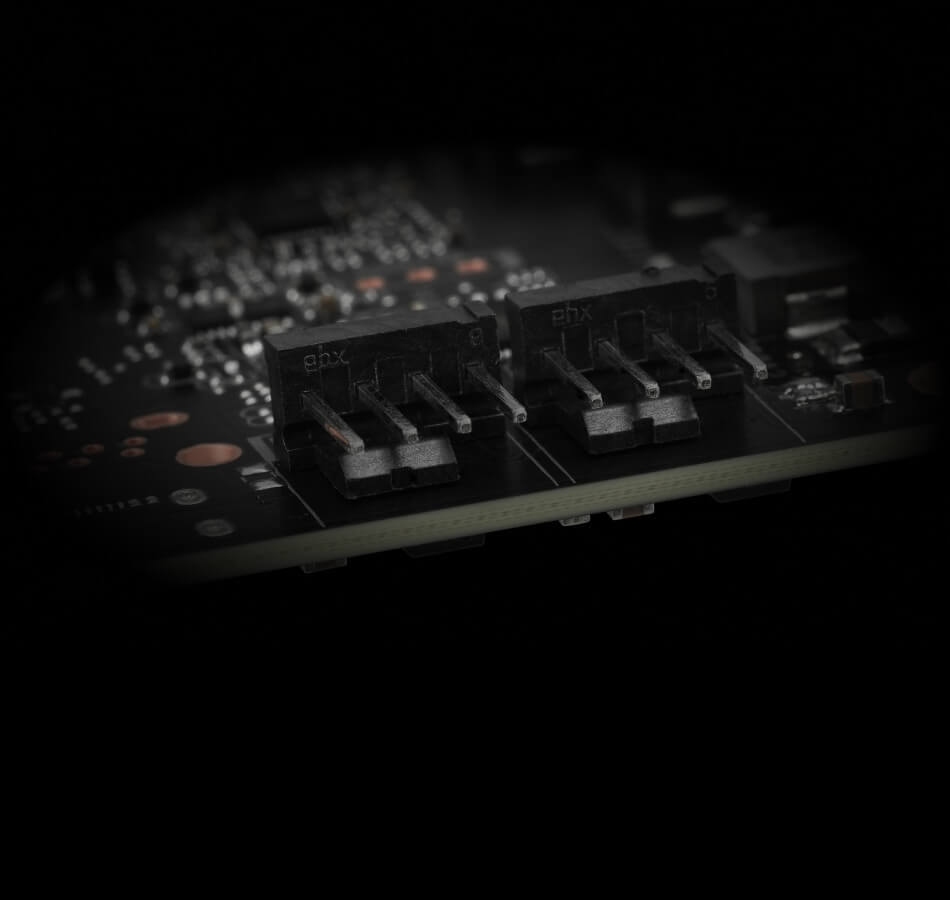 Circuit imprimé
FanConnect II
L'arrière de la carte graphique ROG Strix possède deux connecteurs PWM FanConnect, pour une flexibilité encore plus poussée. Les ventilateurs du châssis peuvent être directement connectés au processeur graphique et adaptés selon une courbe basée sur la température du processeur ou du processeur graphique, pour une meilleure circulation de l'air lors des tâches en 3D les plus exigeantes.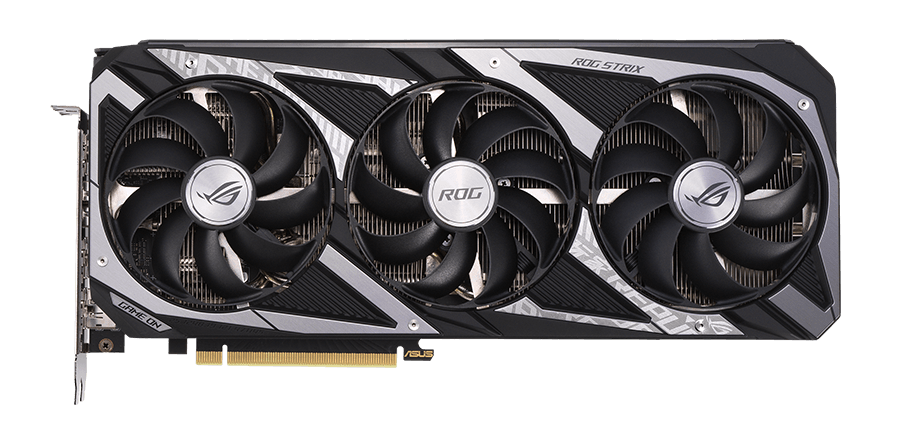 Design
Protection renouvelée
En complément des modifications internes, la ROG Strix possède une nouvelle structure métallique qui reflète l'esthétique des cartes mères ROG et ROG Strix. Les notes texturées dans les tons gris se mêlent facilement au design subtil de votre PC, mais peuvent aussi révéler des détails saisissants lorsque la carte est installée à la verticale et éclairée par les LED du châssis.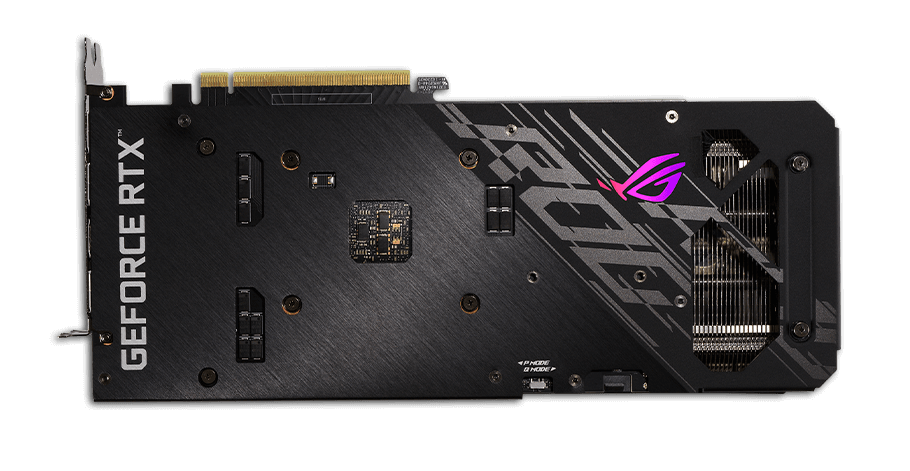 Design
Refroidissement par l'arrière de la carte
Retournez la carte et vous verrez encore une série d'optimisations. Une large ouverture sur la plaque arrière et un circuit imprimé plus court permettent à l'air chaud d'être envoyé vers les évents d'évacuation, au lieu d'être recyclé par le système de refroidissement du processeur graphique. Le support des E/S est en acier inoxydable pour protéger les ports et assurer un montage plus sécurisé. Le switch Dual BIOS placé astucieusement permet de choisir rapidement entre les modes « performances » et « silence », pour personnaliser les paramètres de la carte sans passer par un logiciel. Pour couronner le tout, nos designers ont ajouté un logo ROG avec rétroéclairage RGB adressable.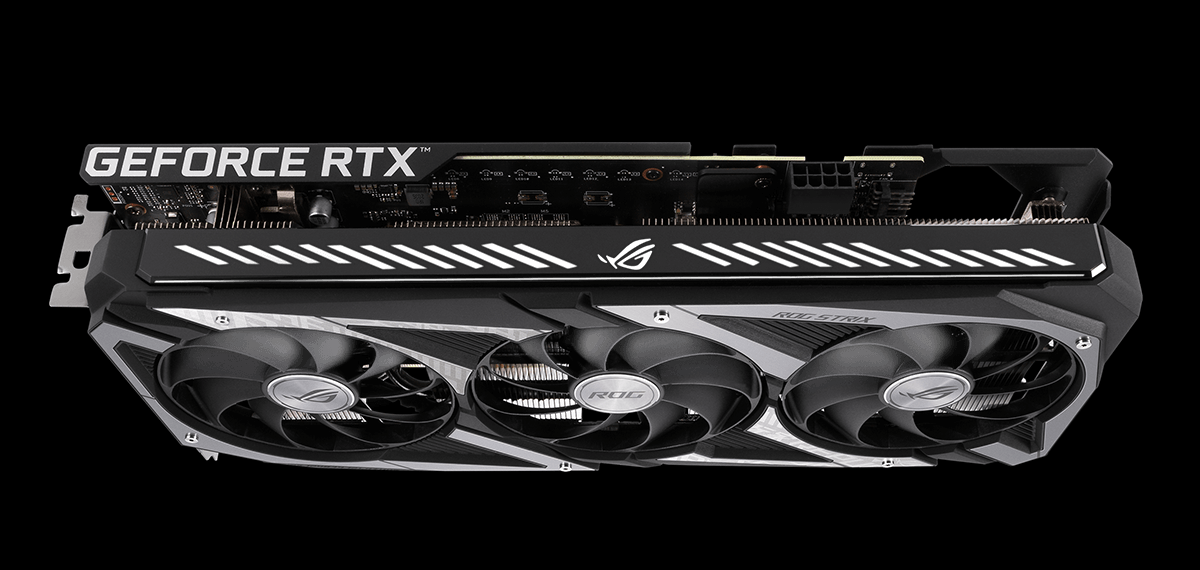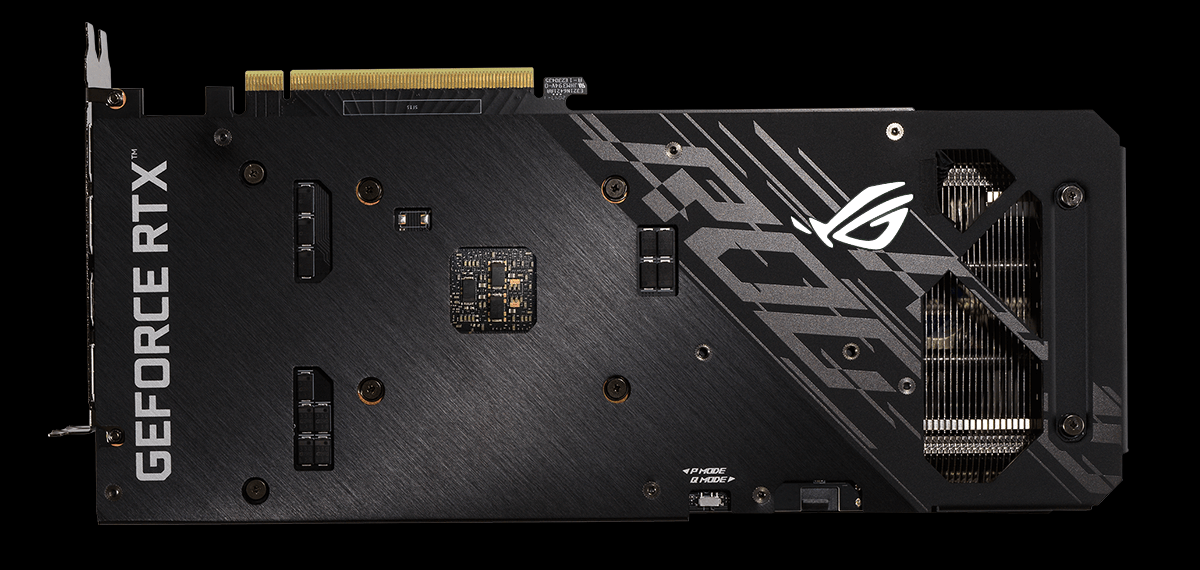 Design
Une partie avant plus fonctionnelle
Personnalisez un nouvel élément RGB adressable via Armoury Crate pour lui donner un look qui se fond avec les autres composants ROG. Pour remplir les exigences en matière de puissance de la GeForce RTX 3050, un connecteur d'alimentation à 8 broches est inclus, ainsi qu'un circuit intégré qui contrôle la tension du rail. Celui-ci est suffisamment rapide pour détecter les transitoires qui entraînent une chute de tension du rail. Lorsque cela arrive, un voyant lumineux rouge s'allume pour indiquer la présence d'un problème au niveau de l'alimentation.
Sélection de la couleur
En fonction de
la température GPU
Température minimale : ℃

Température maximale : ℃
Sélection
du mode
Statique

Pulsation

Stroboscopique

Arc-en-ciel

Cycle de couleurs

Nuit étoilée

Intuitif

Pénombre

Couleurs adaptives

La couleur varie sur les zones sélectionnées préalablement à l'écran

Musical

Bat en rythme avec votre musique
logiciels
GPU Tweak II
L'utilitaire ASUS GPU Tweak II fait monter d'un cran le niveau de personnalisation des performances de votre carte graphique. Il vous aide à ajuster les principaux paramètres de votre carte tels que la fréquence d'horloge des cœurs du GPU, la fréquence mémoire et les réglages de tension. En outre, vous pouvez tout contrôler en temps réel à l'aide d'une interface personnalisable affichée à l'écran. Des contrôles avancés pour ventilateurs sont inclus tout comme de nombreuses autres fonctionnalités innovantes afin de vous aider à exploiter votre carte graphique au maximum de ses capacités.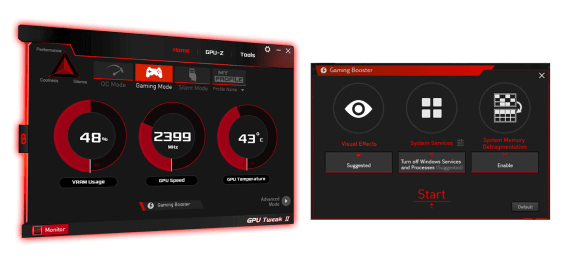 QuantumCloud est un service simple et sécurisé qui vous permet de gagner de l'argent sans effort en partageant la puissance de calcul de votre carte graphique. Les gains sont accessibles via votre compte PayPal ou WeChat, tandis que QuantumCloud prend également en charge plusieurs méthodes d'échange, dont Steam. En outre, QuantumCloud ne collecte aucune donnée personnelle, afin que votre vie privée reste protégée. N'attendez plus, un clic suffit !
En savoir plus sur Quantum Cloud

Un bloc d'alimentation pour compléter l'ensemble
Rendez-vous sur la page dédiée à la présentation de nos blocs d'alimentation pour en savoir plus sur nos innovations, dont l'utilisation de notre calculateur de puissance pour estimer la puissance dont vous aurez besoin pour alimenter votre prochain PC.
En savoir plus >
1 mois d'abonnement gratuit à Adobe Creative Cloud
Obtenez un abonnement gratuit pour l'achat des produits ASUS sélectionnés.*

Plus de 20 applications Adobe

Les applications leader du secteur dont Photoshop, Illustrator, InDesign, Spark and XD.

Adobe Fonts

Accédez à des milliers de polices directement dans vos applications Creative Cloud.

Behance

Trouvez l'inspiration parmi la plus grande communauté créative du monde.

Bibliothèques Creative Cloud

Votre équipe peut partager des ressources entre ses applications et ses appareils, afin que tout le monde soit en phase.

1 To de stockage sur le cloud par utilisateur

Le stockage supplémentaire simplifie le partage et la gestion des ressources créatives pour votre équipe.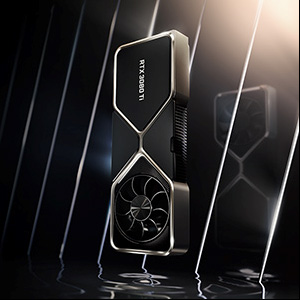 GEFORCE RTX 30 SERIES
LE GAMING À SON APOGÉE
Les GPU GeForce RTX™ 30 Series offrent des performances ultimes aux joueurs et aux créateurs. Ces GPU reposent sur Ampere, l'architecture RTX seconde génération développée par NVIDIA et récompensée à de multiples reprises. Avec leurs cœurs RT et Tensor, et les multiprocesseurs de streaming, ils offrent des graphismes ultraréalistes en Ray-Tracing ainsi que des fonctionnalités innovantes via l'Intelligence artificielle.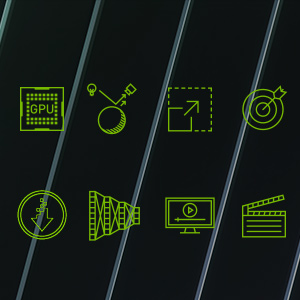 SEULEMENT SUR LES GEFORCE RTX
LES GPU LES PLUS RAPIDES DU MONDE Architecture NVIDIA Ampere
LES GRAPHISMES LES PLUS RÉALISTES ET IMMERSIFS Ray Tracing seconde génération
PERFORMANCES ACCÉLÉRÉES VIA L'IA NVIDIA DLSS
LA PLUS FAIBLE LATENCE SYSTÈME NVIDIA Reflex
LA MEILLEURE EXPÉRIENCE QUEL QUE SOIT LE JEU Pilotes adaptés aux jeux
CONÇUES POUR LE LIVE STREAMING NVIDIA Encoder
SON ET VIDÉO AMÉLIORÉS GRÂCE À L'IA Application NVIDIA Broadcast
ACCÉLÉREZ VOTRE CRÉATIVITÉ NVIDIA Studio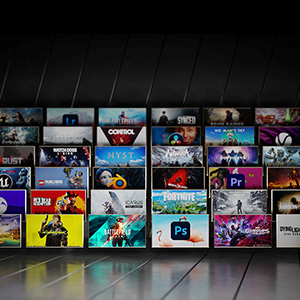 RTX. IT'S ON.
RAY-TRACING ET INTELLIGENCE ARTIFICIELLE ULTIMES
NVIDIA RTX est la plateforme la plus avancée pour les technologies de ray tracing et d'IA qui révolutionnent notre façon de jouer et de créer. Plus de 150 jeux et applications de premier plan utilisent RTX pour offrir des graphismes réalistes avec des performances incroyablement rapides ou de nouvelles fonctions d'IA d'avant-garde comme NVIDIA DLSS et NVIDIA Broadcast. RTX, la nouvelle norme.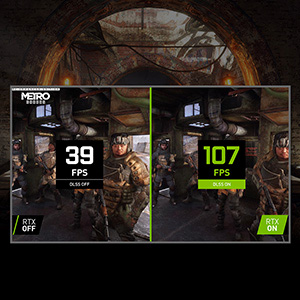 OBTENEZ DES PERFORMANCES PLUS RAPIDES GRÂCE À NVIDIA DLSS
UN MAX DE FPS. UN MAX DE QUALITÉ. LA PUISSANCE DE L'INTELLIGENCE ARTIFICIELLE
Obtenez un boost de performances grâce à NVIDIA DLSS (Deep Learning Super Sampling). Les cœurs Tensor spécialisés dans l'IA présents sur les GPU GeForce RTX donnent un coup de fouet à vos jeux sans faire de compromis sur la qualité d'image. Cela vous permet d'augmenter les paramètres et la résolution pour une expérience visuelle encore meilleure.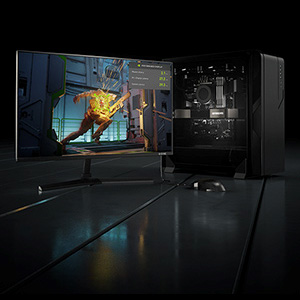 LA VICTOIRE MESURÉE EN QUELQUES MILLIÈMES DE SECONDE
NVIDIA Reflex vous aide à prendre l'ascendant sur vos adversaires. Le plus faible temps de latence. La meilleure réactivité. Tout ceci grâce aux GPU GeForce RTX de la série 30 et aux écrans NVIDIA® G-SYNC® avec Reflex. Identifiez vos cibles plus vite, réagissez plus rapidement que vos concurrents et visez plus précisément grâce à un ensemble de technologies révolutionnaires conçues pour réduire et mesurer la latence du système dans les jeux compétitifs.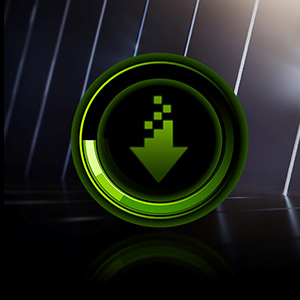 PILOTES GAME READY
LA MEILLEURE EXPÉRIENCE QUEL QUE SOIT LE JEU
Les pilotes GeForce Game Ready offrent une expérience optimale pour vos jeux préférés. Ils sont mis au point en collaboration avec les développeurs et testés de manière approfondie sur des milliers de configurations matérielles afin de garantir des performances et une fiabilité maximales. Les pilotes Game Ready vous permettent également d'optimiser les paramètres des jeux en un seul clic et de bénéficier des dernières technologies NVIDIA. C'est ce que l'on appelle Game Ready.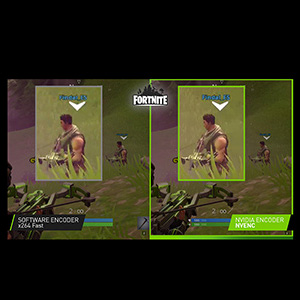 PENSÉ POUR LE LIVESTRAMING
Volez la vedette aux meilleurs streamers en diffusant vos parties avec des graphismes sublimes et un rendu fluide. Les GPU GeForce RTX disposent de capacités de streaming avancées grâce à l'encodeur NVIDIA (NVENC), conçu pour offrir des performances et une qualité d'image époustouflantes. De plus, des optimisations exclusives pour toutes vos applications de streaming préférées vous permettent de donner le meilleur à votre public, à chaque fois.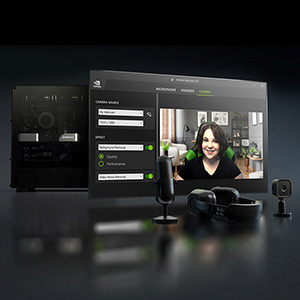 VOTRE HOME STUDIO ALIMENTÉ PAR L'IA
L'application NVIDIA Broadcast transforme n'importe quelle pièce en studio à domicile, ce qui vous permet d'améliorer vos livestreams, vos chats vocaux et vos visioconférences grâce à de puissants effets d'intelligence artificielle tels que la suppression du bruit, l'arrière-plan virtuel, etc.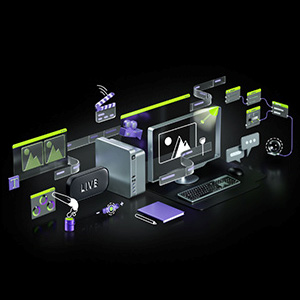 EXPRIMEZ TOUTE VOTRE CRÉATIVITÉ
Faites passer vos projets créatifs au niveau supérieur grâce aux GPU GeForce RTX série 30. Bénéficiez de l'accélération de l'IA dans les meilleures applications créatives et améliorez vos flux de travail grâce à la plateforme NVIDIA Studio, composée de pilotes dédiés et d'outils exclusifs. Qu'il s'agisse de créer des scènes 3D complexes, de monter des vidéos haute résolution ou de vous connecter et collaborer de manière fluide avec NVIDIA Omniverse™, les GPU GeForce RTX vous offrent les performances nécessaires pour créer le meilleur de vous-même.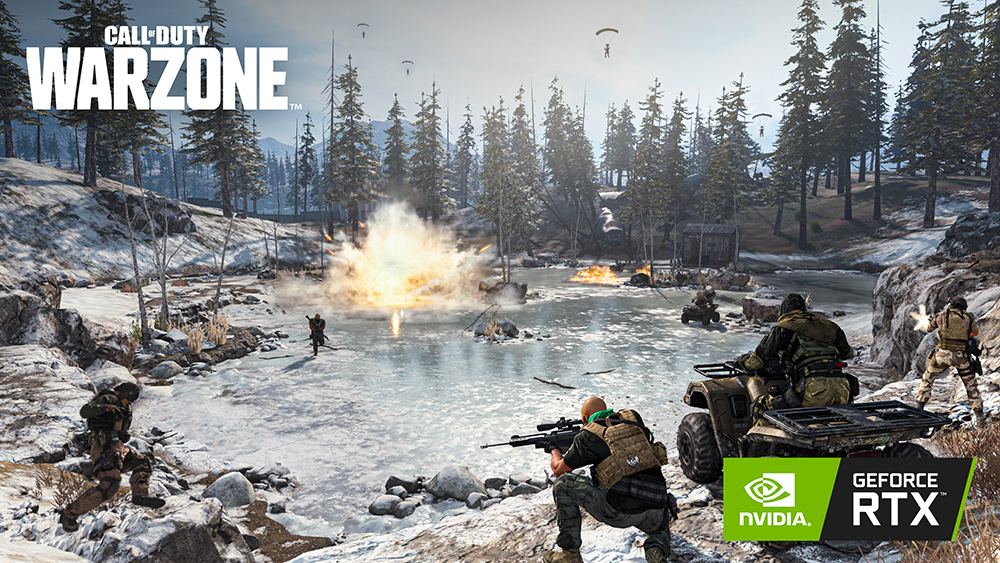 Comparaison de produits
Produit ajouté pour la comparaison. Vous pouvez ajouter jusqu'à quatre produits supplémentaires ou directement commencer à comparer les produits sélectionnés.
ASUS Footer