U heeft geen artikelen in uw winkelwagen.
Characteristics
Techn. specs
Onderscheidingen
Galerij
Waar te koop
Ondersteuning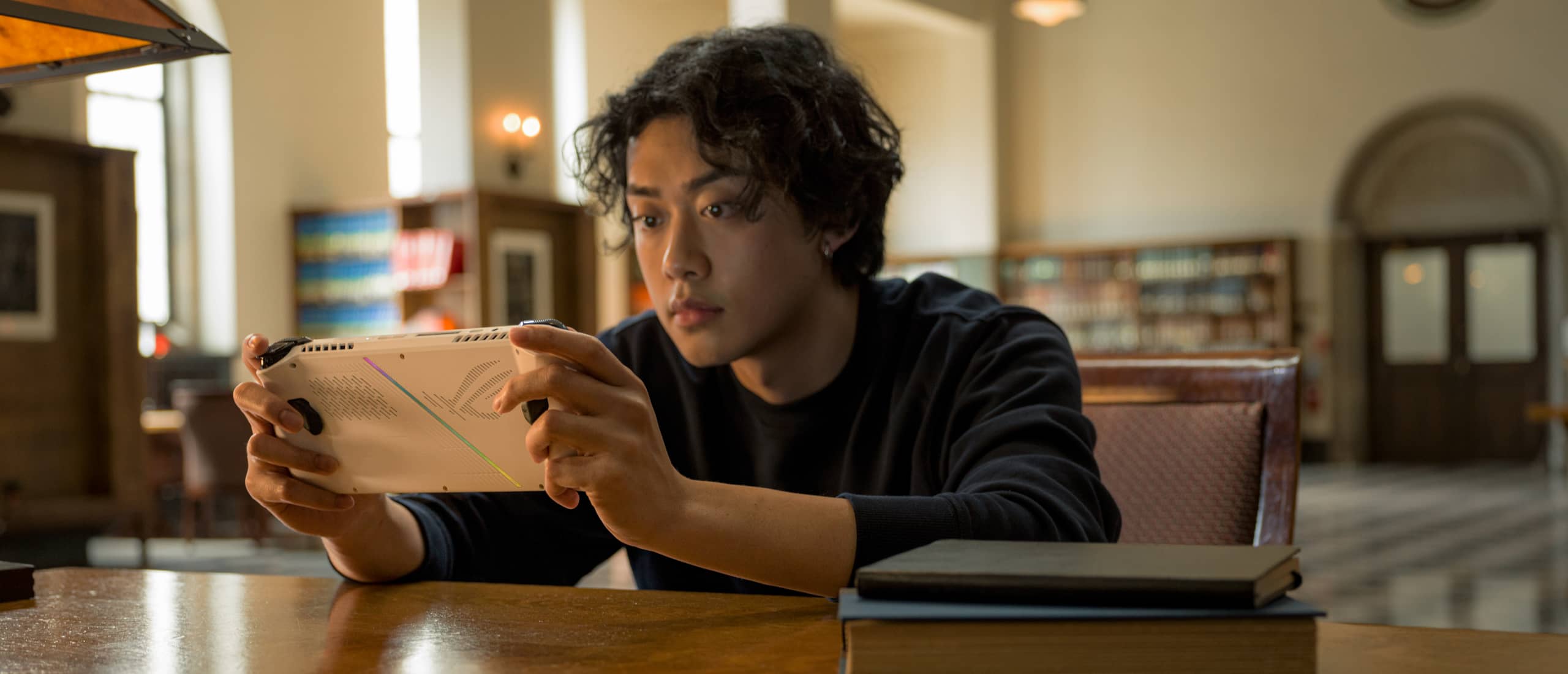 Me Time:
Gaming Handheld
Ga helemaal op in je favoriete AAA- of indie-games en zie de uren ongemerkt voorbijgaan met een uitgebreid Full HD 120Hz-scherm en ongelooflijk comfortabele ergonomie.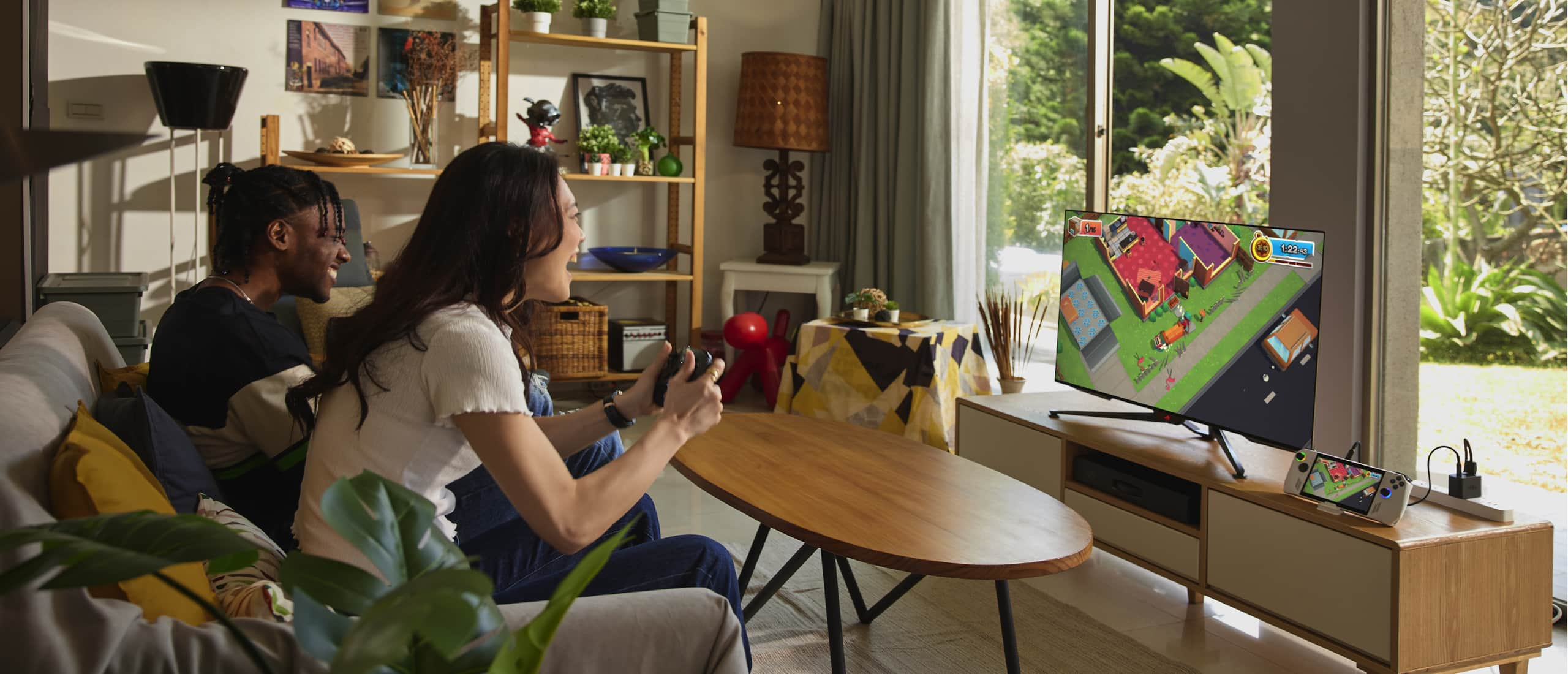 We Time:
Home Entertainment System
Deel de fun door hem aan te sluiten op een TV en meerdere controllers te koppelen, zodat de Ally direct verandert in een formidabele spelconsole voor op de bank.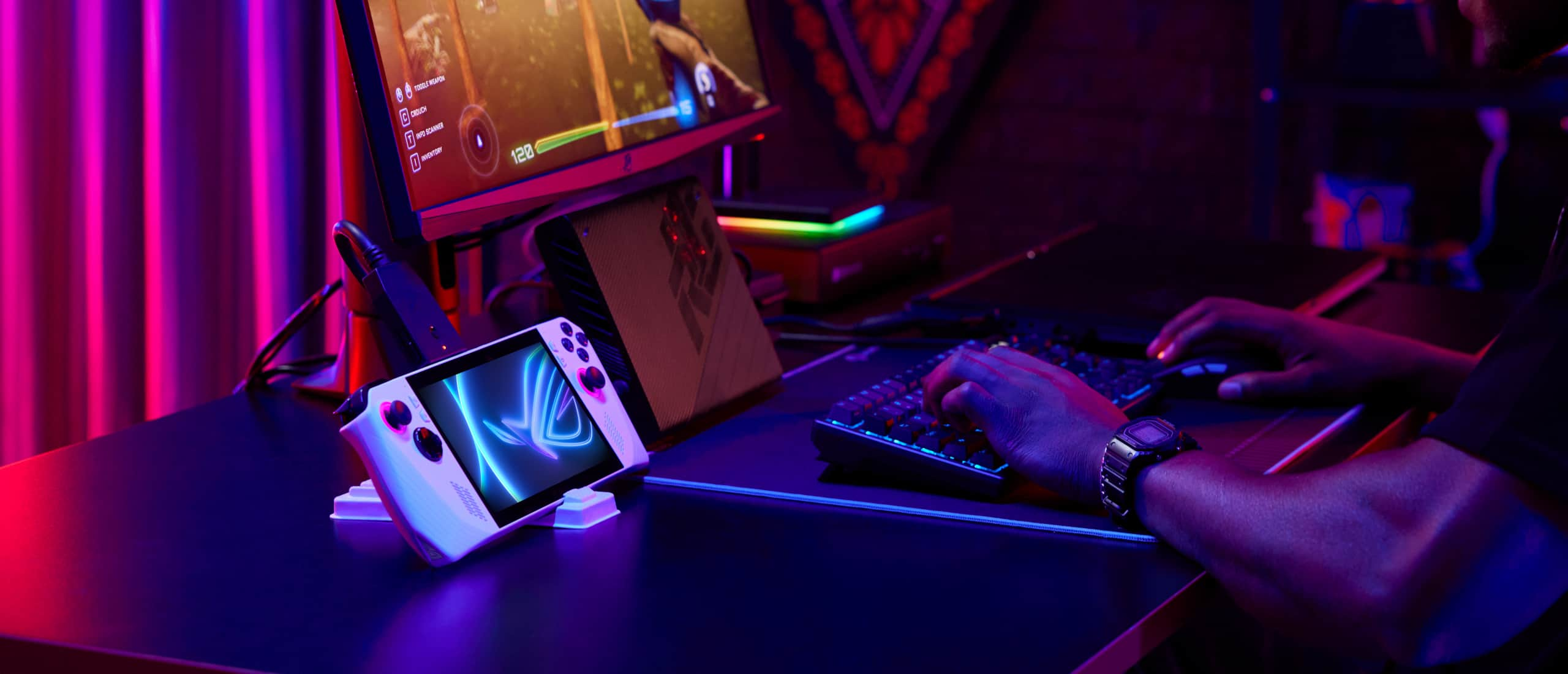 Pro Time:
Full Throttle Gaming
Voor een echte topervaring koppel je de Ally met een XG Mobile externe GPU, monitor, muis en toetsenbord voor esports en high-fidelity 4K gaming.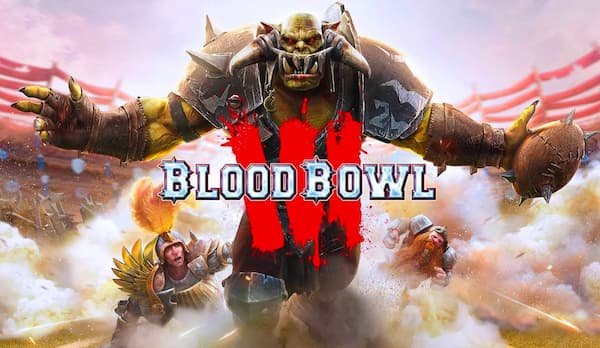 Blood Bowl 3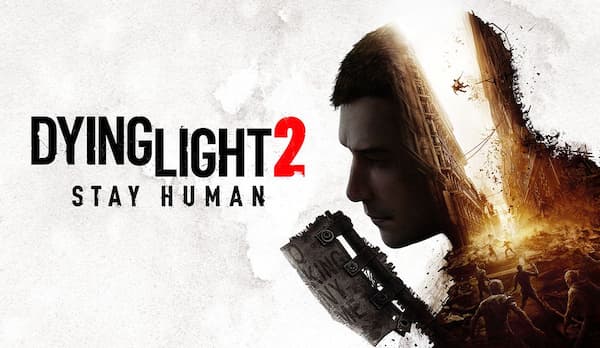 Dying Light 2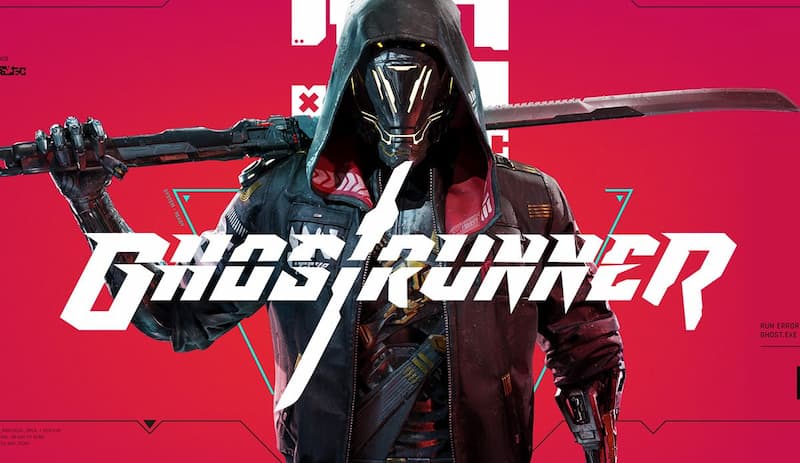 Ghostrunner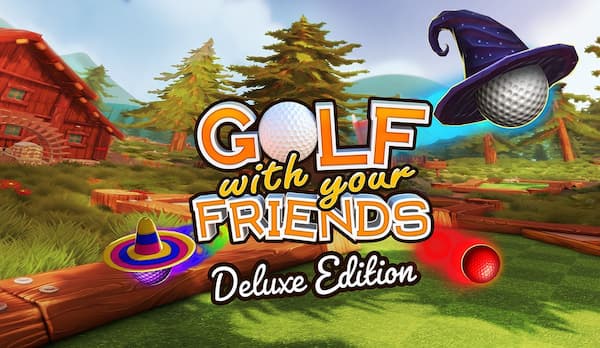 Golf with Your Friends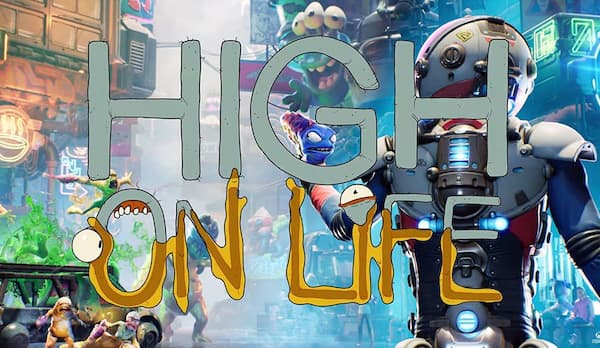 High on Life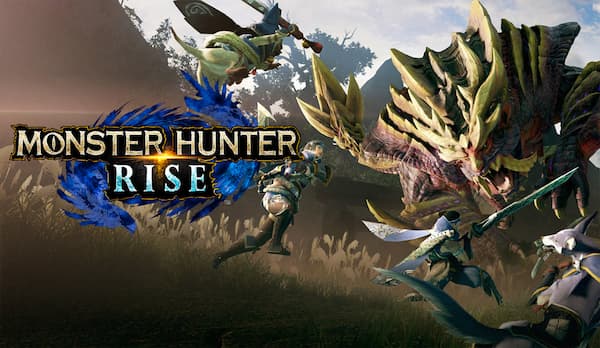 Monster Hunter Rise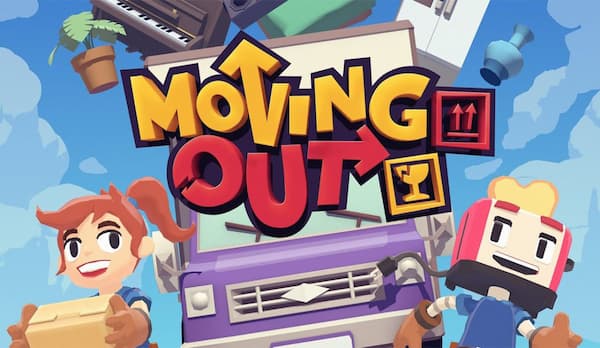 Moving Out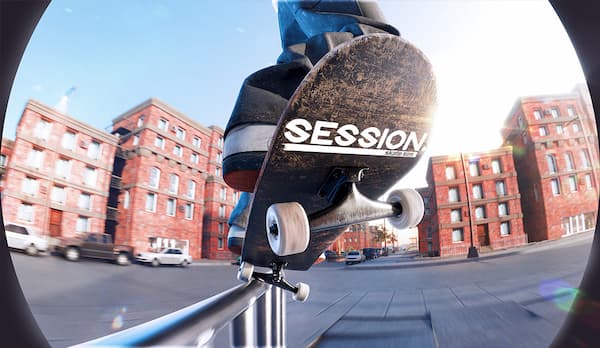 Session: Skate Sim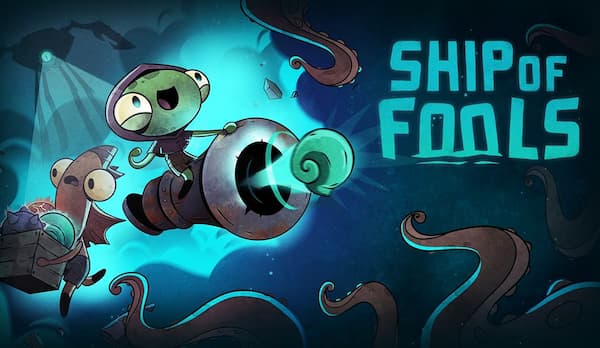 Ship of Fools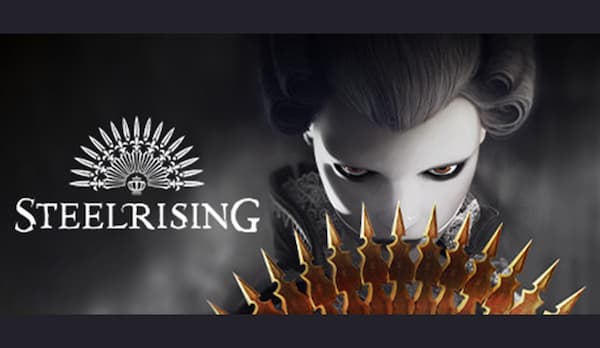 Steelrising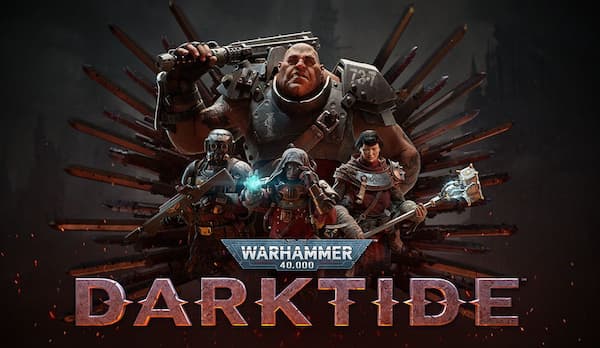 Warhammer Darktide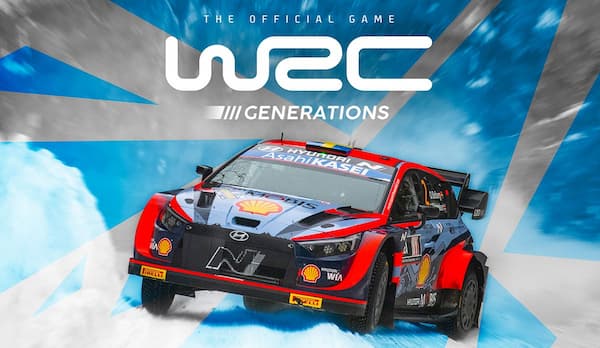 WRC Generations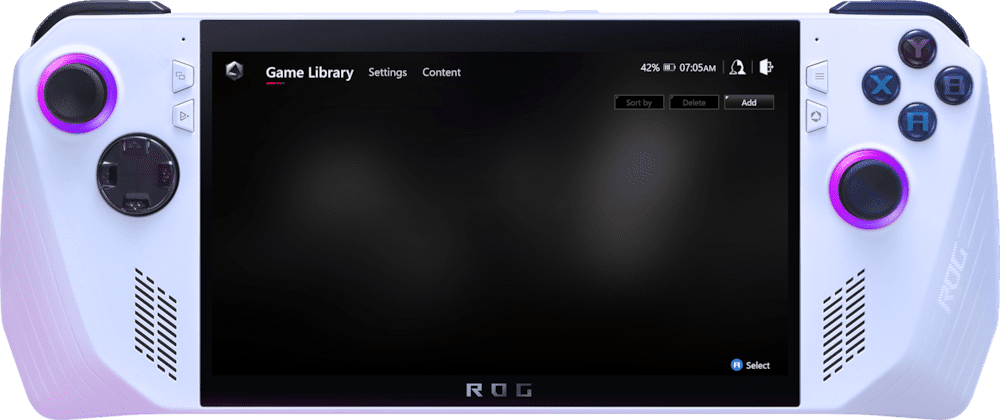 Games toevoegen aan je gamesbibliotheek
Als je geïnstalleerde game niet in de bibliotheek verschijnt, selecteer dan "Add" om het handmatig toe te voegen
Als je nog geen games hebt geïnstalleerd, kijk dan bij Setting > Game Platforms
#playALLYourgames
Meerdere bibliotheken, één apparaat. De ROG Ally is volledig compatibel met Steam, Xbox Game Pass, Epic, GOG en meer. Het maakt dus niet uit waar je je games koopt, je kunt ze spelen op de Ally.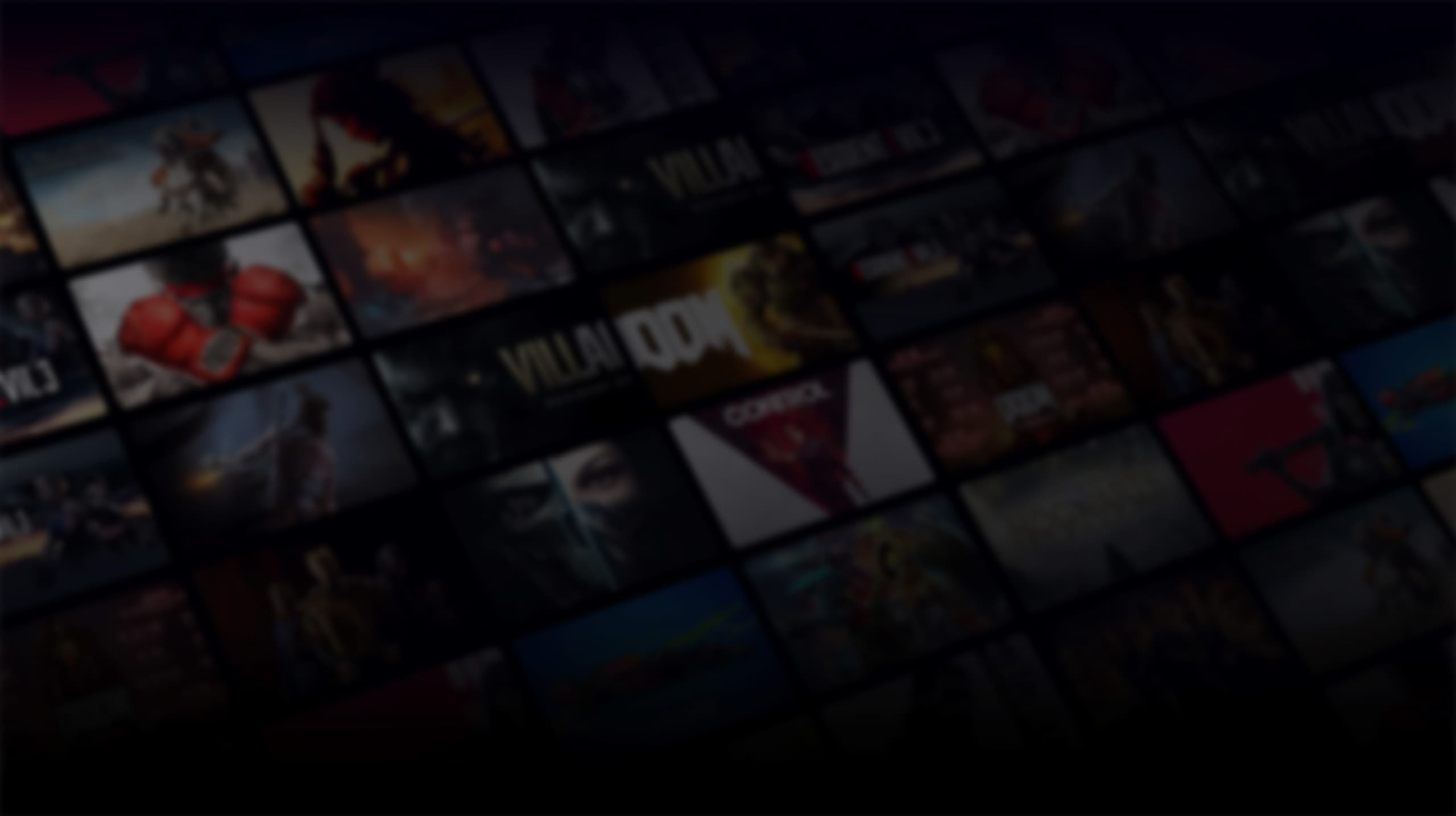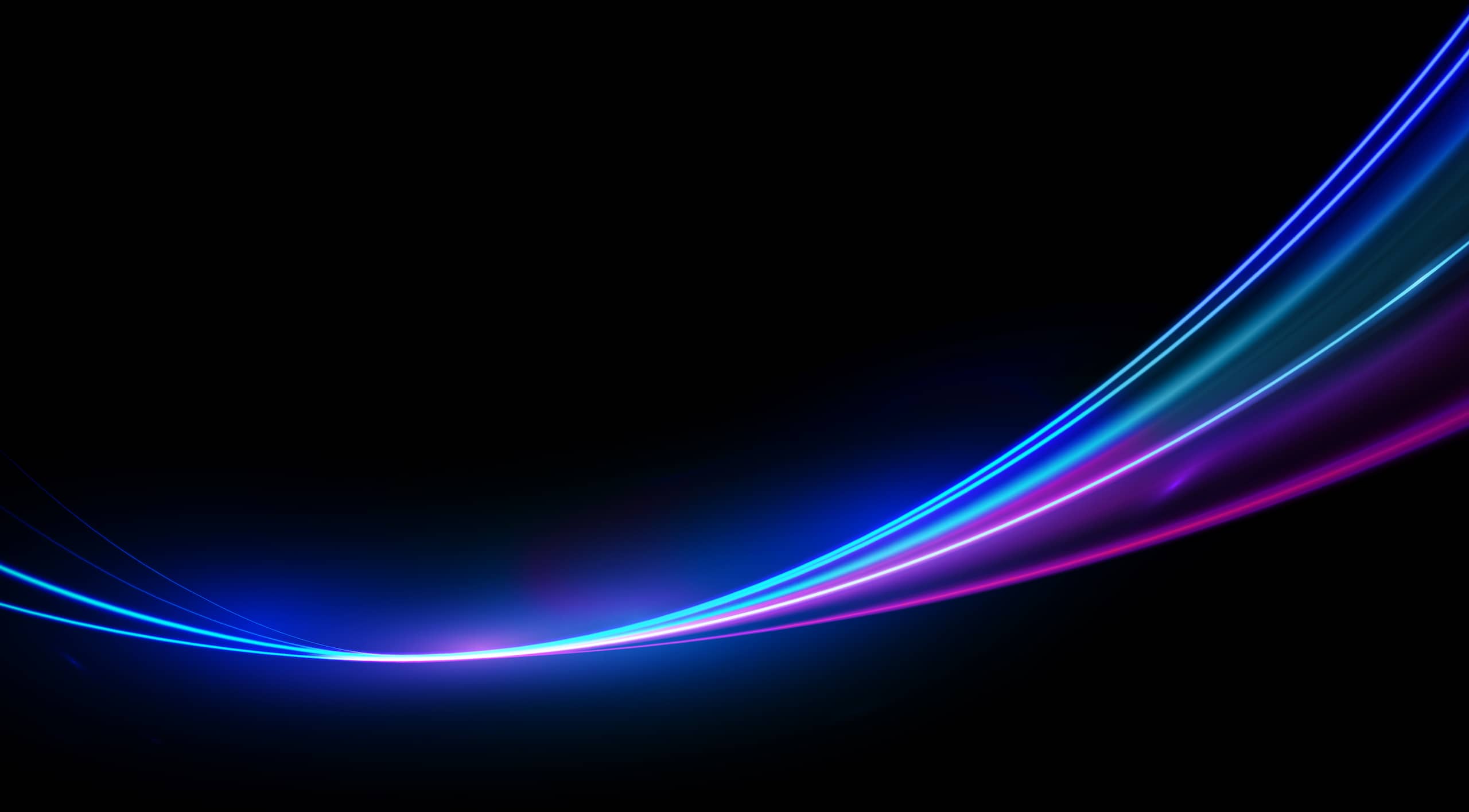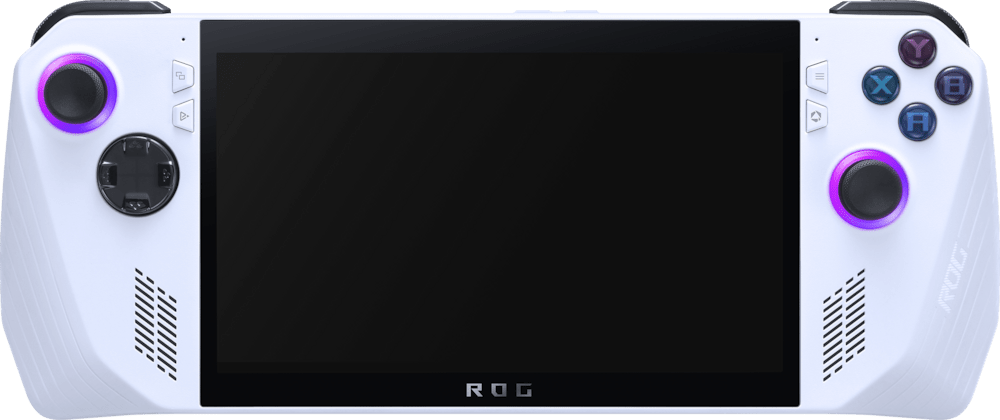 Gamesbibliotheek

Het bezit van games in meerdere launchers kan zorgen voor een frustrerende, defecte bibliotheek. Speciaal voor de Ally hebben we een speciale editie van Armoury Crate ontworpen om al je games te sorteren en naadloos te starten vanaf één plek, ongeacht waar ze geïnstalleerd zijn.

Command Center

Voor moeiteloze controle over je in-game ervaring is Command Center slechts één tik verwijderd. Wissel tussen prestatiemodi, bekijk real-time controlegegevens, schakel een FPS-begrenzer in en nog meer, met één snelle schakelaar.

Maatwerk

Elke knop op een draagbaar gaming-apparaat is kostbaar, en we weten dat niet elke gamer op dezelfde manier speelt. Daarom hebben we ervoor gezorgd dat je de knoppen kunt aanpassen naar eigen smaak. Twee extra peddels aan de achterkant van de Ally kunnen worden gebruikt als in-game knoppen of als modifiers om nog meer opties te ontgrendelen.
Ontdek je volgende favoriete game
Speel Minecraft Legends en honderden andere games op de ROG Ally, met 3 maanden Xbox Game Pass Ultimate*, zodat je direct aan de slag kunt met de nieuwste games. Omdat er constant games worden toegevoegd, is er altijd iets nieuws te spelen.
*Voorwaarden zijn van toepassing.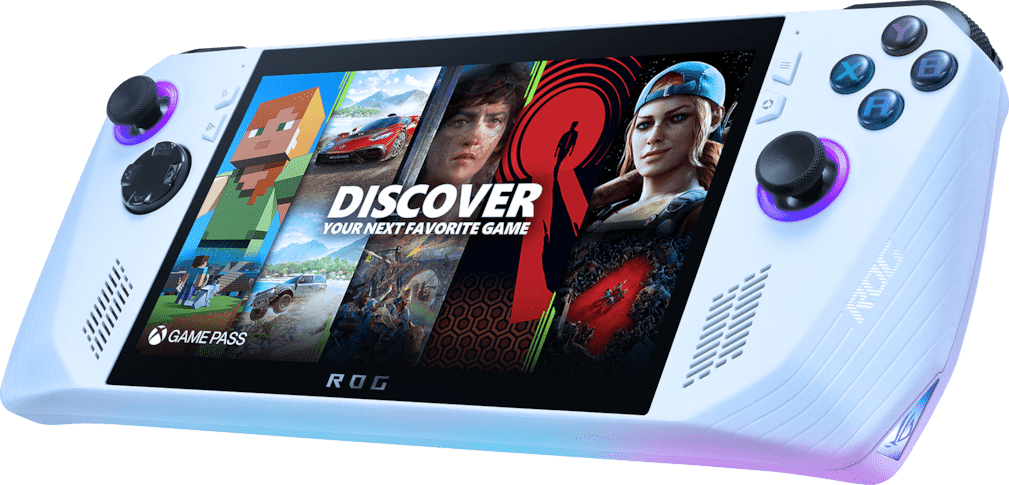 Moderne beveiliging
Windows Hello
Log snel en veilig in op de Ally met een in de aan/uit-knop geïntegreerde Windows Hello vingerafdruklezer, geen pincode nodig. Als je je Ally per ongeluk onbeheerd achterlaat, zijn je gegevens veilig.
Ouderlijk toezicht
Voor jongere gebruikers kunnen ouders de app- of schermtijd beperken, uitgavenoverzichten bekijken en de locaties van hun kinderen volgen via krachtig ouderlijk toezicht.
Windows Defender
Windows Defender biedt robuuste beveiliging voor je apparaat, met voortdurend bijgewerkte antivirus- en malwarebescherming.
Geboren voor handheld gamen
AMD's gloednieuwe Ryzen™ Z1 Extreme APU is de drijvende kracht achter deze ongelooflijke gaming-machine. Dit silicium is gemaakt volgens het allernieuwste 4nm-proces en bevat zowel de Zen 4-architectuur als gloednieuwe RDNA™ 3 graphics. Dankzij ongelooflijke upscaling-technologieën zoals FidelityFX™ Super Resolution en Radeon™ Super Resolution kan de Ally frame rates opvoeren met behoud van uitstekende beeldkwaliteit. Kies uit drie verschillende werkingsmodi om prestaties en stroomverbruik in balans te brengen, van de 9 W Silent Mode tot de 15 W Performance Mode, helemaal tot de 25 W Turbo Mode (of 30 W bij aansluiting op netstroom). ROG werkte nauw samen met AMD om het volledige potentieel van deze geavanceerde hardware te ontsluiten, en de Ryzen™ Z1 Extreme is hier om de gaming-wereld stormenderhand te veroveren.
De krachtige elite-processor voor handheld gaming
Zen4
architectuur
RDNA™ 3
Graphics
8
cores
4nm
proces
8,6
teraflops
16
threads
De krachtige processor voor handheld gaming
Zen4
architectuur
RDNA™ 3
Graphics
6
cores
4nm
proces
2,8
teraflops
12
threads
Uiterst vloeiende
FHD gameplay

Drie gaming-machines in één
Vloeiende AAA-gaming in
1080P
Call of Duty®
Modern Warfare® II 2022
75-80
*Turbomodus, 1920x1080 resolutie, standaard grafische instellingen, met FSR ingeschakeld op de standaardinstelling.
ROG ALLY TRAVEL CASE
Waterafstotende gecoate PU-stof
Opbergruimte voor accessoires
Geïntegreerde standaard
Sport- & Party-games in
1080P
*Turbomodus, 1920x1080 resolutie, standaard grafische instellingen, met FSR ingeschakeld op de standaardinstelling.
rog raikiri pro
Tri-modus connectiviteit: USB-C®, 2.4GHz RF, of Bluetooth®
Ingebouwd OLED-scherm
Uitgebreide aanpassing via Armoury Crate
Authentieke
eSports & 4K Gaming
ervaring
League of Legends
150-180
4K met ray tracing + DLSS3 aan
The Witcher® 3: Wild Hunt
60-80
Spider-Man Miles Morales
60-80
*Turbomodus, 1920x1080 resolutie, standaard grafische instellingen
ROG XG MOBILE (GC33)
GeForce RTX™ 4090 Laptop GPU
Ingebouwde I/O-hub: USB Type-C & Type-A,
SD-kaartlezer, Ethernet, HDMI 2.1
Geïntegreerde 330W adapter
ROG XG MOBILE (GC32)
AMD Radeon™ RX 6850M XT GPU
Ingebouwde I/O-hub: USB Type-A, SD-kaartlezer,
Ethernet, HDMI 2.1
Geïntegreerde 330W adapter
MicroSD uitbreiding
Als je een grotere gamesbibliotheek hebt, is dat geen probleem voor de Ally. Dankzij een speciaal UHS-II microSD-kaart slot kun je moeiteloos snelle opslagruimte toevoegen aan je machine, zodat je meer games geïnstalleerd en speelklaar kunt houden. Met bijna dezelfde laadtijden als de eigen PCIe Gen 4 SSD, hoef je je nooit zorgen te maken over waar je je games opslaat.
Laadtijd daadwerkelijke game
27,92sec
ROG ALLY met SSD-kaart
Cyberpunk 2077
34.52sec
ROG ALLY met SSD-kaart
Bediening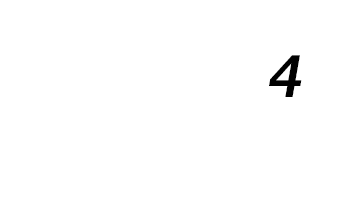 PCI Express 4.0 SSD
Met tot 512GB razendsnelle PCIe Gen 4 opslagruimte dankzij een M.2 2230 SSD, heb je zowel genoeg ruimte voor al je games als ultrasnelle opstarttijden.

Krachtig LPDDR5 6400 geheugen
Het LPDDR5-6400 geheugen van de Ally houdt de Ryzen™ APU op elk moment gevoed met gegevens, zodat de Z1 Extreme zijn beste beentje voor kan zetten.
Onderweg gamen
Speel urenlang je favoriete games en content zonder je zorgen te maken over een oplader. Geniet van maximaal 2 uur lokaal gamen op het apparaat, met tot wel 6,8 uur voor zowel cloud gaming als het afspelen van video's. De Ally ondersteunt ook snelladen en kan de machine in slechts 30 minuten van 0 naar 50% opladen.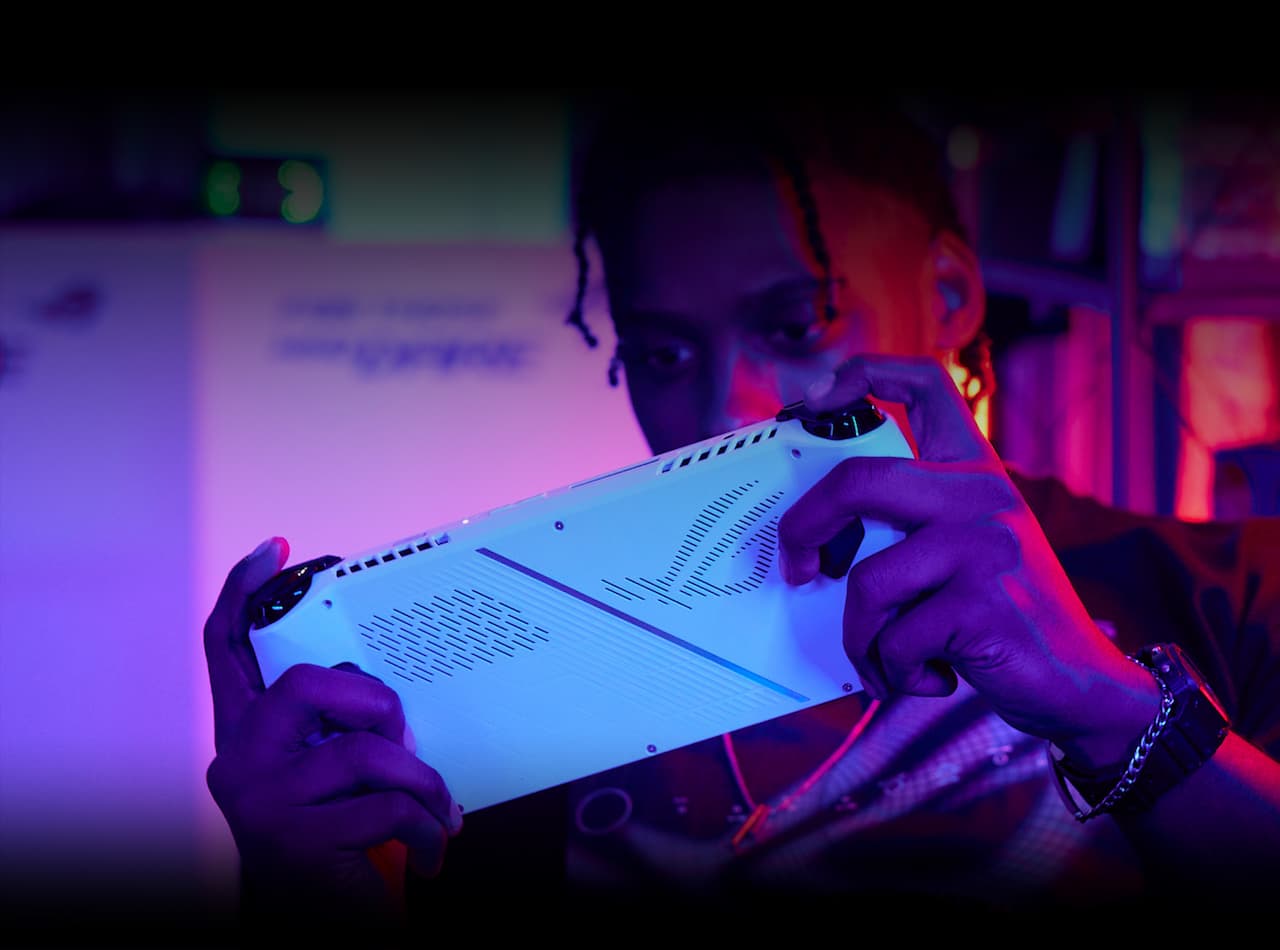 Performance Mode (15w)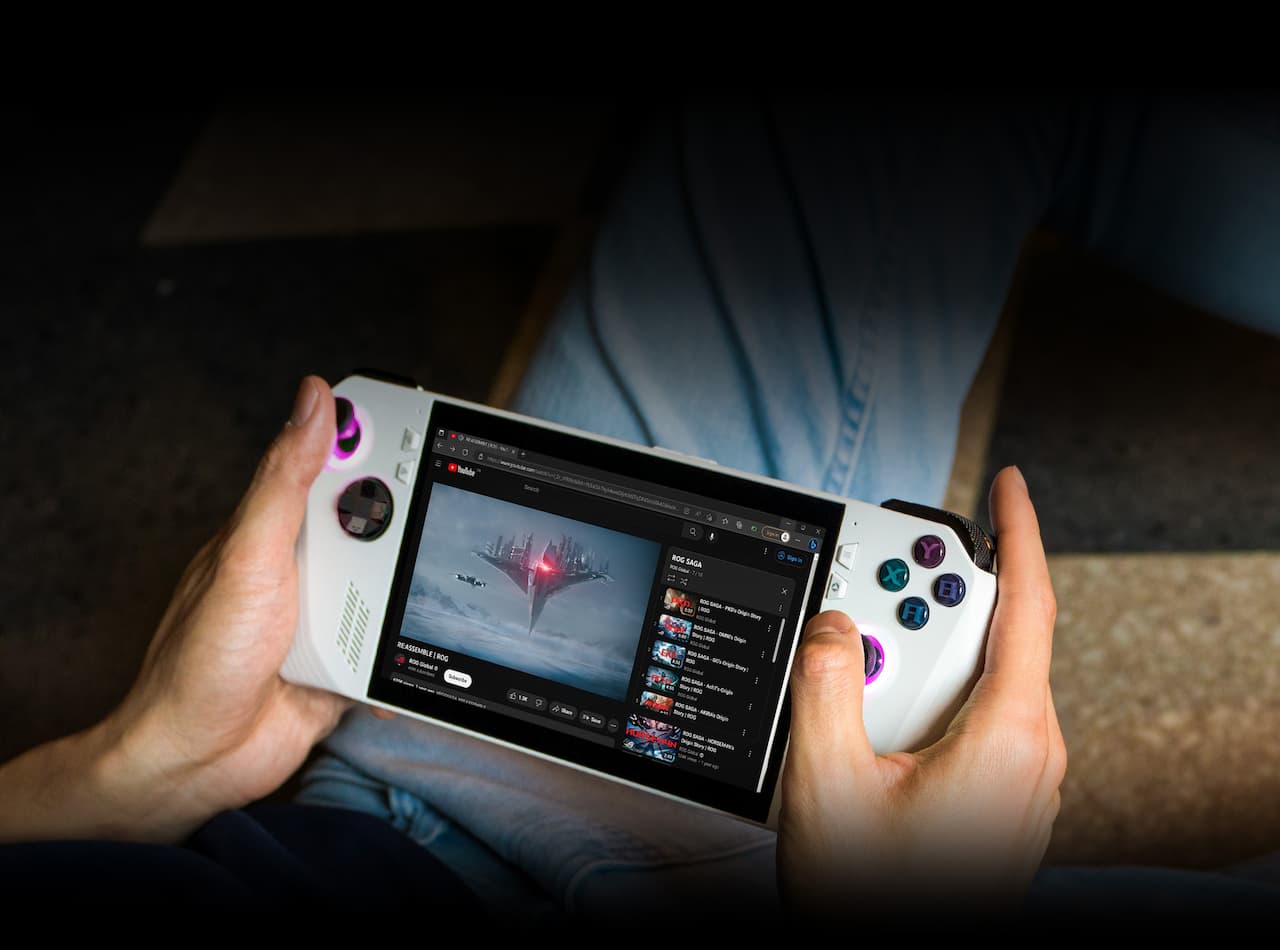 Netflix & YouTube
tot
6,8
uur
Silent Mode (9w)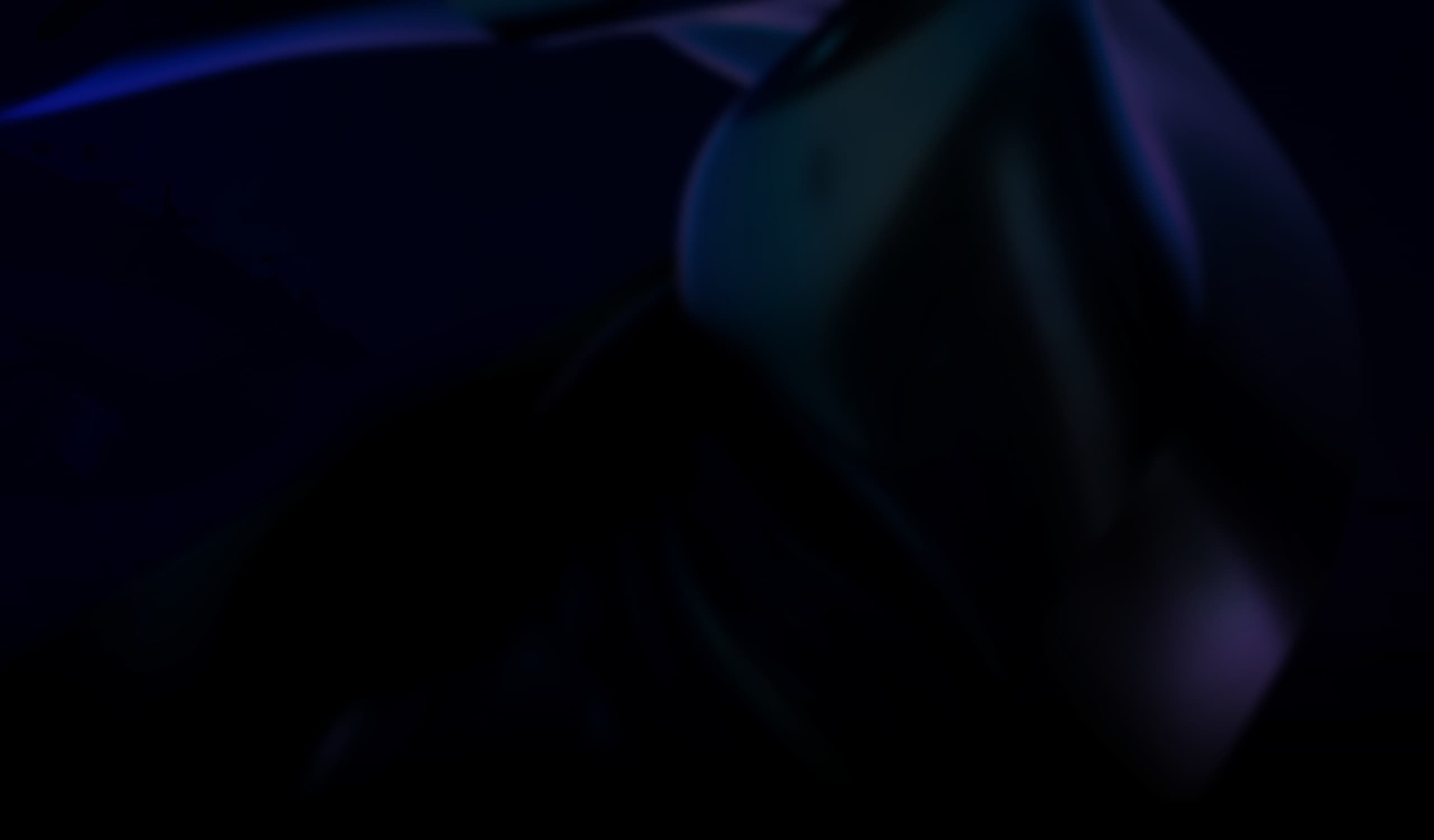 Zero Gravity, Zero Distraction, 100% Performance
Zero Gravity thermisch systeem
De ROG Ally is ontworpen om je overal te laten gamen, dus had hij een bijpassende thermische oplossing nodig. Traditionele thermische oplossingen rekenen op de zwaartekracht om heat pipes te helpen warmte uit het systeem te leiden, maar met een speciaal geconstrueerde pijp die gebruik maakt van een gaas, trotseert de Al echt de zwaartekracht.
Anti-Gravity Heat Pipes
Anti-zwaartekracht heat pipes verbeteren de warmteoverdracht door een gaas te gebruiken voor de afvoer, waardoor de capillaire druk met meer dan 15% toeneemt. Hierdoor blijft de koeloplossing van de Ally ook doeltreffend als hij ondersteboven wordt gehouden.
Vloeistofdynamisch lager
Beide ventilatoren hebben een vloeistofgelagerd ontwerp, een beproefde stijl die de Ally jarenlang als een topper zal laten draaien. Vloeistofgelagerde ventilatoren zijn ook wrijvingsarm, zelfs wanneer ze in niet-traditionele richtingen worden gebruikt, zodat je de Ally zonder zorgen in elke richting kunt houden.
Zero Distraction
Hoewel veel handhelds op de markt kiezen voor een enkele ventilator, weten we dat extra luchtstroom altijd gunstig is. De Ally is uitgerust met twee ventilatoren, die betere koeling mogelijk maken bij lagere snelheden om het lawaai tot een minimum te beperken.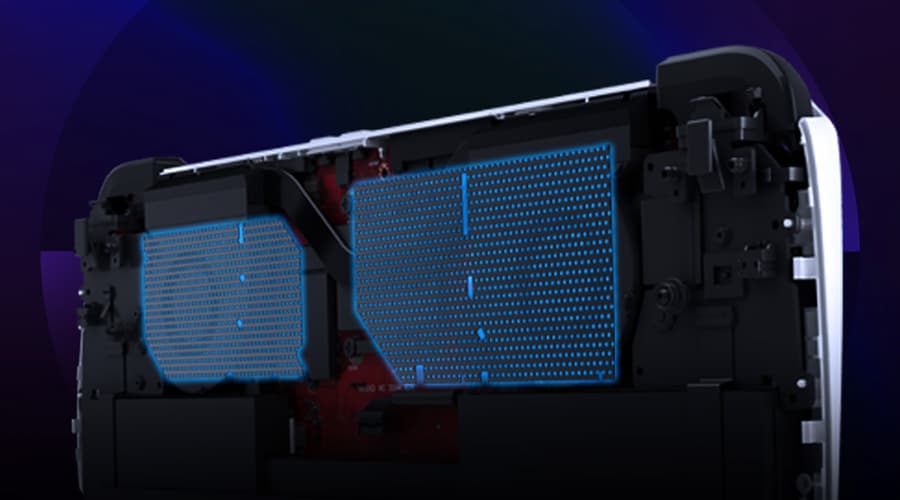 ROG Dust Filter
Stoffilters dekken beide luchtinlaatopeningen af en houden zo vuil uit de ventilatoren. Minder stof betekent jarenlang efficiëntere en stillere koeling.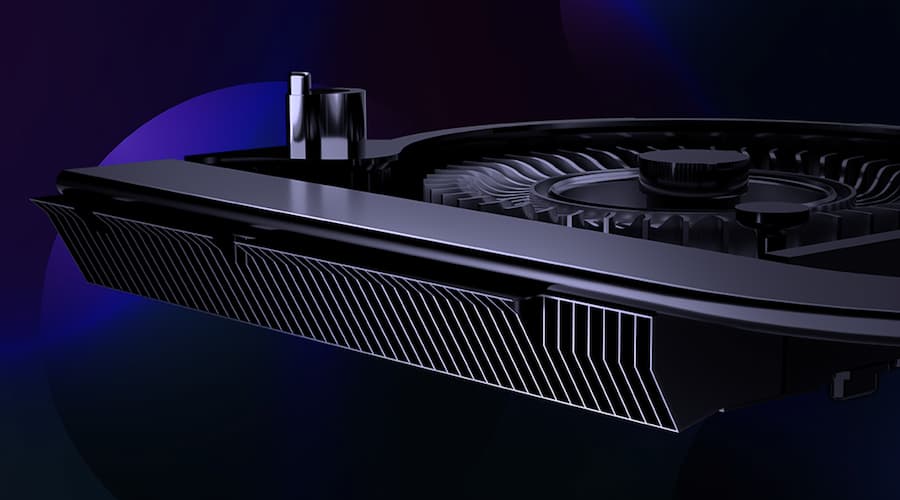 0,1 mm ultradunne ribben
De thermische energie wordt afgevoerd door twee koellichamen, elk gevoerd met ultradunne aluminium ribben van slechts 0,1mm dun. Ribben met een hogere dichtheid zorgen voor betere warmteafvoer en lagere luchtweerstand, voor vlottere doorstroming. Er zijn tot 102 koellichaamribben met een totaal oppervlaktegebied van 12.173 mm².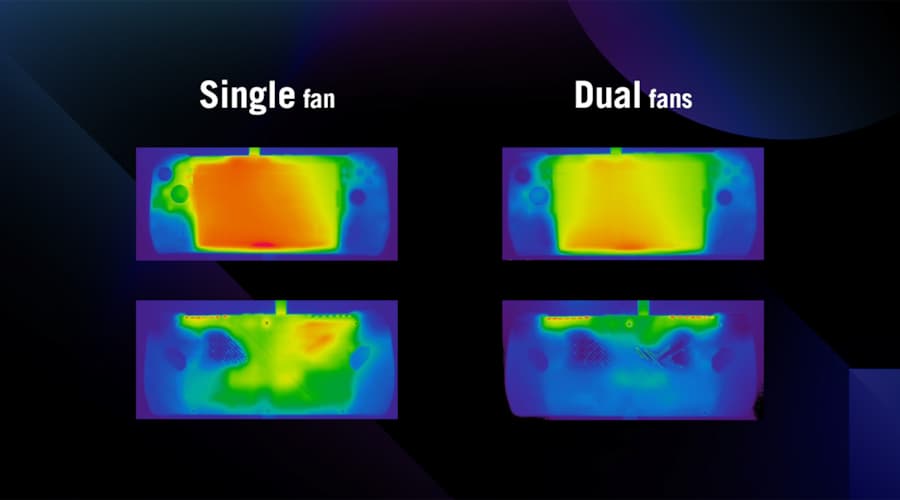 Dubbele ventilator dominantie
Dubbele ventilatoren houden de machine en de behuizing koeler, stiller en comfortabeler om vast te houden dan een oplossing met één ventilator. Neem nooit genoegen met minder dan ROG Intelligent Cooling.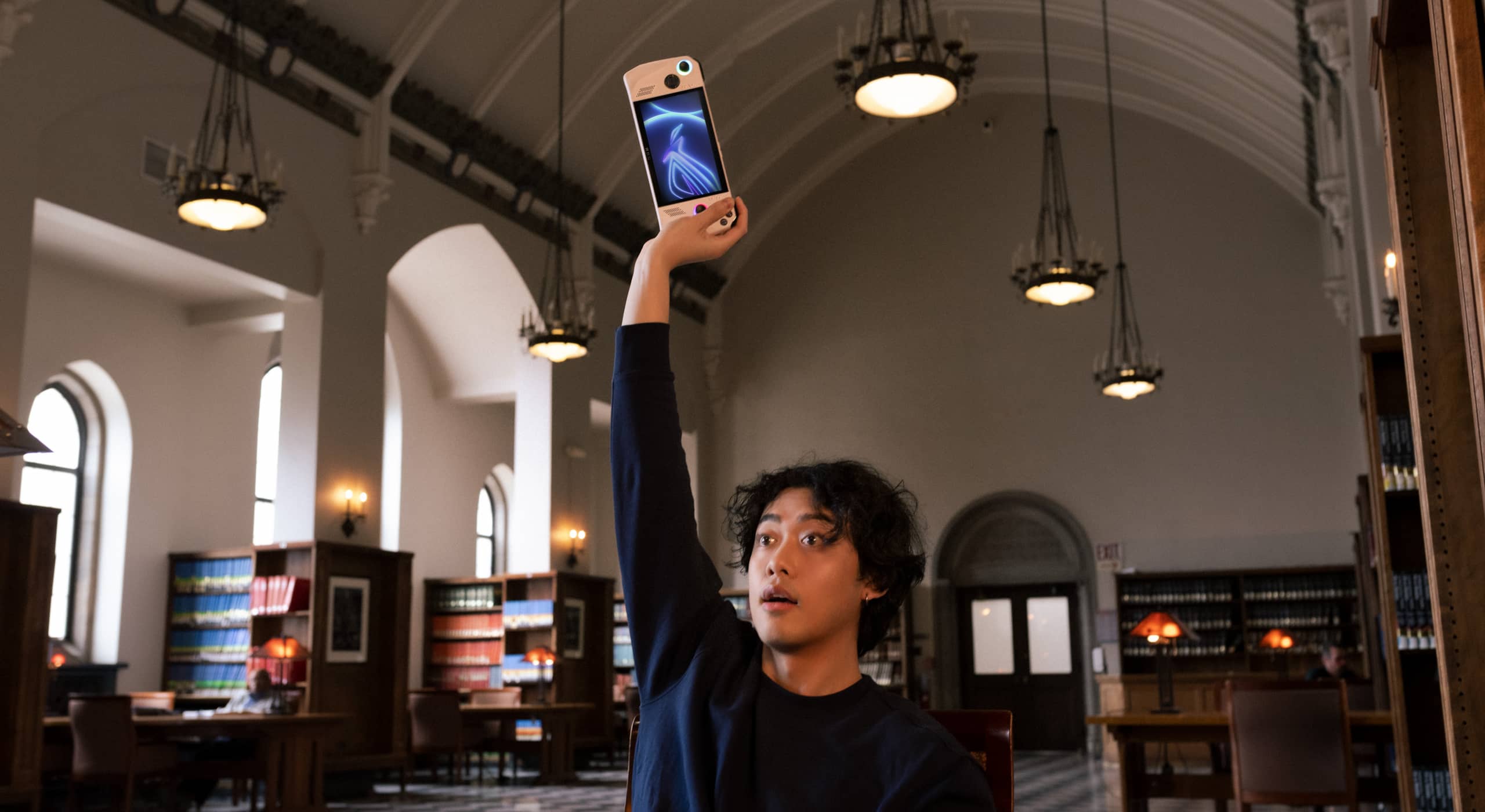 De vedergewicht kampioen
Met een gewicht van slechts 608 gram voelt de ROG Ally comfortabel aan, zelfs tijdens lange gaming-sessies, en zal hij nooit een last zijn in je rugzak.
Hoe we 608 gram wisten te bereiken
Paneelrand
Bovenkant case
Dubbel ventilatorsysteem
Batterijbeugel
Case met uitgeholde bovenkant
Lichtgewicht aluminium
Lichtgewicht aluminium
608 gram puur gaming-plezier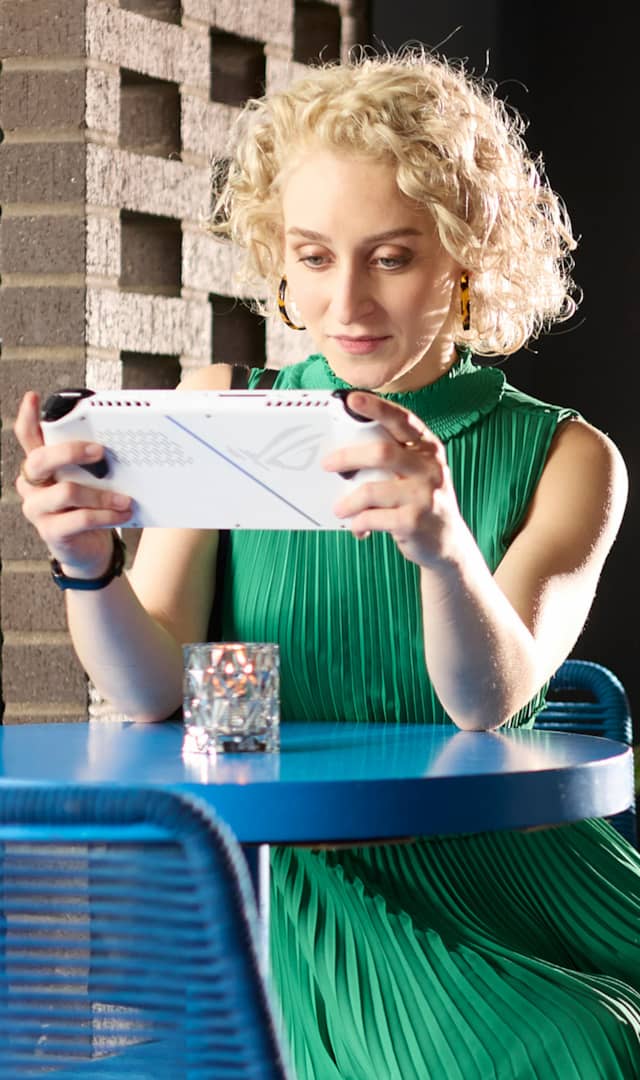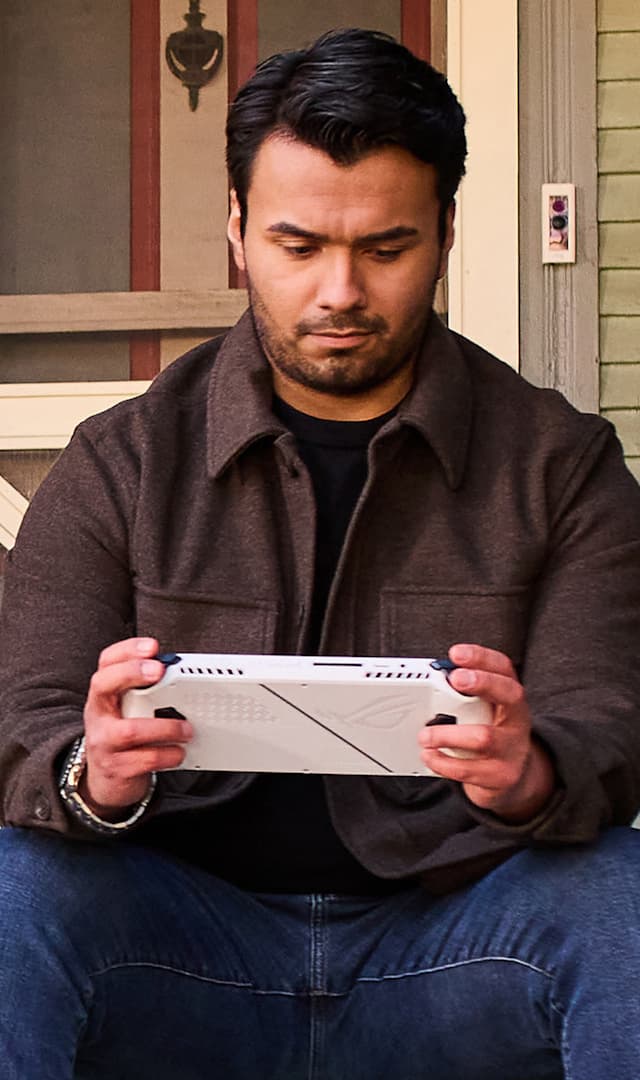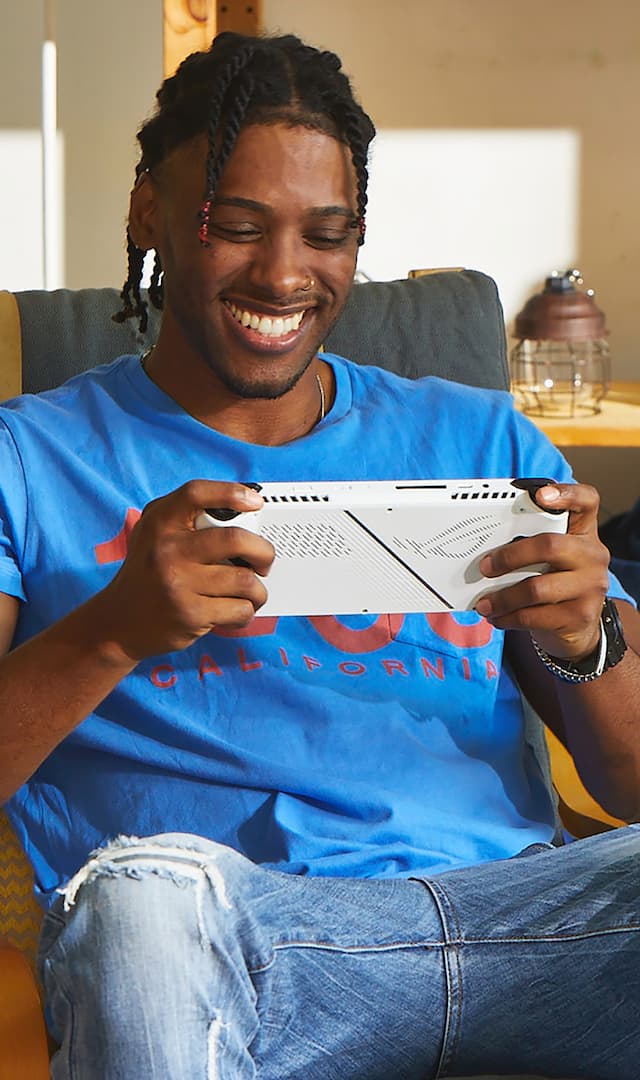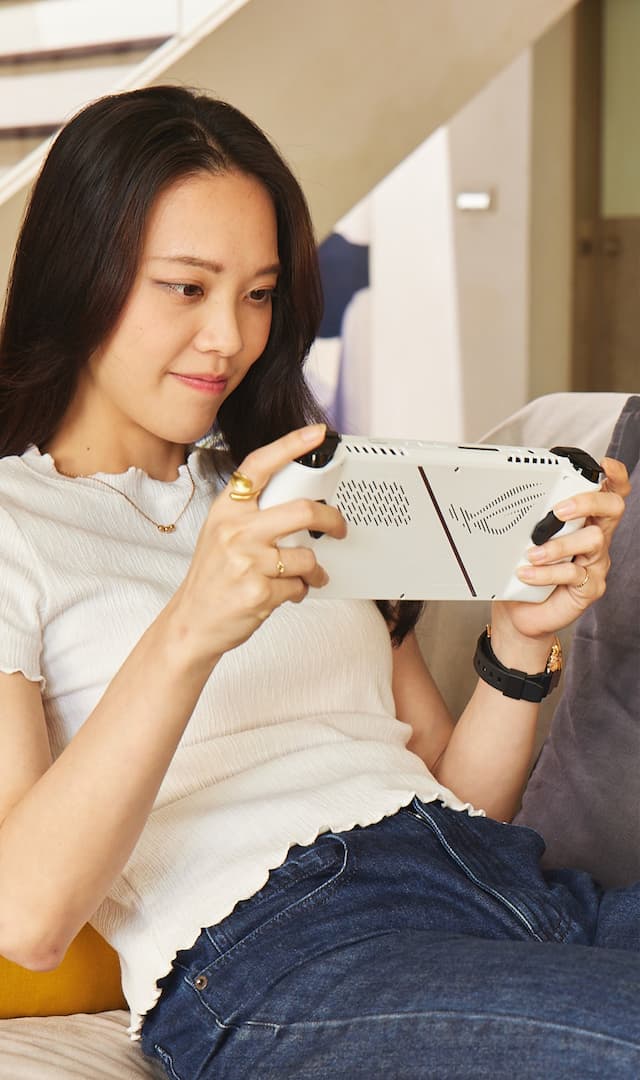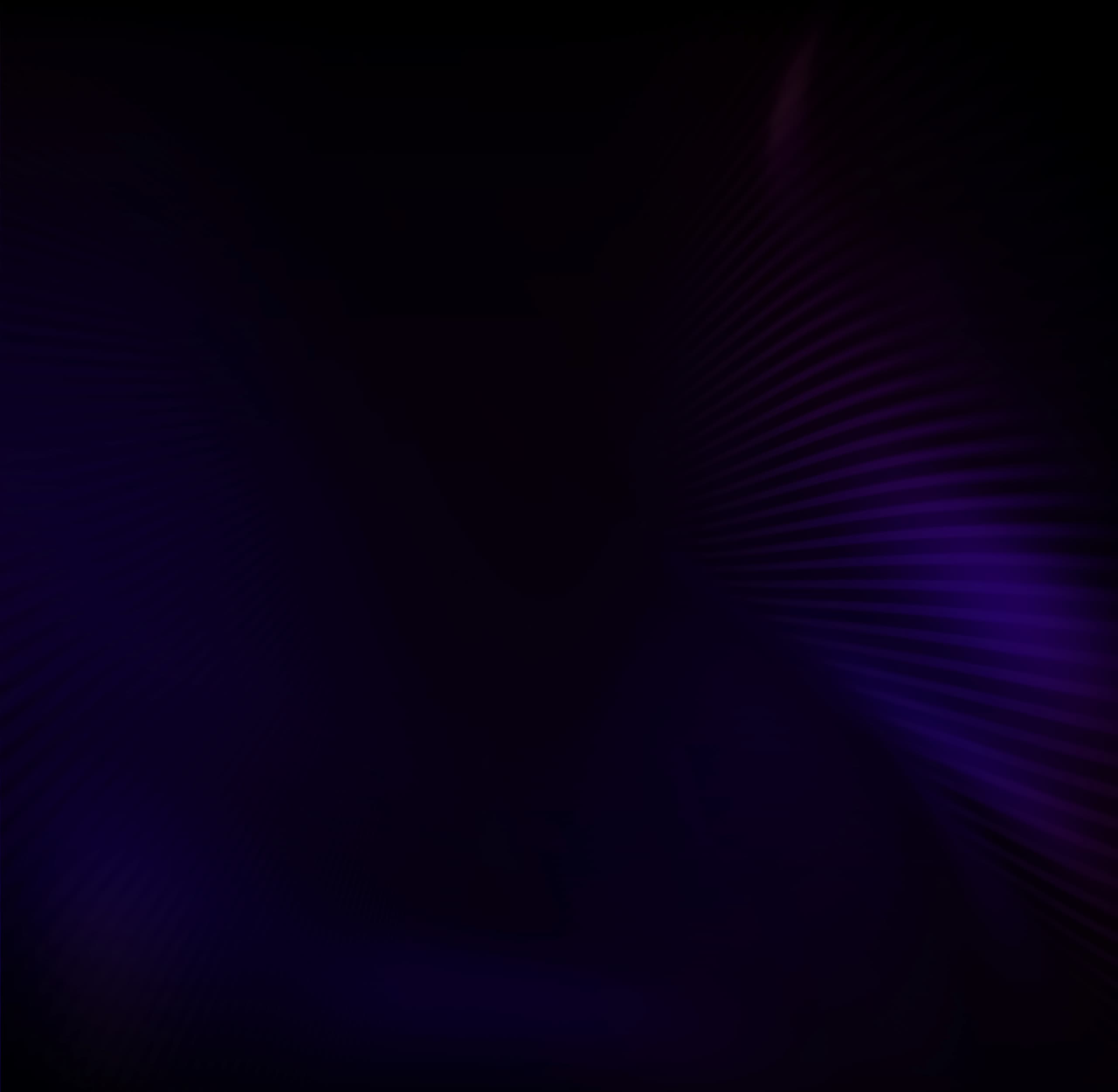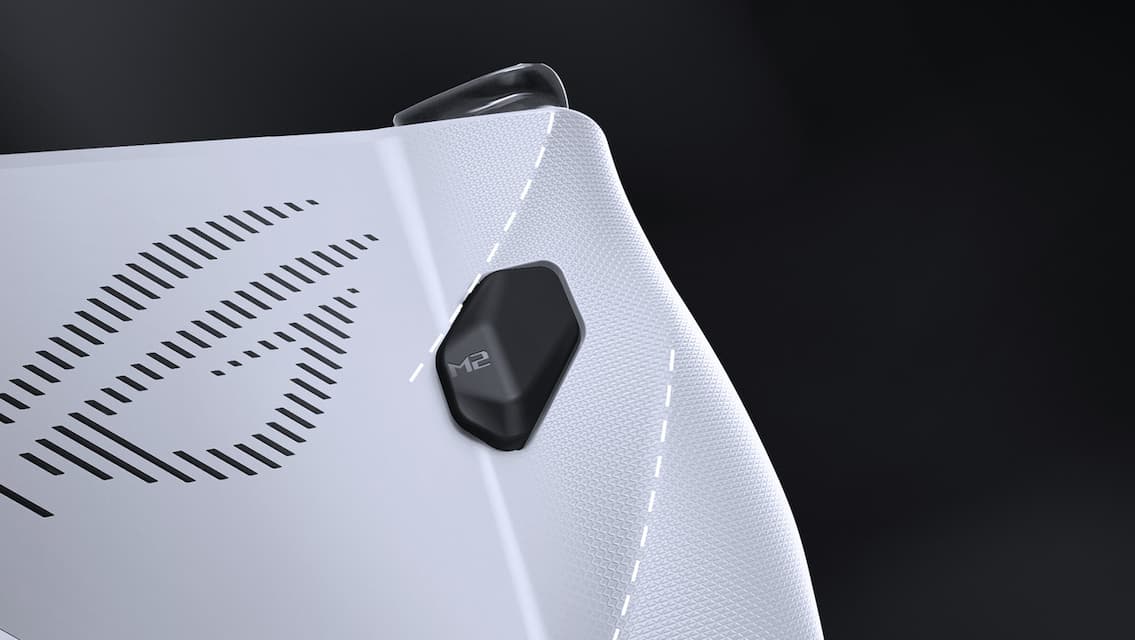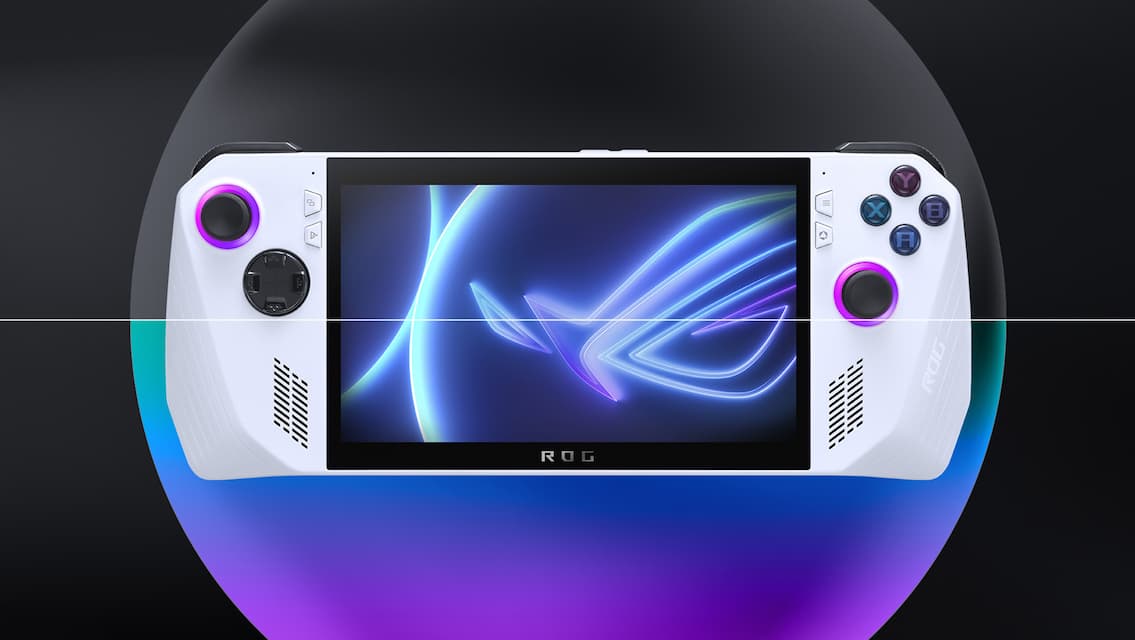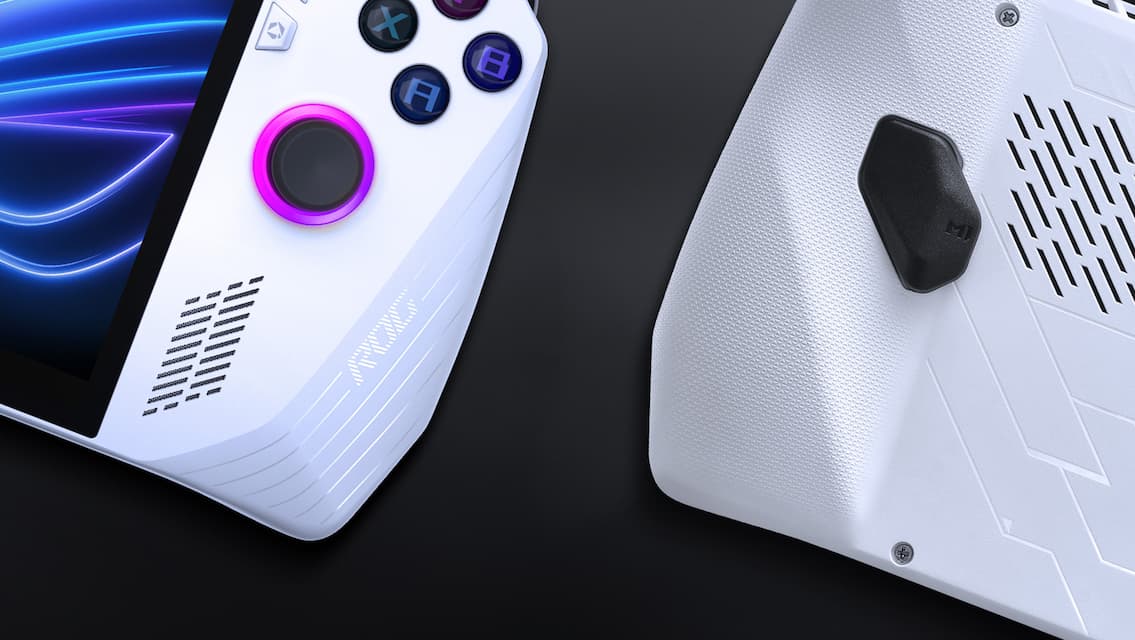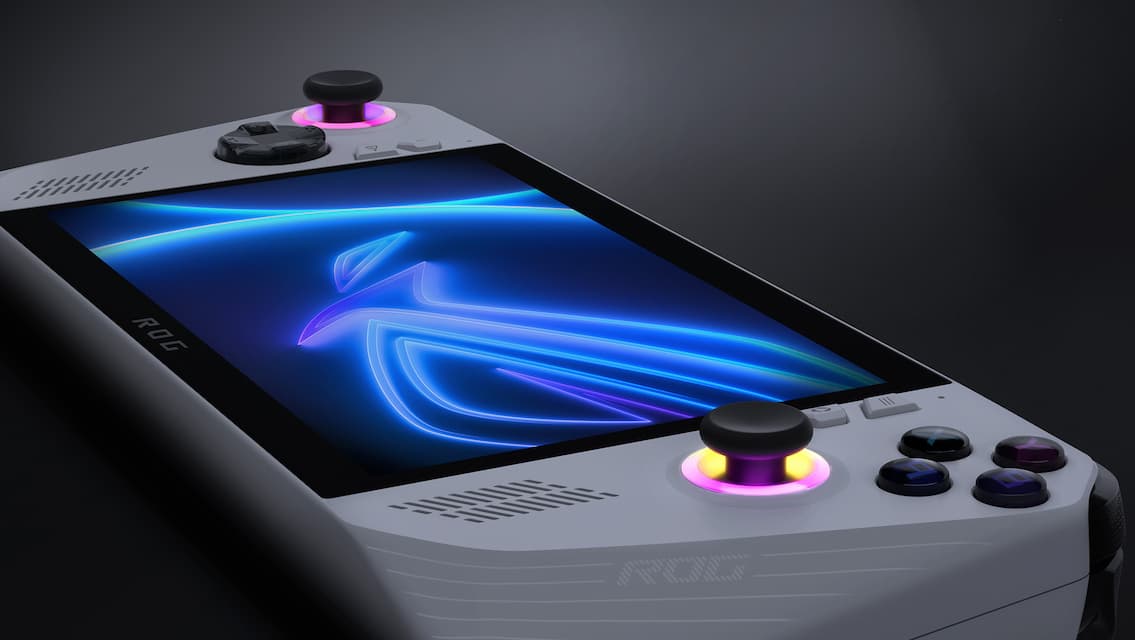 Precisiecomfort
Speciaal aangepaste 2° en 14° hoeken houden de Ally comfortabel in elke hand.
Vasthouden
De gebogen handgrepen van de Ally zijn perfect gevormd voor de natuurlijke vorm van je grip.
Moeiteloze bediening
De knoppen bevinden zich op de bovenste helft van de Ally, zodat de bediening altijd gemakkelijk bereikbaar is.
Anti-slip ontwerp
ROG micro-driehoek textuur op de handgrepen en ROG decoratielijnen op de voorkant zorgen voor een veilige grip.
RGB-verlichting
Smaakvolle RGB rond beide joysticks voegt flair toe en synchroniseert met ondersteunde games, waardoor je nog meer in de actie wordt getrokken.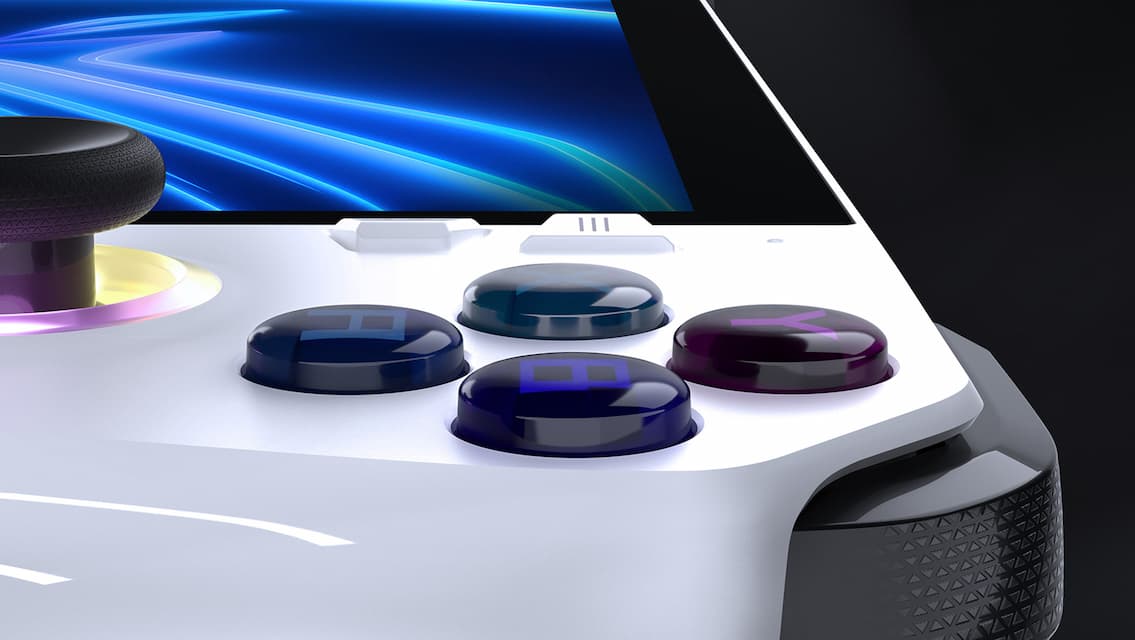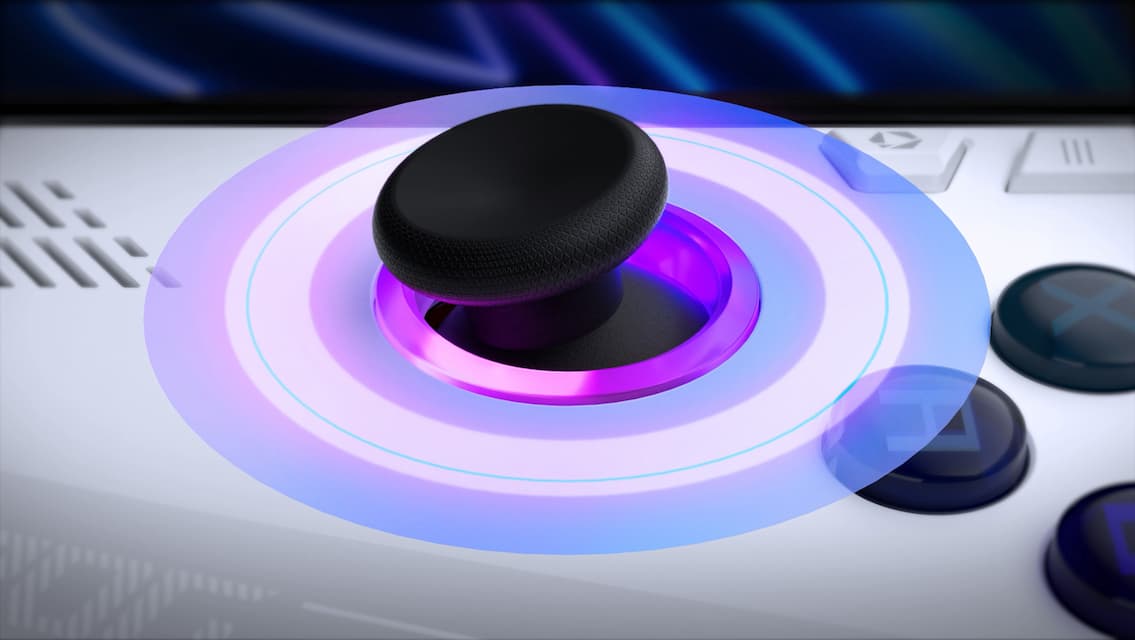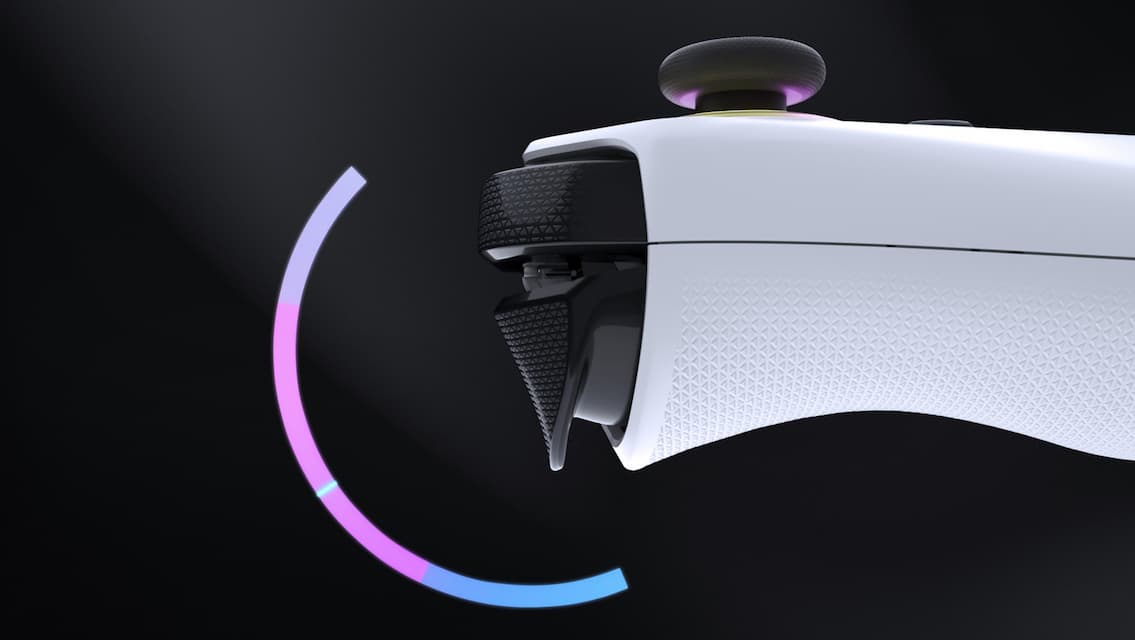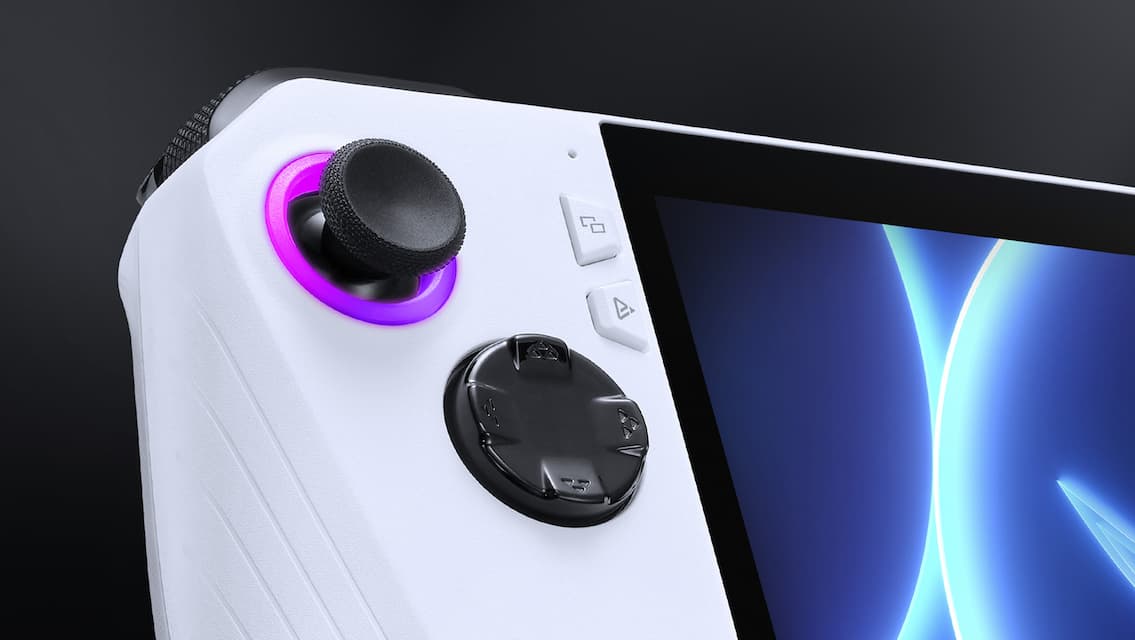 Moeiteloos op knoppen drukken
De knoppen op de voorkant hebben een platte koepelvorm, waardoor ze uiterst comfortabel in te drukken zijn.
Joystick
Joysticks zijn cruciaal op een controller, dus de Ally biedt uitgebreide aanpassingsmogelijkheden, waaronder aanpassing van de dode zone.
Trigger
Hall-sensoren detecteren zelfs de kleinste bewegingen nauwkeurig en slijten niet na verloop van tijd, zodat de Ally jarenlang klaar is voor de strijd.
Macrotoets
De Ally is uitgerust met een paar gemakkelijk bereikbare knoppen aan de achterkant die kunnen worden gebruikt als standaardknoppen of modifiers voor aangepaste sneltoetsen.
D-pad
Met een verhoogde schijfvorm is de D-Pad ook aangepast, zodat je moeiteloos opeenvolgende knoppen kunt indrukken zonder de positie van je duimen uit het oog te verliezen.
Razendsnel. Glashelder.
Bij een krachtige machine hoort een bijpassend topscherm, en de Ally heeft specificaties die een paar jaar geleden niet onder deden voor vele malen grotere gaming-laptops. Met een 1080p touchscreen paneel met een verversingssnelheid van 120Hz en FreeSync™ Premium ondersteuning, is dit 7" scherm echt een genot om op te gamen. Met 100% dekking van de sRGB-kleurruimte kun je erop vertrouwen dat al je content er precies zo uitziet als de makers van de games het bedoelden.
Breed kleurengamma
sRGB 100%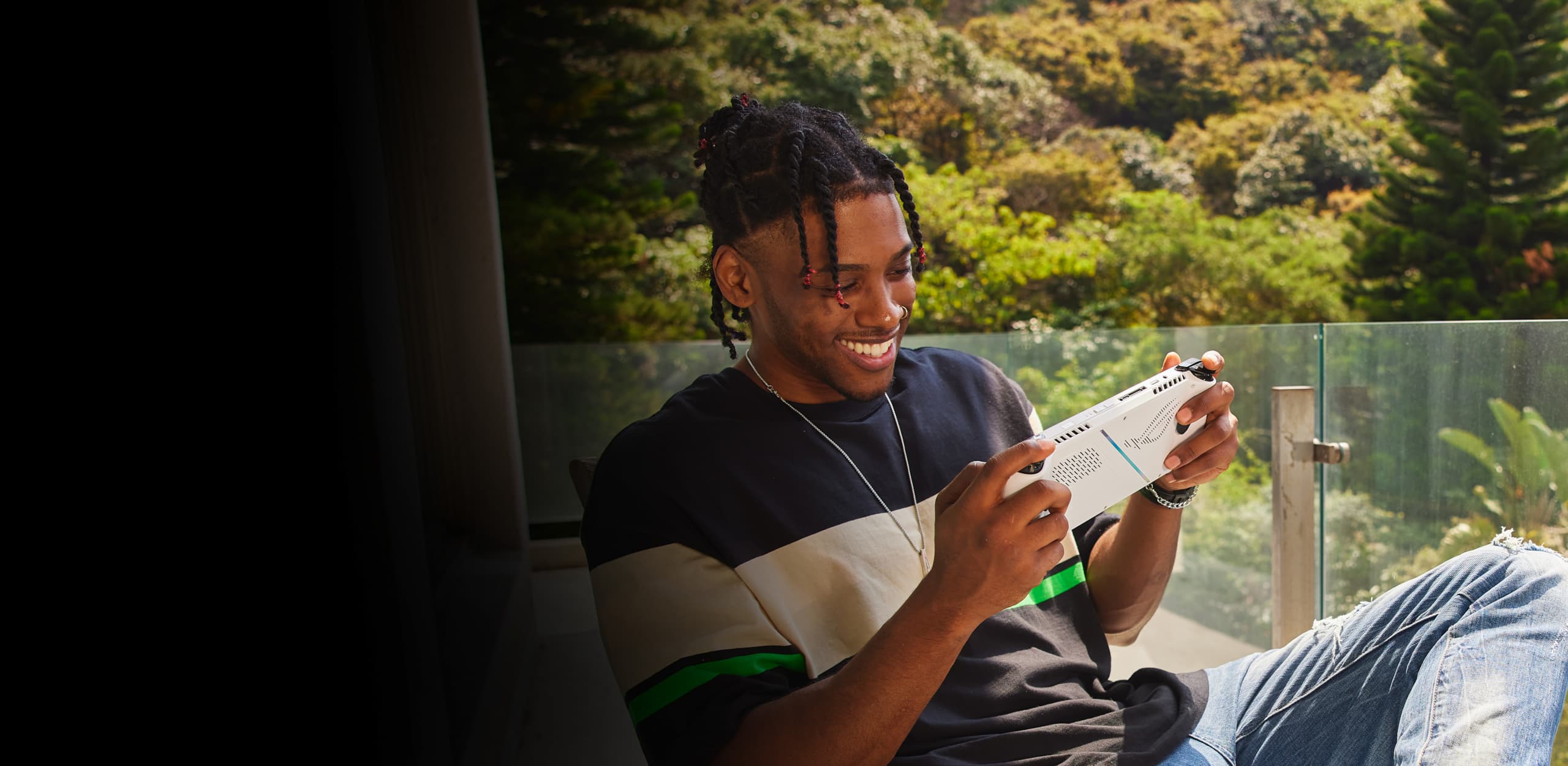 Geweldige outdoor gaming-ervaringen
Gewone LCD-schermen hebben doorgaans een maximale helderheid van 200-300 nits, maar de Ally biedt een maximale helderheid van 500 nits. Dankzij deze hogere helderheid kan de Ally de actie op het scherm duidelijk weergeven in uitdagende, heldere omgevingen zoals in de buitenlucht. Ter bescherming tegen dagelijkse slijtage zorgt Corning® Gorilla® Glass Victus® ervoor dat het touchscreen er als nieuw uit blijft zien.
Beter zicht buitenshuis met Corning® DXC
Een Corning® Gorilla® Glass DXC coating vermindert oppervlakteschitteringen en verhoogt bovendien de hardheid met meer dan 40%, voor verbeterde krasbestendigheid. Dankzij minder reflecties kun je in een lichte omgeving of buitenshuis alle actie op het scherm blijven volgen.
Kaal glas
Corning® DXC coating
Speculaire reflectie <0,6%
Doorlaatbaarheid ~99%
Speculaire reflectie ~4%
Meeslepend stereogeluid
Twee voorwaarts gerichte Smart Amp-luidsprekers met Dolby Atmos pompen het volume op zonder vervorming en dompelen je direct onder in je games, terwijl Two-Way AI Noise Cancelation zowel inkomende als uitgaande audio verwerkt om storende achtergrondgeluiden uit je voice chats te filteren.
Two-way
AI Noise Cancelation technologie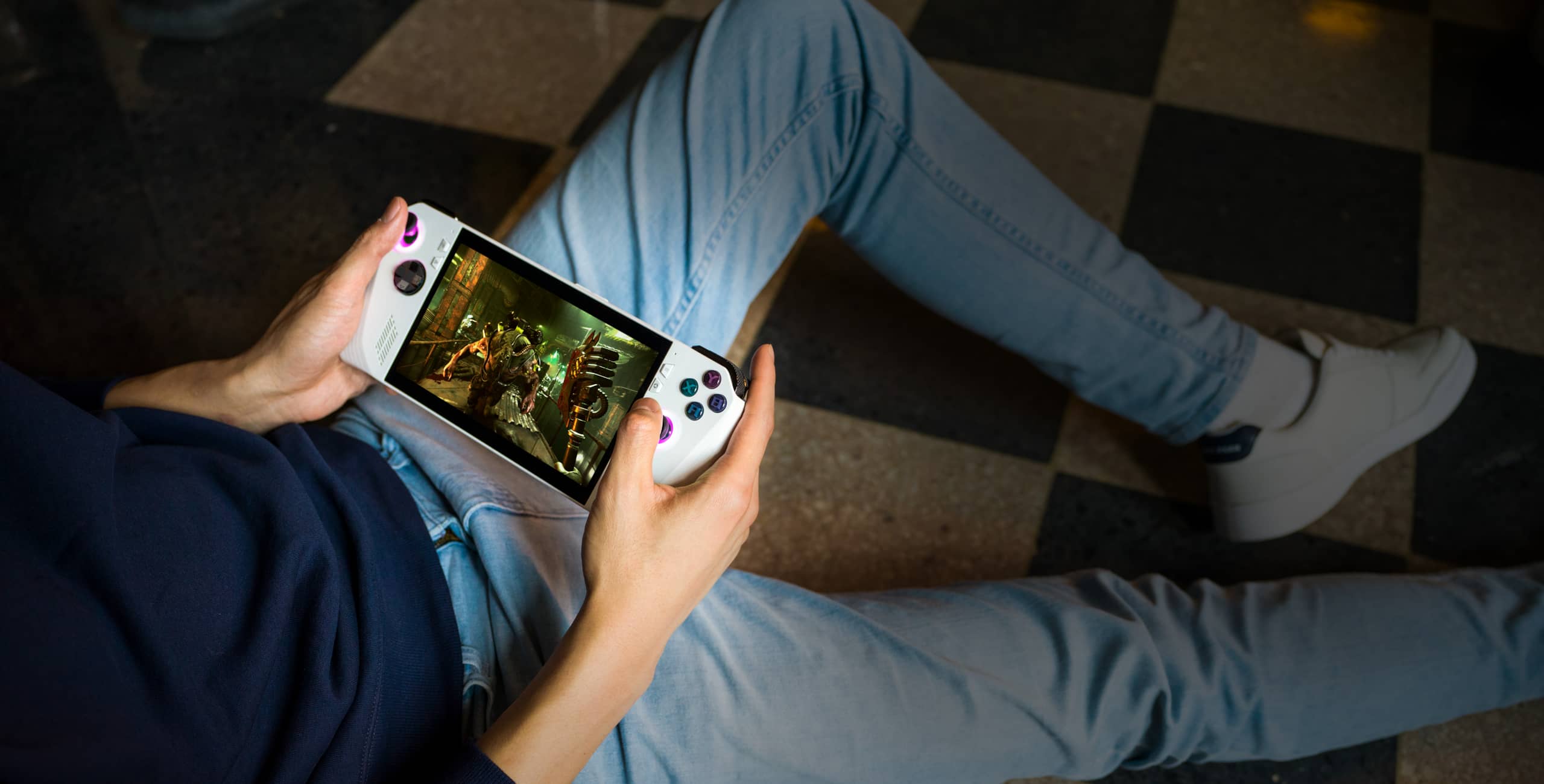 Zoek het hogerop met Wi-Fi 6E
De Ally is gemaakt om te reizen, dus hij is uitgerust met ultrasnelle Wi-Fi 6E netwerkmogelijkheden. Wi-Fi 6E ondersteunt 4x meer netwerkcapaciteit en 75% lagere latentie dan Wi-Fi 6. Hierdoor kan de Ally zelfs op drukke netwerken moeiteloos video's streamen, toegang krijgen tot cloud-gaming diensten en games downloaden.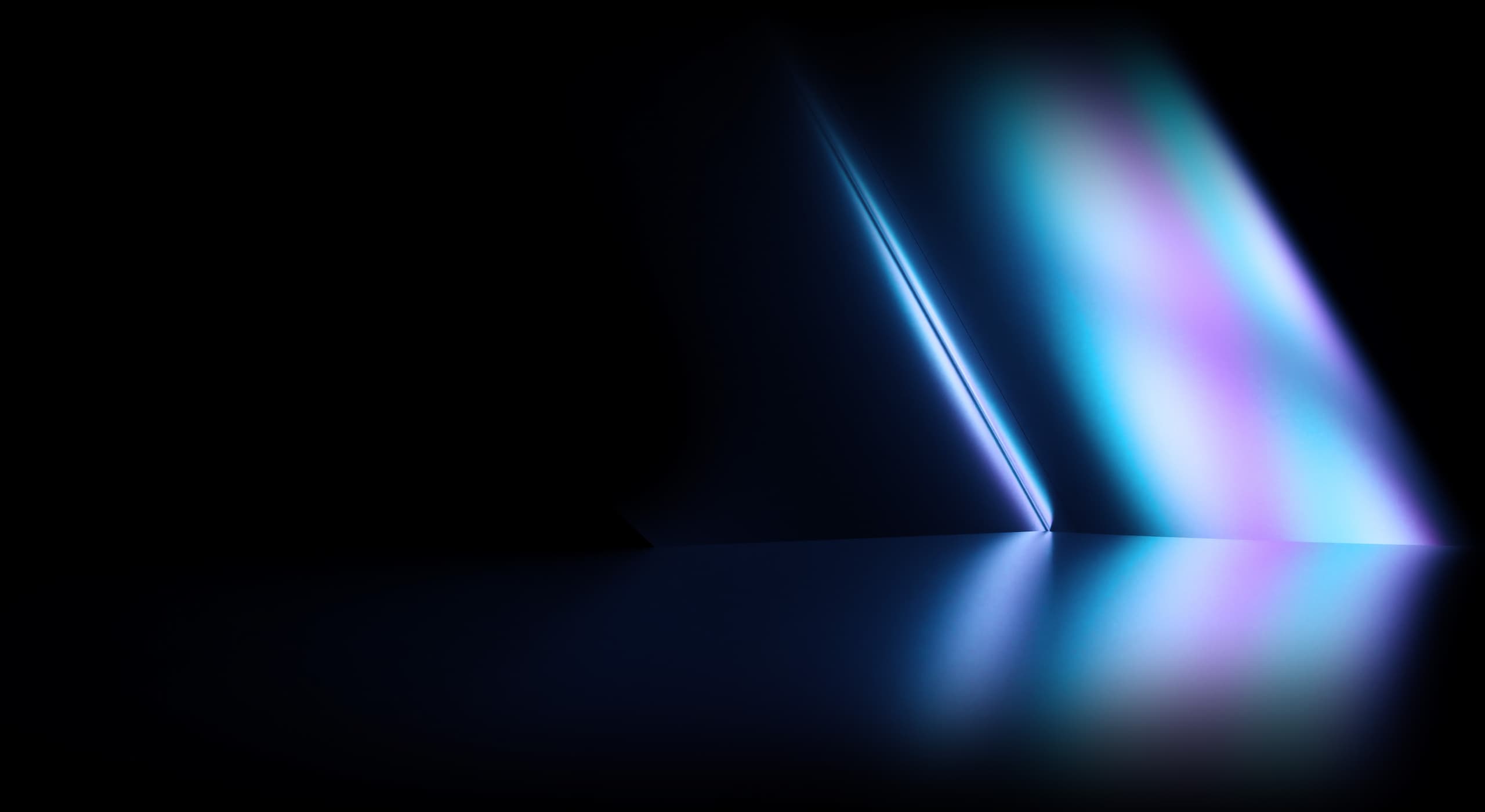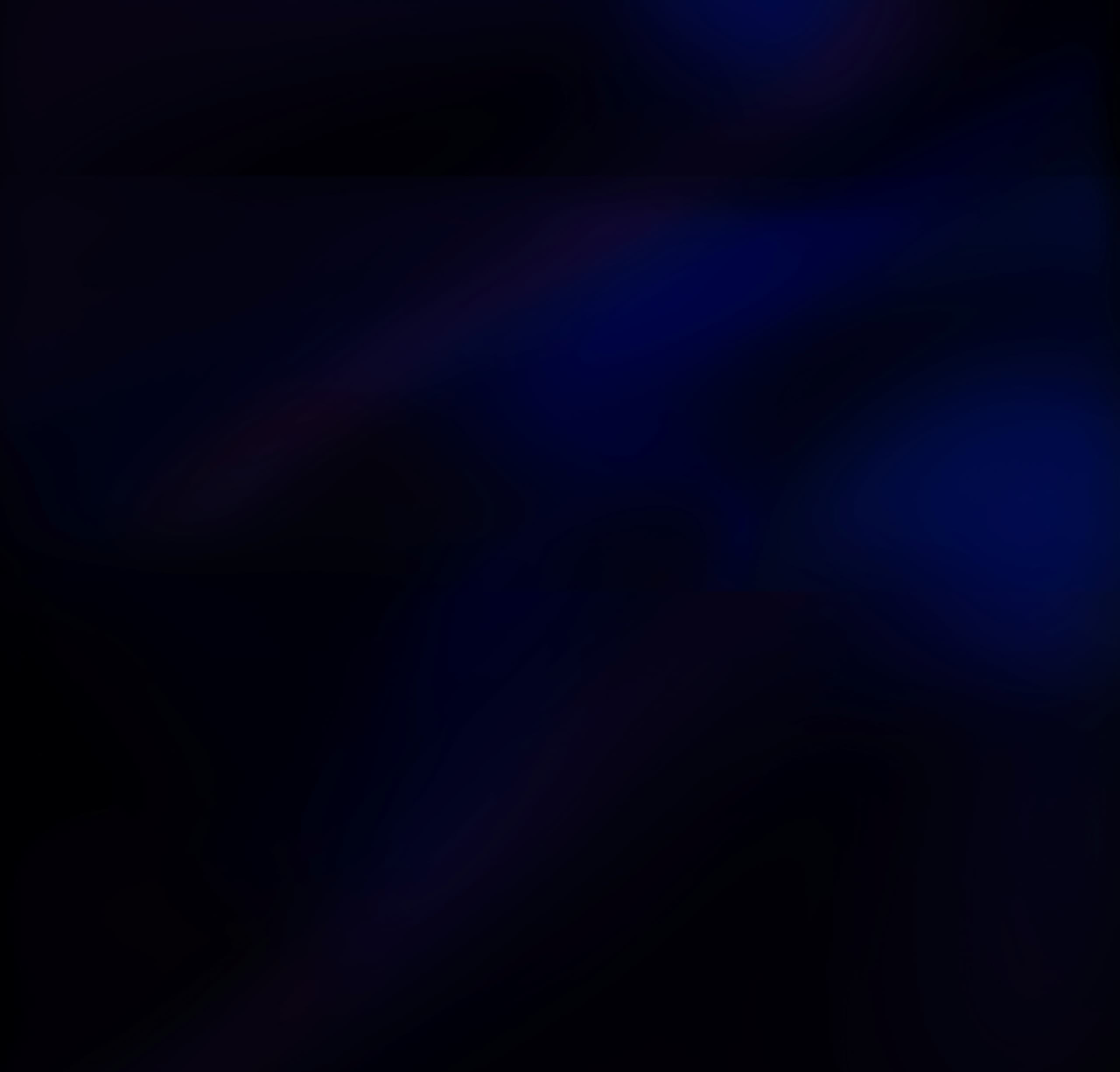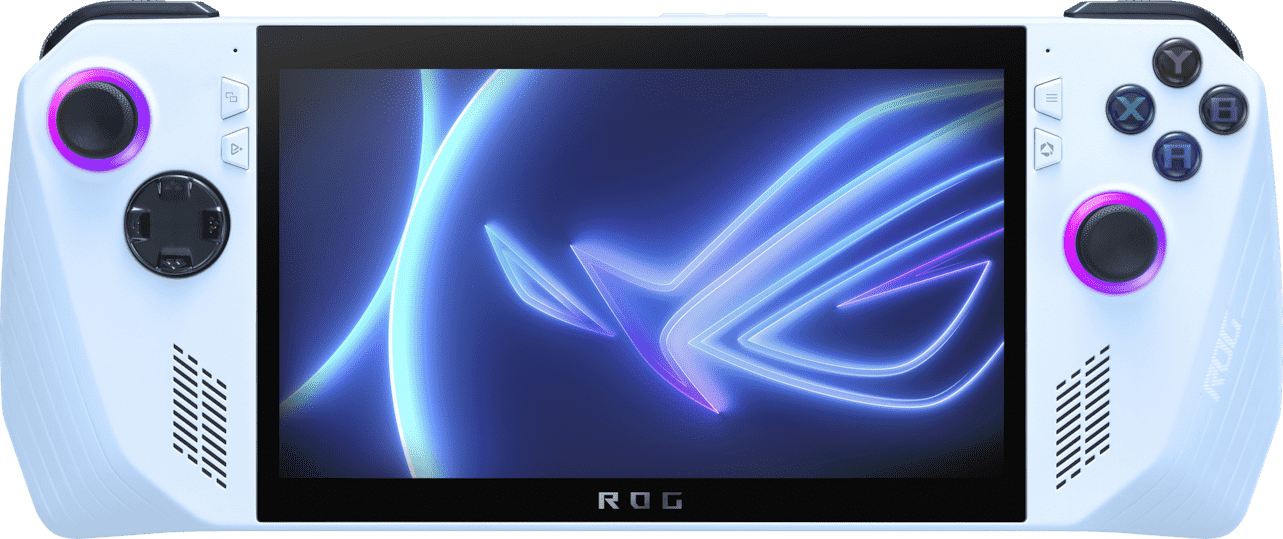 Linker stick

Richtingsknoppen

Audioluidsprekers

Arraymicrofoons

Weergave-knop

Command Center-knop

Armoury Crate-knop

Menu-knop

Arraymicrofoons

A/B/X/Y-knoppen

Rechter stick

Audioluidsprekers

Touchscreen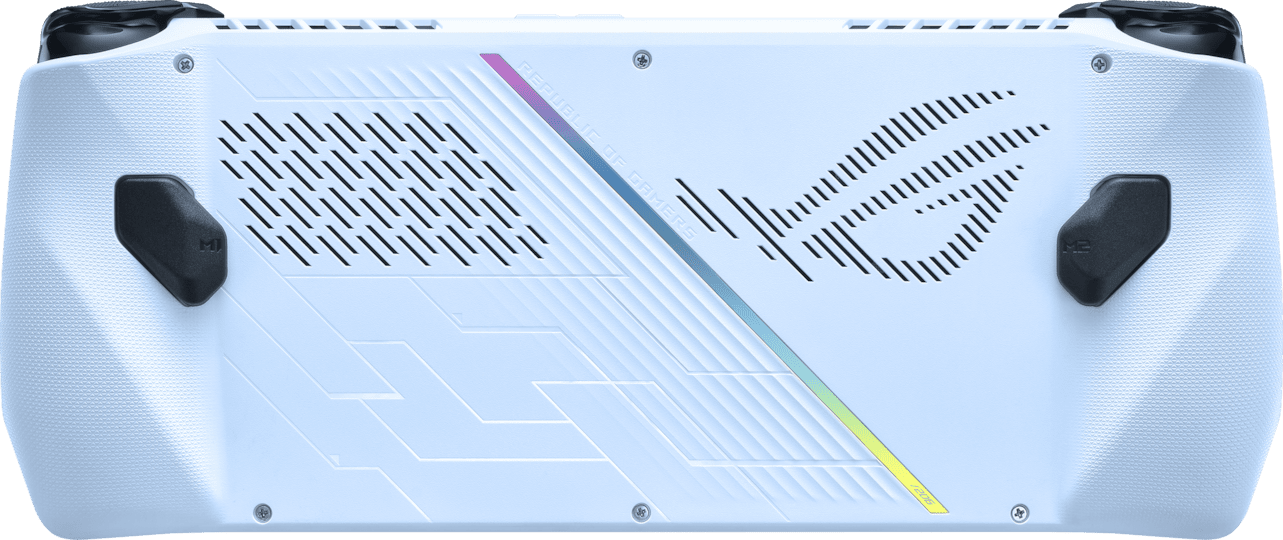 Ventilatieopeningen

Macro 1-knop

Macro 2-knop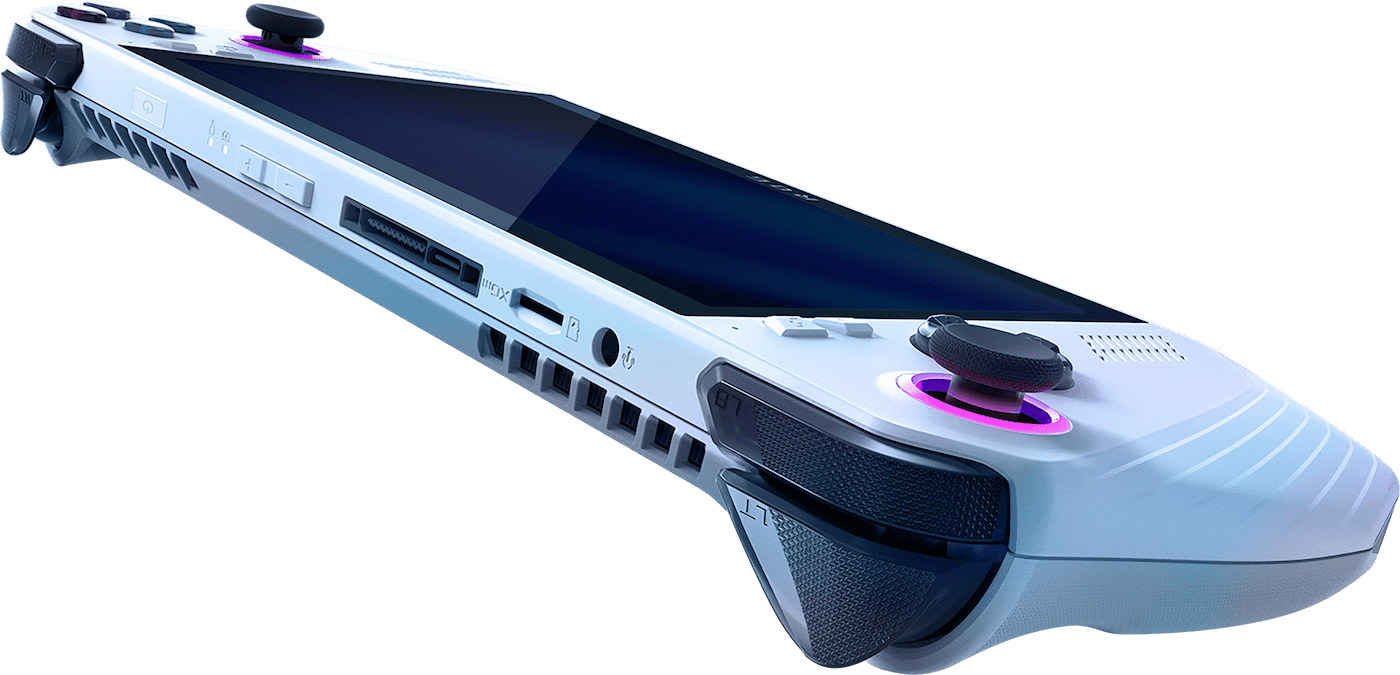 Rechter bumper

Rechter trigger

Aan/uit-knop / vingerafdruksensor

Voedingsindicator

Tweekleurige batterijlaadindicator

Volumeknoppen

ROG XG Mobile interface

USB 3.2 Gen 2 Type-C® / DisplayPort 1.4 /​ Voedingsingang (DC) combi-poort

UHS-II MicroSD-kaart slot​

3,5mm combi audio-aansluiting

Linker trigger

Linker bumper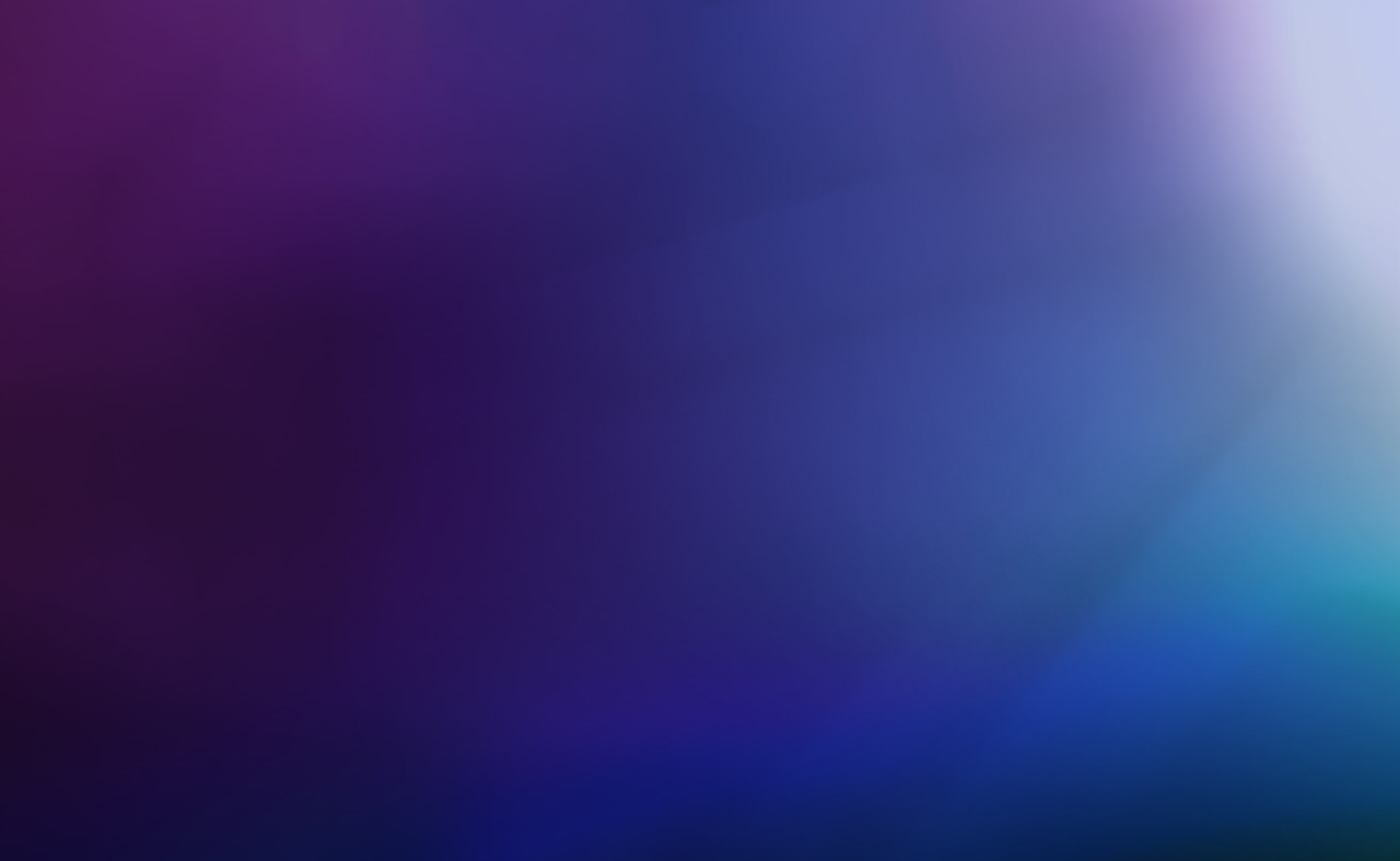 Power Up
Optionele accessoires voor de ROG Ally tillen je game naar een compleet nieuw niveau. Als je vaak op pad bent, kun je je apparaat onderweg beschermen met de ROG Ally Travel Case. Voor een naadloze gaming-ervaring op de bank biedt de ROG Gaming Charger Dock HDMI 2.0-ondersteuning, terwijl de ROG Raikiri Pro de perfecte metgezel is wanneer je met vrienden op de bank wilt gamen. Sluit de Ally aan op een XG Mobile voor de ultieme gaming-ervaring, met de grafische power van maximaal een NVIDIA® GeForce RTX™ 4090 Laptop GPU, samen met alle poorten die nodig zijn om je randapparatuur en een externe monitor aan te sluiten.
Video Reviews
A strong competitor to SteamDeck
ROG Ally - New Windows Gaming Handheld Launch Event
The performance really stands out on this device
This is a strong portable gaming competitor
I've had some serious fun with this.
I think this is going to be a real winner
This is basically the device I've dreamed of, ever since I was 10 years old!
Twice as fast as the Steam Deck and it's pretty much handled everything that I've thrown at it.
Wow, this is like playing on my main PC!
ROG Ally First Impressions
Is The ROG Ally Really An Upgrade? | ROG Ally vs Steam Deck
We Played Diablo IV On The ROG Ally And Its Performance Slayed!
ROG Ally Unboxing and Full Review: Better than Steam Deck
After the Steam Deck a year ago, it's Asus' turn to enter the market of PCs that think they are portable consoles with the ASUS ROG Ally. With its performance and ergonomics, the ROG Ally is made to win the game.
This new console made me leave the PS5
TEST ASUS ROG ALLY - NEW CONSOLE | GOODBYE STEAMDECK & SWITCH
Test of the Asus ROG Ally: TWICE as powerful as the STEAM DECK
TEST ASUS ROG ALLY: the portable console that buries the Switch and the Steam Deck
"...The ASUS ROG Ally is the most powerful handheld gaming console right now, but you can push it to the extreme by connecting Nvidia RTX 4090 laptop graphics with ASUS's XG Mobile!"
Sesi Disk-Aksiz kali ini kami berbincang mengenai pengalaman menggunakan ROG Ally
ROG Ally = Nintendo Switch Dengan Spesifikasi PC Kelas Pertengahan
ROG出了掌上游戏机啊!我去试玩了:7寸、Windows 11系统、白色美!TAKE MY MONEYYY
ROG ALLY 掌上游戲機最詳細評測全面TALK - 解析優缺點及個心得分享【全字幕】
ASUS ROG Ally Dah Sampai! – Handheld Gaming Paling Berkuasa
Konsol Gaming PC Mudah Alih Paling Power 2023 Dah Masuk Malaysia🔥 - Asus ROG Ally
Asus ROG Ally Malaysia review: My new favourite gaming accessory
Can you play Diablo IV on the ROG Ally? | Ask Us Anything ROG Ally Edition
Aksesori-Aksesori Best Untuk Asus ROG Ally,Steamdeck dan Nintendo Switch
Semua Tentang Asus ROG Ally,Seriously Anda WAJIB Beli! Review Asus ROG Ally
Asus ROG Ally vs Steamdeck vs Ayaneo Air vs Nintendo Switch OLED
This is not a Steamdeck. I repeat. This is not a Steamdeck. ROGer that, Ally?
Sesi Disk-Aksiz kali ini kami berbincang mengenai pengalaman menggunakan ROG Ally.
ROG Ally = Nintendo Switch Dengan Spesifikasi PC Kelas Pertengahan
Mainan baru untuk diuji - Asus ROG Ally
ROG Ally merupakan salah satu peranti yang menjadi keinginan ramai sejak ia diumumkan.
ROG Ally merupakan salah satu peranti yang menjadi keinginan ramai sejak ia diumumkan
the value proposition of the Asus ROG Ally is very, very good. Not only is it quite a bit more powerful than the Steam Deck, it's also a very refined handheld gaming PC
ROG Ally coming to Malaysia! Here's a quick look
A closer look at a fully dismantled ROG Ally gaming handheld
Testing Elden Ring on the new ROG Ally at Computex 2023
Cyberpunk 2077 gameplay test on the new ROG Ally!
Valorant gameplay on the new ROG Ally
Here's what the ROG Ally looks after being dismantled
Many of us are curious - does Tiny 11 improve the performance and battery life of the ROG Ally? We put it to the test today.
Since Genshin Impact is made for keyboard and mouse on PC, here's how you set it up on the ROG Ally to make use of the controllers instead.
We need to be critical in this review because we wanted ROG to continue improve the Ally. Do not settle down just because they launched a more powerful handheld than the Steam Deck.
Take FULL advantage of the ROG Ally with Armoury Crate SE
Teardown - ROG Ally | Is it easy to replace any of the parts?
Can you repair or upgrade the ROG Ally?
Asus ROG Ally Malaysia: Everything you need to know
ASUS ROG Ally: The power of a PC gaming computer, in your hands
ROG Ally murah! Selamat tinggal Steam Deck dan Nintendo Switch
ROG Ally上手玩!Cyberpunk 2077跑得很流畅,手感比想象中还要好!
Our review of the ASUS ROG Ally, the best Windows handheld console out there!
PC Gaming in your pocket - ROG Ally Review
I would say this is a great entertainment package in a very small and compact form factor and the best part is it runs on battery you don't need a charger all time to carry, if you love gaming on the go
The stunning display of this device gives you smooth gaming experience. Every feature of this console is top notch. This will be my go to partner wherever I go
This device is going to change the dynamic in the gaming world. The ROG Ally is one of the ultimate device with powerful hardware
There is no doubt, that this is one of the most powerful window gaming device with ultimate display and smooth button. The gaming experience is pretty exciting
If you love gaming and you want something more powerful than a mobile phone so this ROG Ally is one of the most portable yet powerful device in the market.
One of the powerful, lightweight gaming console which is portable. The build quality and the button design is amazing which makes the holding perfect for a long time
This device is absolutely amazing, not only perfect for gaming this handheld is also perfect for entertainment purpose. No doubt, this device is going to reform the online gaming and e-sports
If you love gaming and you want something more powerful than a mobile phone so this ROG Ally is one of the most portable yet powerful device in the market.
ROG Ally proved that handheld are no longer a gimmick.. The design of this device is pretty impressive. The raw performance of the Ally is extremely impressive
A very good construction and the possibility of using windows
In the Asus Rog Ally video review we tell you what is special about this new portable gaming pc, its technical characteristics, how some of the latest and most demanding PC games perform, or what its commitment to Windows implies when installing any other program
A computer in the palm of your hand, and it outperforms the competition in every way
I installed the ASUS ROG XG MOBILE rtx 4090 on the ASUS ROG ALLY and the result has been incredible, BRUTAL power
Is the ASUS ROG ALLY EXTREME an EMULATOR BEAST? In this video we will see if this Steam Deck Killer is also powerful with emulators
DISASSEMBLY the new ASUS ROG ALLY!
ROG Ally VS Steam Deck | Comparison of Performance & Load Times
This is the fashionable ASUS ROG ALLY VIDEO CONSOLE
In-depth analysis in Spanish of the BEST Steam deck KILLER to date, ASUS ROG ALLY EXTREME.
It has more power than the Steam Deck. Beat other consoles of the same style
We tested the ROG ALLY, Asus' answer to Valve's Steam Deck video game console. With ALLY you can connect to your favorite video game streaming services Steam, Xbox, EA, GoG, Ubisoft...
We cannot understand how such wonder can exist in so little space.
With a dock, mouse, and keyboard, you have a PC anywhere.
It is a brutal machine and a dream for any player
The new ERA of PC GAMING.
For a desktop experience, pair Ally with an external XG Mobile GPU, dedicated monitor, mouse, and keyboard for esports and high-fidelity 4K gaming.
We analyze the ASUS ROG Ally, a very complete portable console with brutal specifications and a candidate for the best laptop on the market
The time of computers with powerful processors encapsulated in laptops for gamers has arrived. Asus Rog Ally come with some heart-stopping features
WE FACE the Valve STEAM DECK vs Asus ROG ALLY to discover their DIFFERENCES
ROG Ally VS Steam Deck | Definitive Comparison | Performance, Battery, Display & Charging Times
ROG Ally 這個第一代的ROG電競掌機還是讓我很著迷的,全白機身好看又富有巧思,大廠出品售後不需要過代理,更有保障。整合ROG筆電技術開發出多種使用情境,散熱、操作感受都有顧及到玩家實際體驗,最重要的,幀數來到了3A遊戲1080P也可以玩的地步。
Review of the ASUS ROG ALLY, a portable gaming PC with too much performance. I looked twice at the outrageous performance!
Advance Review] Real thoughts on ROG ALLY, a true portable PC game console!
ASUS ROG Ally Advance Review - Best Performance and Cost Performance Compared to Competitors
Review of ROG Ally: What I found out after a week of playing the game.
ASUS finally releases the "ROG Ally", a portable gaming console! Cost-effective, "do-anything" Windows-based PC
Released on 6/14! ROG ALLY: Unboxing and operation check delivery
Video to learn about ROG ALLY. (ASUS new product preview explanation)
【Portable Gaming PC】ASUS ROG Ally【Product Review】
ASUS "ROG Ally" Evaluation! Super powerful specs of "Zen 4" CPU + "RDNA 3" GPU for just under 100,000 yen! The real competitor to the Steam Deck! Portable Gaming PC
ROG Ally Z1 Extreme 국내 정발 성능테스트 결과 99만9천원? UMPC 킬러 등극 장단점은? 구매전 꼭 보세요
진성 겜덕들이 만든 미친 휴대용 게임기 ASUS ROG ALLY 언빡싱&첫 인상
ROG ALLY has the advantage of playing various game libraries with the Armory Crate.
ROG ALLY is a dream come true for fellow gamers.
Very impressive with its portability and incredibly fast specs!
Productvergelijking
Product toegevoegd aan vergelijking. Voeg maximaal 4 producten toe of ga verder met het vergelijken van de geselecteerde producten.
ASUS Footer