Characteristics
Techn. specs
Onderscheidingen
Galerij
Ondersteuning
&lt/Zephyrus G14&gt
Tot AMD Ryzen™ 9-processors en AMD Radeon™ RX 6800S mobiele graphics met een MUX Switch voeden deze krachtpatser.
ROG Intelligent Cooling: een aangepaste dampkamer en vloeibaar metaal ondersteunen 0dB omgevingskoeling.
ROG Nebula Display™: 16:10 beeldverhouding, QHD/120hz paneel, Pantone® Validated, 100% PCI-P3 en Dolby Vision® HDR.
Verbeterde AniMe Matrix™ met levendigere animaties, nieuwe functies en mini games.
Snel opladen tot 50% in 30 minuten, 100W USB Type-C opladen, en Wi-Fi 6E ondersteuning.
Vier luidsprekers, een 3D-microfoonarray voor spraakvastlegging en Dolby Atmos®-ondersteuning zorgen voor kristalhelder geluid.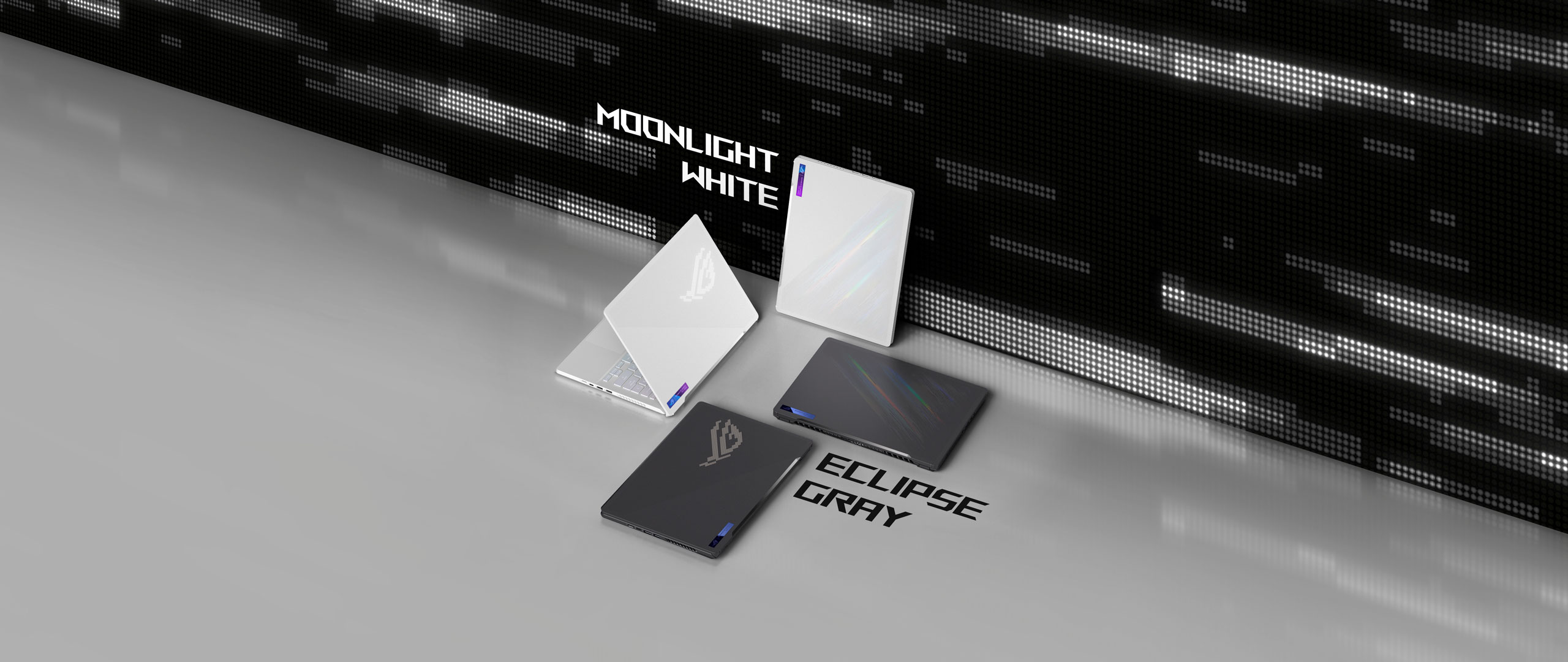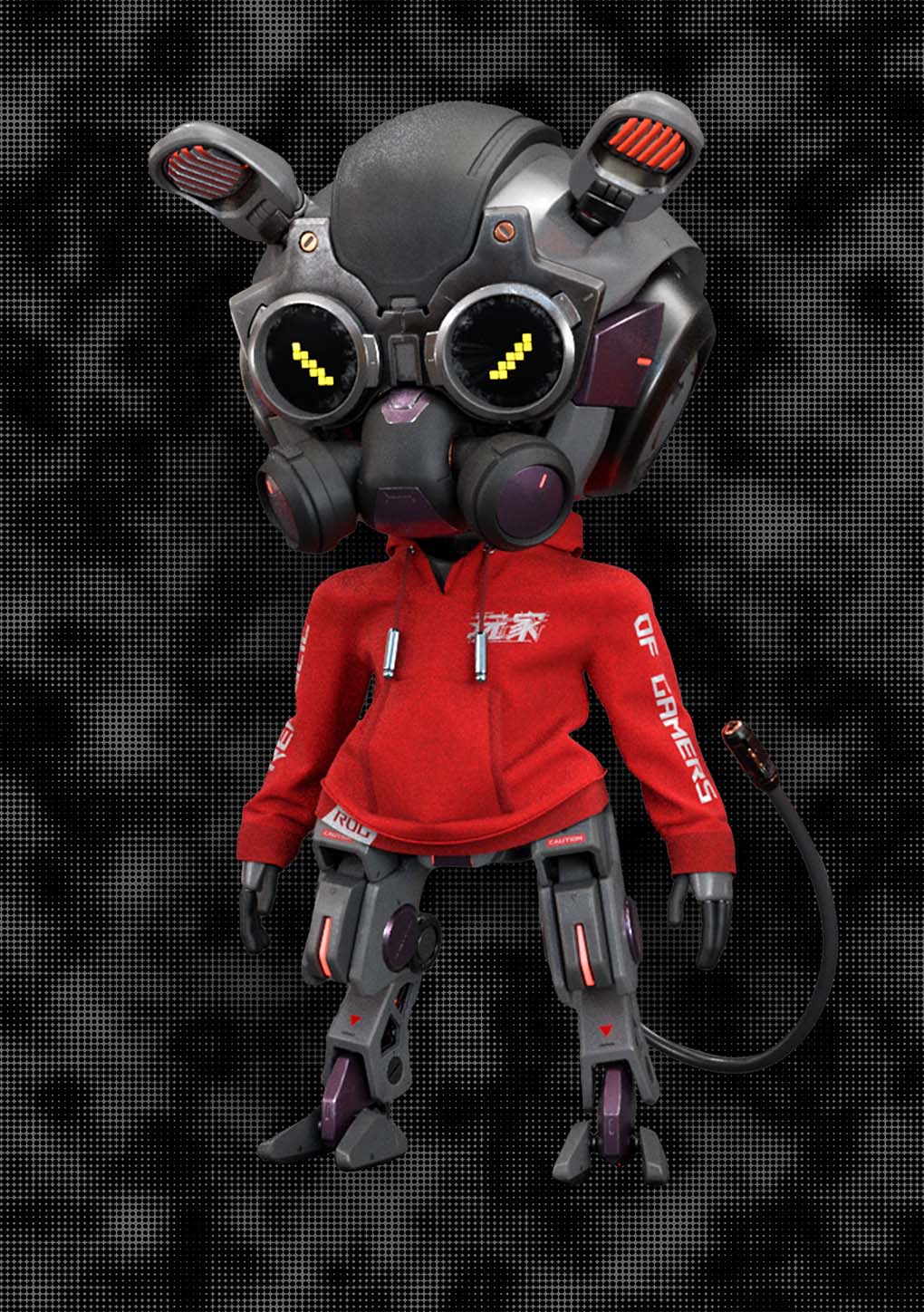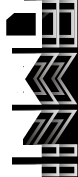 #AniMe Matrix
ENTER THE MATRIX
AniMe Matrix™ en Virtual Pet OMNI hebben beide een upgrade gekregen. Meer LED's betekent meer animatiemogelijkheden, en OMNI keert terug met een hele reeks mini games, zoals een speelautomaat, een shooter en mollenjacht. De games verlichten naarmate je verder gaat ook de AniMe Matrix™, en als je hoge scores behaalt, ontgrendel je meer animaties voor OMNI als hij zich bij je voegt op het bureaublad.
EINDELOZE PERSONALISATIE
Maak de Zephyrus G14 helemaal van jou met aanpasbare animatie-opties. Toon tekstberichten of systeemmeldingen, stel de matrix in om in realtime te reageren op je audiobron, of maak je eigen aangepaste animatie.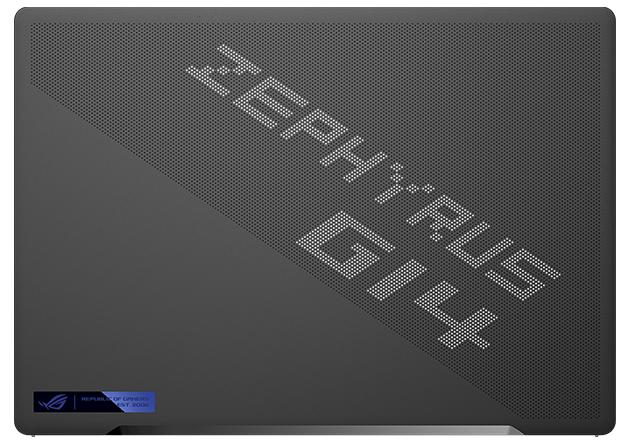 #PERFORMANCE
ALLE AMD-POWER
De gloednieuwe 2022 Zephyrus G14 wordt direct uit te doos aangedreven door AMD en Windows 11 Pro. Met nieuwe Ryzen™ 9 processors en Radeon™ RX 6800S mobiele graphics is deze all-AMD krachtpatser klaar voor elke game of multitasking die je hem voorschotelt. Voor extra voordeel maakt de G14 ook gebruik van AMD-technologieën zoals Smartshift en Smart Access Memory. AMD Smartshift laat de CPU en GPU dynamisch vermogen toewijzen waar en wanneer dat het meest nodig is, en AMD Smart Access Memory geeft de CPU volledige toegang tot het volledige VRAM van de GPU, wat de prestaties in games verbetert.
WINDOWS 11 Pro
BESTURINGSSYSTEEM
AMD
RYZEN™ 9 6000-serie
CPU
AMD
Radeon™ RX 6800S
Graphics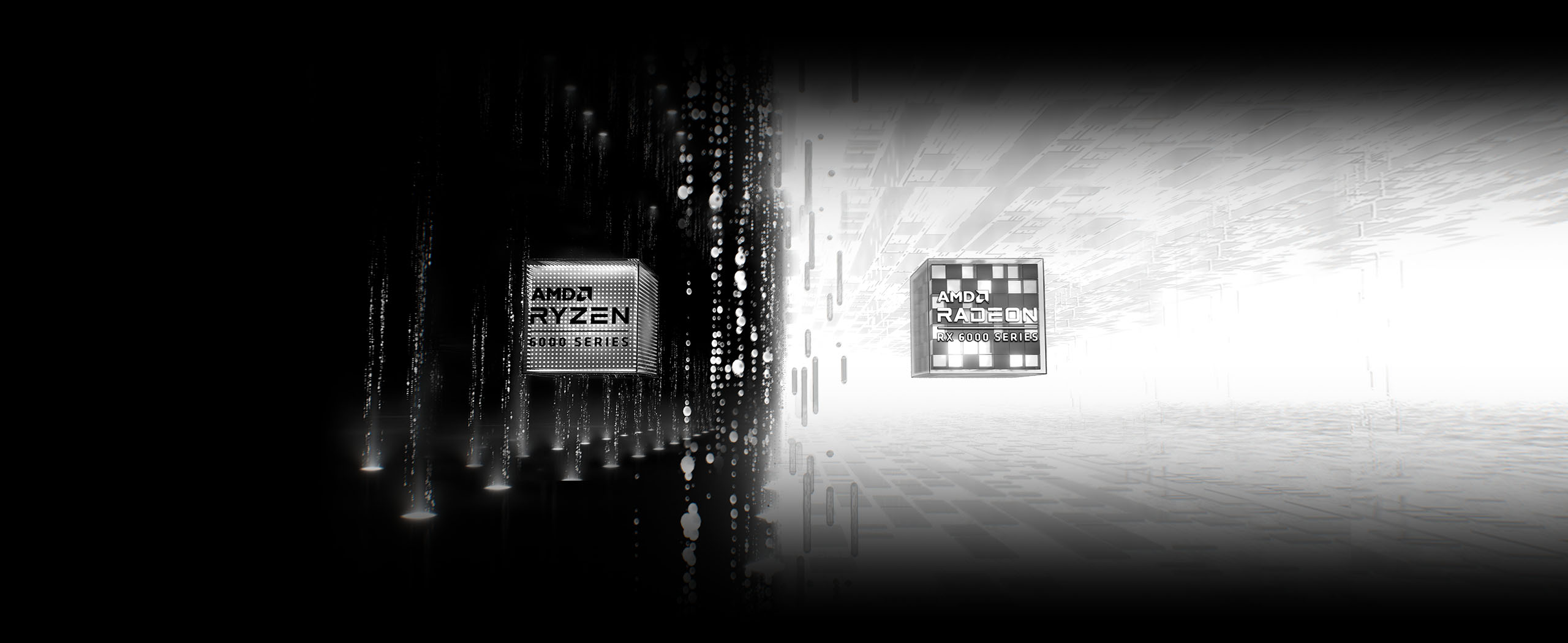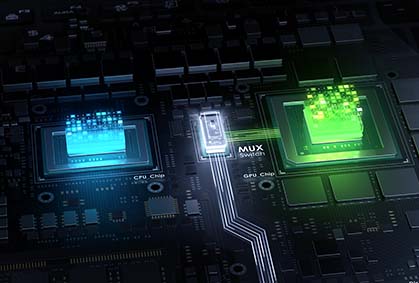 GETUNEDE PRESTATIES
De meeste moderne gaming-laptops gebruiken krachtige, speciale grafische chips voor hoge prestaties - maar sturen die frames via de geïntegreerde graphics van de CPU voordat ze het scherm bereiken, voor een maximale accuduur. Dit voorkomt echter dat de GPU zijn absoluut beste prestaties levert, en daarom voegen we een MUX switch toe aan alle 2022 ROG-laptops. Voor competitieve games kun je een directe GPU-modus inschakelen die latentie vermindert en de prestaties gemiddeld met tot wel 5-10% verhoogt.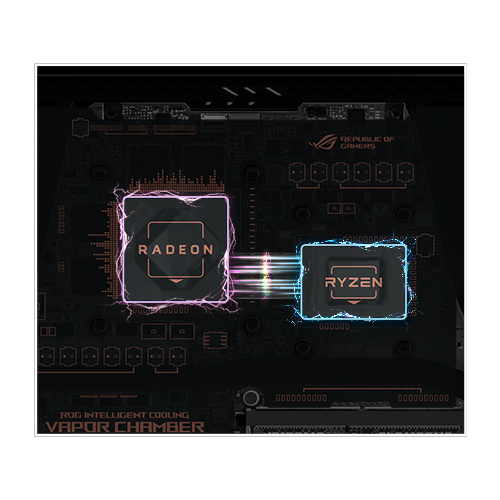 AMD SmartShift Max
Dankzij AMD SmartShift-technologie kunnen CPU en GPU met elkaar communiceren en in een oogwenk vermogen toewijzen waar en wanneer het nodig is. Geleid door machine learning-algoritmen, verbindt SmartShift de CPU en GPU via de Infinity Fabric, zodat beide componenten snel kunnen reageren op dynamische werklasten.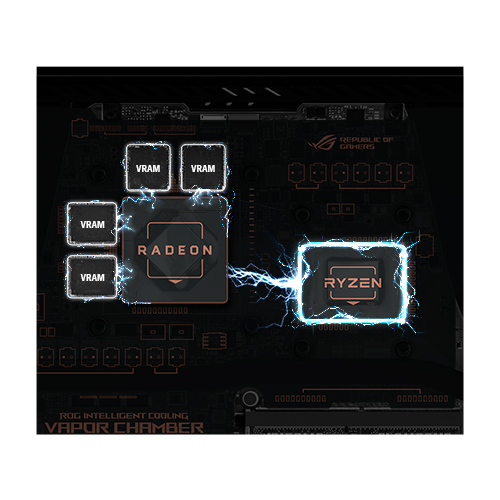 AMD Smart Access Memory
Traditionele Windows pc's geven de CPU per keer slechts toegang tot kleine gedeelten van het grafisch geheugen (VRAM). In combinatie met AMD RX 6000-serie graphics, rekent Smart Access Memory af met dit knelpunt door AMD Ryzen-processors volledige toegang te geven tot het VRAM, voor betere prestaties.

DDR5-bandbreedte
Benut de ongeëvenaarde gegevensoverdrachtssnelheden van DDR5 om responsievere gaming en multitasking aan te drijven.

Hoge snelheid PCIe® Gen 4 SSD-opslag
Een 1TB PCIe SSD zorgt voor vlotte opstarttijden, sneller ladende games-schermen en algehele responsiviteit voor het hele besturingssysteem.
pause
#THERMAL
CHILL OUT

Krachtige hardware vereist robuuste koeling, vooral in een compacte behuizing. De Zephyrus G14 bevat een dampkamer voor de CPU en GPU met een thermische compound van vloeibaar metaal, voor ultra-efficiënte warmteoverdracht van de warmste componenten. In de Silent-bedrijfsmodus, tijdens taken op laag vermogen, zorgt de 0dB-technologie ervoor dat de ventilatoren automatisch worden uitgeschakeld, voor een echt stille ervaring.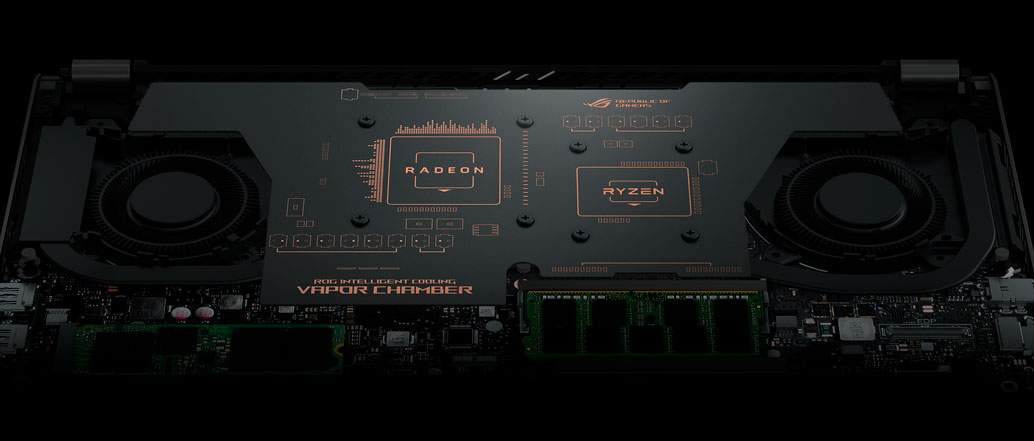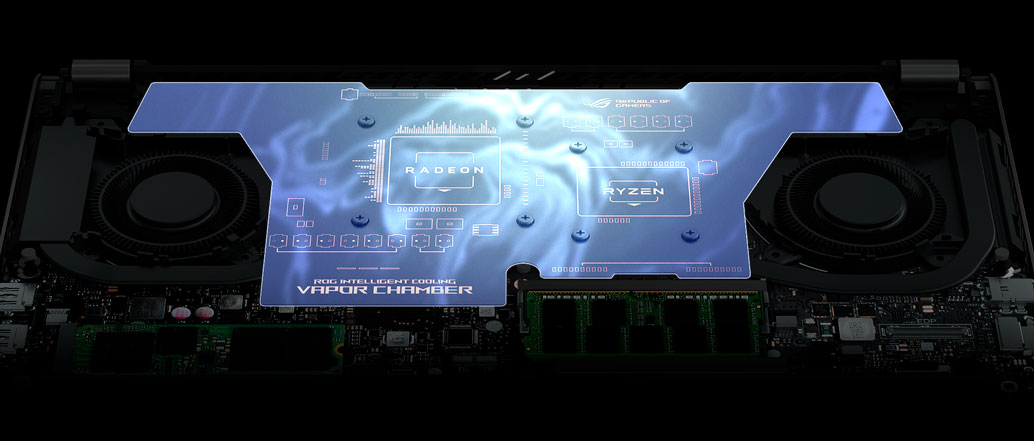 Dampkamer

voert warmte sneller af

Vergeleken met conventionele heat pipes die de warmte alleen langs hun as overbrengen, verspreiden dampkamerontwerpen de warmte over hun hele oppervlak, waardoor een groter gebied ontstaat voor snelle warmte-afvoer in kleine ruimten. Het verlagen van de temperatuur van deze voedingscomponenten helpt de stabiliteit en betrouwbaarheid op lange termijn te verbeteren.
Houd je CPU koel met

Liquid Metal
Tot
10° koeler
CPU-temperatuur
Tot
14x betere
thermische geleidbaarheid

*Temperatuurverbeteringen vergeleken met vorige generatie thermische compound, zoals intern getest door ASUS. Thermische geleidbaarheid vergeleken met industriestandaard.
0dB technologie

,
Geen afleiding

Geniet van echt stille koeling onder lichte werkbelasting dankzij 0dB-technologie. In de stille bedrijfsmodus schakelt het koelsysteem alle ventilatoren uit tijdens energiezuinige taken, om de warmte passief af te voeren. Dankzij minder afleiding kun je je concentreren op je werk en helemaal opgaan in films. Als de CPU- of GPU-temperaturen stijgen, zoals tijdens een gaming-sessie, schakelen de ventilatoren automatisch weer in.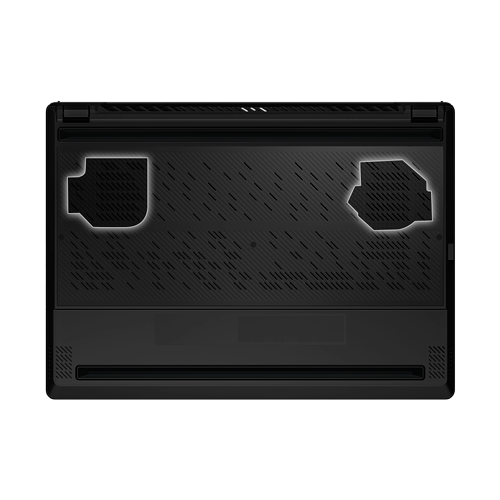 Filter erin. Stof eruit.
Nieuw voor 2022 is dat de G14 nu is uitgerust met een stoffilter voor beide ventilatoren. Een filter helpt voorkomen dat stof en vezels in de behuizing worden gezogen, waardoor de CPU 15% meer vermogen hoeft te leveren en de GPU 4% meer vermogen biedt ten opzichte van machines zonder filter na langdurig gebruik. Hoe minder stof, hoe langer de computer zonder throttling op topprestaties kan draaien.
*Interne testen in een gesimuleerde stoffige omgeving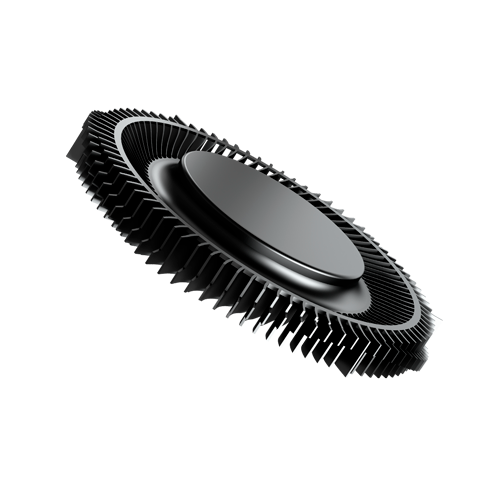 Verbeterde
Arc Flow Fans™

verplaatsen meer lucht met minder geluid

De vernieuwde Arc Flow Fans™ zijn voorzien van 84 gebogen bladen die speciaal zijn gevormd voor een maximale luchtstroom met minimaal geluid. Bladen met variabele dikte, die taps toelopen tot slechts 0,1 mm aan het uiteinde, verminderen de turbulentie terwijl de ventilator de lucht met centrifugale kracht versnelt, waardoor je tot 32%* meer luchtstroom krijgt terwijl de ventilator tot 2db stiller blijft. Door de diameter van de ventilatoras te verkleinen, hebben de ventilatoren van de 2022 G14 een 5% hogere luchtstroom dan de standaard Arc Flow-ventilatoren met dezelfde rotatiesnelheid.

*Luchtstroomverbeteringen in vergelijking met het 71-bladige ROG-ventilatorontwerp, zoals intern getest door ASUS.
Anti-Dust Tunnels 2.0

voor een lange levensduur van het systeem

Ons verbeterde ontwerp van de thermische module heeft kortere anti-stoftunnels die meer ruimte rond de ventilator laten, waardoor de luchtstroom met tot wel 15% verbetert. Het voorkomen van stofophoping garandeert de stabiliteit en betrouwbaarheid van het systeem op lange termijn.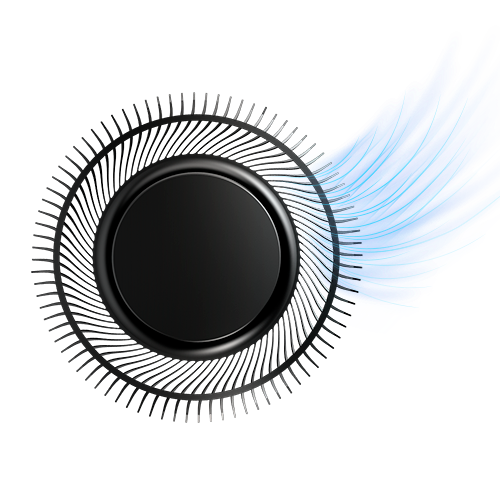 Ontwerp met variabele bladdikte

vermindert luchtbotsing

Onze ventilatoren gebruiken bladen met variabele dikte en vorm, voor een geleidelijke overgang van een gebied met hoge naar een gebied met lage druk alvorens ze de lucht uitstoten. Dit vermindert turbulentie en maximaliseert de luchtstroomefficiëntie in vergelijking met traditionele ventilatorbladen. Dit gepatenteerde nieuwe ontwerp is mogelijk gemaakt door de nieuwste verwerkingstechnologieën voor vloeibaar kristal-polymeer, waarmee we ultradunne, sterke ventilatorbladen kunnen maken voor een grotere luchtinlaat.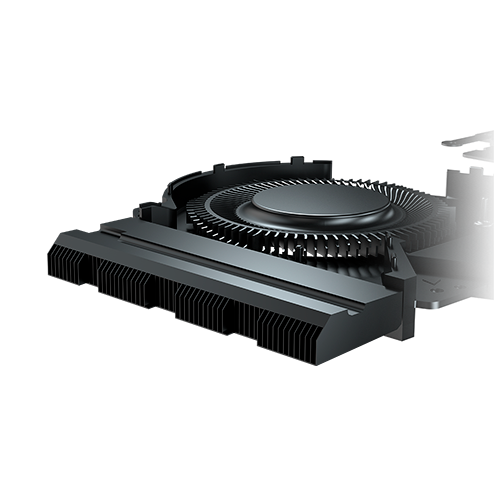 0,15mm Ultra Thin Fin

voor de winst

De thermische energie wordt afgevoerd door vier koellichamen, elk gevoerd met ultradunne koperen ribben van slechts 0,15mm dun. Deze ribben zijn half zo groot als gangbare oplossingen, voor een hogere dichtheid voor warmteafvoer vergroot en lagere luchtweerstand voor vlottere doorstroming. Er zijn maximaal 211 koellichaamribben met een totaal oppervlaktegebied van 75.368mm2.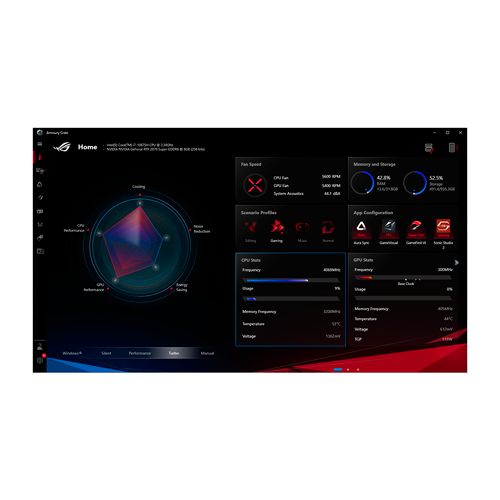 Scenarioprofielen

geven je de juiste koeling op het juiste moment

Onze Stille, Prestatie- en Turbostanden zijn nog maar het begin. Scenarioprofielen zorgen ervoor dat het systeem automatisch tussen deze profielen schakelt op basis van de uitgevoerde toepassing, naast andere essentiële systeeminstellingen. Schakel automatisch tussen verlichtingsconfiguraties, schakel de Windows-toets en het touchpad uit tijdens games en automatiseer alles naar hartenlust. Armoury Crate past zich in een oogwenk aan de huidige taak aan.
pause
#DISPLAY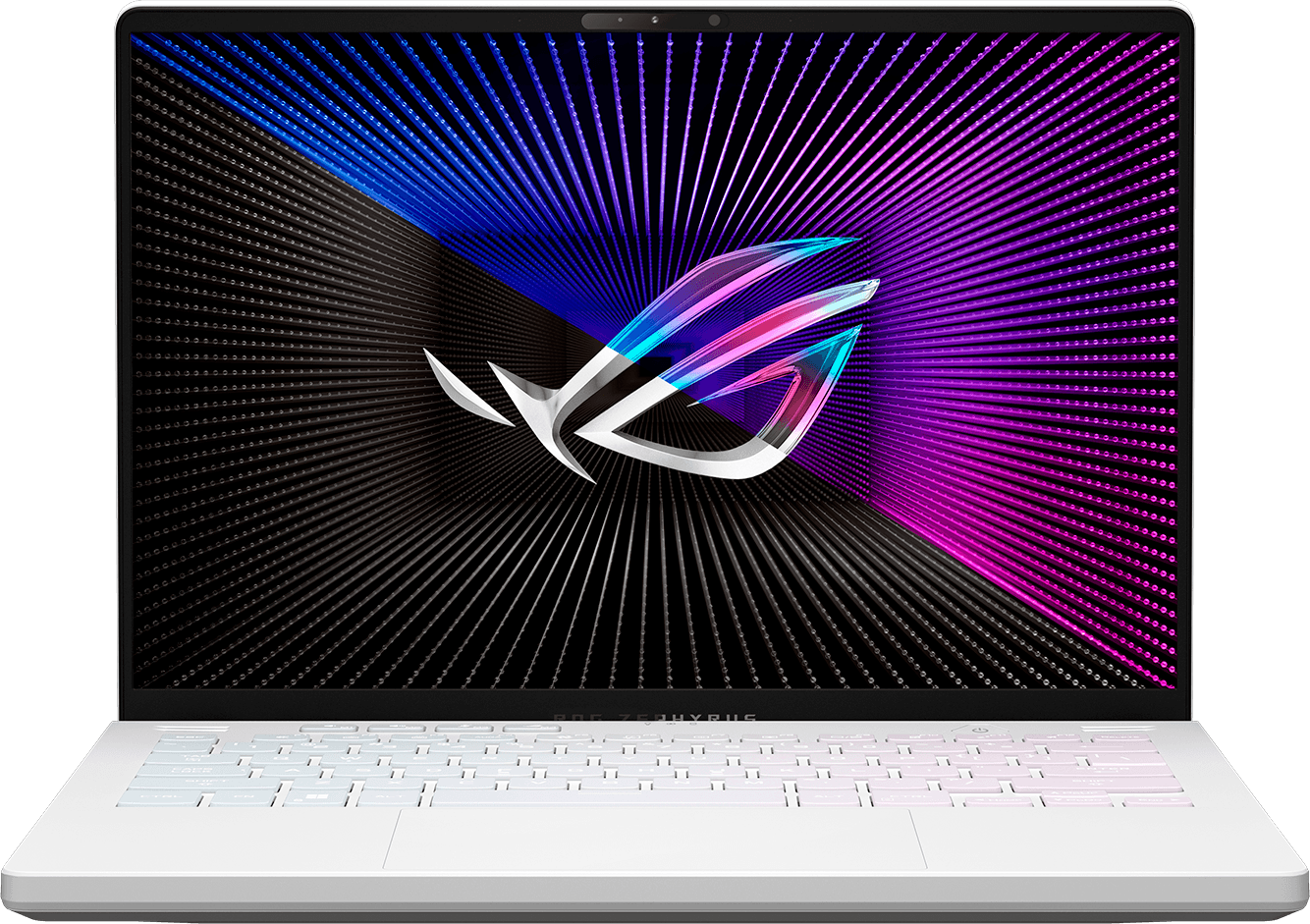 16:10
3ms
responstijd
500 nits helderheid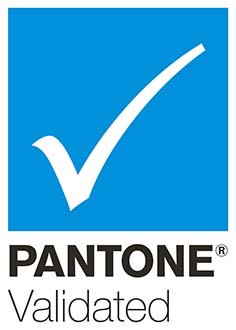 BUITENAARDSE BEELDEN
Het scherm van de laptop is het venster naar alles wat je op de machine doet. Dit jaar leggen we de lat hoger met een enorm 16:10 scherm met een scherm/behuizing ratio van 91%. Ons QHD 120Hz-model voldoet ook aan de ROG Nebula-schermstandaard, met 100% DCI-P3-dekking, Pantone®-validatie, 500 nits helderheid en een responstijd van slechts 3ms. Dit vrijwel randloze scherm is zo immersief als je het maar kunt krijgen op een laptop.
*Hier meer info over ROG Nebula-schermen
*Twee prachtige schermopties, 120Hz QHD met hoge resolutie en hoge verversingssnelheid of ultravloeiende 144Hz Full HD, houden je ondergedompeld in levensechte, Pantone® Validated kleuren.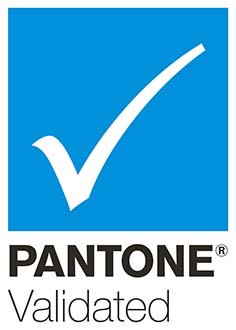 Dolby Vision®-technologie
Van scène tot scène, van frame tot frame, Dolby Vision ® laat media er beter uitzien. De technologie biedt een verbetering ten opzichte van high dynamic range (HDR) 4K video, door beelden dynamisch aan te passen om elk beeld dat je ziet rijker, helderder en levendiger te maken. Creatieven kunnen hun streams, video's en andere content filmen en bewerken in een formaat dat doorgaans wordt gebruikt door professionals in de sector.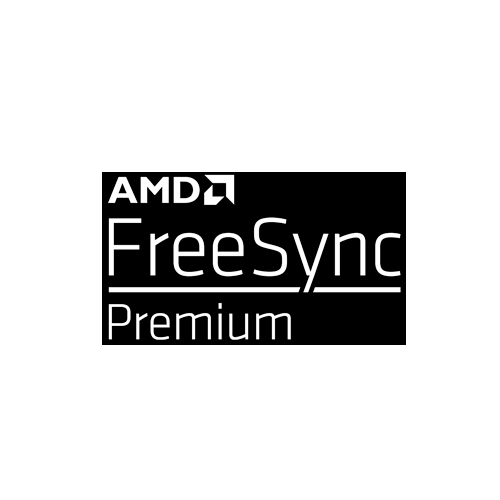 AMD FreeSync Premium-technologie
Niets onderbreekt het volledig opgaan in games zo erg als screen tearing-effecten. GPU's renderen frames met variabele snelheden, maar schermen vernieuwen meestal constant, zodat ze niet synchroon kunnen lopen, wat zichtbare haperingen en artefacten veroorzaakt die je afleiden van de actie. Met FreeSync synchroniseert de verversingssnelheid van het scherm met de frame rate van de GPU, om een eind te maken aan visuele tearing, haperingen tot een minimum te beperken en invoervertraging te verminderen. Maak je klaar om gameplay te ervaren die er natuurlijker dan ooit uitziet en aanvoelt.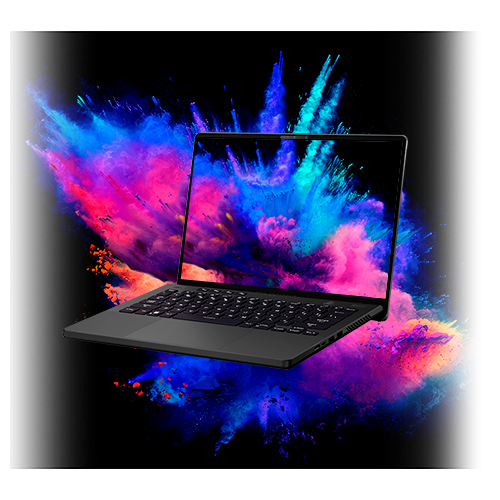 Pantone® kleurvalidatie
Elk IPS-niveau beeldscherm is in de fabriek gekalibreerd om ervoor te zorgen dat de kleuren nauwkeurig zijn voor het Pantone®-palet. Kunstenaars, ontwerpers en contentmakers kunnen daardoor hoogwaardige content toevoegen aan hun portfolio's en op de zelfde machine genieten van rijkere gaming-beelden.
pause
#PORTABILITY
#AUDIO

FEEL THE BEAT
Virtuele 5.1.2-kanaals surround sound, aangedreven door Dolby Atmos® -technologie, plaatst je midden in de actie. Dubbele tweeters vuren het geluid rechtstreeks op je af, terwijl dubbele Smart Amp-woofers het geluid van de tafel onder het toestel laten weerkaatsen. Schakel tussen 6 vooraf ingestelde modi die de instellingen optimaliseren op basis van type game en media, of maak handmatige aanpassingen die passen bij je behoeften en voorkeuren. Two-Way AI Noise Cancelation filtert zowel de input- als de output-audio, zodat streams, chats en opnames duidelijker dan ooit worden.

Two-Way
AI Noise-Cancelation
Veelzijdige
3D-microfoon
array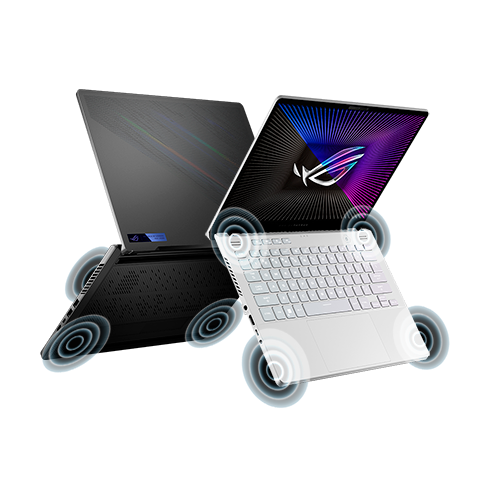 Dolby Atmos®
Of je nu een hoofdtelefoon of luidsprekers gebruikt, de Dolby Atmos®-technologie verbetert de ruimtelijke onderdompeling via meer genuanceerde, gelaagde virtuele surround sound-effecten die verder kunnen worden geoptimaliseerd met speciaal afgestemde, vooraf ingestelde modi voor films en games.
3D-microfoonarray
Drie modi voor de geïntegreerde microfoonarray geven je meer controle over je input. De Cardioïde-modus vangt het geluid op van direct vóór de laptop, terwijl de input van de achterkant wordt geminimaliseerd, wat het ideaal maakt voor streaming en gaming. De Stereo-modus gebruikt de rechter- en linkerkanalen om een breder geluidslandschap vast te leggen voor live muziek of andere ervaringen waar je helemaal in op wilt gaan. De Omnidirectionele modus pikt het geluid uit alle richtingen op voor duidelijkere conferentiegesprekken.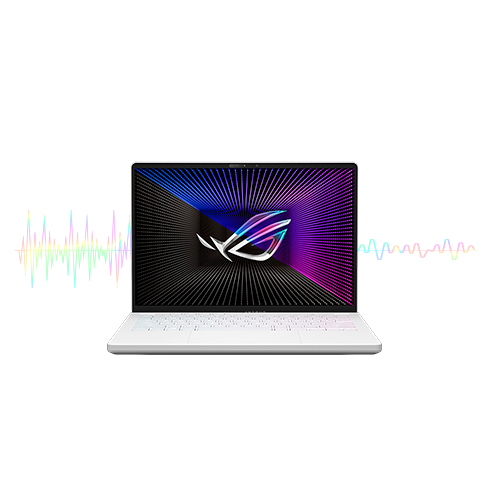 Two-Way AI Noise Cancelation
Onze geavanceerde Two-Way AI Noise Cancelation-technologie werkt met elk invoerapparaat en ook met downstreamverbindingen, zodat je ruis kunt verwijderen van zowel je eigen microfoon als van inkomende feeds. Het draait ook via de CPU, wat de GPU vrijmaakt om hogere in-game FPS-snelheden te behalen. Noise-canceling instellingen kunnen zelfs per programma worden aangepast, waarbij specifieke apps zoals voicechats worden gefilterd zonder dat dit gevolgen heeft voor de game-audio die je ongemoeid wilt laten.
pause
#KEYBOARD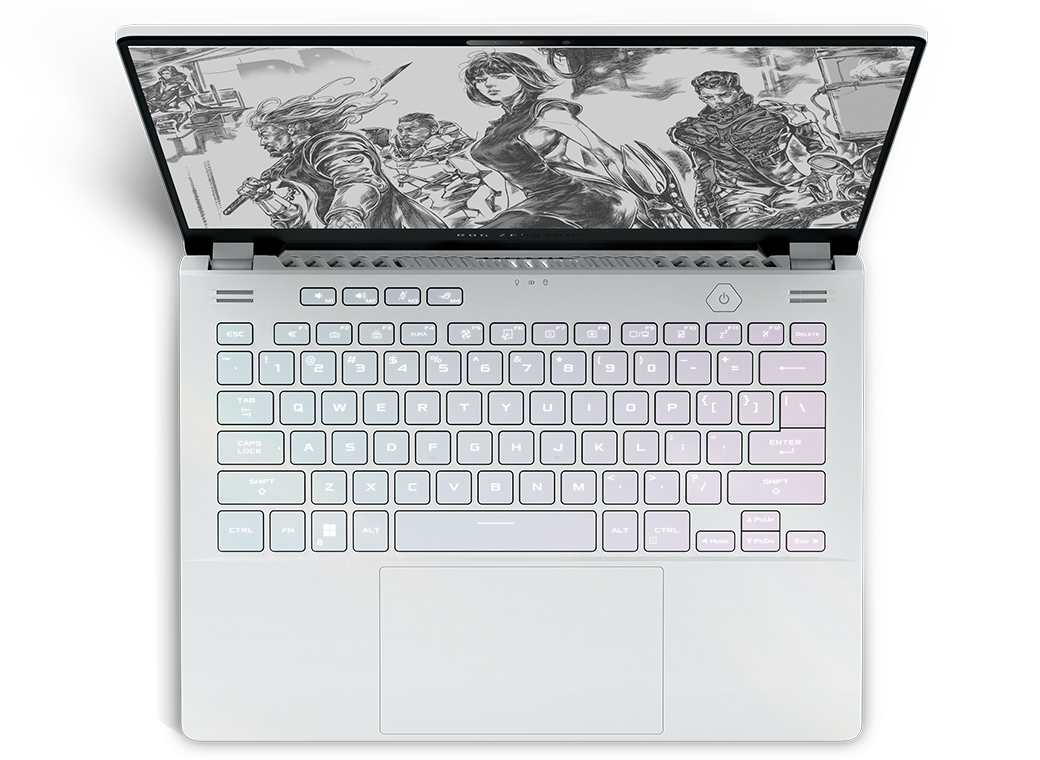 MASH UP
De 2022 Zephyrus G14 heeft een groter touchpad dat past bij de nieuwe 16:10 beeldverhouding van het beeldscherm, voor responsieve bediening. Overstroke-technologie zorgt ervoor dat het toetsenbord bij elke toetsaanslag sneller reageert en het ErgoLift-ontwerp plaatst het toetsenbord in een hogere hoek om het typen comfortabeler te maken. Een oogverblindende Prismatische glans bedekt het toetsenbord, dat speciale sneltoetsen biedt die volume, microfoon dempen en ROG Armoury Crate-software binnen handbereik brengen. De sneltoetsen zijn ook volledig aanpasbaar, en kunnen geprogrammeerd worden om apps te starten, als functietoets ingesteld worden, of als macro gebruikt worden.
Desktop-geïnspireerde
indeling
Gaming
sneltoetsen
met Macrofunctie
Snel activerende
toetsschakelaars
#CONNECTIVITY
NEXT GEN WI-FI
Zelfs wanneer er veel clients op een netwerk zijn, houdt Wi-Fi 6E je verbonden. Wanneer compatibele netwerken beschikbaar zijn, profiteer je van vrijwel bedrade snelheden tijdens het gamen en videovergaderen.

AANPASBARE CONNECTIVITEIT
Dubbele USB Type-C-poorten, waarvan één met vermogensafgifte en DisplayPort™ 1.4 ondersteuning, en een stel USB 3.2 Type-A-poorten zorgen voor ruime aansluitmogelijkheden. De gloednieuwe toevoeging van een Micro SD-kaartlezer is perfect voor ontwerpers die onderweg gegevens moeten overzetten.
#Software
TUNE UP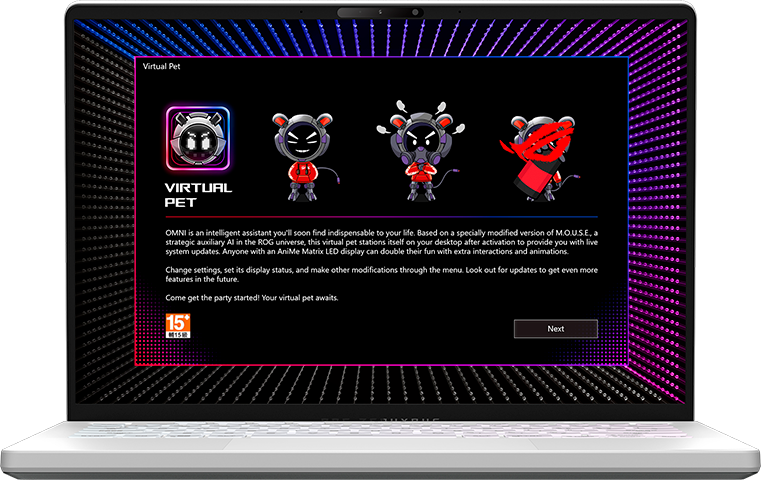 ROG's eigen OMNI-mascotte fungeert als een leuke sidekick die ook dienst doet als interactieve assistent. Na activering leeft OMNI op je bureaublad en reageert het in realtime op veranderingen in de systeembelasting en het accuniveau. Het virtuele huisdier kan ook worden geconfigureerd om op het AniMe Matrix™-scherm van de Zephyrus G14 rond te hangen.
Speel meer dan 100 games van hoge kwaliteit met vrienden op je pc, console, telefoon of tablet voor één lage maandelijkse prijs.* Omdat er constant games worden toegevoegd, is er altijd iets nieuws te spelen.
*Voorwaarden en uitzonderingen zijn van toepassing. De gamescatalogus varieert per tijd, regio en toestel. Zie xbox.com/gamepass en https://www.ea.com/eaplay/terms voor details. Xbox Cloud Gaming: Streaminglimieten zijn van toepassing. Compatibele controller (afzonderlijk verkocht), ondersteund apparaat en Xbox Game Pass-app vereist; zie systeemvereisten. De systeemeisen verschillen per game; de prestaties nemen toe bij krachtigere systemen.
ROG GameVisual-software biedt zes deskundig afgestemde grafische modi die zijn ontworpen om visuele ervaringen te optimaliseren voor specifieke game-genres. De First Person Shooter (FPS)-modus verbetert bijvoorbeeld de zichtbaarheid in donkere omgevingen, om vijanden die ergens in de schaduw rondhangen te verrassen. Gebruik GameVisual om de beste ervaring te krijgen voor elke game in je bibliotheek.
Automatisch schakelen tussen Silent (stille), Performance (prestatie) en Turbo-modi is slechts het begin voor Scenarioprofielen. Het is ook mogelijk om toepassingsspecifieke voorkeuren te definiëren voor andere essentiële systeeminstellingen, zoals de verlichtingsconfiguratie, of de Windows-toets of het touchpad is ingeschakeld, en welk GameFirst VI-profiel moet worden gebruikt. Armoury Crate maakt in een oogwenk aanpassingen die het beste bij de huidige taak passen, en elk profiel is precies naar eigen wens te configureren.
Download de gratis mobiele app Armoury Crate voor Android of iOS om eenvoudig toegang te krijgen tot instellingen zonder de game te onderbreken! Nu beschikbaar op zowel Google Play™ en de App Store.
GEAR UP
Bundel de ROG Zephyrus G14 met een scala aan gaming-randapparatuur en accessoires. Navigeer soepel en nauwkeurig met de ROG Impact gaming-muis. Verlicht je last met een kleinere, 100W adapter met genoeg vermogen om je overal productief te houden. En geef je laptop onderweg wat extra bescherming met een handige hoes met perfecte afmetingen.
*Gebundelde randapparatuur kan per regio verschillen. Informeer bij lokale leveranciers naar het exacte aanbod.
Video Reviews
2022 ROG Zephyrus G14 Product Video
The Zephyrus G14 2022 is the best gaming laptop of the year. The specs are freakin' exceptional.
This year they just took it to a whole new level.
Not only is this gaming laptop a beast in performance, but it is also a master of memes. Is the Asus ROG Zephyrus G14 the gaming laptop of the year?
The 2022 Zephyrus G14 is back and more stylish than ever
The Radeon RX6800s makes any game you play smooth and enjoyable
The Zephyrus G14 is quite compact, featuring a sturdy and premium built. Its slim and lightweight, perfect for on-the-go users. The performance of the machine is also impressive and justifies the price of the product.
The look of the ASUS ROG Zephyrus G14 is really nice. It gives you that high end feel but at the same time, it's not too much. It's super portable and can be easily carried to schools and colleges.
I'm definitely impressed by the Zephyrus G14. One of the best options available currently for editing
Looking for power or mobility? Do you want it for something other than playing? Among these ROG laptops you will find the one that suits you
This gaming laptop is the best for me not because of its performance, but because in general, it gives us a complete and balanced experience. It not only allows you to play games, but also work and consume multimedia content at the same level.
We face the final stretch of the review with a magnificent taste in our mouths, and there is no area in which the Asus ROG Zephyrus G14 2022 does not stand out, offering the best on the market, with the best materials, the most cutting-edge components and a system of cooling capable of keeping temperatures at bay with a more than acceptable loudness, without neglecting other aspects such as the keyboard, the panel or the aesthetics and maintaining a price that is quite contained within its range
ROG Zephyrus G14 (2022) Gaming Laptop Unboxing + Gameplay
The newest gaming laptop from ASUS, ROG Zephyrus G14, is small, light, and powerful! We'll show you all the data, including benchmarks!
This beautiful white gaming laptop is very powerful [ROG Zephyrus G14]
The new laptop from the best-selling gaming laptop brand in Japan has arrived.
Here's what's so great about the ASUS ROG Zephyrus G14 GA402RK!
【악플러들 상대로 1대1】어느 티어까지 이길 수 있을까?
14인치 고성능 게이밍 노트북 ASUS ROG ZEPHYRUS G14 GA402 후기
Đánh Giá Chi Tiết Laptop Gaming ASUS ROG Zephyrus G14: Mẫu Laptop Gaming Mình Thích Nhất!
4 Lý do TẠI SAO mình chọn LAPTOP GAMING để LÀM ĐỒ HỌA!!
Đánh giá ROG Zephyrus G14 (2022): Sự lợi hại của AMD?
ROG Zephyrus G14 2022 (Ryzen 6800HS + RX6700S): Tò mò nhiều thứ về Laptop Gaming AMD
If you are looking for a lightweight notebook that can work, play games, ROG Zephyrus G14 is a good choice.
(2022) Asus ROG Zephyrus G14 // AMD Ryzen 9 6900HS + RX6700S
ASUS Zephyrus G14 (2022) – Jak dobrze to gra?
The New ASUS Zephyrus G14 is WAY Better!
ASUS Zephyrus G14 (2022) Review - The Best Laptop?
Asus ROG Zephyrus G14 Review - Is it ACTUALLY Any Good? [2022]
It Actually Got BETTER 🤯 - Zephyrus G14 2022 vs G14 2021
2022 ROG Zephyrus G14 - Every game is your game
The Rise of Gamers - 2022 Brand New ROG Gaming Laptops
ASUS Goes Crazy With Gaming Laptop Updates in 2022!
These NEXT-GEN Gaming Laptops will Blow Your Mind!
ASUS Is Already Killing It!
ROG Zephyrus G14 (2022) Review: Still THE Best 14" Gaming Laptop
"This 14 portable gaming laptop offers offers far better value compared to other small gaming laptops... To name a few it is lighter, has a better screen, a better battery life and a better CPU performance, all while being cheaper."" "If you want the best battery life and gaming performance... then the ASUS Zephyrus G15 is the way to go." "If you want better CPU performance and a larger 16:10 screen which just looks better while also getting better performance in creator loads."
There is a webcam, but the resolution is only HD, no RJ45 port.
The back cover of the machine is a hole making it difficult to keep clean. Fan vents come out of the front of the screen. causing heat vapor to hit your hand while in use Ports are fairly close together, no RJ45 ports.
It is a complete notebook. Comes with a light body, beautiful note page, with features with AniMe Matrix lights. The camera can be used for about one.
The power management feature is quite good, the screen is beautiful, the game can be played smoothly.
Video review from the channel Konsumer
Video review from the channel MrBegėdis
Productvergelijking
Product toegevoegd aan vergelijking. Voeg maximaal 4 producten toe of ga verder met het vergelijken van de geselecteerde producten.
ASUS Footer