Aucun article dans le panier.
Caractéristiques
Caractéristiques techniques
Récompenses
Galerie
Où acheter
Support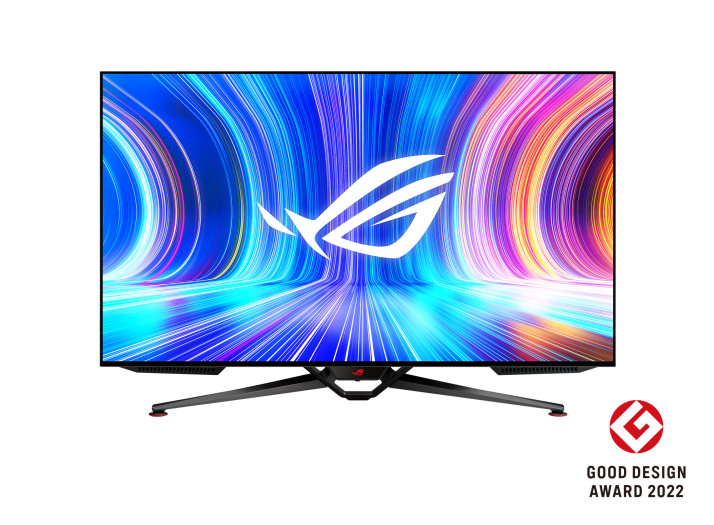 ROG Swift OLED PG42UQ
Moniteur de jeu ROG Swift OLED PG42UQ – 41,5 pouces 4K, OLED, 138Hz (overclocké), 0,1 ms (GTG), compatible G-SYNC®, Revêtement antireflet micro-texture, dissipateur thermique personnalisé, luminosité uniforme, 98 % DCI-P3, 10 bits véritables, HDMI® 2.1, DisplayPort™ 1.4
Moniteur de gaming 4K (3840 x 2160) OLED de 41,5 pouces avec un taux de rafraîchissement de 138 Hz (overclocking), conçu pour un gameplay immersif.
Il offre des noirs extrêmes, une luminosité perceptuelle élevée et un temps de réponse ultra-rapide de 0,1 ms, avec une gamme colorimétrique DCI-P3 de 98 % et une différence de couleurs Delta E < 2 pour des performances HDR exceptionnelles
Le dissipateur de chaleur personnalisé permet de réduire les températures jusqu'à 8 % pour de meilleures performances OLED sur le long terme
Réglage de luminosité uniforme en option pensé pour les joueurs
Le revêtement microtexturé antireflet réduit les reflets pour offrir des couleurs précises et une meilleure expérience visuelle
Options de connectivité étendues, notamment DisplayPort™ 1.4 avec fonction de compression de flux d'affichage (DSC), HDMI® 2.1, concentrateur USB et prise pour trépied sur le dessus du moniteur
Revues vidéo
Honestly, Asus has done a really good job with the ROG Swift OLED PG42UQ and we daresay that it is worth that extra bit of cash for it especially if you're going to be using it with a PC. Having a DisplayPort is a huge benefit, and so are the other nifty things like a USB 3.2 Gen 2 Hub, the matte coating, the implementation of Uniform Brightness and the fast wake from sleep amongst many other things.
BEST Gaming OLED Monitor? | Asus PG42UQ in the test
SHOULD YOU BUY A 4K GAMING MONITOR IN 2022 ?
The highlight is the oled technology. The remote control is very useful for navigating the control panel. Very good response time. Price is high but fair for the experience it offers. In conclusion, the PG42UQ offers to date a perfect and unforgettable gaming experience, imposing itself as the best gaming monitor currently available on the market that a fan of adventure, simulation or shooter titles, budget and desk permitting, really cannot give up.
It is a wonderful monitor, with very low response time and a very up-to-date Oled panel. Since it is a monitor, it is great for pc, with the inputs best suited for a mixed pc-console setup
The monitor is absolutely great, color rendition, contrast. For gaming, OLED is definitely worth it, but you need to have a powerful PC setup in mind as well.
ROG SWIFT OLED (PS5, Xbox, PC) 😳 The most powerful full -time games screen
Comparaison de produits
Produit ajouté pour la comparaison. Vous pouvez ajouter jusqu'à quatre produits supplémentaires ou directement commencer à comparer les produits sélectionnés.
ASUS Footer