Übersicht
Technische Daten
Auszeichnungen
Galerie
Support
&lt/Zephyrus G14&gt
Bis zu AMD Ryzen™ 9 Prozessoren und AMD Radeon™ RX 6800S Laptop GPU
ROG Intelligent Cooling: benutzerdefinierte Vapor Chamber und Flüssigmetall für effektive Kühlung mit 0dB Technologie
ROG Nebula Display™: 16:10-Format, QHD/120Hz Panel, Pantone®-Validierung, 100% PCI-P3 und Dolby Vision® HDR.
Verbesserte AniMe Matrix™ mit noch lebendigeren Animationen, neuen Features und Minigames
Schnellladen bis zu 50% in 30 Minuten, 100W USB-Typ-C Laden und Wi-Fi 6E Support
Quad-Speaker, 3D-Mic-Array für Sprachaufnahmen und Dolby Atmos® Support sorgen für ein bombastisches Audio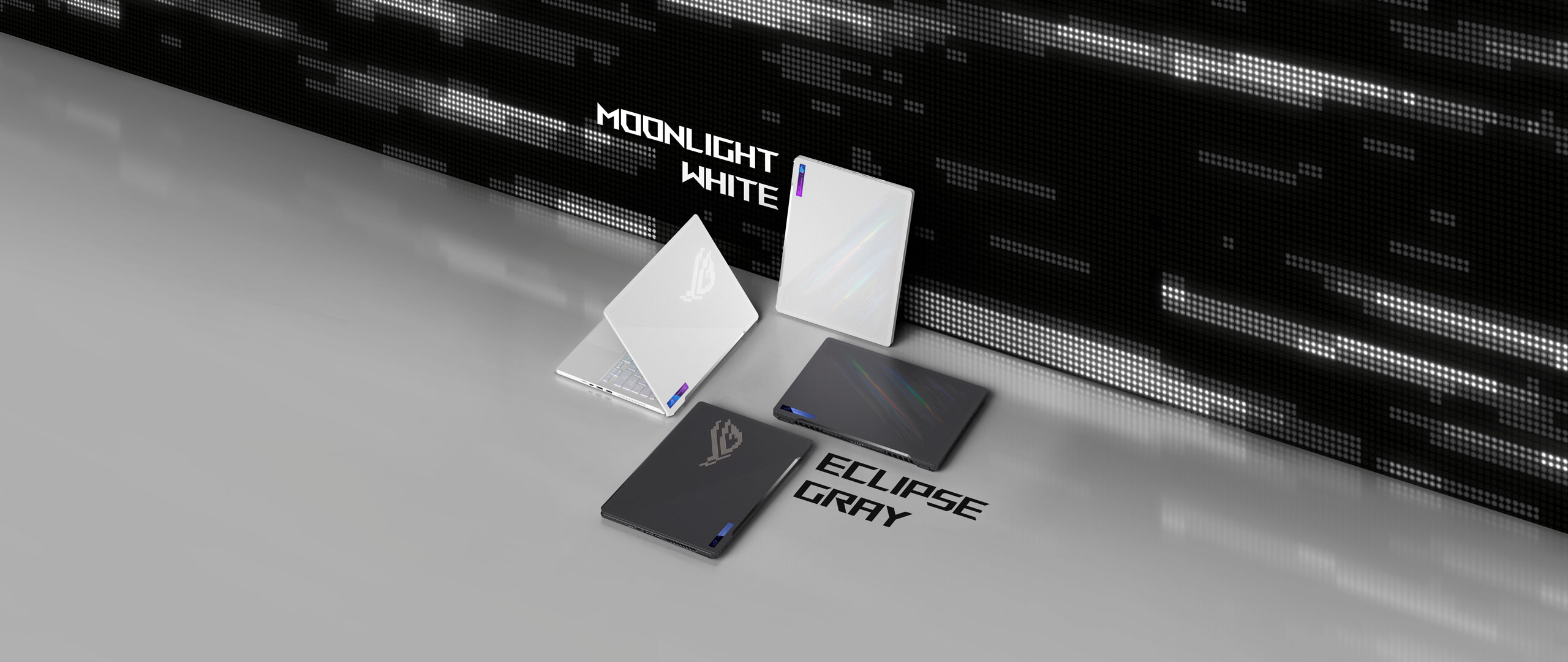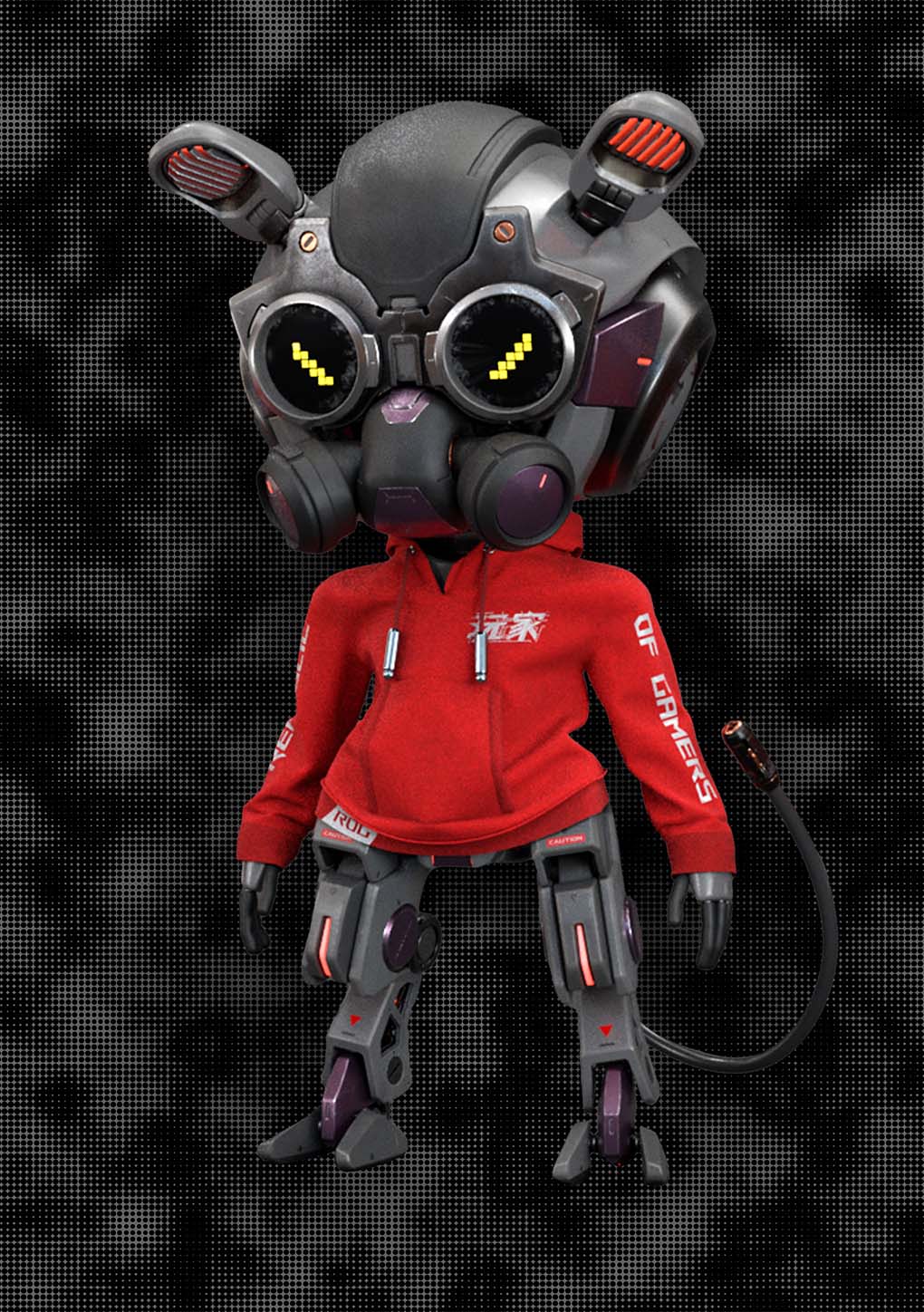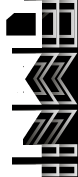 #AniMe Matrix
ENTER THE MATRIX
AniMe Matrix™ und Virtual per OMNI haben beide ein Upgrade erhalten. Die AniMe Matrix™ bietet mehr LEDs und sorgt damit für viel mehr Animationsmöglichkeiten, OMNI hat jetzt mit einer ganzen Reihe von Minigames wie Slot Machine, Shoot'em Up und Whack-A-Mole im Angebot. Während der Games wird nicht nur automatisch die AniMe Matrix™ aktiviert, es werden auch weitere Animationen freigeschaltet, wenn Du die entsprechenden Highscores knackst.
INDIVIDUELLE ANPASSUNGEN
Mach Dein Zephyrus G14 mit individuell anpassbaren Animationen zu etwas ganz Besonderem. Textnachrichten, Systembenachrichtigungen, Reaktion auf Audio in Echtzeit oder ganz eigene Animationen – kreiere Deinen ganz persönlichen Style.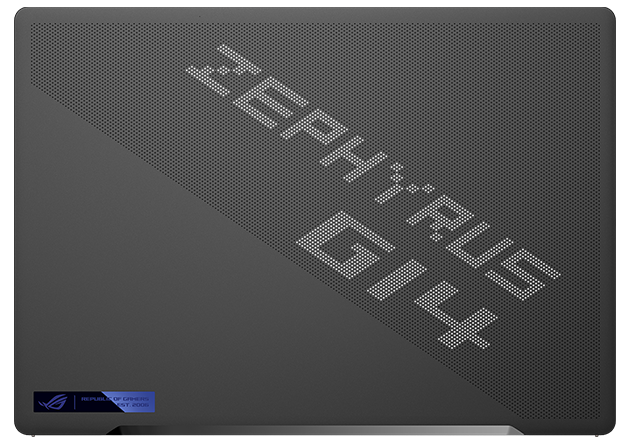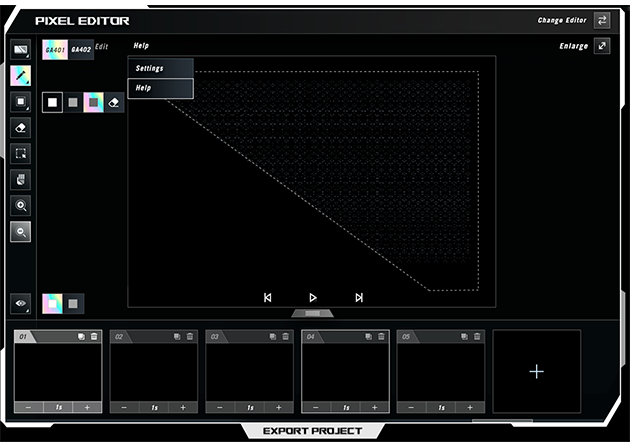 **PC required to save custom animations
#PERFORMANCE
AMD®-KRAFTPAKET
Mit dem brandneuen 2022 Zephyrus G14 inklusive Windows 11 bist Du perfekt gerüstet. Ausgestattet mit einem der neuen Ryzen™ 9 Prozessoren und der Radeon™ RX 6800S Mobile-GPU unterstützt Dich das AMD-Kraftpaket bei all Deinen Games und Multitasking-Aufgaben. Dabei nutzt das G14 auch AMD-Technologien wie Smartshift und Smart Access Memory, um zusätzliche Vorteile zu bieten. Während AMD Smartshift es CPU und GPU ermöglicht, Energie dynamisch zuzuweisen, je nachdem wann und wo sie am meisten benötigt wird, gibt AMD Smart Access Memory der CPU vollen Zugriff auf den GPU-VRAM, um die Performance in den Games zu verbessern.
AMD
RYZEN™ 9 6000 Series
CPU
AMD
Radeon™ RX 6800S
Grafik
5-10% AVERAGE
MUX SWITCH
Performance Uplift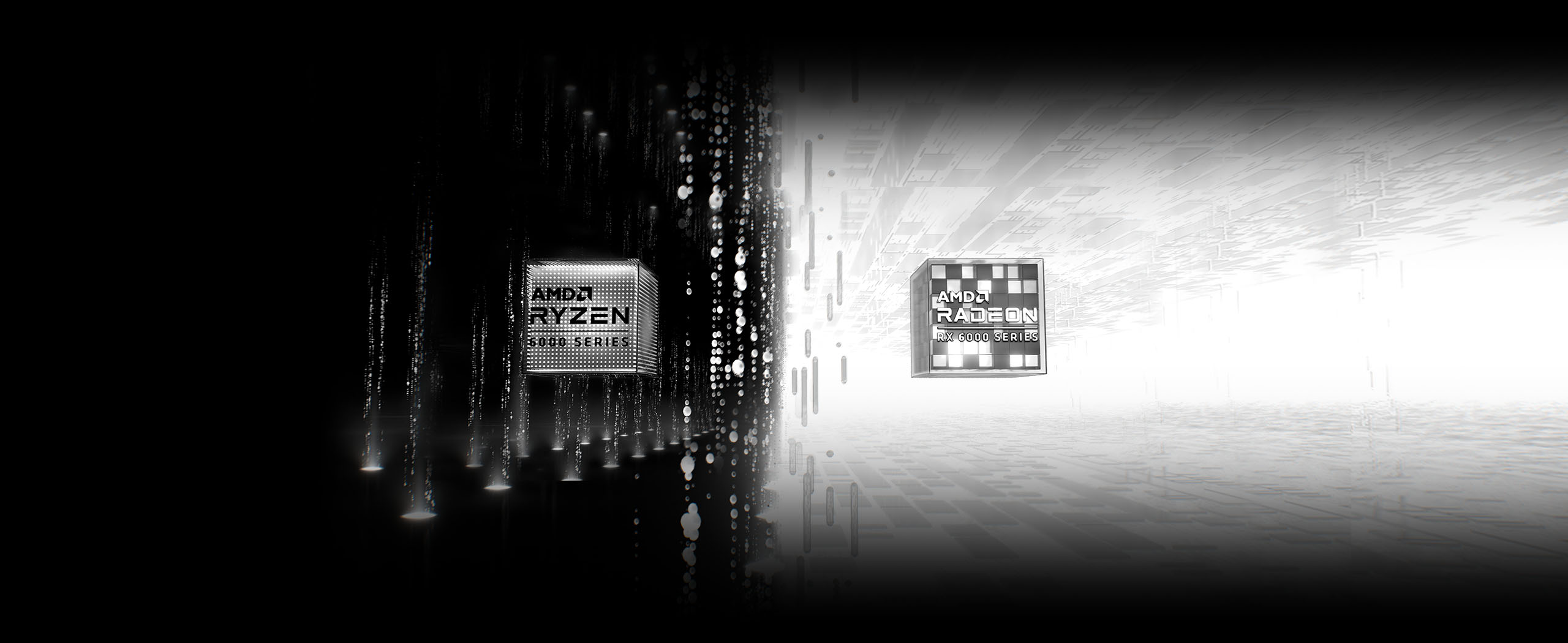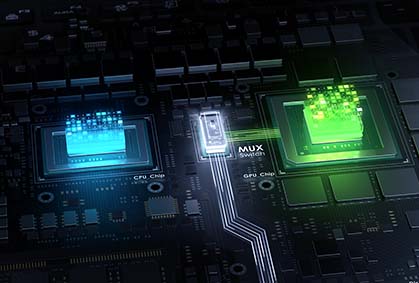 MUXimale Performance
Die meisten modernen Gaming-Notebooks verwenden leistungsstarke, dedizierte Grafikchips für eine hohe Performance und leiten die Frames durch die integrierte CPU-Grafik, bevor sie das Display erreichen, um die Akkulaufzeit entsprechend zu maximieren. Das verhindert jedoch, dass Deine GPU ihre absolut beste Performance abrufen kann. Deshalb statten wir alle 2022 ROG Notebooks mit einem MUX Switch aus. Für kompetitive Games kannst Du den direkten GPU-Modus aktivieren, der die Latenzzeit reduziert und die Performance um durchschnittlich 5-10% erhöht.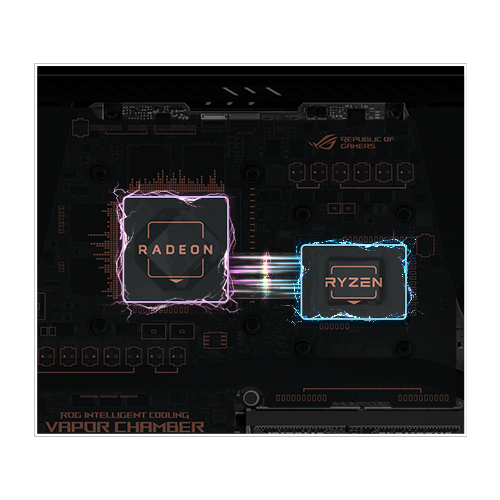 AMD SmartShift Max
Mit der AMD SmartShift Technologie können CPU und GPU miteinander kommunizieren und die Leistung dort zuweisen, wann und wo sie im laufenden Betrieb entsprechend benötigt wird. Geleitet von AI-Algorithmen verbindet SmartShift CPU und GPU über die Infinity Fabric, damit beide Komponenten schnell auf dynamische Workloads reagieren können.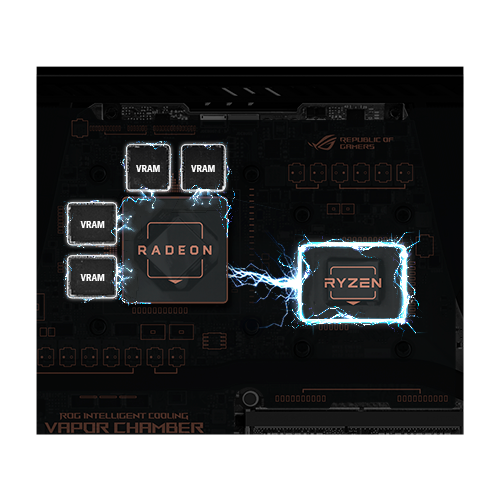 AMD Smart Access Memory
Bei herkömmlichen Windows-PCs kann die CPU jeweils nur auf kleine Teile des Grafikspeichers (VRAM) zugreifen. Dieser Engpass wird in Kombination mit der AMD RX 6000 Series GPU dank Smart Access Memory beseitigt, indem die AMD Ryzen Prozessoren vollen Zugriff auf VRAM erhalten und dadurch die Performance erhöhen können.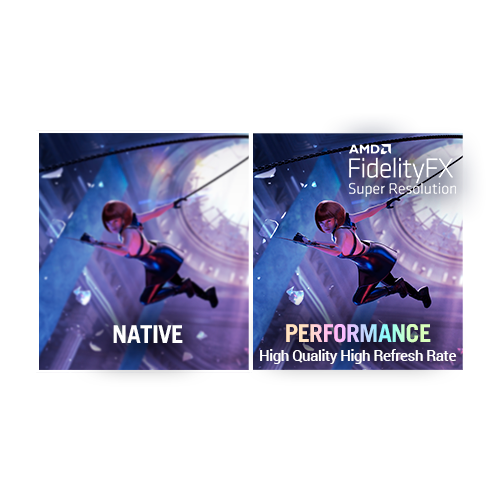 AMD FidelityFX™ Super Resolution
AMD FidelityFX™ Super Resolution (FSR) uses cutting-edge upscaling technologies to help boost your framerates in select titles and deliver hight-quality, high-resolution gaming experiences.

DDR5-RAM
DDR5 bietet unvergleichliche Datenübertragungsgeschwindigkeiten für reaktionsschnelleres Gaming und Multitasking.

Highspeed PCIe® Gen 4 SSD
Die 1TB grosse PCIe SSD sorgt für schnelle Boot-Zeiten, schnellere Ladezeiten für Games und eine allgemeine Reaktionsfähigkeit des Betriebssystems.
pause
#THERMAL
CHILL OUT

Leistungsstarke Hardware-Komponenten in einem kompakten Gehäuse erfordern eine effektive Kühlung. Das Zephyrus G14 verfügt daher über eine Vapor Chamber für CPU und GPU mit Flüssigmetall-Wärmeleitpaste für einen ultraeffizienten Wärmetransfer. Im Silent Mode können die Lüfter bei geringer Auslastung dank der 0dB-Technologie automatisch abgeschaltet werden – für ein absolut geräuschloses Notebook-Erlebnis.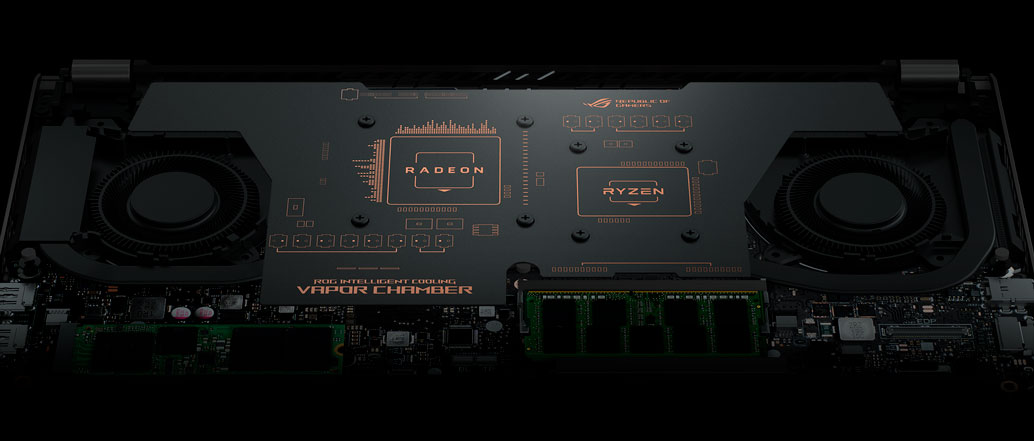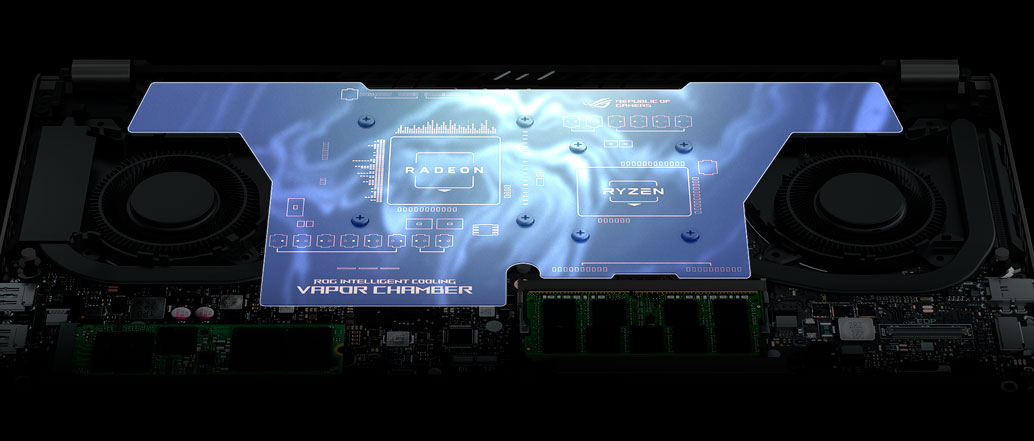 Schnellerer Wärmetransfer dank
Vapor Chamber
Im Vergleich zu herkömmlichen Heatpipes, die die Wärme nur entlang ihrer Achse bewegen, verteilt das Vapor Chamber Design die Wärme über die gesamte Oberfläche und schafft so einen grösseren Bereich für einen schnellen Wärmetransfer. Auf diese Weise trägt die Reduzierung der Temperatur massgeblich zur Verbesserung der Langzeitstabilität und Zuverlässigkeit bei.
25 W
HIGHER THERMAL HEADROOM*
*Improvements compared to using heatpipes, as tested in Turbo mode internally by ASUS.
Kühlere CPU dank

Flüssigmetall
Bis zu
10° kühlere
CPU-Temperaturen
Bis zu
14x besserer
Wärmetransfer

*Verbesserung der Temperatur im Vergleich zur vorherigen Generation der Flüssigmetall-Wärmeleitpaste, wie von ASUS intern getestet. Wärmeleitfähigkeit im Vergleich zum Industriestandard.
Geräuschlos dank

0dB-Technologie
Im Silent Mode schaltet das Kühlsystem dank der 0dB-Technologie bei geringer Auslastung alle Lüfter ab, um die Wärme passiv abzuleiten. Auf diese Weise kannst Du Dich ungestört Deinen Aufgaben widmen oder Dein Entertainment-Programm geniessen. Steigen die CPU- oder GPU-Temperaturen wieder, schalten sich auch die Lüfter automatisch ein.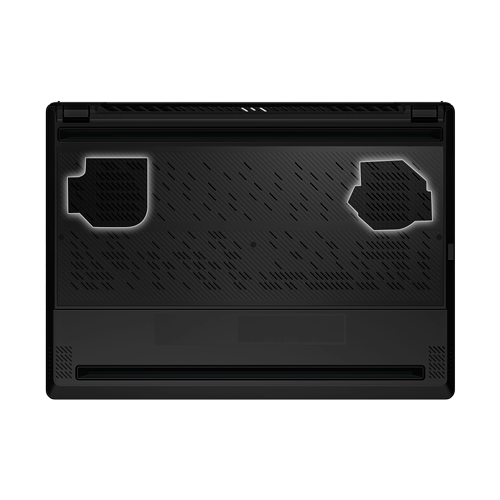 Filter rein. Staub raus.
Der 2022 Zephyrus G14 verfügt jetzt über einen zusätzlichen Staubfilter für beide Lüfter, der Staub- und Faseransammlungen im Gehäuse vermeidet. Im Vergleich zu Geräten ohne Filter läuft die CPU mit 15% mehr Leistung, während die GPU 4% mehr Leistung schafft. Je weniger Staub sich im Gerät ansammelt, desto länger läuft das Notebook mit Spitzenleistung ohne Drosselung.
*Interne Tests mit simulierter Staubumgebung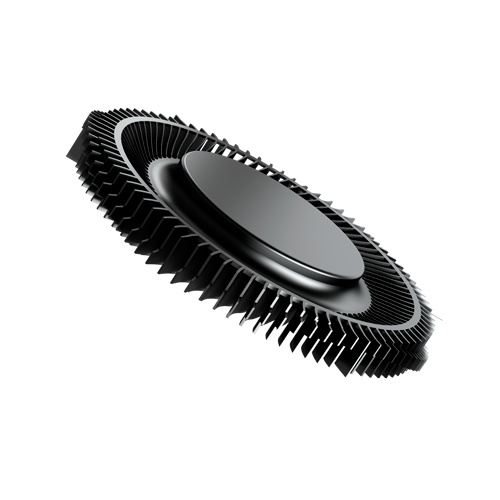 Arc Flow Fans™

– erhöhter Luftstrom bei minimaler Technologie

Die 84 speziell geformten Lüfterblätter der verbesserten Arc Flow Fans™ maximieren den Luftstrom bei gleichzeitig minimaler Technologie. Die Lüfterblätter mit variabler Stärke weisen an der Basis nur eine Stärke von 0,1mm auf und reduzieren effektiv Turbulenzen. Die Lüfter beschleunigen die Luft durch die Zentrifugalkraft, ermöglichen einen um bis zu 32%* höheren Luftstrom und reduzieren die Technologie um 2dB. Durch den geringeren Durchmesser der Lüfterachse bieten die Lüfter des 2022 Zephyrus G14 einen um 5% höheren Luftdurchsatz als die Standard-Arc-Flow-Fans bei gleicher Drehgeschwindigkeit.

*Verbesserungen des Luftstroms im Vergleich zum ROG Lüfterdesign mit 71 Lüfterblättern, wie von ASUS intern getestet.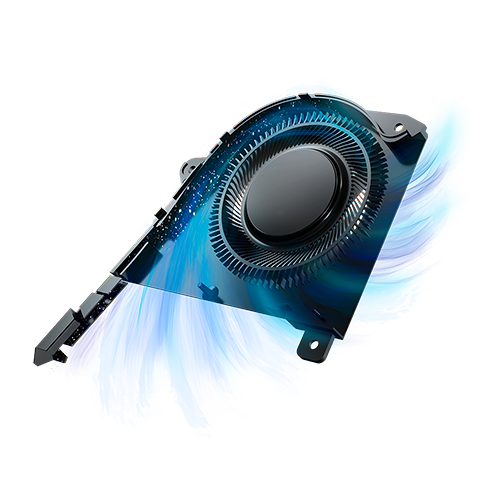 Effektive
Anti-Staub-Tunnel 2.0
Unser optimiertes Thermal-Modul verfügt über kürzere Anti-Staub-Tunnel, die mehr Platz um den Lüfter herum schaffen und den Luftstrom um bis zu 15% erhöhen. Die Vermeidung von Staubablagerungen gewährleistet dabei eine langfristige Systemstabilität und Zuverlässigkeit.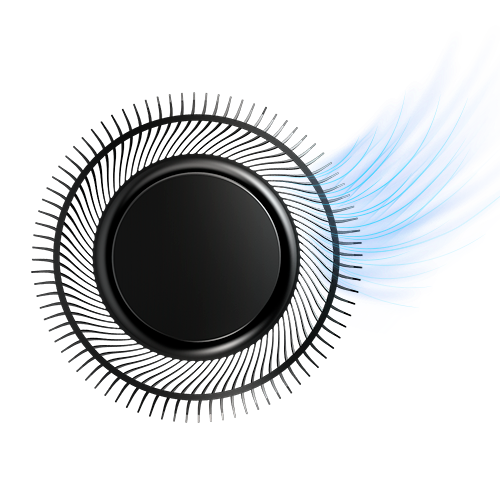 Weniger Turbulenzen dank
variabler Lüfterblattstärke
Die Lüfterblätter weisen eine unterschiedliche Stärke und Form auf, die allmählich von einem Hoch- zu einem Niederdruckbereich wechseln, bevor die Luft aus dem System geleitet wird. Das reduziert Turbulenzen und maximiert die Effizienz des Luftstroms im Vergleich zu herkömmlichen Lüfterblättern. Das patentierte neue Design wird durch die innovative Flüssigkristallpolymer-Verarbeitungstechnologie ermöglicht, mit der wir ultradünne und robuste Lüfterblätter für einen erhöhten Luftstrom entwickeln können.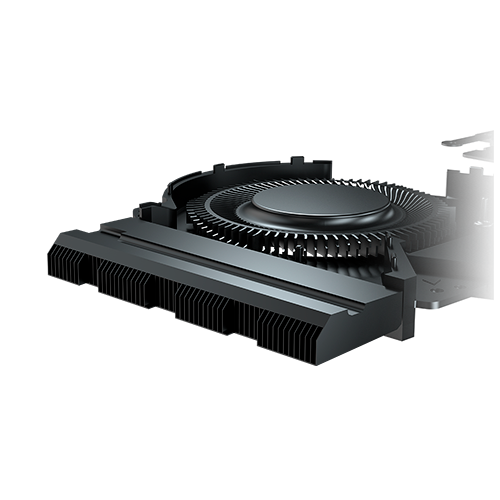 0,15mm ultradünne

Lamellen

Die Wärmeenergie wird durch 4 Kühlkörper abgeleitet, die jeweils mit 0,15mm ultradünnen Kupferlamellen versehen sind. Die Lamellen sind dabei nur halb so gross wie bei herkömmlichen Lösungen. Sie ermöglichen nicht nur eine höhere Dichte für eine effektive Wärmeableitung, sondern erzeugen auch einen geringeren Luftwiderstand für einen gleichmässigen Luftstrom. Insgesamt sorgen bis zu 211 Kühlkörperlamellen mit einer Oberflächengrösse von 75.368mm² für eine optimale Kühlleistung.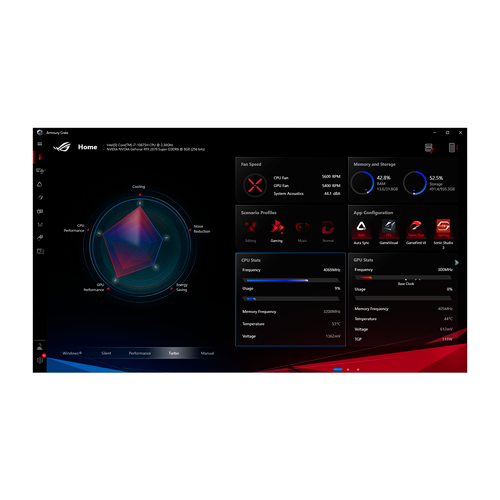 Effektives Kühlsystem dank
Szenario-Profilen
Es gibt die drei Modi Silent, Performance und Turbo. Mit Szenario-Profilen kann Dein System nicht nur automatisch zwischen diesen Modi hin und her wechseln, je nachdem, welche Anwendung gerade ausgeführt wird, sondern auch andere entsprechend wichtige Systemeinstellungen vornehmen. Wechsel automatisch zwischen Beleuchtungskonfigurationen, deaktiviere während des Games die Windows-Taste und das Touchpad oder stelle gewünschte Parameter automatisch ein. Armoury Crate nimmt dabei im Handumdrehen Einstellungen vor, um sich optimal an die jeweilige Aufgabe anzupassen.
pause
#DISPLAY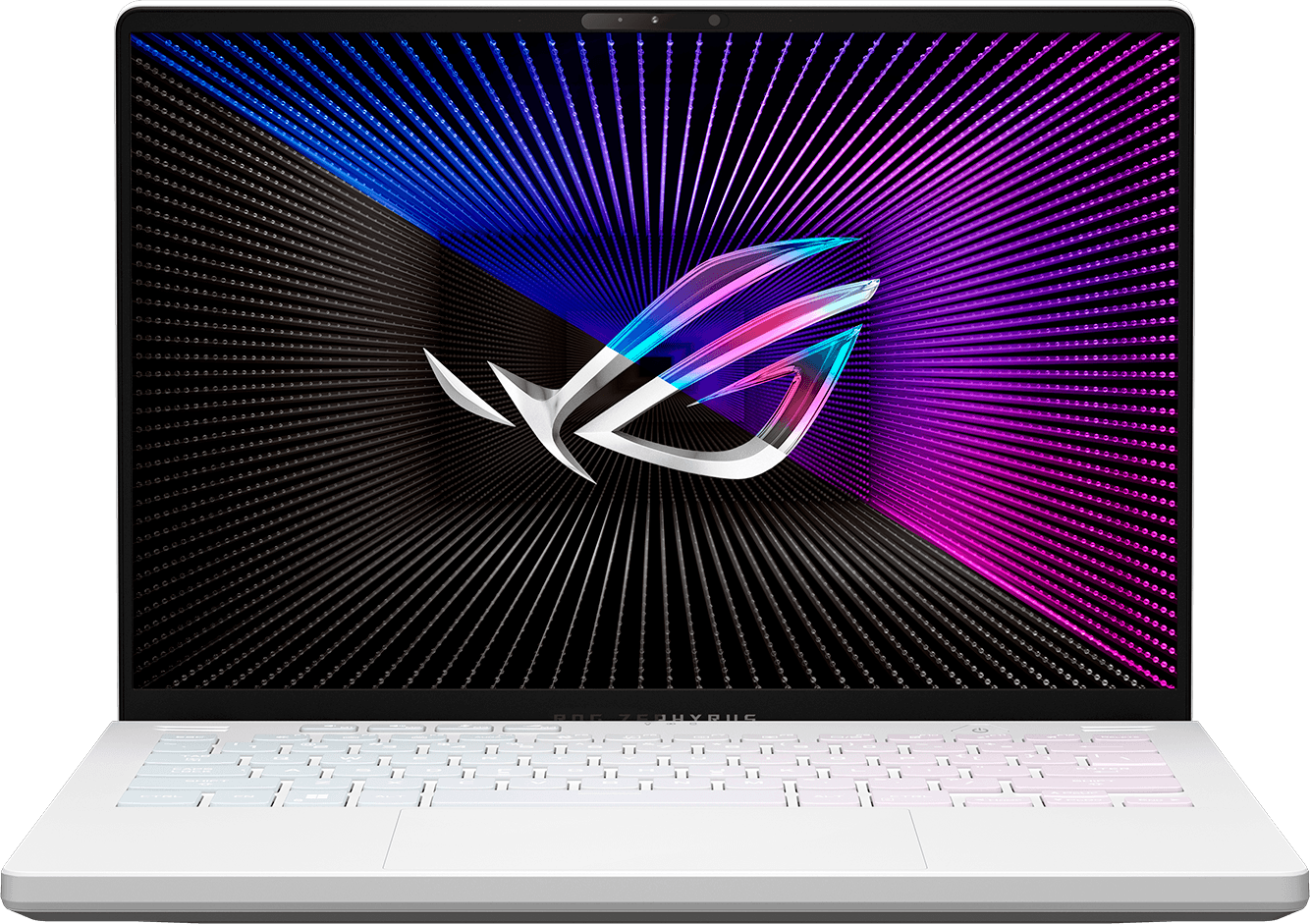 16:10
3ms
Reaktionszeit
500 Nits Helligkeit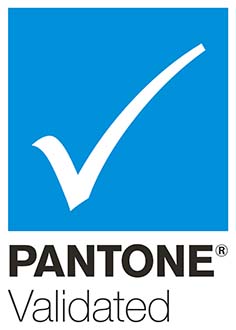 ERSTKLASSIGE VISUALS
Das Display des neuen 2022 ROG Zephyrus G14 bietet ein komfortables 16:10-Format mit einem Screen-to-Body-Verhältnis von 91%. Dabei erfüllt das QHD 120Hz Panel den ROG Nebula Display Standard – mit 100% DCI-P3 Farbraum, Pantone-Validierung, 500 Nits Helligkeit und einer schnellen Reaktionszeit von nur 3ms. Zusammen mit den ultradünnen Blenden erhältst Du eine unglaublich realistische Ansicht.
*Erfahre mehr über die ROG Nebula Displays
*Es gibt zwei Displayoptionen: das hochauflösende QHD 120Hz Panel oder das ultraflüssig laufende FHD 144Hz Panel. Beide Displays bieten dank der Pantone®-Validierung absolut satte und lebendige Farben.
Bis zu
500 nits
Helligkeit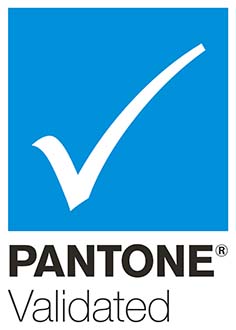 Dolby Vision® Technologie
Dolby Vision® lässt alles besser aussehen – Szene für Szene, Bild für Bild. Die Technologie verbessert dabei standardmässig 4K-Video mit einem hohen Dynamikbereich (HDR) und passt das Bildmaterial dynamisch an, um jedes Bild satter, heller und lebendiger erscheinen zu lassen. Kreative können Streams, Videos und andere Inhalte in einem von Branchenprofis häufig verwendeten Format aufnehmen und bearbeiten.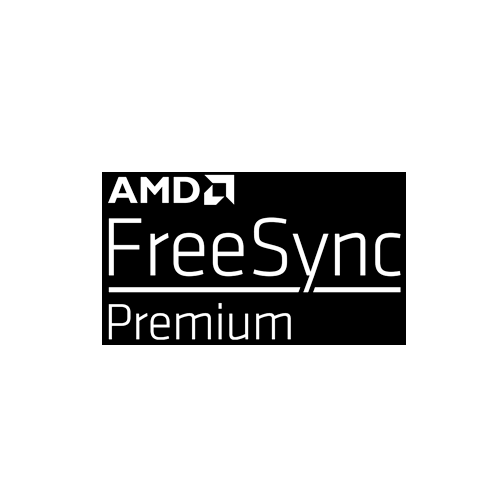 AMD FreeSync Premium Technologie
Stottern und Tearing? Nein, danke! GPUs rendern Frames mit variablen Raten, Displays jedoch aktualisieren in der Regel mit einem konstanten Clip und können auf diese Weise aus dem Takt geraten, was zu sichtbaren Rucklern und Fehlern führt, die Dich permanent aus dem Geschehen herauskatapultieren. Daher synchronisiert FreeSync die Bildwiederholrate des Displays mit der Bildrate der GPU, um visuelles Tearing zu eliminieren, Stottern zu minimieren und Eingabeverzögerungen zu reduzieren. Dein Gameplay sieht nicht nur natürlicher aus, es fühlt sich auch so gut an wie nie zuvor!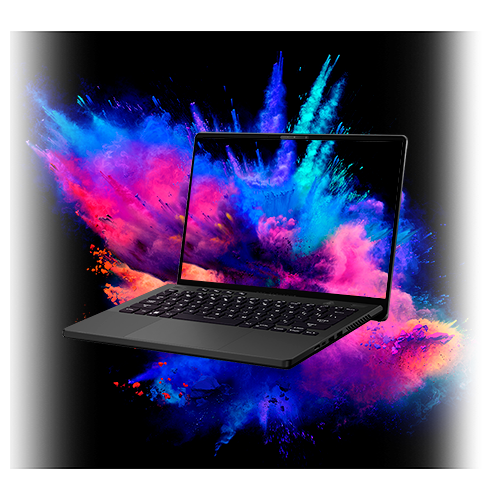 Pantone®-Farbvalidierung
Jedes IPS-Level-Display wird werkseitig kalibriert, um sicherzustellen, dass die Farben exakt der Pantone®-Palette entsprechen. Künstler, Designer und Content-Ersteller können ihrem Portfolio qualitativ hochwertigen Content hinzufügen und gleichzeitig intensivere Gaming-Visuals geniessen.
pause
#PORTABILITY
#AUDIO

BOMBASTISCHER SOUND
Der virtuelle 5.1.2-Kanal-Surround-Sound powered by Dolby Atmos® katapultiert Dich mitten ins Geschehen. Die beiden Hochtöner sind dabei genau auf Dich gerichtet, während die beiden Smart Amp-Tieftöner die Schallwellen vom Tisch abprallen lassen. Du kannst zwischen 6 voreingestellten Modi wechseln, die die Einstellungen je nach Game- und Medientyp optimieren. Natürlich kannst Du gewünschte Änderungen auch manuell vornehmen, ganz nach Deinen Vorlieben. Die Two Way AI Noise-Cancelation filtert dabei sowohl Eingangs- als auch Ausgangsaudio und macht Streams, Chats und Aufnahmen klarer als je zuvor.

Two-Way
AI Noise-Cancelation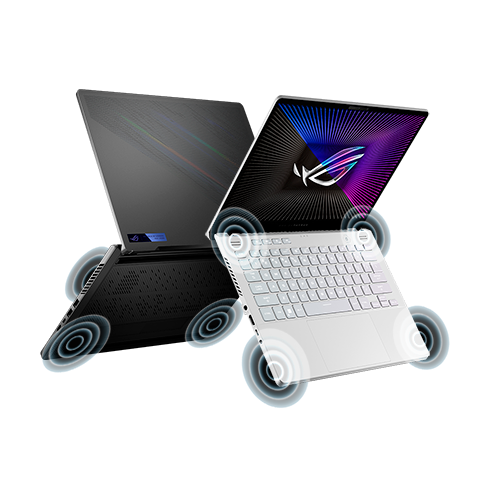 Dolby Atmos®
Egal, ob Kopfhörer oder Lautsprecher – die Dolby Atmos® Technologie verbessert Dein Sound-Erlebnis mit nuancierteren, mehrschichtigen Virtual-Surround-Soundeffekten, die mit speziell abgestimmten Voreinstellungsmodi für Videos und Games weiter optimiert werden können.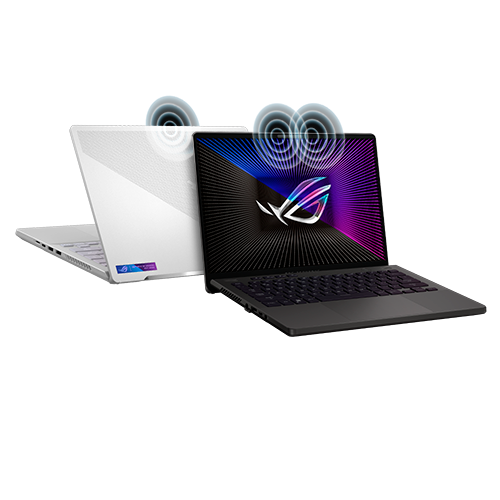 3D-Mic-Array
Die drei Modi des integrierten Mic-Arrays geben Dir eine bessere Kontrolle über Deinen Input. Der Cardioid Mode erfasst dabei den Sound direkt vor dem Notebook und minimiert den Input von der Rückseite, was vor allem fürs Streaming und Gaming ideal ist. Im Stereo Mode werden der rechte und linke Kanal verwendet, um eine breitere Soundlandschaft für Live-Musik oder andere immersive Erlebnisse aufzunehmen. Der Omnidirectional Mode nimmt den Ton aus allen Richtungen gleichmässig auf und ermöglicht auf diese Weise klarere Videokonferenzen.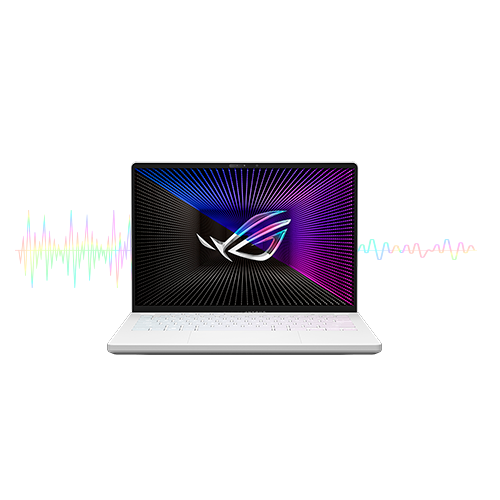 Two Way AI Noise-Cancelation
Unsere AI Noise-Cancelation-Technologie funktioniert mit jedem Eingangsgerät oder auch bei Downstream-Verbindungen und entfernt Rauschen sowohl von Deinem eigenen Mikrofoneingang als auch von eingehenden Feeds. Sie läuft dabei auf der CPU und entlastet somit die GPU, um konstant hohe Bildraten im Game zu erreichen. Die Einstellungen können je Programm angepasst werden, damit bestimmte Apps wie Voice-Chat gefiltert werden, ohne das Game-Audio dabei zu beeinträchtigen.
pause
#KEYBOARD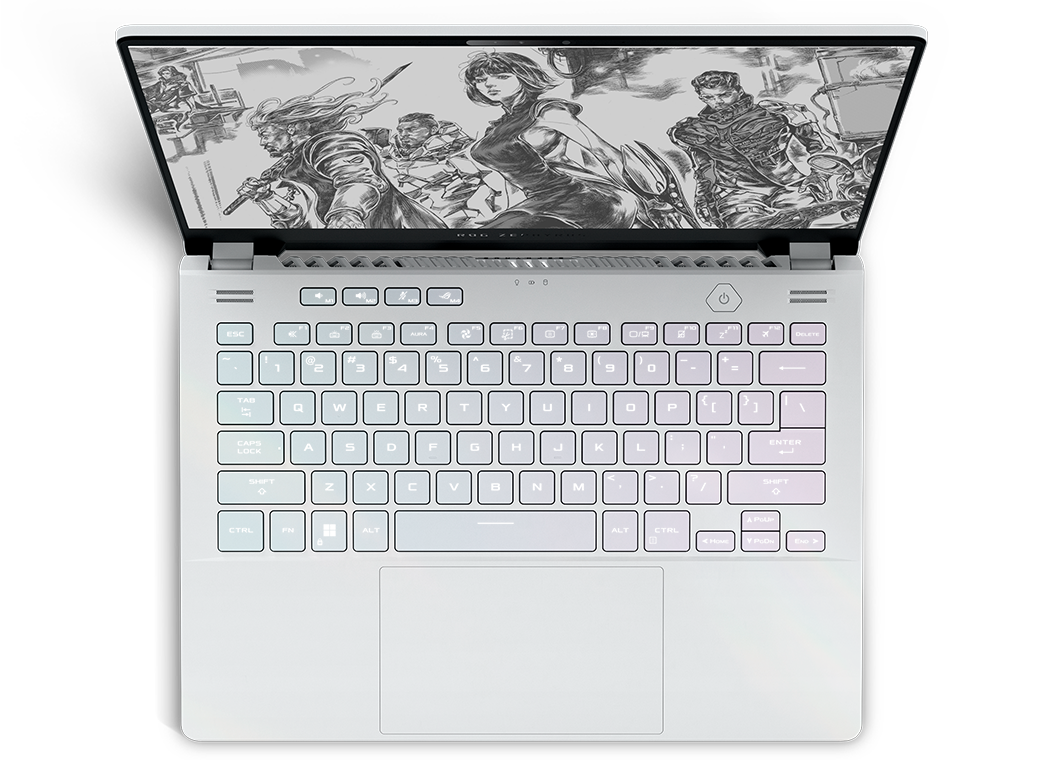 Weisse Beleuchtung
One Zone RGB
MASH UP
The 2022 Zephyrus G14 features a larger touchpad to match the new 16:10 aspect ratio display for responsive control. Overstroke technology triggers higher in each keystroke for faster responsiveness, and the ErgoLift design raises the keyboard at an angle to make typing more comfortable. A dazzling Prismatic sheen covers the keyboard, which provides dedicated hotkeys that put volume, microphone mute, and ROG Armoury Crate software within easy reach. The hotkeys are also fully customizable, and can be programmed to launch apps, set as a function key, or used as a macro.
Desktop-inspiriertes
Design
Gaming
Hotkeys
Mit Makro-Funktion
#CONNECTIVITY
NEXT GEN WI-FI
Mit Wi-Fi 6E erhältst Du, wenn kompatible Netzwerke verfügbar sind, eine felsenfeste Verbindung – auch in stark frequentierten Netzwerken – mit Geschwindigkeiten wie bei einer kabelgebundenen Verbindung.

UMFANGREICHE KONNEKTIVITÄT
Mit dem Zephyrus G14 erhältst Du umfangreiche Anschlussmöglichkeiten: zwei USB Type-C Ports, einer davon mit Power Delivery und DisplayPort™ 1.4, und zwei USB 3.2 Typ-A Ports. Der brandneue microSD-Kartenleser eignet sich dabei perfekt für Kreative, die unterwegs viele Daten übertragen müssen.
#Software
TUNE UP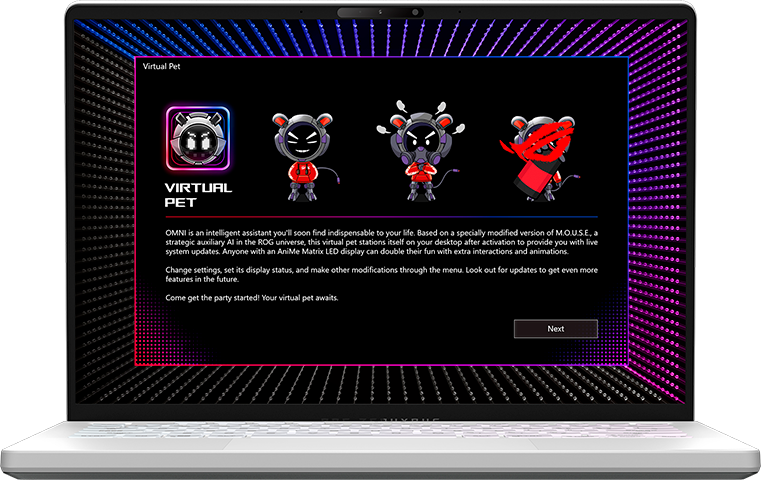 Das ROG OMNI-Maskottchen ist ein lustiger Knirps und Dein interaktiver Assistent. Nach der Aktivierung tummelt OMNI sich auf Deinem Desktop herum und reagiert in Echtzeit auf Änderungen der Systemlast und des Akkustands. Das virtuelle Haustier kann auch so konfiguriert werden, dass es auf dem AniMe Matrix™-Display des Zephyrus G14 abhängt.
Spiele über 100 hochwertige Games mit Freunden auf Deinem PC, Deiner Konsole, Deinem Smartphone oder Tablet zu einem günstigen Monatspreis. Durch permanent neue Games wird es so schnell nicht mehr langweilig.
* Es gelten die Allgemeinen Geschäftsbedingungen und Ausschlüsse. Der Gaming-Katalog variiert im Laufe der Zeit, nach Region und nach Gerät. Weitere Informationen findest Du unter xbox.com/de-DE/gamepass und https://www.ea.com/de-de/eaplay/. Xbox Cloud Gaming: Es gelten Streaming-Beschränkungen. Erfordert einen kompatiblen Controller (zusätzlich erhältlich), ein unterstütztes Gerät und die Xbox Game Pass App; siehe Systemanforderungen. Die Systemanforderungen variieren je nach Game; die Performance steigt mit höherwertigen Systemen.
Die ROG GameVisual Software bietet sechs professionell abgestimmte Grafikmodi für ein optimiertes visuelles Gameplay für bestimmte Game-Genres. Im First Person Shooter (FPS) Mode wird beispielsweise die Sichtbarkeit in dunklen Umgebungen erhöht. So kannst Du im Schatten lauernde Feinde besser erkennen und schneller bekämpfen. GameVisual bietet Dir das absolut beste Gameplay aller Zeiten.
Der automatische Wechsel zwischen dem Silent, Performance und Turbo Mode ist nur der Anfang für Szenario-Profile. Zusätzlich kannst Du anwendungsspezifische Präferenzen für andere wichtige Systemeinstellungen definieren, wie die Beleuchtungskonfiguration, aktivierte/nicht aktivierte Windows-Taste oder Touchpad sowie welches GameFirst VI Profil verwendet werden soll. Armoury Crate nimmt in kürzester Zeit Anpassungen vor, um der jeweiligen Aufgabe optimal gerecht zu werden. Du kannst jedes Profil genau nach Deinen Wünschen konfigurieren.
Hol Dir die kostenlose Armoury Crate Mobile App für Android oder iOS für einen einfachen Zugriff auf Deine Einstellungen, ohne dabei das Game unterbrechen zu müssen! Ab sofort erhältlich bei Google Play™ und im App Store.
Aufrüsten und loslegen
Rüste Deinen ROG Zephyrus G14 mit unterschiedlichen Gaming-Peripheriegeräten und Zubehör auf. Navigiere flüssig und präzise mit der ROG Impact Gaming-Maus. Der kleinere und leichtere 100W-Adapter bietet Dir genau die Leistung, die Du brauchst, um auch unterwegs bestens gerüstet zu sein. Mit der praktischen Hülle kannst Du Dein Notebook zusätzlich schützen.
* Peripherie-Bundles können je nach Region variieren. Bitte erkundige Dich bei Deinem lokalen Anbieter nach genauen Angeboten.
Video Reviews
We face the final stretch of the review with a magnificent taste in our mouths, and there is no area in which the Asus ROG Zephyrus G14 2022 does not stand out, offering the best on the market, with the best materials, the most cutting-edge components and a system of cooling capable of keeping temperatures at bay with a more than acceptable loudness, without neglecting other aspects such as the keyboard, the panel or the aesthetics and maintaining a price that is quite contained within its range
2022 ROG Zephyrus G14 Product Video
The Zephyrus G14 2022 is the best gaming laptop of the year. The specs are freakin' exceptional.
This year they just took it to a whole new level.
Not only is this gaming laptop a beast in performance, but it is also a master of memes. Is the Asus ROG Zephyrus G14 the gaming laptop of the year?
The 2022 Zephyrus G14 is back and more stylish than ever
The Radeon RX6800s makes any game you play smooth and enjoyable
The Zephyrus G14 is quite compact, featuring a sturdy and premium built. Its slim and lightweight, perfect for on-the-go users. The performance of the machine is also impressive and justifies the price of the product.
The look of the ASUS ROG Zephyrus G14 is really nice. It gives you that high end feel but at the same time, it's not too much. It's super portable and can be easily carried to schools and colleges.
I'm definitely impressed by the Zephyrus G14. One of the best options available currently for editing
Looking for power or mobility? Do you want it for something other than playing? Among these ROG laptops you will find the one that suits you
This gaming laptop is the best for me not because of its performance, but because in general, it gives us a complete and balanced experience. It not only allows you to play games, but also work and consume multimedia content at the same level.
ROG Zephyrus G14 (2022) Gaming Laptop Unboxing + Gameplay
ROG Zephyrus G14 (2022) Gaming Laptop Unboxing + Gameplay
ROG Zephyrus G14 (2022) Gaming Laptop Unboxing + Gameplay
The newest gaming laptop from ASUS, ROG Zephyrus G14, is small, light, and powerful! We'll show you all the data, including benchmarks!
This beautiful white gaming laptop is very powerful [ROG Zephyrus G14]
The new laptop from the best-selling gaming laptop brand in Japan has arrived.
Here's what's so great about the ASUS ROG Zephyrus G14 GA402RK!
14인치 고성능 게이밍 노트북 ASUS ROG ZEPHYRUS G14 GA402 후기
【악플러들 상대로 1대1】어느 티어까지 이길 수 있을까?
Đánh Giá Chi Tiết Laptop Gaming ASUS ROG Zephyrus G14: Mẫu Laptop Gaming Mình Thích Nhất!
4 Lý do TẠI SAO mình chọn LAPTOP GAMING để LÀM ĐỒ HỌA!!
Đánh giá ROG Zephyrus G14 (2022): Sự lợi hại của AMD?
ROG Zephyrus G14 2022 (Ryzen 6800HS + RX6700S): Tò mò nhiều thứ về Laptop Gaming AMD
If you are looking for a lightweight notebook that can work, play games, ROG Zephyrus G14 is a good choice.
(2022) Asus ROG Zephyrus G14 // AMD Ryzen 9 6900HS + RX6700S
ASUS Zephyrus G14 (2022) – Jak dobrze to gra?
The New ASUS Zephyrus G14 is WAY Better!
ASUS Zephyrus G14 (2022) Review - The Best Laptop?
Asus ROG Zephyrus G14 Review - Is it ACTUALLY Any Good? [2022]
It Actually Got BETTER 🤯 - Zephyrus G14 2022 vs G14 2021
2022 ROG Zephyrus G14 - Every game is your game
The Rise of Gamers - 2022 Brand New ROG Gaming Laptops
ASUS Goes Crazy With Gaming Laptop Updates in 2022!
These NEXT-GEN Gaming Laptops will Blow Your Mind!
ASUS Is Already Killing It!
ROG Zephyrus G14 (2022) Review: Still THE Best 14" Gaming Laptop
"This 14 portable gaming laptop offers offers far better value compared to other small gaming laptops... To name a few it is lighter, has a better screen, a better battery life and a better CPU performance, all while being cheaper."" "If you want the best battery life and gaming performance... then the ASUS Zephyrus G15 is the way to go." "If you want better CPU performance and a larger 16:10 screen which just looks better while also getting better performance in creator loads."
There is a webcam, but the resolution is only HD, no RJ45 port.
The back cover of the machine is a hole making it difficult to keep clean. Fan vents come out of the front of the screen. causing heat vapor to hit your hand while in use Ports are fairly close together, no RJ45 ports.
It is a complete notebook. Comes with a light body, beautiful note page, with features with AniMe Matrix lights. The camera can be used for about one.
The power management feature is quite good, the screen is beautiful, the game can be played smoothly.
Video review from the channel Konsumer
Video review from the channel MrBegėdis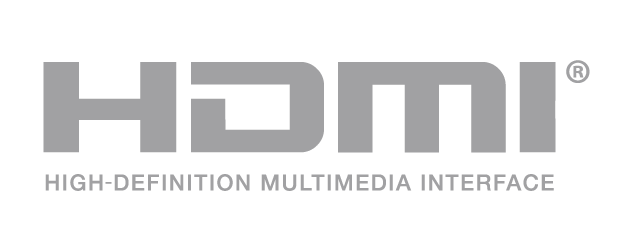 Disclaimer
This device supports Wi-Fi 6E, the newest standard in wireless networking. Please note that Wi-Fi 6E is not yet available in all regions. If your country has not opened up the necessary Wi-Fi bands, this device will use the best connection available. ROG will release a software update to enable Wi-Fi 6E when it's available in your region.
The standard Asus test environment for battery life is as follows: Windows operating system, display module with 150 nits of brightness, lighting off, and other application settings.
Video Playback: Testing is done with Wi-Fi/Bluetooth off, Windows Power Plan set to Balanced, Taskbar Power Mode set to Battery Saver, system volume at 67%, and video at full screen, 1080p resolution.
Web Browsing:Testing is done with Wi-Fi/Bluetooth, Windows Power Plan set to Balanced, Taskbar Power Mode set to Better Battery, and using the Weblooper Top50 website in Google Chrome to play the video with a refresh time of 10 seconds.
Factors that affect battery life include laptop configuration, power settings, and the way it is used. Battery capacity fades with its cycle count and age.
Quick-charging times apply when using the proper ASUS/ROG adapter included alongside the select model and the system is powered off (via the "shut down" command). In compatible scenarios, batteries can be recharged to 50% within 30 minutes under the optimal temperature range of 20-45 degrees Celsius. Charging times may vary +/- 10% due to system tolerance.
Die Begriffe HDMI, HDMI High-Definition Multimedia Interface, HDMI-Aufmachung (HDMI Trade Dress) und die HDMI-Logos sind Marken oder eingetragene Marken von HDMI Licensing Administrator, Inc.
The actual version of HDMI 2.1 should be checked in the specifications page.
HDMI 2.0 was revised to HDMI 2.1 TMDS, and HDMI 2.1 was revised to HDMI 2.1 FRL effective from May 3, 2022.
The actual HDMI version of the products should be checked in the product specifications page respectively.
Unit with  RJ45 port does not support "Power over Ethernet" (PoE), only support data transmission.
Von der Federal Communications Commission und Industry Canada zertifizierte Produkte werden in den Vereinigten Staaten und Kanada vertrieben. Bitte besuchen Sie die Websites von ASUS USA und ASUS Kanada, um Informationen über lokal verfügbare Produkte zu erhalten.
Alle Spezifikationen können ohne vorherige Ankündigung geändert werden. Bitte erkundigen Sie sich bei Ihrem Händler nach den genauen Angeboten. Die Produkte sind möglicherweise nicht in allen Märkten erhältlich.
Die Spezifikationen und Merkmale variieren je nach Modell, und alle Abbildungen dienen der Veranschaulichung. Ausführliche Informationen finden Sie unter "Spezifikationen" auf den Produktseiten.
PCB-Farb- und mitgelieferte Software-Versionen können ohne vorherige Ankündigung geändert werden.
Die genannten Marken- und Produktnamen sind Warenzeichen ihrer jeweiligen Unternehmen.
Sofern nicht anders angegeben, basieren alle Leistungsangaben auf theoretisch erreichbaren Werten. Tatsächliche Messwerte können unter realen Bedingungen abweichen.
Die tatsächliche Übertragungsgeschwindigkeit von USB 3.0, 3.1, 3.2 und/oder Typ-C hängt von vielen Faktoren ab, einschliesslich der Verarbeitungsgeschwindigkeit des Hostgeräts, Dateieigenschaften und anderen Faktoren im Zusammenhang mit der Systemkonfiguration und Ihrer Betriebssystemumgebung.
For pricing information, ASUS is only entitled to set a recommendation resale price. All resellers are free to set their own price as they wish.
Price may not include extra fee, including tax、shipping、handling、recycling fee.
Produktvergleich
Produkt zum Vergleich hinzugefügt. Füge bis zu 4 Produkte hinzu oder lass dir deine Auswahl anzeigen.
ASUS Footer