Caractéristiques
Caractéristiques techniques
Récompenses
Galerie
Support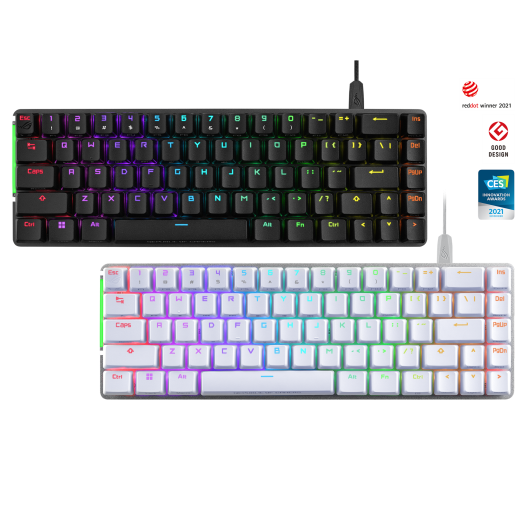 ROG Falchion Ace
Clavier gaming compact ROG Falchion Ace 65% avec switches mécaniques ROG NX pré-lubrifiés avec stabilisateur de switch ROG, touches en ABS doubleshot, mousse insonorisante, écran tactile interactif, deux ports Type-C, trois angles d'inclinaison du clavier et housse de protection
Design compact : Un clavier de 65 % dans un cadre de 60 % intègre de façon magistrale les touches de navigation et de déplacement
Switches mécaniques ROG NX : Tige et boîtier lubrifiés pour des clics plus fluides et pour éliminer les bruits de rebond, respectivement, actionnement rapide et courbes de force réglées par ROG pour des frappes superbes et régulières
En savoir plus sur les switches mécaniques ROG NX
Meilleure expérience de frappe : Stabilisateur de switch ROG spécialement conçu pour assurer des frappes fluides et une stabilité pour les touches plus longues, ainsi que des capuchons de touches ROG ABS doubleshot et une mousse antibruit intégrée pour une meilleure acoustique
Contrôle intuitif : Écran tactile interactif pour des réglages et une personnalisation faciles
Deux USB-C® : Placement flexible des ports pour une installation plus ordonnée, permettant aux utilisateurs de passer rapidement d'un PC à l'autre
Design ergonomique : Trois angles d'inclinaison du clavier pour le confort et le contrôle
Protection portable : L'étui innovant pour clavier offre une protection en déplacement
Revues vidéo
Build PC GAMER ROG Full White Powered by ASUS à 5000 €
【真相解明】FPSガチ勢向けのゲーミングデバイスを初心者が使ってみる【ASUS ROG ACE】
ASUSの"本気"ゲーミングデバイスで揃えたらヤバかった【ROG ACEシリーズ】
【 ROG ACE SERIES 】本気で勝つためのゲーミングデバイスが登場したぞ...!
プロと共同開発したASUS最強のゲーミングデバイスを知っていますか?
プロゲーマーと共同開発された最強デバイスをレビュー【ROG×AIMLAB】
【潜入】ASUS ROG 初のE-Sportsコレクション「ACE SERIES」発表会に行ってきた【自作PC】
【ASUS本気出しすぎて草】エイムの世界記録保持者が作った最強ゲーミングデバイスが発売されました。 [ROG Harpe Ace/Horn Ace AimLab Edition]
【超軽量54g】ASUS ROGとAim Labが作ったE-Sports向け、新しいゲーミングマウスとゲーミングキーボードを使ってみた【ROG Ace】【自作PC】
【軽量54g】ROGが本気で作ったEsports向ゲーミングデバイス / ROG ACE
Among the strengths of the ROG Harpe Ace Aim Lab Edition are its light weight and, on a quality level, its solidity. In fact, the build quality is fantastic and the shape is also well thought out. The level of this mouse is definitely high. The only negative note is the high price.
Asus ROG Falchion Ace - Review in English
The mouse is so light that when Asus sent the box, it looked like there was nothing in it.
Comparaison de produits
Produit ajouté pour la comparaison. Vous pouvez ajouter jusqu'à quatre produits supplémentaires ou directement commencer à comparer les produits sélectionnés.
ASUS Footer