Váš nákupní košík je prázdný.
Funkce
Technická specifikace
Ocenění
Galerie
Podpora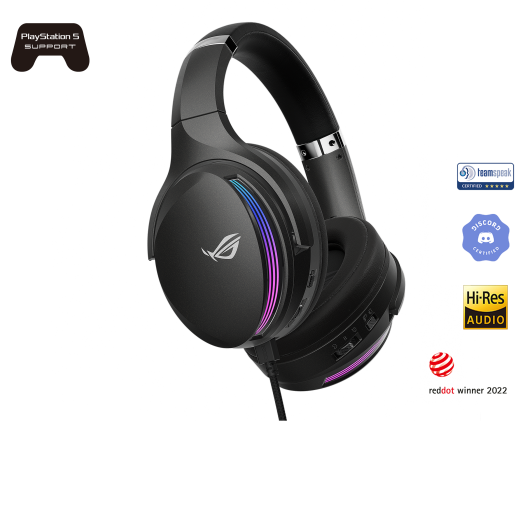 ROG Fusion II 500
Herní headset s RGB osvětlením, převodníkem ESS 9280 Quad DAC™ s vysokým rozlišením, hlubokými basy, pohlcujícím virtuálním 7.1 prostorovým zvukem, mikrofony s tvarováním paprsku pomocí umělé inteligence, potlačením šumu pomocí umělé inteligence, ovládáním hlasitosti herního chatu, kompatibilní s PC, PlayStation® 5, Nintendo Switch™ a Xbox
Virtuální 7.1 prostorový zvuk s hi-fi převodníkem ESS 9280 Quad DAC™ a 50mm měniči ASUS Essence, které poskytují silné basy a pohlcující věrný zvuk
Mikrofony s technologií AI Beamforming a potlačením šumu pomocí umělé inteligence pro křišťálově čistou hlasovou komunikaci během hraní
Ovládání hlasitosti herního chatu usnadňuje vyvážení herního zvuku a komunikace ve hře
Různé možnosti přizpůsobení, přednastavené světelné efekty a vícebarevné RGB osvětlení s více než 16,8 milionu barev
Pohodlná a lehká konstrukce s ergonomickými náušníky dokonale sedí na hlavě
Konektory 3,5 mm, USB-C® a USB-A garantují kompatibilitu s PC, Mac, PlayStation®, Nintendo Switch™, Xbox a mobilními zařízeními
Video recenze
The review from the channel Uldons TV
Fusion II 500 are comfortable, excellent sound quality, and above all affordable headphones, which have no equal in their price range.
For their performance, ROG Fusion II 300 + Fusion II 500 earned Advanced Design as well as Diamond recognition.
The best GAMING HEADSET for FORTNITE
WE REMAKE YOUR GAMING ROOM ! (ft. Guillaume)
I build a 5000€ Gaming PC !
Simply put, the ROG Fusion II 500 is an awesome pair of gaming headphones
The audio is crisp with good bass
Review ROG Strix Flare II Animate: Animasinya Bikin Salah Fokus!
Review gaming headset ROG fusion ii 500 and ROG Throne QI
The best gaming headset ever you can try it!
Best Wireless gaming peripherals set-up
Video review from the channel HDTanel. Rating 8/11
Video review from the channel Konsumer
Product Comparison
Product added to comparison. Add up to 4 products or proceed to view compare products selected.
ASUS Footer