Sie haben keine Artikel in Ihrem Warenkorb.
Übersicht
Technische Daten
Awards
Galerie
Jetzt Kaufen
Support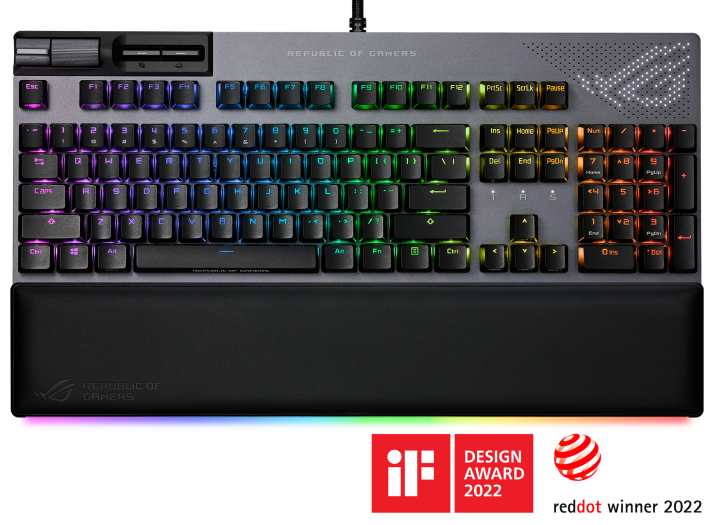 ROG Strix Flare II Animate
ROG Strix Flare II Animate mechanische Gaming-Tastatur mit AniMe Matrix™ LED-Display, 8000 Hz Polling-Rate, mechanischen ROG NX-Switches, austauschbaren Switches, Mediensteuerungen aus Metall und einer Handgelenkauflage mit Lichtdiffusor
AniMe Matrix™ LED-Anzeige Personalisiere und drücke dich auf einzigartige Weise mit anpassbaren Bildern und Animationen aus
Stilvoll und ergonomisch: Abnehmbare Handballenauflage mit Lichtdiffusor
Intuitive Bedienelemente Spezielle Medien- und Lautstärkeregler befinden sich bequem in der oberen linken Ecke der Tastatur
Fast sofortige Antwort: 8000 Hz Polling Rate bietet eine Reaktionszeit von 0,125 ms - bis zu 8x schneller als andere führende Gaming-Tastaturen
Erhältlich mit mechanischen ROG NX-Switches: Geschmierter Schaft für sanfte Klicks, geschmiertes Gehäuse zur Beseitigung von Prellgeräuschen, schnelle Betätigung und ROG-abgestimmte Kraftkurven für ein großartiges Tastgefühl mit hoher Anschlagskonsistenz.
Erfahre mehr über ROG NX Mechanical Switches
Auswechselbare Schalter: Installiere deinen bevorzugten Schaltertyp (Switches) für ein einzigartiges, individuelles Gefühl
ROG PBT Doubleshot Keycaps: Langlebige Keycaps mit mittelhohem Profil und kürzeren Schäften reduzieren das Wackeln der Tasten und sind mit dem durchsichtigen ROG-Schriftzug
Mehr über das ROG Doubleshot Keycap Set erfahren
ROG Schalterstabilisator: Speziell entwickelt, um einen reibungslosen Tastenanschlag und Stabilität für längere Tasten zu gewährleisten
Verbesserte Akustik: Eingebauter schalldämpfender Schaumstoff hilft, Ping-Geräusche und Echos innerhalb der Tastatur zu absorbieren
Bequeme Konnektivität: Der USB-Passthrough-Anschluss ermöglicht eine einfache Verbindung mit anderen Geräten
Deutsches Layout
Video Reviews
WE REMAKE YOUR GAMING ROOM ! (ft. Guillaume)
I build a 5000€ Gaming PC !
Asus ROG Strix Flare II Animate Keyboard Hot-swappable Full Review | I Need This!
A marriage between mass appeal features (RGB and LED display) and modder basics (hot swappable switches) the Rog Strix Flare II Animate does a good job of satisfying both crowds.
新発売されたおしゃれ過ぎるゲーミングキーボード【ROG STRIX FLAREⅡANIMATE】【自作PC/ゲーミングPC/デバイス】
3万円越えの超高級キーボードの打鍵感がやばい.....wwww【レビュー】 |ROG STRIX FLARE II ANIMATE
Review ROG Strix Flare II Animate moving lights! Custom can remove the switch! Gaming Keyboard of the Year 2022
Review Gaming Keyboard with ROG NX
In gaming it is obviously very good, the switches are very good and perfect for this area. Normally I prefer smaller keyboards because I need a lot of space on my workstation but I really liked its design and ergonomics. Spectacular switches, the animated animation is very nice and makes a nice impression on the keyboard. For writing spectacular. The price is not exaggerated for all the functions it offers.
These keys with a response time of 0.125 MS can be one of the sought-after features in competitive arenas. The sense of quality in our user experience was also at a high level. The responsiveness of the keyboard was really good, thanks to the wrist support, it minimizes the pressure on your wrist in long-term use.
It's pretty good in terms of design, I have nothing to say about its performance anyway.
PBT keycaps, hotswap, stylish design, lubricated switches, lubricated stabilizers and noise-absorbing foam. These are all signs of a good keyboard in 2022. However, ROG went further. They added a screen and an 8000Hz refresh rate to their keyboard
The surprise is the ROG Delta S Core, probably the best microphone I've experienced with Asus. I'm also excited about the ROG Strix Flare II Animate keyboard, I'll definitely be back to that one.
I tested a high-end keyboard from ASUS. It's the ROG STRIX Flare II Animate high profile wired gaming keyboard designed for precision gaming.
how to change keyboard switches
Very high quality stabilizers, LEDs in the corner, multimedia buttons and scroll wheel - that's what I would want in every keyboard. I liked the Claymore a bit more, but the price point is more for the connoisseur. I liked the ROG Strix Scope RX the most, which also has water spill resistance and again, solid stabilizers and very good workmanship as well as a price to match.
Maherco Assembly #1: New Game 2022
Video review from the Konsumer channel
Video review from FunFaceTV channel
Review from the channel ASUS ROG Baltics
103 / 5.000 Резултати превода This is one of the few keyboards that ended up with two awards from my test! See why
As such, the ROG Strix Flare II Animate keyboard earned AX Advanced as well as AX Diamond recognition.
At the end, a top-notch keyboard that has our warm recommendation.
The wrist rest comes with the keyboard, is easily detachable and is of great importance, especially during long-term use of the keyboard.
The review from the channel Pakapak
The video review from the channel Pakapak
Produkt-Vergleich
Produkt wurde zum Vergleich hinzugefügt. Fügen Sie bis zu 4 Produkte hinzu oder lassen Sie sich die ausgewählten Produkte zum Vergleichen anzeigen.
ASUS Footer