Características
Especificaciones técnicas
Premios
Galería
Dónde comprar
Soporte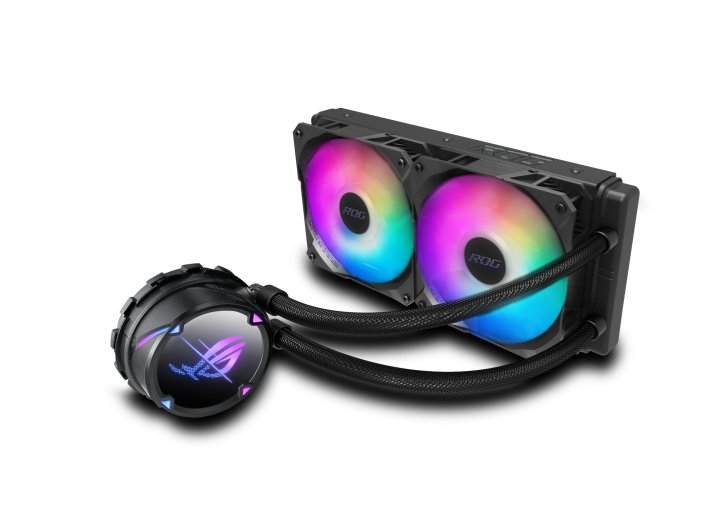 ROG STRIX LC II 240 ARGB
ROG Strix LC 240 ARGB sistema de refrigeración líquida todo en uno con Aura Sync, soporte Intel® LGA 1150/1151/1155/1156/1200/2066 y AMD AM4/TR4 con dos ventiladores RGB direccionables ROG de 120 mm
La bomba Seventh Gen Asetek ofrece un rendimiento excepcional, un ruido mínimo y un rango operativo que empieza a 840 rpm.
Dos ventiladores de radiador ROG Axial-tech optimizan la ventilación y la presión estática.
La iluminación RGB independiente y la cubierta con revestimiento NCVM le otorgan una estética elegante y moderna.
Diseño a juego con las placas base de ROG.
Tubo reforzado para incrementar su durabilidad.
Reviews en vídeo
For those who are planning to do some overclocking, the fan near the pump helps with cooling the VRM. Generally ASUS seems to have a dynamic line-up for most people.
NO visible cables! The PC Powered by ASUS of the Future 🚀
Cooler Yang Bikin Dompet Cepet Kering I ASUS ROG STRIX LC II 240 ARGB
new computer set white Strong specs can play every game.
That is, ideally, under the same conditions, for example, a video rendering that takes five minutes on an air cooler will take four minutes and 40 seconds on an water cooler. Because for the first minute or two or three, it will be easier for the processor to keep high frequencies on the water, and not on the air.
The company's first 280-mm LSS turned out to be excellent - effective, beautiful and quite expected at a price. ASUS ROG Strix LC II 280 is absolutely safe for 8-core processors, and even overclocking will allow you to do it. Yes, and a 16-core will cool even very well.
Comparativa de productos
Producto añadido a la comparativa. Añade hasta 4 productos o compara los productos seleccionados.
ASUS Footer