No tienes productos en tu cesta.
Características
Especificaciones técnicas
Premios
Galería
Dónde comprar
Soporte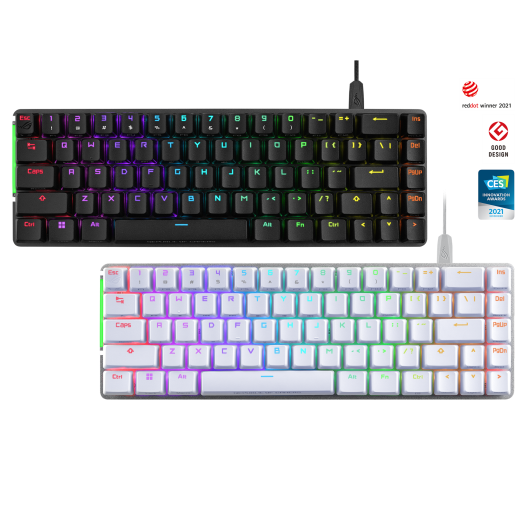 ROG Falchion Ace
Teclado gaming compacto ROG Falchion Ace al 65 % con interruptores mecánicos ROG NX prelubricados con estabilizador de interruptores ROG, teclas de PBT de doble inyección, espuma insonorizante, panel táctil interactivo, dos puertos de tipo C, tres ángulos de inclinación del teclado y funda
Diseño compacto: el teclado al 65 % en una estructura al 60 % incorpora las teclas de flecha y navegación.
Interruptores mecánicos ROG NX: actuador y carcasa lubricados para suavizar los clics y eliminar el sonido de rebote respectivamente, accionamiento rápido y curvas de fuerza ajustadas por ROG para garantizar unas pulsaciones uniformes excelentes.
Más información sobre los interruptores mecánicos ROG NX
Experiencia de escritura mejorada: estabilizador de interruptores ROG especialmente diseñado para garantizar unas pulsaciones suaves y estabilidad para las teclas más largas, además de teclas ROG de PBT de doble inyección y espuma insonorizante incorporada para mejorar el sonido.
Control intuitivo: panel táctil interactivo para facilitar los ajustes y la personalización.
Dos puertos de tipo C®: colocación flexible de los puertos para facilitar el orden y permitir a los usuarios alternar rápidamente entre dos ordenadores.
Diseño ergonómico: tres ángulos de inclinación del teclado para mejorar la comodidad y el control.
Protección portable: innovadora funda para proteger el teclado dondequiera que vayas.
Reviews en vídeo
Everyone defines the perfect gaming setup differently - this combo is definitely pretty cool!
Build PC GAMER ROG Full White Powered by ASUS à 5000 €
Dominate WARZONE, THE Gaming PC Configuration to WIN. 🎁🎁🎁
【真相解明】FPSガチ勢向けのゲーミングデバイスを初心者が使ってみる【ASUS ROG ACE】
ASUSの"本気"ゲーミングデバイスで揃えたらヤバかった【ROG ACEシリーズ】
【 ROG ACE SERIES 】本気で勝つためのゲーミングデバイスが登場したぞ...!
プロと共同開発したASUS最強のゲーミングデバイスを知っていますか?
プロゲーマーと共同開発された最強デバイスをレビュー【ROG×AIMLAB】
【潜入】ASUS ROG 初のE-Sportsコレクション「ACE SERIES」発表会に行ってきた【自作PC】
【ASUS本気出しすぎて草】エイムの世界記録保持者が作った最強ゲーミングデバイスが発売されました。 [ROG Harpe Ace/Horn Ace AimLab Edition]
【超軽量54g】ASUS ROGとAim Labが作ったE-Sports向け、新しいゲーミングマウスとゲーミングキーボードを使ってみた【ROG Ace】【自作PC】
【軽量54g】ROGが本気で作ったEsports向ゲーミングデバイス / ROG ACE
Keyboard compact design Support dual device
Among the strengths of the ROG Harpe Ace Aim Lab Edition are its light weight and, on a quality level, its solidity. In fact, the build quality is fantastic and the shape is also well thought out. The level of this mouse is definitely high. The only negative note is the high price.
ASUS has already thought of everything a user might need and added it to this compact keyboard.
Asus ROG Falchion Ace - Review in English
If you like the form factor, and the price tag doesn't scare you - the keyboard is really interesting and you can consider it before buying it
The mouse is so light that when Asus sent the box, it looked like there was nothing in it.
Comparativa de productos
Producto añadido a la comparativa. Añade hasta 4 productos o compara los productos seleccionados.
ASUS Footer