No tienes productos en tu cesta.
Características
Especificaciones técnicas
Premios
Galería
Dónde comprar
Soporte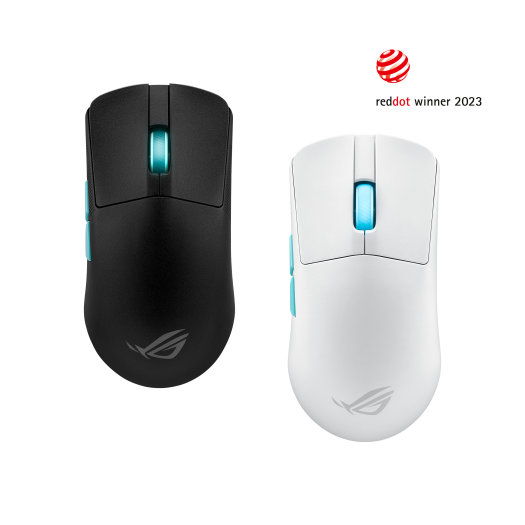 ROG Harpe Ace Aim Lab Edition
El ultraligero ROG Harpe Ace Aim Lab Edition es un ratón inalámbrico gaming de 54 gramos con un factor de forma probado por profesionales, sensor óptico ROG AimPoint de 36 000 DPI, tecnología inalámbrica ROG SpeedNova, tres modos de conectividad, microinterruptores ROG, cinco botones programables y funciones de ajuste de perfiles sinérgicos con el optimizador de ajustes Aim Lab.
Factor de forma probado: la forma del ratón se ha desarrollado en colaboración con profesionales de los esports para garantizar la máxima estabilidad y control durante los desplazamientos y el seguimiento.
Optimizador de configuración de Aim Lab: el software analiza los puntos fuertes y los estilos de juego del usuario para adaptar la configuración del ratón de forma exclusiva al jugador.
Diseño ligero de 54 gramos: reducción extrema del peso gracias al diseño meticuloso y a la innovadora fabricación con material de nailon de base biológica.
Sensor óptico ROG AimPoint: sensor óptico de 36 000 DPI de última generación con una desviación de <1 % de CPI para obtener la máxima precisión.
Tres modos de conectividad: disfruta de una gran flexibilidad gracias a la conexión con cable USB, RF de 2,4 GHz de baja latencia y modo Bluetooth® para que puedas emparejar hasta tres dispositivos.
Tecnología inalámbrica ROG SpeedNova: ofrece un rendimiento inalámbrico fiable y de baja latencia, así como una eficiencia energética optimizada en el modo RF de 2,4 GHz.
Control integrado: permite ajustar directamente los parámetros más frecuentes del ratón con distintas combinaciones de botones del ratón.
Microinterruptores ROG: proporciona una vida útil de 70 millones de clics y una sensación de clic controlada y uniforme.
Cinta de agarre antideslizante para ratón: asegura el agarre y añade un poco de estilo.
ROG Paracord y patas de ratón de PTFE al 100 %: los materiales de calidad facilitan movimientos suaves y rápidos.
Reviews en vídeo
The most powerful keyboard in the world + fastest mouse / Rog Harpe Ace + Rog Azoth
Crime Boss 💰🚔 Gang game experience
Is this pointless? Asus ROG Harpe Ace Aim Lab edition
AIM LAB made an INSANE 54g GAMING MOUSE?
ROG Harpe Ace Aim Lab Edition Unboxing (ASMR) #shorts
ROG Harpe Ace Aim Lab Edition Review - Just 54 Grams! Without Holes.
These could be my new favourite ROG products.
I WAS CHALLENGED to PLAY Mouse Keyboard again after 5 years and a half of playing with a controller! ⌨️🖱️
HOW TO GET BETTER at FPS with an app (Harpe ACE Mouse by Asus ROG x AIM Lab)
Dominate WARZONE, THE Gaming PC Configuration to WIN. 🎁🎁🎁
This is the lightest mouse I have reviewed with amazing performance while gaming and doing productivity tasks
Harpe Ace feels like a mouse that is designed by pros for the pros. There is an attention to detail in every aspect right from design to material, sensor, switches and even the in-box accessories
【最強】ROGがAim Labと作ったゲーミングマウスがヤバい!圧倒的軽さと握り心地でメインマウス待ったなし!【ROG Harpe Ace Aim Lab Edition】
【真相解明】FPSガチ勢向けのゲーミングデバイスを初心者が使ってみる【ASUS ROG ACE】
ASUSの"本気"ゲーミングデバイスで揃えたらヤバかった【ROG ACEシリーズ】
【 ROG ACE SERIES 】本気で勝つためのゲーミングデバイスが登場したぞ...!
プロと共同開発したASUS最強のゲーミングデバイスを知っていますか?
プロゲーマーと共同開発された最強デバイスをレビュー【ROG×AIMLAB】
【超軽量54g】ASUS ROGとAim Labが作ったE-Sports向け、新しいゲーミングマウスとゲーミングキーボードを使ってみた【ROG Ace】【自作PC】
【軽量54g】ROGが本気で作ったEsports向ゲーミングデバイス / ROG ACE
ASUS ROG Harpe Ace レビュー / つかみ持ち特化?Aim Labプロと共同開発した54グラムのワイヤレスマウス
【潜入】ASUS ROG 初のE-Sportsコレクション「ACE SERIES」発表会に行ってきた【自作PC】
【ASUS本気出しすぎて草】エイムの世界記録保持者が作った最強ゲーミングデバイスが発売されました。 [ROG Harpe Ace/Horn Ace AimLab Edition]
The New ROG Gaming Gear Good design and Accurate response
Gaming Mouse AimLab Accurate response with ROG Aimpoint 36,000 dpi and Mouse Pad crosshair onscreen
Gaming Mouse AimLab Accurate response with ROG Aimpoint 36,000 dpi and Mouse Pad crosshair onscreen
Among the strengths of the ROG Harpe Ace Aim Lab Edition are its light weight and, on a quality level, its solidity. In fact, the build quality is fantastic and the shape is also well thought out. The level of this mouse is definitely high. The only negative note is the high price.
If you play competitive FPS games and prefer light mice, you can easily choose Asus ROG Harpe Ace Aim Lab Edition mouse and ROG Hone Ace Aim Lab Edition mouse pad.
Material quality, technical performance and functionality are very successful.
We tested the new ASUS ROG Harpe Ace in partnership with Aim Lab, a high-performance gaming mouse with features that will help gamers improve their accuracy and performance in FPS games!
The mouse is so light that when Asus sent the box, it looked like there was nothing in it.
The mouse is better ultraweight than Logitech's in my opinion. So for me it is the best mouse I have tested so far and also the cooperation with Aimlab will set the mouse values really well into the 5th profile of the mouse memory.
This time I tested a hot new product from ASUS. It's an ultra-lightweight ROG Harpe wireless mouse specialized for esport games. Better yet, it was developed in collaboration with AimLab.
THE ONLY CURRENT MOUSE ?! |ASUS HARPE ACE x ASUS HONE ACE AIMLAB EDITION!
ASUS ROG Harpe Ace Aim Lab Edition
This PC does NOT have cables ****
The world professionals gathering Mouse Jimming Harpe Ace Aim Lab
Harpe Ace Aim Lab Edition is a very complex and very good gaming mouse. It offers an extremely fast and precise sensor, a small body and software that allows changing many parameters through the Armory Crate software. The small body will not suit everyone, but that makes it light for quick maneuvers.
Video review from the channel ASUS ROG CIS
ROG and Aim Lab have joined forces to raise the bar for esports gaming with the ROG Harpe Ace Aim Lab Edition wireless mouse. Designed for esports and aspiring gaming professionals, this ultralight 54 gram mouse includes the Aim Lab Settings Optimizer feature that measures and analyzes user performance to create the best possible combination of settings.
Comparativa de productos
Producto añadido a la comparativa. Añade hasta 4 productos o compara los productos seleccionados.
ASUS Footer