No tienes productos en tu cesta.
Características
Especificaciones técnicas
Premios
Galería
Dónde comprar
Soporte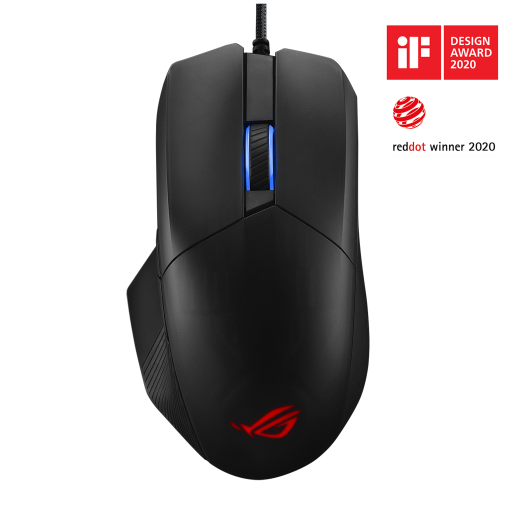 ROG Chakram Core
ROG Chakram Core: ratón gaming con joystick programable, sensor de 16000 dpi, interruptores intercambiables, peso ajustable, modo de sigilo, captura de pantalla instantánea e iluminación Aura Sync.
Ratón gaming de alto rendimiento con un sensor óptico de 16.000 dpi, aceleración de 40 g, 400 ips, tasa de sondeo de 1000 Hz y altura ajustable.
Joystick programable y desmontable con un modo analógico de 256 niveles y uno digital de 4 direcciones para un control superior de los juegos.
El diseño sin tornillos con cubierta y botones magnéticos permite acceder a los interruptores exclusivos de ROG y ajustar el peso de forma sencilla.
Los botones pivotantes ofrecen una respuesta rápida y sensaciones optimizadas para gamers.
Puedes retirar o añadir el peso de 13,6 g para regular su peso de 97 a 111 g.
Ajusta los DPI con la rueda de desplazamiento y cambia entre cuatro niveles preestablecidos con el botón dedicado.
Mapea la función Sigilo para disponer de una privacidad instantánea o utiliza Captura de pantalla para retratar tus momentos de gloria.
La interfaz Armory II permite un ajuste intuitivo del joystick, los botones, el rendimiento y la iluminación.
Reviews en vídeo
It's a way of being able to test the responsiveness of the monitor
'll show you how frames really do win games - I'll give you a breakdown of just how having higher frame rates gives you a reaction advantage compared to the competition! The ASUS PG259QNR 360hz paired with the ROG STRIX RTX 3080!
A very high-end and versatile gaming setup for Mohammed who is both a gamer and a architecture student.
ROG isn't really known for being cheap, however if it were, then it wouldn't be ROG. While not the cheapest mouse on the market, however, the wired Chakram Core delivers one of the best bang for your buck mice out there!
This mouse offers some exclusive features that might have not seen on any other mouse. It offers precise movement on the charater movement and faced no dead zones. Its a one of a kind gaming mouse with an exclusive joystick on board
There are certain features on this mouse that you will not get on any other mouse. They are important and very unique.
Test Nvidia Reflex Low Latency with Gaming Mouse ROG Chakram Core and Gaming Monitor ROG PG259QNR
Review Gaming Mouse with joystick design for Ergonomic-Right
Together with the switch structure developed by ASUS, the switch can stand in a very solid way and offer us a more powerful feel compared to normal mechanics. Overall, I really like this four-zone grip on this keyboard structure of the product.
You can see the latency of the mouse, the monitor and the system as a whole
For the test, I used a ROG Chakram mouse compatible with Nvidia Reflex
Video review from the channel FunFace TV
By far the best mouse in its class.
Comparativa de productos
Producto añadido a la comparativa. Añade hasta 4 productos o compara los productos seleccionados.
ASUS Footer