Sinulla ei ole tuotteita ostoskorissasi.
Features
Tech Specs
Awards
Gallery
Osta nyt
Support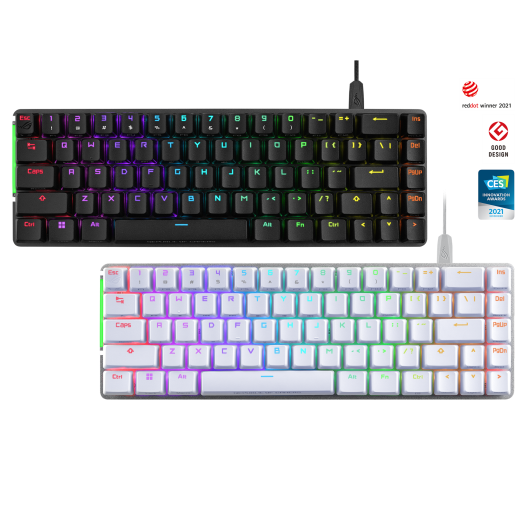 ROG Falchion Ace
ROG Falchion Ace 65% compact gaming keyboard with pre-lubed ROG NX mechanical switches with ROG switch stabilizer, PBT doubleshot keycaps, sound-dampening foam, interactive touch panel, dual Type-C ports, three keyboard tilt angles, and cover case
Compact design: 65% keyboard in a 60% frame masterfully incorporates arrow and navigation keys
ROG NX mechanical switches: Lubricated stem and housing for smoother clicks and to eliminate bouncing noise respectively, fast actuation and ROG-tuned force curves for great, consistent keystrokes
Better typing experience: Specially designed ROG switch stabilizer to ensure smooth keystrokes and stability for longer keys, plus ROG PBT doubleshot keycaps and built-in sound-dampening foam for improved acoustics
Intuitive control: Interactive touch panel for easy adjustments and customization
Dual USB-C®: Flexible port placement for a neater setup, and enable users to quick-toggle switch between two PCs
Ergonomic design: Three keyboard tilt angles for comfort and control
Portable protection: Innovative keyboard cover case provides on-the-go protection
Video Reviews
Everyone defines the perfect gaming setup differently - this combo is definitely pretty cool!
Build PC GAMER ROG Full White Powered by ASUS à 5000 €
Dominate WARZONE, THE Gaming PC Configuration to WIN. 🎁🎁🎁
【真相解明】FPSガチ勢向けのゲーミングデバイスを初心者が使ってみる【ASUS ROG ACE】
ASUSの"本気"ゲーミングデバイスで揃えたらヤバかった【ROG ACEシリーズ】
【 ROG ACE SERIES 】本気で勝つためのゲーミングデバイスが登場したぞ...!
プロと共同開発したASUS最強のゲーミングデバイスを知っていますか?
プロゲーマーと共同開発された最強デバイスをレビュー【ROG×AIMLAB】
【潜入】ASUS ROG 初のE-Sportsコレクション「ACE SERIES」発表会に行ってきた【自作PC】
【ASUS本気出しすぎて草】エイムの世界記録保持者が作った最強ゲーミングデバイスが発売されました。 [ROG Harpe Ace/Horn Ace AimLab Edition]
【超軽量54g】ASUS ROGとAim Labが作ったE-Sports向け、新しいゲーミングマウスとゲーミングキーボードを使ってみた【ROG Ace】【自作PC】
【軽量54g】ROGが本気で作ったEsports向ゲーミングデバイス / ROG ACE
Keyboard compact design Support dual device
Among the strengths of the ROG Harpe Ace Aim Lab Edition are its light weight and, on a quality level, its solidity. In fact, the build quality is fantastic and the shape is also well thought out. The level of this mouse is definitely high. The only negative note is the high price.
ASUS has already thought of everything a user might need and added it to this compact keyboard.
Asus ROG Falchion Ace - Review in English
If you like the form factor, and the price tag doesn't scare you - the keyboard is really interesting and you can consider it before buying it
The mouse is so light that when Asus sent the box, it looked like there was nothing in it.
Product Comparison
Product added to comparison. Add up to 4 products or proceed to view compare products selected.
ASUS Footer