Sinulla ei ole tuotteita ostoskorissasi.
Features
Tech Specs
Awards
Gallery
Osta nyt
Support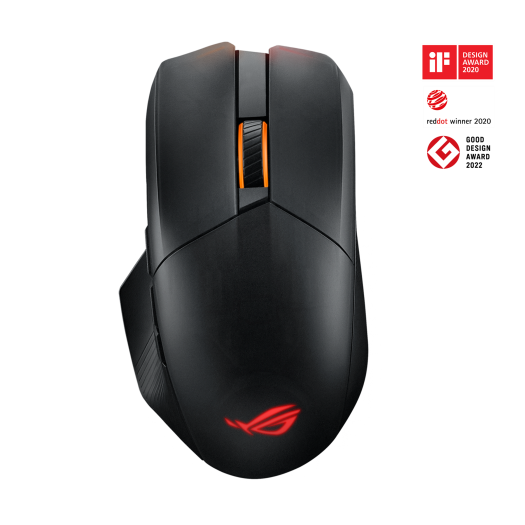 ROG Chakram X
ROG Chakram X wireless RGB gaming mouse with next-gen 36,000 dpi ROG AimPoint optical sensor, 8000 Hz polling rate, low-latency tri-mode connectivity (RF 2.4 GHz / Bluetooth / wired), 11 programmable buttons, an analog joystick and hot-swappable micro switch sockets (mechanical / optical ).
ROG AimPoint optical sensor: Next-gen 36,000 dpi gaming optical sensor with 8000 Hz polling rate for ultimate precision
Tri-mode connectivity: Flexibility with wired USB, low-latency 2.4 GHz RF, plus a Bluetooth® mode to pair up to three devices.
Programmable joystick: New detachable joystick available in different sizes for refined analog or digital linear controls
More control at your fingertips: Seven buttons and four-way directional joystick offer a total of 11 programmable buttons for versatile hotkey functions
Superb click feel: Pivoted button mechanism offers rapid response and a clean, tactile feel
Instantaneous DPI adjustments: DPI On-the-Scroll enables effortless on-the-fly in-game adjustments
Push-Fit Switch Socket II: Hot swap compatibility with 3-pin mechanical switches and 5-pin optical micro switches to vary click force and extend lifespan of the mouse
Smooth and fast movement: ROG Paracord and 100% PTFE mouse feet
Convenient charging: Charge up by cable or via wireless Qi to enjoy up to 114 hours of uninterrupted gameplay
Effortless DIY customization: Screw-less magnetic buttons and cover, plus a customizable badge to easily switch up feel and looks
NVIDIA®Reflex: Officially verified for NVIDIA Reflex Latency Analyzer to monitor mouse responsiveness – Find out more
Video Reviews
Ultimate $5000 Gaming Setup 2022! [ASUS PG48UQ, RTX 3090, Peripherals & More!]
The Most Excessive Gaming Setup... Ever.
I'm TRYING TO MAKE TOP 1 MIRROR KEYBOARD AFTER 5 YEARS OF PLAYING HANDSET!
ASUS ROG: I tested the ultimate keyboard/mouse kit for gamers
The latest 2022 ROG gaming gear designed for gamers!
Wireless gaming peripherals terbaru dari ROG! Jom kita tengok
【デバイスチート!?】まさかのジョイスティック付きゲーミングマウス!?が発売されてしまいました…
Review Gaming Mouse with Joystick
Review Gaming Mouse with Joystick
Review Gaming Mouse with Joystick
I'm excited because I've been dreaming of doing a collaboration with Asus for years and we're finally here! Today we will assemble my new computer for the one million special. I can't wait then to try this ORG Wingwall, I think I'm one of the first to try it and it looks super cool.
The surprise is the ROG Delta S Core, probably the best microphone I've experienced with Asus. I'm also excited about the ROG Strix Flare II Animate keyboard, I'll definitely be back to that one.
Asus ROG Smart Game Products from
Creativity of Asus Rog Chakram X
Maherco Assembly #1: New Game 2022
Best Wireless gaming peripherals set-up
The Chakram X is one of the best mice I've had the chance to test so far on the channel.
Today we had the opportunity to test the ROG Chakram X. We have already tested the original ROG Chakram mouse at AX, which became part of Dulet's ROG setup.
The review from the channel Texnoplov
Product Comparison
Product added to comparison. Add up to 4 products or proceed to view compare products selected.
ASUS Footer