Features
Tech Specs
Awards
Gallery
Support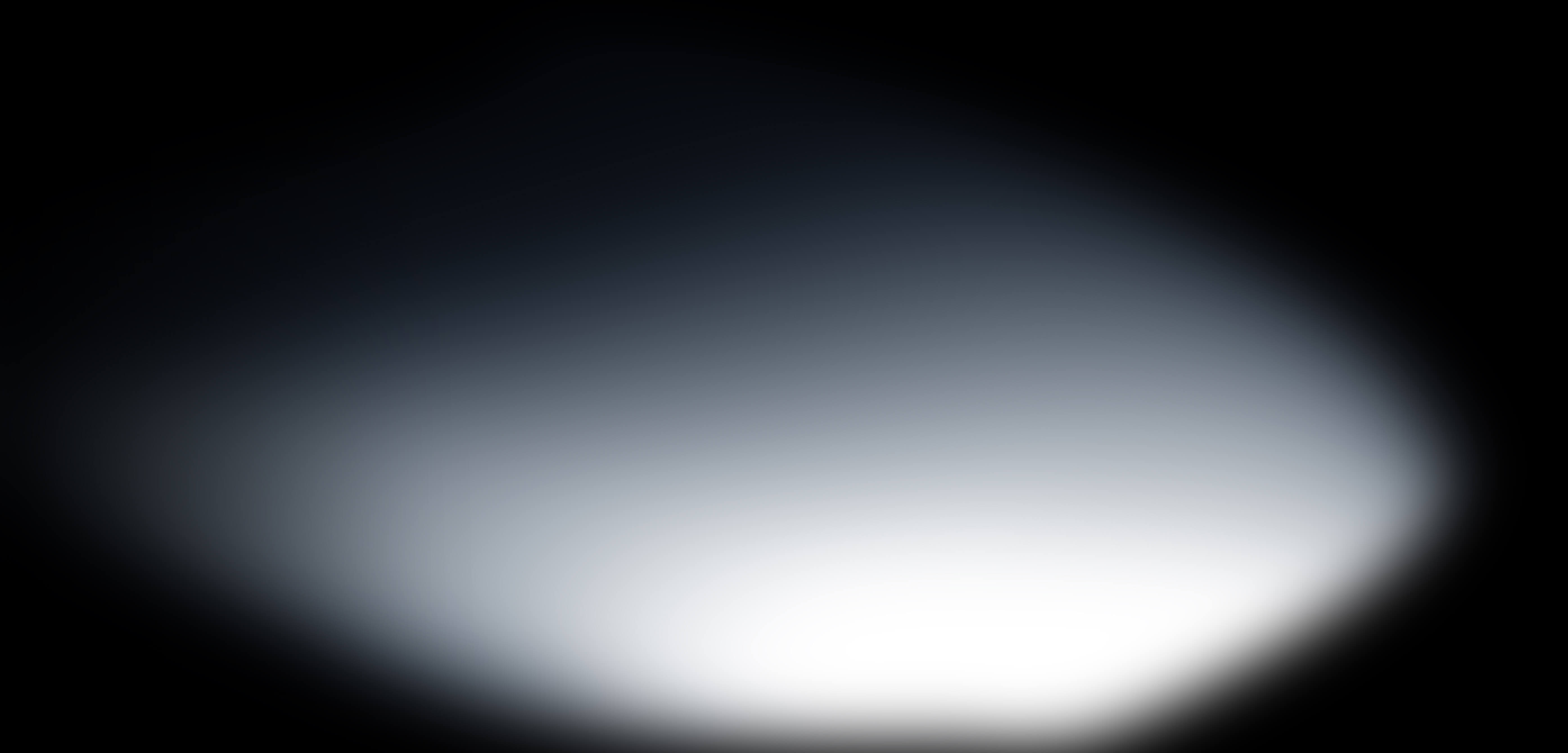 ROG Maximus Z790 Extreme
Every PCIe lane and I/O port made available for your choice in cutting-edge hardware. Heavyweight heatsinks and cooling options to tame the thermals of any and all configurations. And the overclocking chops to easily take Intel 13th Gen processors well beyond 6GHz.

Intel Z790 performance gloriously raised to the absolute Maximus.
Click to check our Z790 Motherboard Guide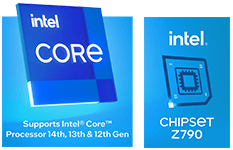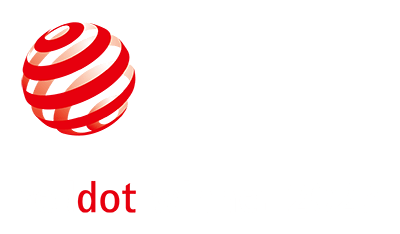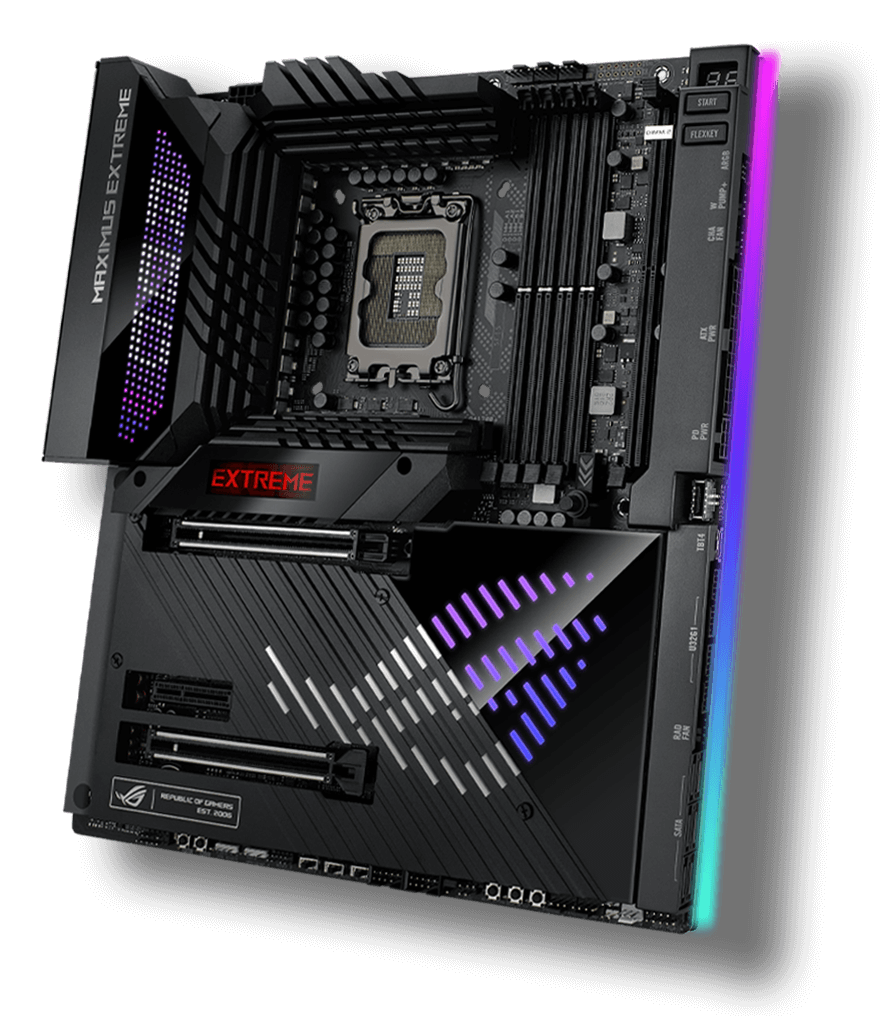 Effortless performance boost

x2 PCIe 5.0 x16 slots, and x1 onboard M.2

Adds x2 M.2 slots in a DIY-friendly shell

Neatly manages x6 fan & ARGB headers

With Intel® Double Connect Technology
SPEC OVERVIEW
Performance

Cooling

Gaming Immersion

Connectivity

DIY friendly
Extreme Power & Performance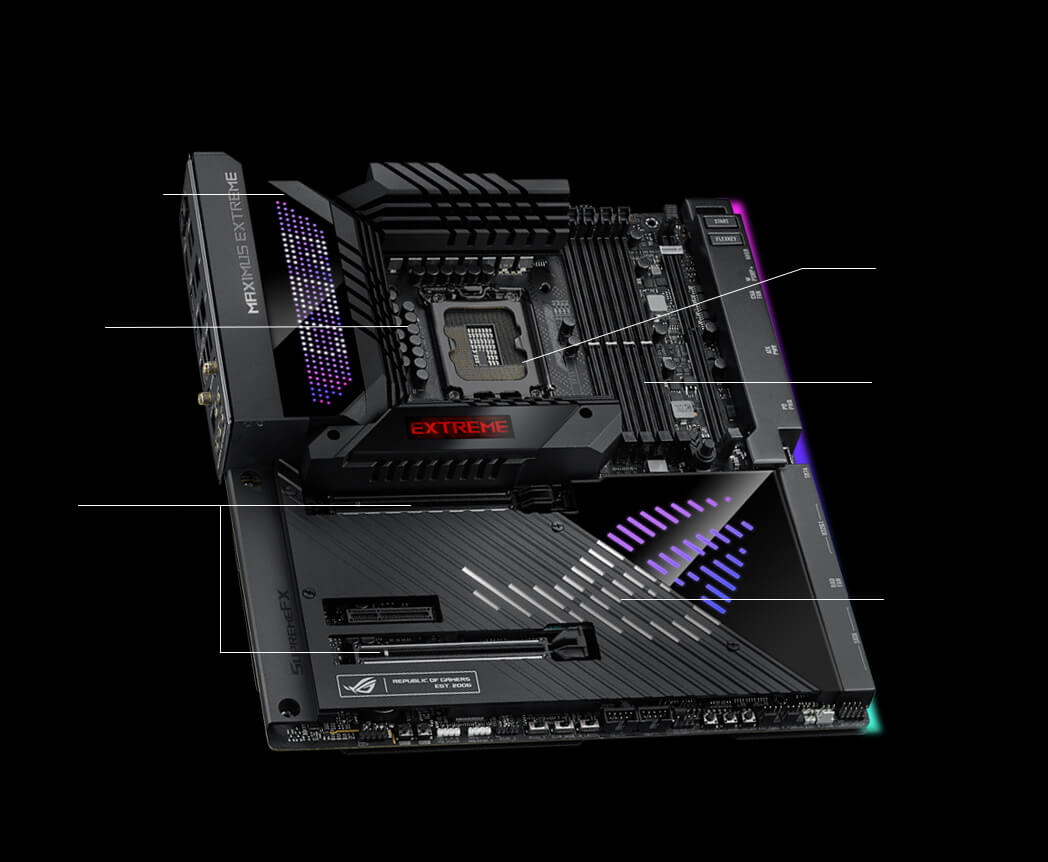 Comprehensive Cooling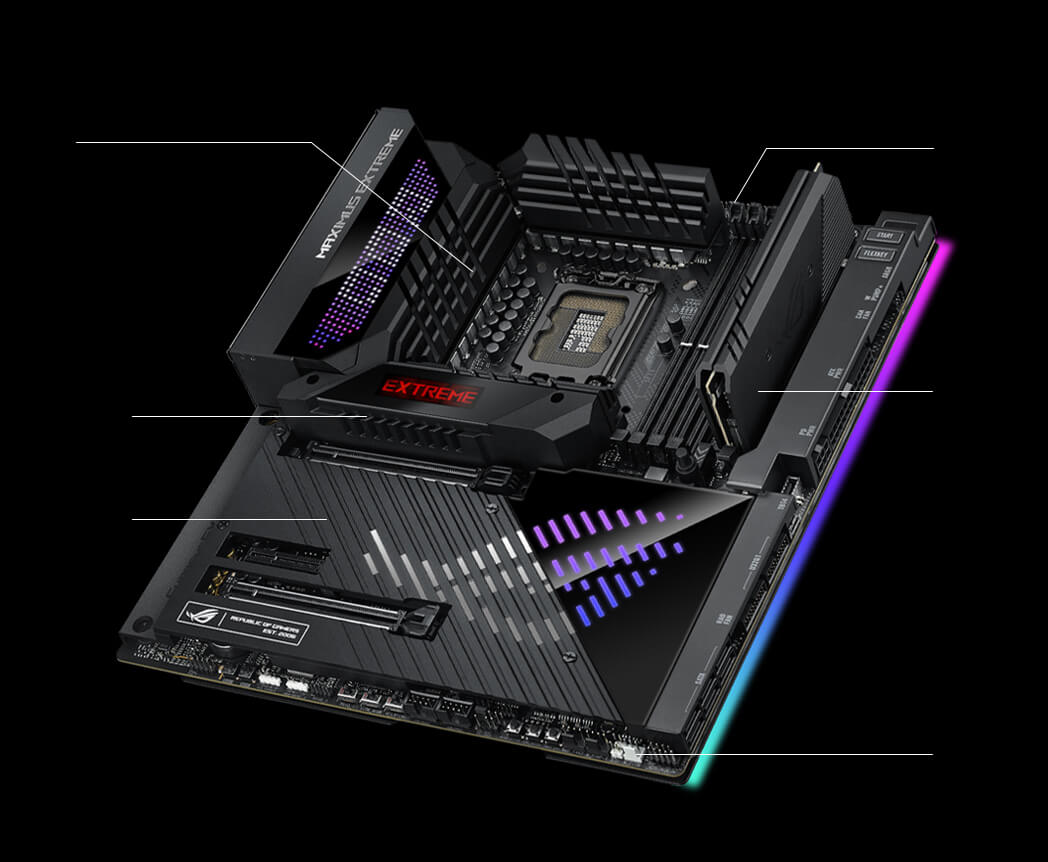 Total Gaming Immersion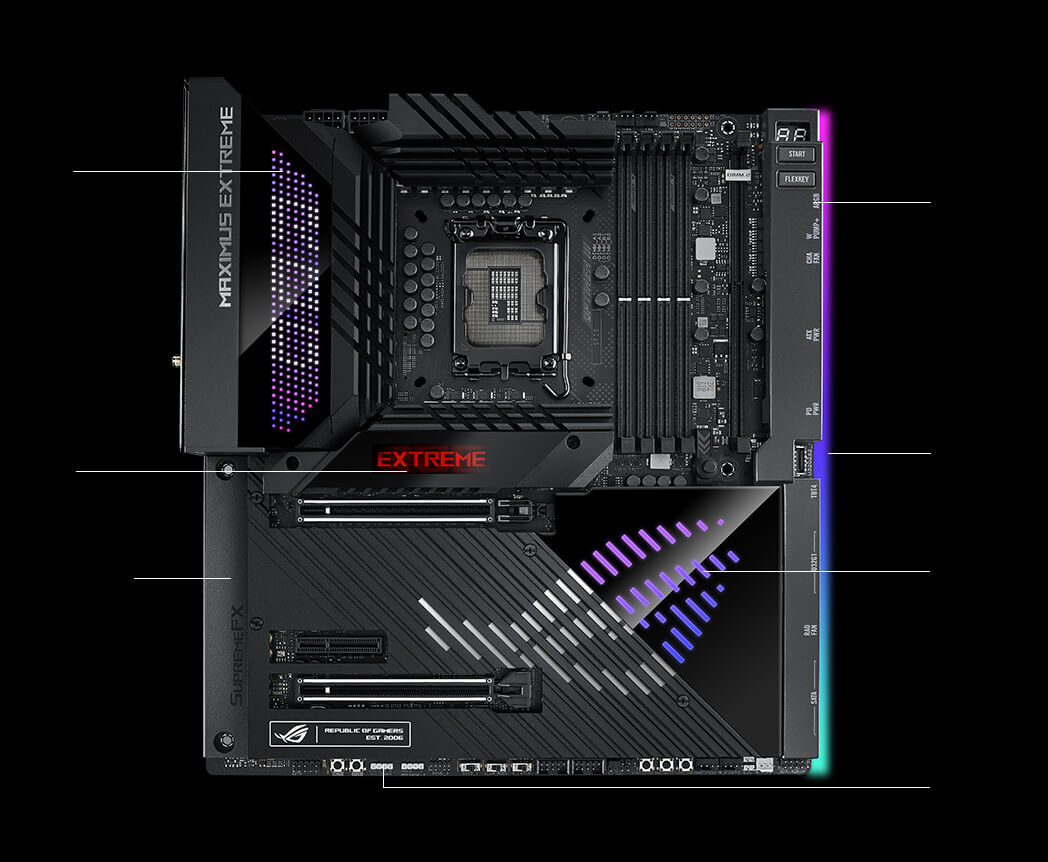 Full Connectivity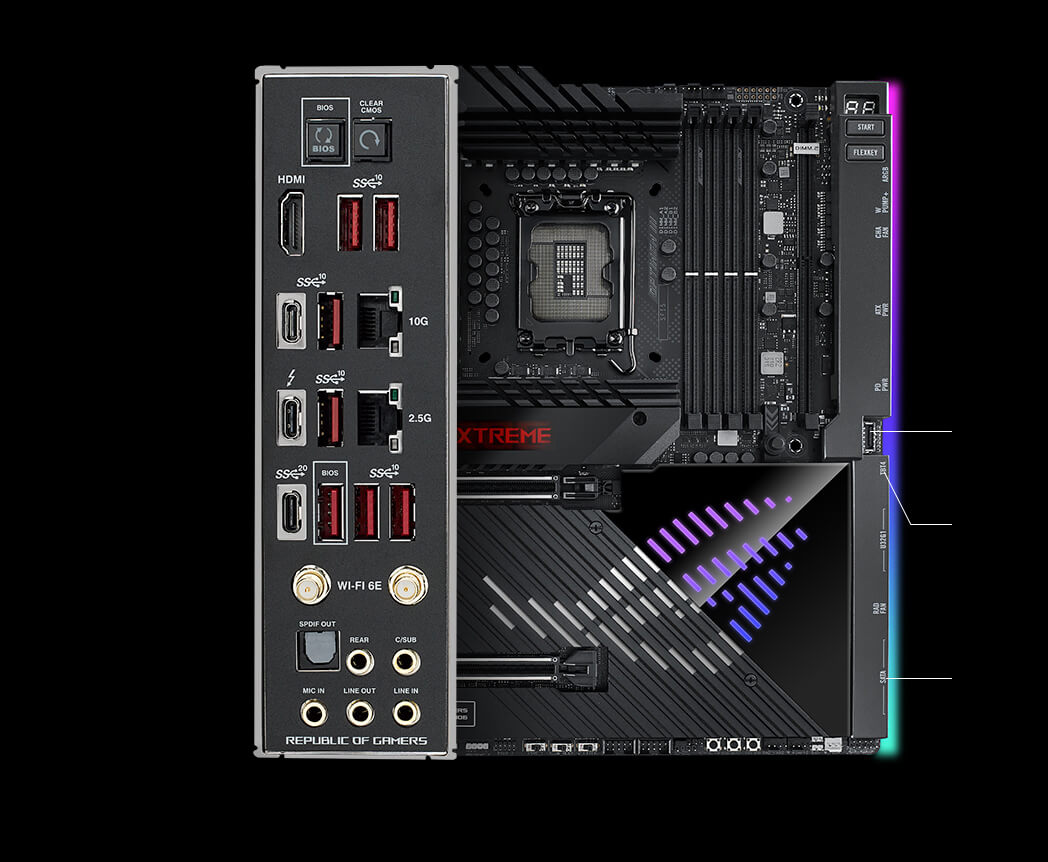 DIY Friendly
Overclocking
Power Design
Memory
PERFORMANCE
Boundless power and advanced ROG firmware allow you to impose your will on Intel 13th Gen processors and DDR5 memory.
ROG OVERCLOCKING TECHNOLOGIES
Performance optimization made accessible for new recruits and thoroughly scalable for seasoned veterans - the ROG Maximus Z790 Extreme gives you it all with complete control. Engage onboard intelligence to automatically adapt CPU performance or get a headstart on manual tuning, and then utilize advanced tools and utilities to stay on the pulse and push boundaries.
AI Overclocking
Overclocker's Toolkit
ROG True Voltician
Differential Sensing
AI OVERCLOCKING
Tuning is now faster and smarter than ever before. ASUS AI Overclocking profiles the CPU and cooling to predict the optimal configuration and push the system to its limits. Predicted values can be engaged automatically or used as a launching ground for further experimentation.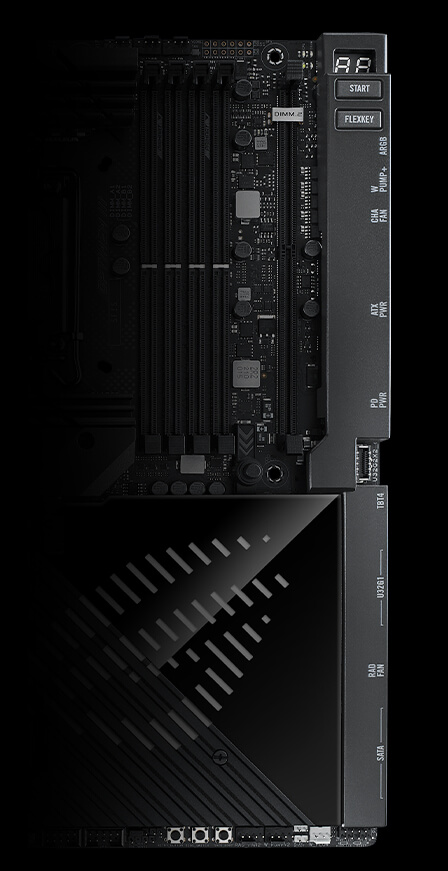 OVERCLOCKER'S TOOLKIT
The ROG Overclocker's Tooklit is a powerful set of hardware-level controls to enhance your overclocking experience. Some are quick and easy time savers, while others offer masterful functionality to help you smash benchmarks and break records.
SAFE BOOT BUTTON

Instantly reset the PC and boot directly into Safe mode.

BCLK BUTTONS

Adjust the BCLK frequency to improve system performance.

PROBEIT

Includes twelve integrated measurement points for advanced tuning.

RETRY BUTTON

Instantly initiates a hard reset with just a press.

SLOW MODE SWITCH

Reduces the CPU ratio to 8X to keep the system stable during setup for extreme overclocking.

RSVD SWITCH

Helps the system boot under extreme temperatures (≤ -120°C)

LN2 MODE

Jumper to enable special options and functions for liquid-nitrogen (LN2) overclocking.

BIOS SWITCH

Switches between BIOS 1 and 2.
ROG TRUE VOLTICIAN
For truly advanced performance optimization, the ROG Maximus Z790 Extreme includes the ROG True Voltician, a miniature oscilloscope that connects to an onboard USB header and displays waveforms for the CPU Vcore, VCCIN, and System Agent rails. It can also be used to monitor a video card or power supply, and users can even run the True Voltician software on one PC while they get readings from another.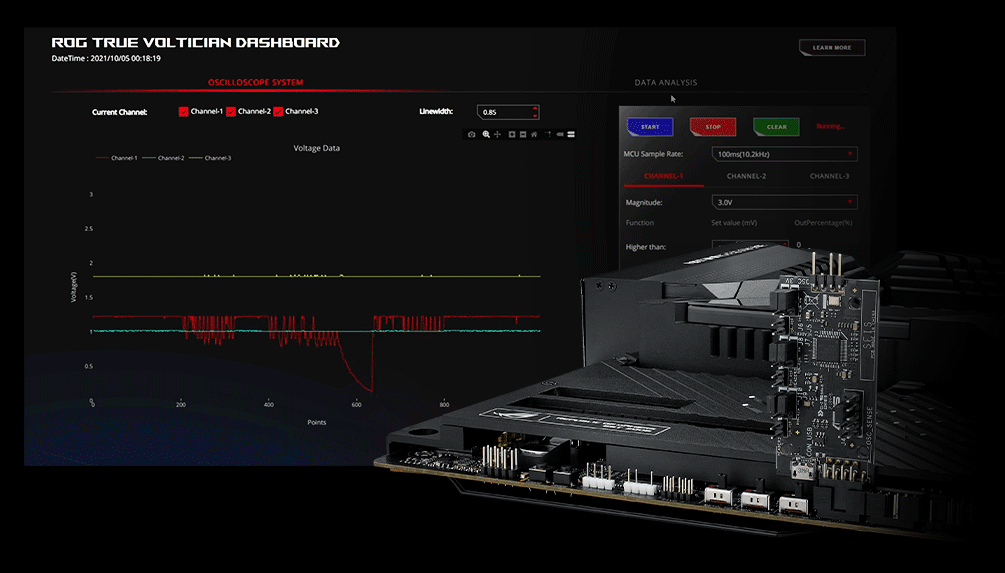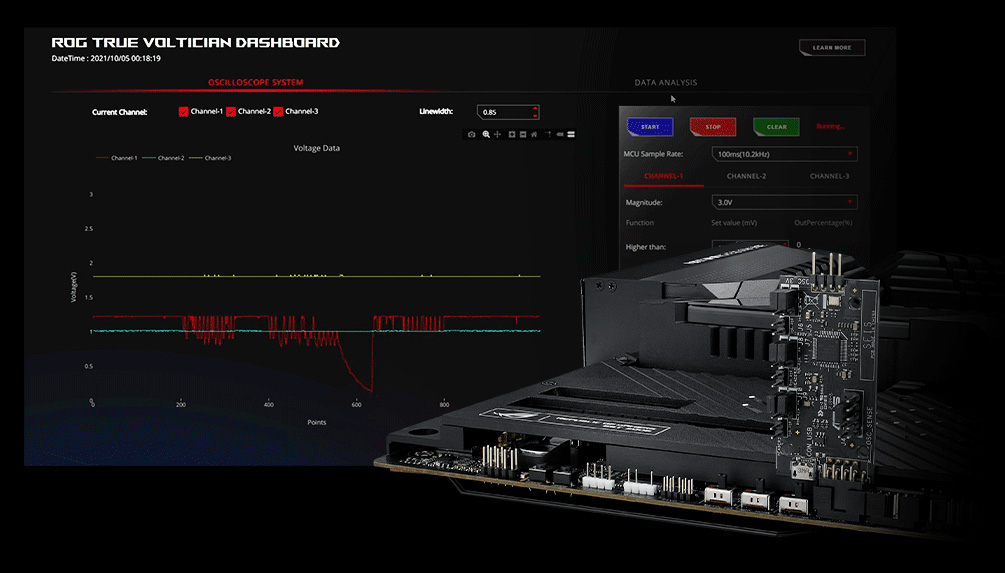 DIFFERENTIAL SENSING
Conventional motherboards use single-ended sensing tapped from a location that isn't ideal, leading to a large disparity between the actual voltage fed to the CPU and the value reported to software. The ROG Maximus Z790 Extreme features a differential-sensing circuit and delicate IC that simplify overclocking and tuning by allowing you to track voltages more accurately.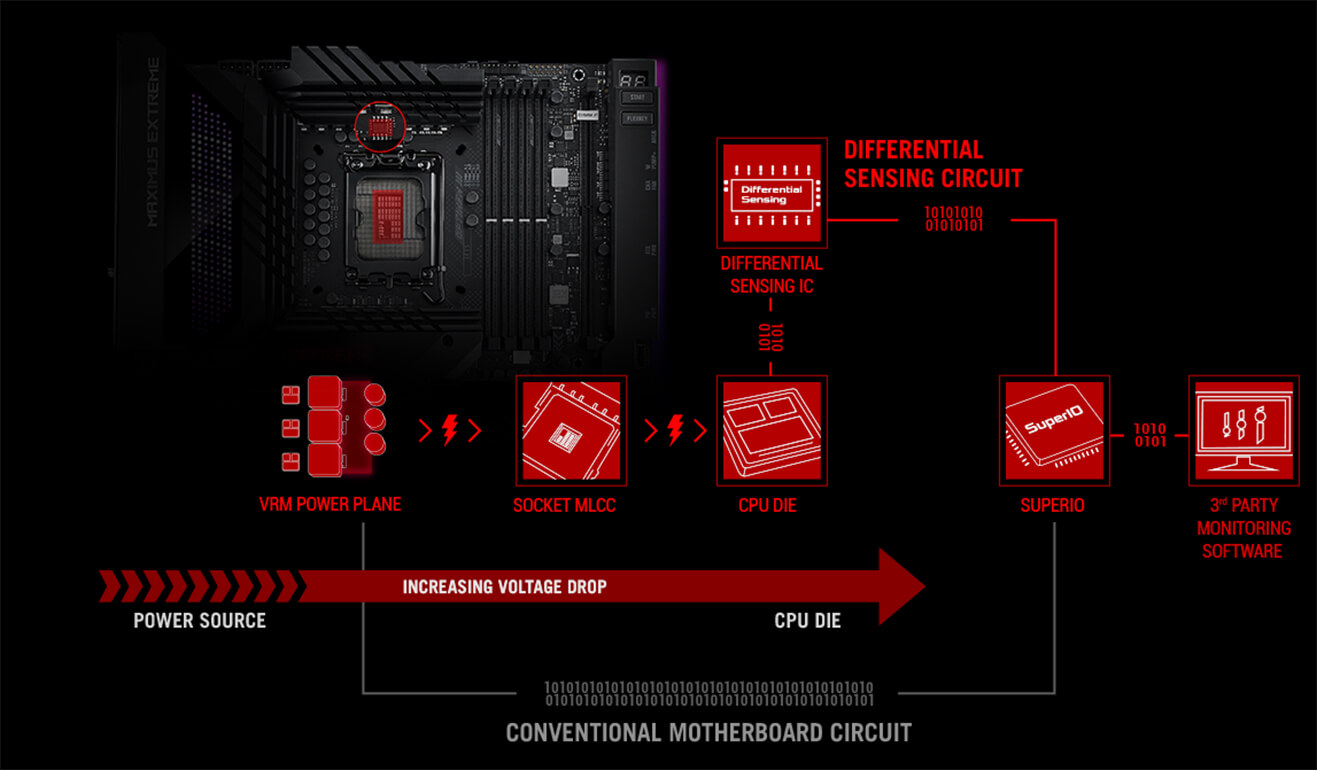 Teamed Power Architecture
Today's CPU architectures place incredible demands on motherboard power design by transitioning from deep power-saving modes, going from lower-power mode to full load in an instant. The latest ROG VRM architecture rises to the challenge by utilizing teamed power stages to rapidly swing current, while maintaining exemplary thermal performance.
A brief history
A shift in CPU demands
Bucking the trend
Thermal performance
High-quality components While doublers help extend the number of effective phases, they do so at the cost of a processing delay. The teamed architecture allows two power stages to work in tandem to provide more power to the CPU. The MOSFETs within the power stages generate the most heat as they are responsible for voltage conversion and delivery to the CPU from the 12-volt EPS connector. ASUS became the first manufacturer to implement phase-doublers with the A8N32-SLI Deluxe motherboard, back in 2005. The board's VRM was lauded for elegantly overcoming the power handling capabilities of components that were available at the time while also reducing voltage ripple. Those benefits led to phase-doublers becoming universally accepted in the industry, and they are still used for similar purposes today.

Modern CPUs pack more cores than their predecessors, and the latest instruction sets allow them to crunch computationally dense workloads at an incredible pace. In addition, they consume less power at idle and can transition between load states much more quickly. These improvements necessitate a re-evaluation of power-design priorities because phase-doublers add a propagation delay that hampers transient response.

Fortunately, the latest integrated power components can handle higher currents than the devices of yesteryear, making it possible to implement a simple circuit topology that isn't hamstrung by the processing lag of phase-doublers. That's why the ROG Maximus Z790 Extreme utilizes teamed power stages to deliver higher burst current per phase, while maintaining the thermal performance of phase-doubled designs.

Each VRM component serves a specific purpose. PWM controllers and phase-doublers control the circuit, and the power stages do the heavy lifting from an electrical and thermal standpoint. The power stages feature low RDSON to reduce switching and conduction losses, helping to improve overall thermal headroom.
MEMORY
Comprehensive memory tuning options are the cornerstone of ROG motherboards. With the ROG Maximus Z790 Extreme, you can extract all of the potential out of your DDR5 modules, regardless of if they're from an extreme-speed kit or an entry-level set that would otherwise be locked.
DR5 DOMINATION
ROG has a long legacy of flexing the fastest memory performance, and DDR5 is no outlier. Thanks to improved signal routing, now enthusiast-grade kits have been driven far beyond the 7 GT/s mark on the Maximus Z790 Extreme, and who knows how far future DIMMs can go? Seasoned veterans can test their mettle by tinkering with the extensive array of tuning options in the UEFI.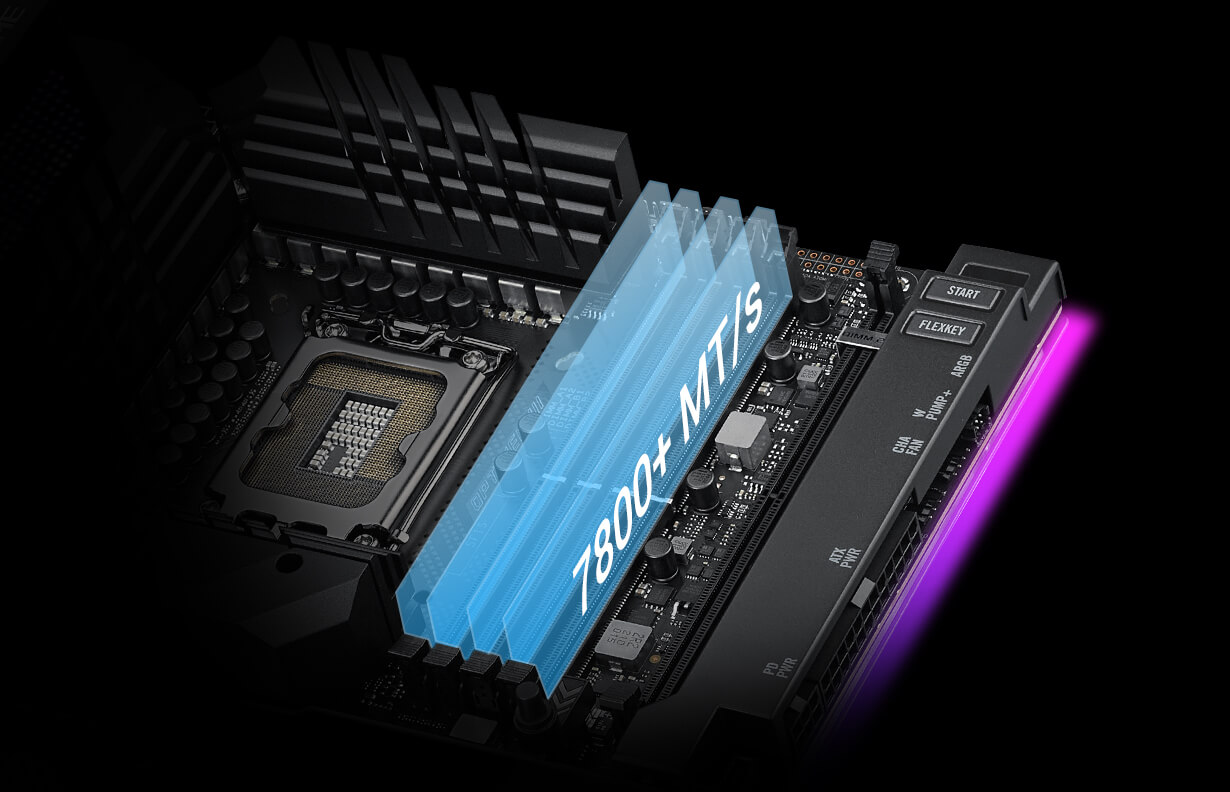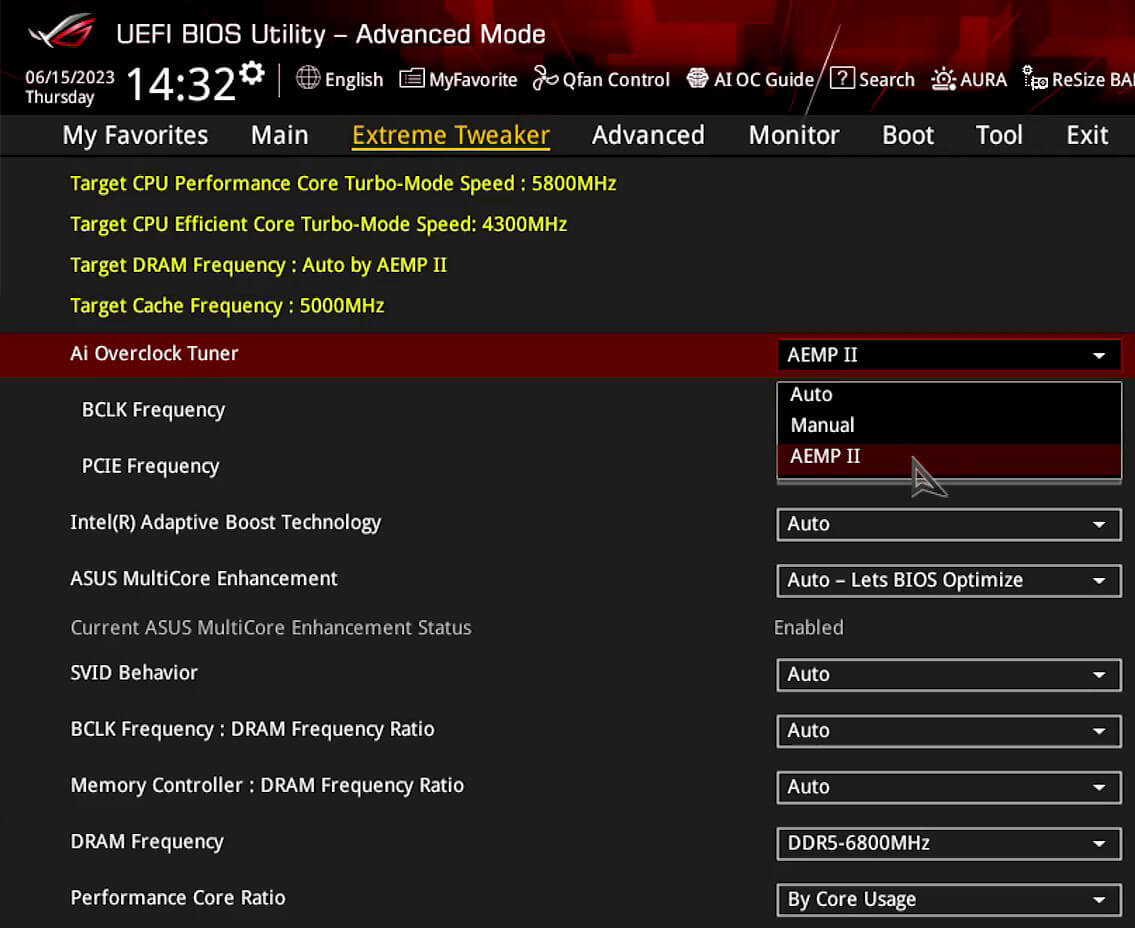 AEMP II
ASUS Enhanced Memory Profile (AEMP) is an exclusive hardware and firmware solution to overclock generic memory modules. AEMP's second version allows for automatic tuning of kits during system startup and leverages the PCB trace optimizations of the Maximus Z790 Extreme to push frequencies higher than ever before. AEMP II can even overclock mixed kits in a quad-DIMM arrangement, and the vast library of support now extends to nearly every DDR5 module that does not otherwise have XMP support.
Heatsinks
Headers
ROG Water-Cooling Zone
ROG Fan Controller
Compatibility
COOLING
All the headers and controls needed for complex fan setups and custom loops, and large heatsinks to keep high-speed drives and power components at optimum temperatures. Deploy your choice in CPU and GPU cooling and rock menacing horsepower with minimal noise.
Cooler by Design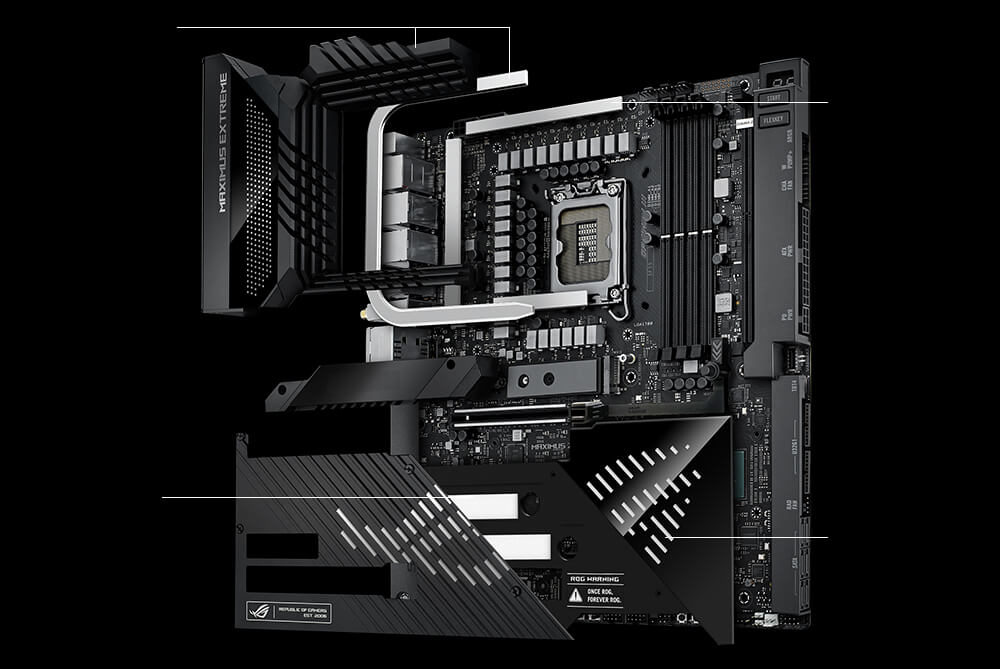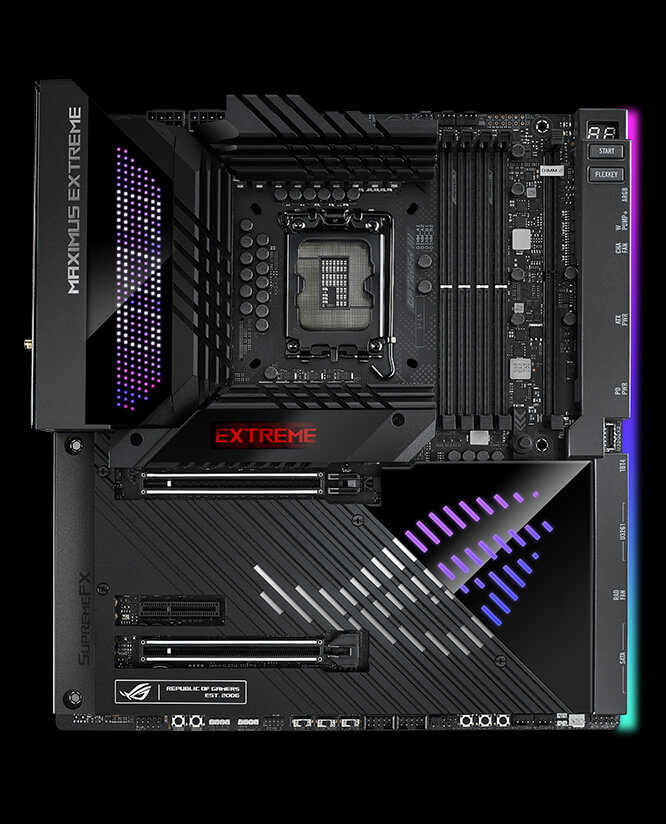 THERMAL MANAGEMENT
An extensive array of headers line the ROG Maximus Z790 Extreme for precise cooling control and monitoring.
Multiple temperature sources

Each header can be set to monitor and react to three user-configurable thermal sensors for workload-based cooling, and all settings can be easily managed by Fan Xpert 4 or UEFI.

4-pin fan headers

In addition to the pair of CPU fan headers, the Maximus Z790 Extreme features two chassis and two radiator headers, and each supports auto-detection of PWM or DC fans.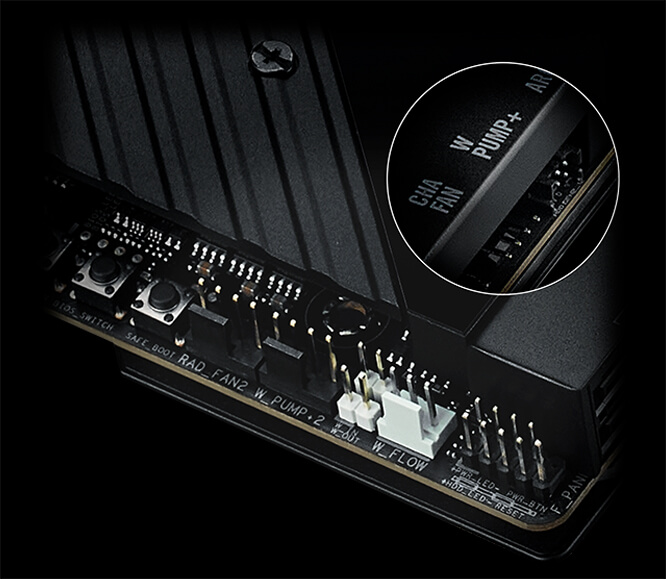 ROG WATER-COOLING ZONE
Dual water-temperature headers and a flow-rate header feed information straight into Armoury Crate, allowing you to track coolant temperatures and the flow rate of the entire loop.
Water pump+

A dedicated header can supply over 3 amps to a high-performance PWM or DC water pumps.

Water in/out

A dedicated header enables monitoring of temperatures at the input/output points of any component.

Water flow

A dedicated header enables constant monitoring of flow rate throughout the entire loop.
COOLER COMPATIBILITY
The ROG Maximus Z790 Extreme bears the same LGA 1700 socket as the Z690 models, so it is backward compatible with all coolers that supported the previous generation, including all AIO offerings from ASUS and ROG.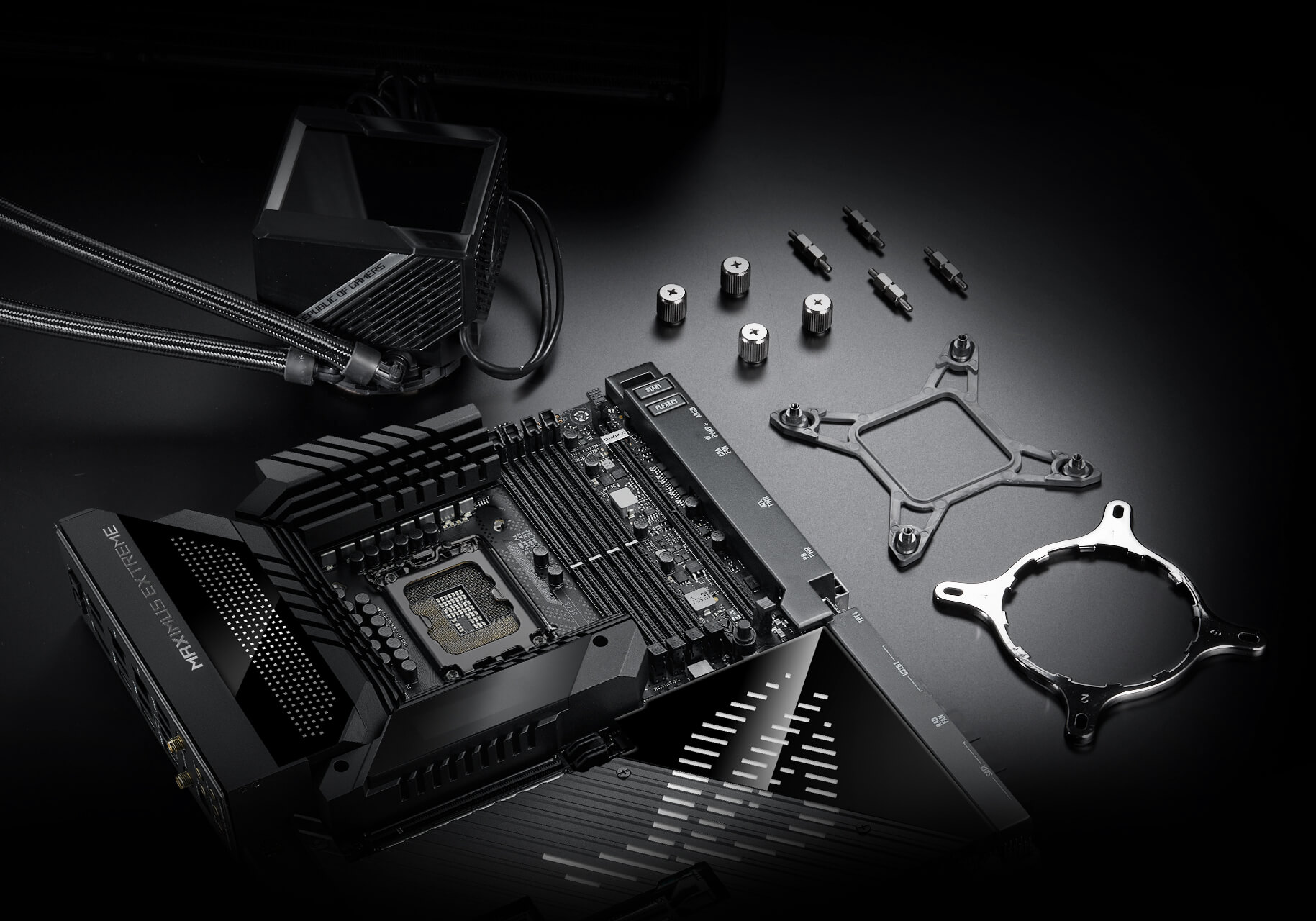 ROG FAN CONTROLLER
The ROG Fan Controller offers an additional six headers that can be controlled via FanXpert 4. The card features two temperature-sensor headers, along with two thermistors that can be attached to various components. There are also six ARGB headers to illuminate ARGB fans.
PCIe 5.0
USB Ports
Networking
Audio
CONNECTIVITY
Take system bandwidth to the extreme with future-ready ports for graphics, storage, and peripherals, and light up network connections with ultraspeed WIFI and Ethernet. Plug in to your heart's content and then get deeper into the game with high-fidelity onboard audio.
PCIE 5.0
Fully embracing the new standard, the ROG Maximus Z790 Extreme offers abundant Gen 5 support to give unfettered bandwidth to the fastest SSDs and graphics cards available.
Three Onboard M.2 Slots

The ROG Maximus Z790 Extreme features three onboard M.2 slots, one of which is PCIe 5.0-ready to offer blistering 16 GB/s speeds, while the others offer still-impressive 8 GB/s over PCIe 4.0 interfaces.

ROG DIMM.2

The ROG DIMM.2 module allows you to easily mount two M.2 drives next to the memory slots, where its large heatsinks convect directly into the path of chassis airflow.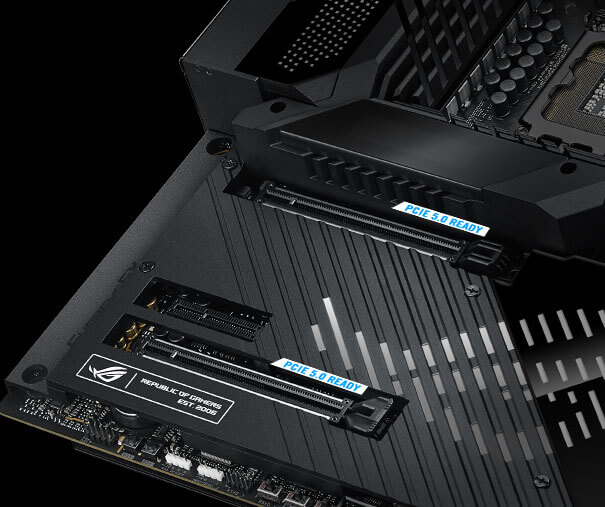 Expansion Slots
Both of the x16 expansion slots have the PCIe 5.0 treatment to offer incredible speeds up to 64 GB/s for compatible devices. To bear the brunt of massive graphics cards, they are also protected with SafeSlot retention brackets, and the top slot can be released easily thanks to the Q-Release button.
TWO THUNDERBOLT 4 TYPE-C® PORTS

Each port delivers up to 40 Gbps of bidirectional bandwidth for the latest super-speed devices and drives. Both ports can be employed for up to two external 4K displays, and PCIe bandwidth extends to up to 32 Gbps.

USB 3.2 GEN 2X2 TYPE-C® FRONT-PANEL CONNECTOR WITH QUICK CHARGE 4+

USB 3.2 Gen 2x2 adds an additional lane that can boost Type-C data transfers with speeds of up to 20 Gbps. The port also features Quick Charge 4+ technology that can quickly charge devices up to 60W*.

* Requires a PCIe power supply cable to be plugged into the nearby 6-pin connector.
WIFI 6E

Onboard WiFi takes advantage of the 6 GHz band for lower latency in dense wireless environments and wide 160 MHz channels to speed up data transfers. For an even more seamless experience, the 5 or 6 GHz band can connect simultaneously alongside the 2.4 GHz band courtesy of Intel® Double Connect Technology.

10G ETHERNET

Meeting the demands of power users and content creators, onboard Marvell® AQtion 10 Gbps Ethernet provides a new level of home networking. With virtually boundless throughput, file transfers and system backups are faster than ever before.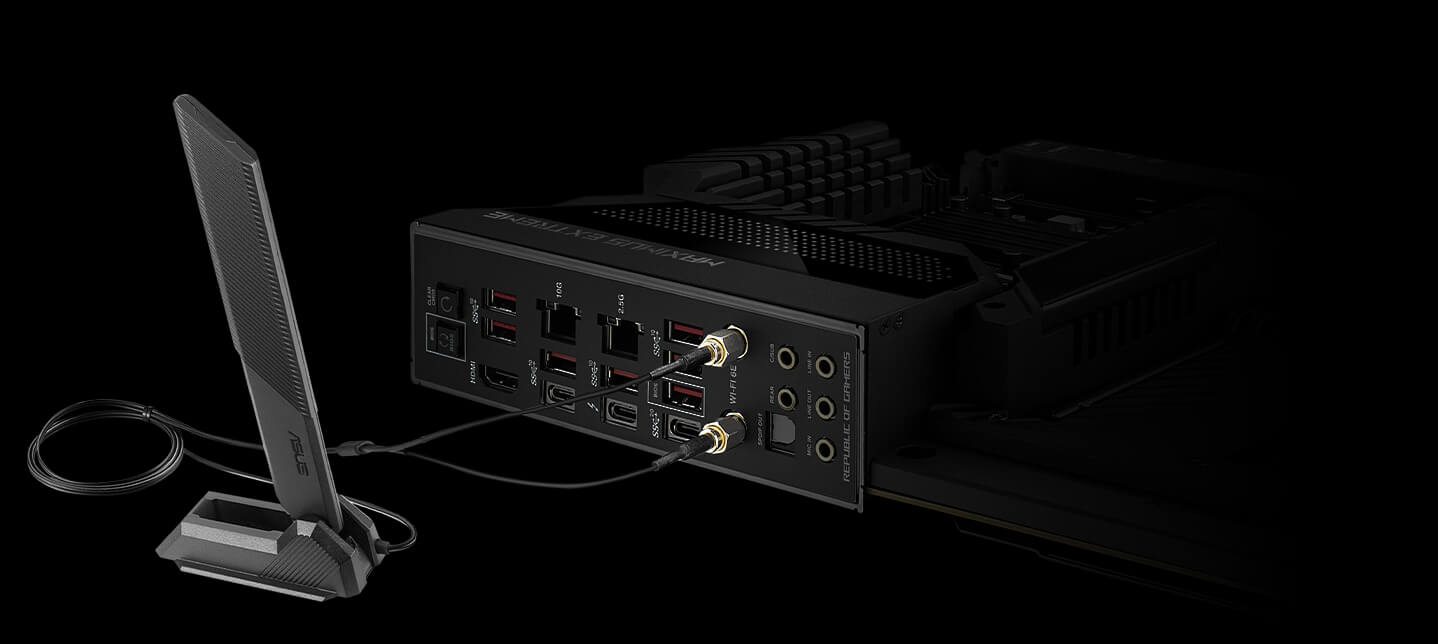 *WiFi 6E availability and features are dependent on regulatory limitations and co-existence with 5 GHz WiFi. To learn more about the ASUS WiFi 6 ecosystem, please visit:
asus.com/content/WiFi6/#WIFI-6E
.
SupremeFX
ROG SupremeFX audio technology delivers an exceptional 113 dB signal-to-noise ratio on the line-in connection to provide exceptional recording quality. There's also a low-dropout regulator for cleaner power delivery to the SupremeFX ALC4082 codec, and an integrated ESS® ES9218 QUAD DAC capable of reaching -115dB THD+N for superior front-panel output. The combined solution allows for end-to-end 32-bit 384 kHz resolution playback that conveys all the subtlety and nuances of each audio track.
››› Learn more about ROG audio technology
Audio line shielding
ESS® ES9218 QUAD DAC
ALC4082 codec
Switching MOSFETS
Capacitors
Blocks electromagnetic interference from the motherboard or add-ons to provide cleaner audio.

The ESS® ES9218 integrated QUAD DAC amplifier is capable of providing -114 dB total harmonic distortion (THD+N) for standard audio devices, and can ramp up to 2Vrms on supported audiophile hardware. In addition, the 121 dB dynamic range (DNR) provides an extremely low noise-floor, further accentuating dynamics and punch.

Instead of the conventional high definition audio (HDA) interface, the ALC4082 codec uses a USB interface to deliver studio-level sound reaching up to 32-bit 384 kHz audio resolution.

Unique design allows the codec's impedance-sensing function to be ported with either the front or rear headphone outputs.

Fine-quality components that produce a warmer, natural sound with exceptional clarity and fidelity.
Intelligent Control
AI Suite 3
BIOS
OPTIMIZATION
A bevy of innovative tools are at your fingertips to control every aspect of your extreme system.
AI SUITE 3
The AI Suite 3 dashboard contains a set of intuitive controls that boost CPU performance while maintaining system stability.
TPU INSIGHT
Digital Power Control
Turbo Core app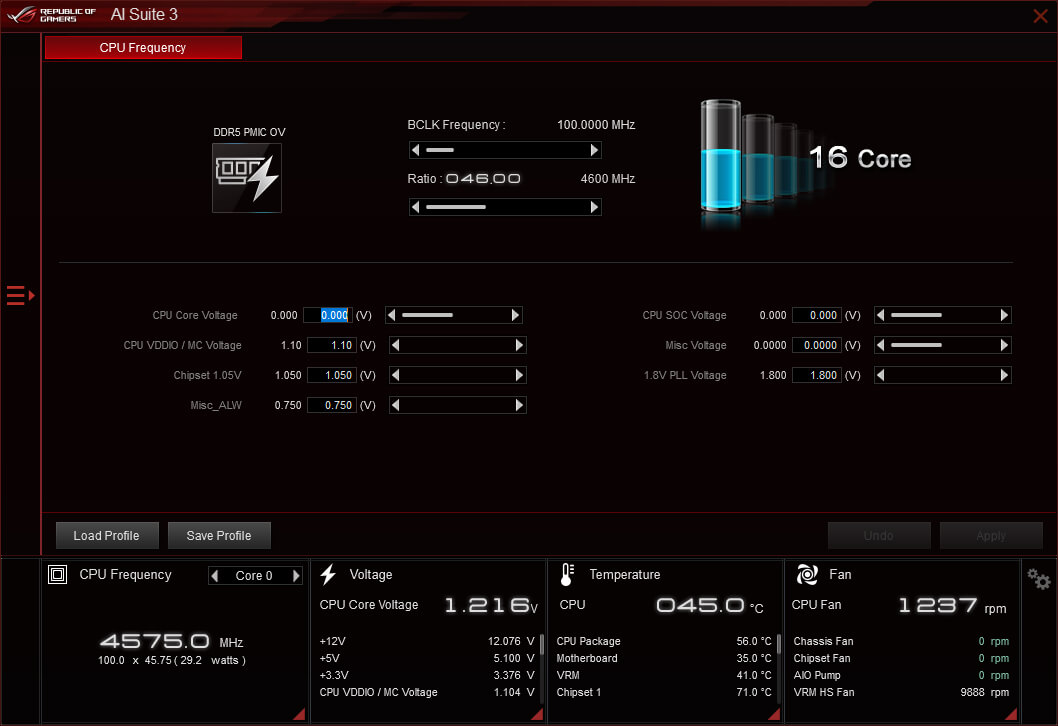 CPU PERFORMANCE BOOST
The TurboV Processing Unit (TPU) is an intelligent onboard micro-controller that provides an array of system-tuning features, including the ability to fine-tune voltages, monitor system stats and adjust overclocking parameters.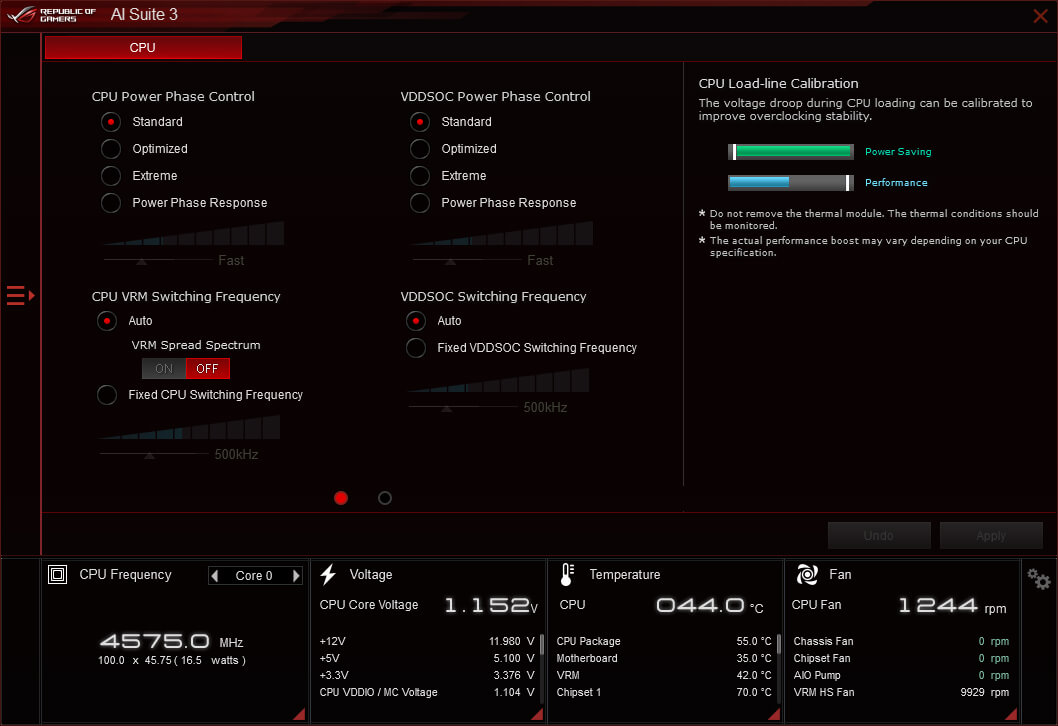 PRECISE DIGITAL POWER CONTROL
The Digi+ voltage-regulator module (VRM) delivers real-time control over voltage droop, switching frequency and power-efficiency settings, allowing you to fine-tune CPU voltage regulation for ultimate stability and performance.
UEFI BIOS
The renowned ROG UEFI (BIOS) provides everything you need to configure, tweak, and tune your rig. It offers intelligently simplified options for newcomers to PC DIY, as well as more comprehensive features for seasoned veterans.
Advanced mode
EZ mode

MEMTEST86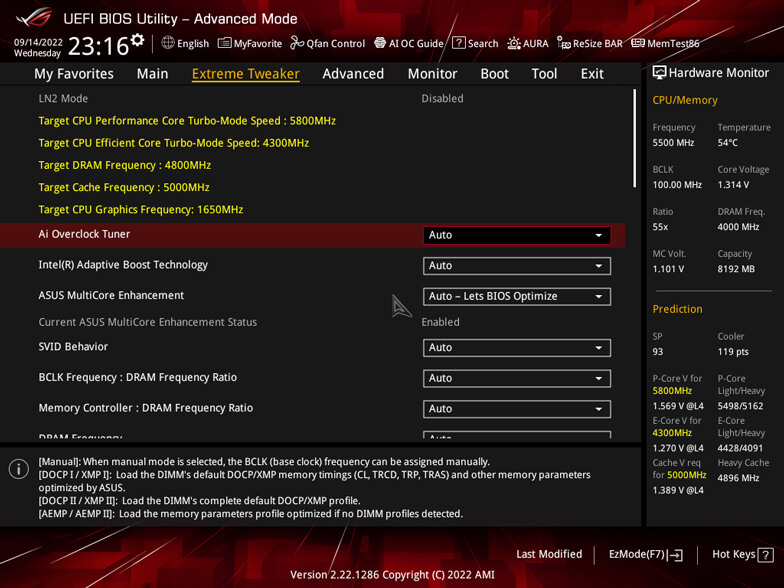 Advanced mode
My Favorites

Quickly locate tuning options and add preferred tools to your favorites list.

EZ Flash 3

Flash the latest BIOS via the internet from within the BIOS.

S.M.A.R.T.

Check your storage device Self-Monitoring, Analysis, and Reporting Technology (S.M.A.R.T.) logs to gauge reliability or to identify potential failures.

GPU POST

Automatically detect selected ASUS graphics cards to view detailed information.

Secure Erase

Restore your SSDs and NVMe storage to factory settings.

Last Modified Log

Track the last change and save preferred profiles to a USB drive.

SATA Port Renaming

Rename SATA ports for easy identification.

ASUS User Profile

Port configuration settings between different BIOS versions or share them with friends.

Q-Fan Control

Configure the fan's operating speed manually or use pre-configured Standard, Silent, Turbo, or Full Speed modes. By default, system fans will automatically switch to full speed if the temperature reaches 75° C.

Aura On/Off mode (Stealth)

Easily enable or disable Aura RGB lighting or every onboard LED, for a more subdued aesthetic.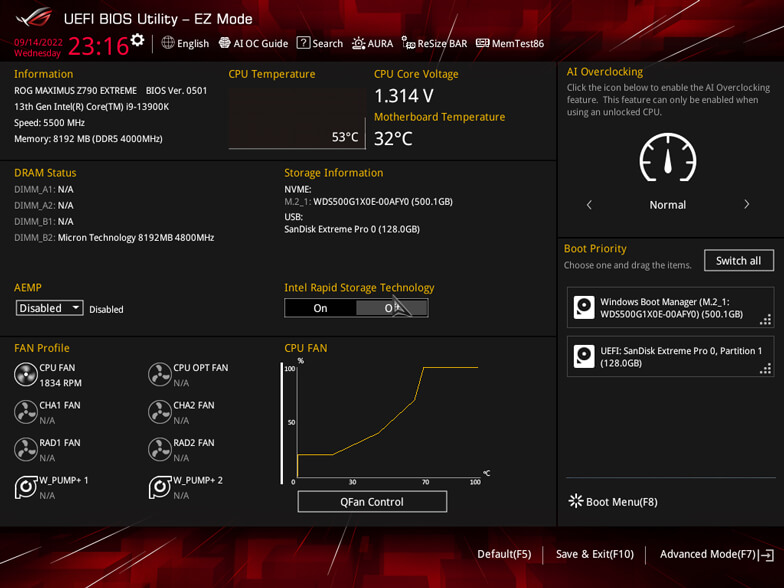 EZ mode
Intuitive Graphical Fan Controls

Fine-tune individual fans simply by dragging a curve with the mouse.

Storage Information

View SATA port details for easy device recognition.

Clock Adjustment

Click on the settings icon to quickly change time and date settings.
AI Cooling II
TWO-WAY AI NOISE CANCELATION
AI Networking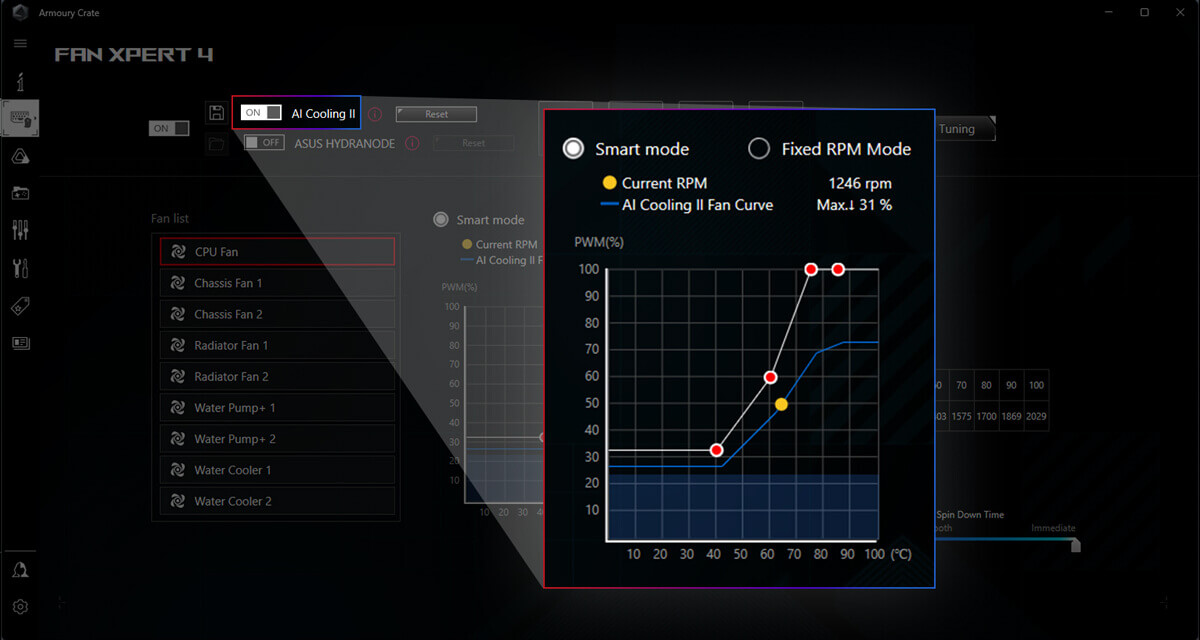 AI Cooling II
Balance the thermals and acoustics of any build with a single click. A proprietary ASUS algorithm slashes unnecessary noise while running a quick stress test, and then monitors CPU temperatures to dynamically adjust fans to optimal speeds.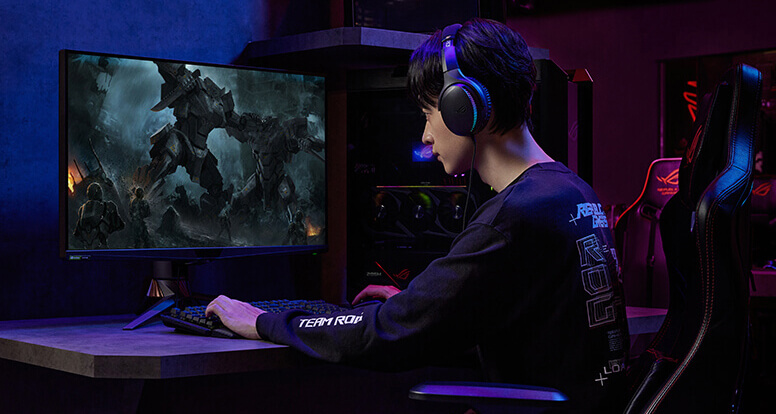 TWO-WAY AI NOISE CANCELATION
This utility leverages a massive deep-learning database to reduce over 5 million types of background noise from incoming or outgoing audio, helping ensure crystal-clear communication in games or calls.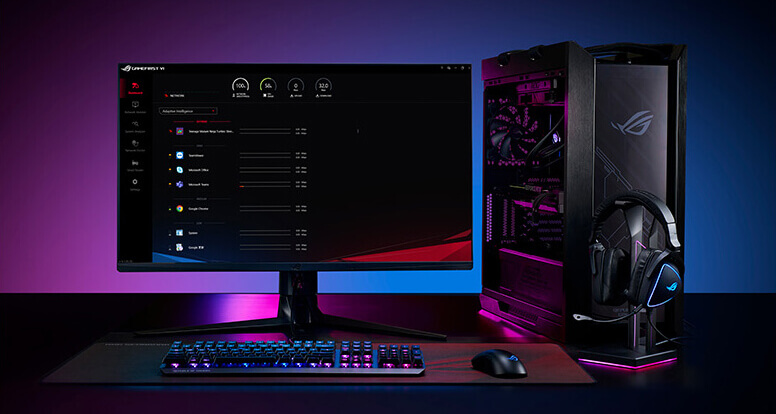 AI NETWORKING
GameFirst VI optimizes networking performance by allocating bandwidth in real time based on application usage scenarios and corresponding learning algorithms. The latest update includes dedicated support for GeForce NOW to ensure the lowest latency possible during intense game streaming sessions.
Anime Matrix LED
Aura Sync
LiveDash Color OLED
Gaming Audio
Armoury Crate
AIDA64 Extreme
PERSONALIZATION
Uniquely you. Customizable lighting and onboard displays allow you to subtly accent system components or boldly cast a unified theme through your build.
AniMe Matrix™ LED display
This innovative display features an RGB grid of mini LEDs that can be programmed with custom lighting designs and unique animations. For added immersion, sound-triggered effects can be selected to add visualizations to live audio or even pulse to the rhythm of a person's voice.
Default Animation
Text Animation
Loop Animation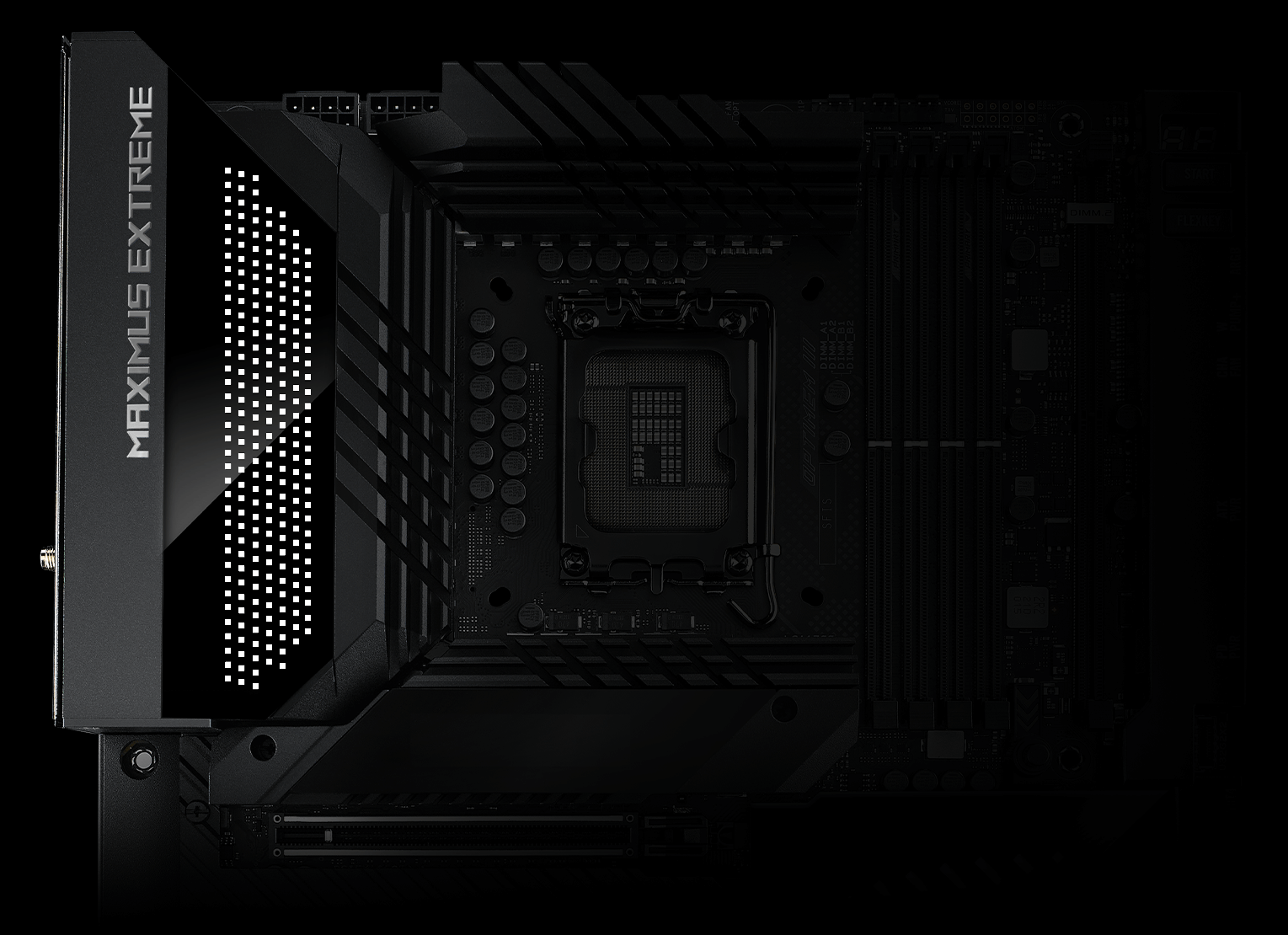 GROW YOUR GAMING WORLD WITH AURA SYNC
Up your game with complementary Aura Sync enhanced aesthetics, featuring preset lighting effects that can be easily synchronized across compatible ROG graphics cards, monitors, keyboards, and mice to give your setup a unified look.


Learn more about Aura Sync
Static

Breathing

Strobing

Rainbow

Color cycle

Starry night

Music effect

Smart

Adaptive color

Dark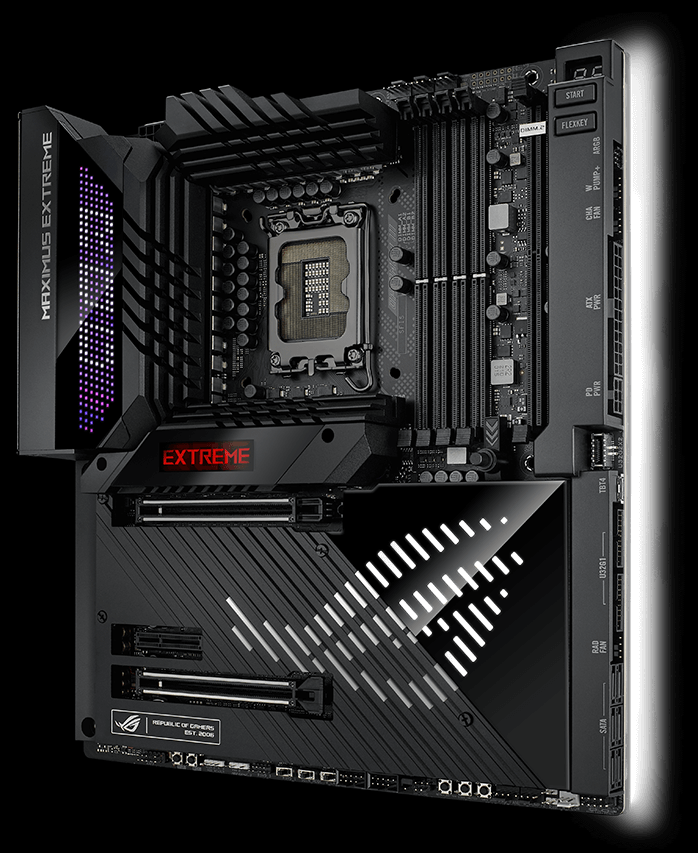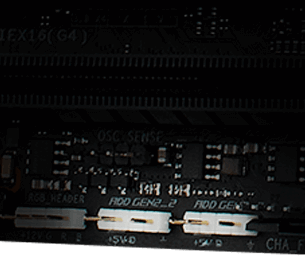 ADDRESSABLE GEN 2 RGB HEADERS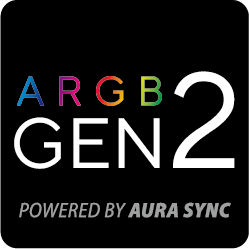 The addressable Gen 2 RGB headers can be controlled with Aura software, which automatically tailors your preferred lighting effects to the number of LEDs present in the connected gear or strip. The new headers also offer backward-compatibility with existing Aura RGB components.
LiveDash Color OLED
The ROG Maximus Z790 Extreme includes LiveDash, a built-in 2-inch color OLED panel that adds life and flavor to the center of your rig. During startup, the display shows traditional POST codes to help with monitoring and troubleshooting, and while the system is running it can be programmed to show system metrics, such as CPU frequency and temperature. But if you want to add a personal touch, the default GIF can be replaced with a custom image or animation.
Hardware Monitor
Extreme Exclusive
BIOS Update
Custom Content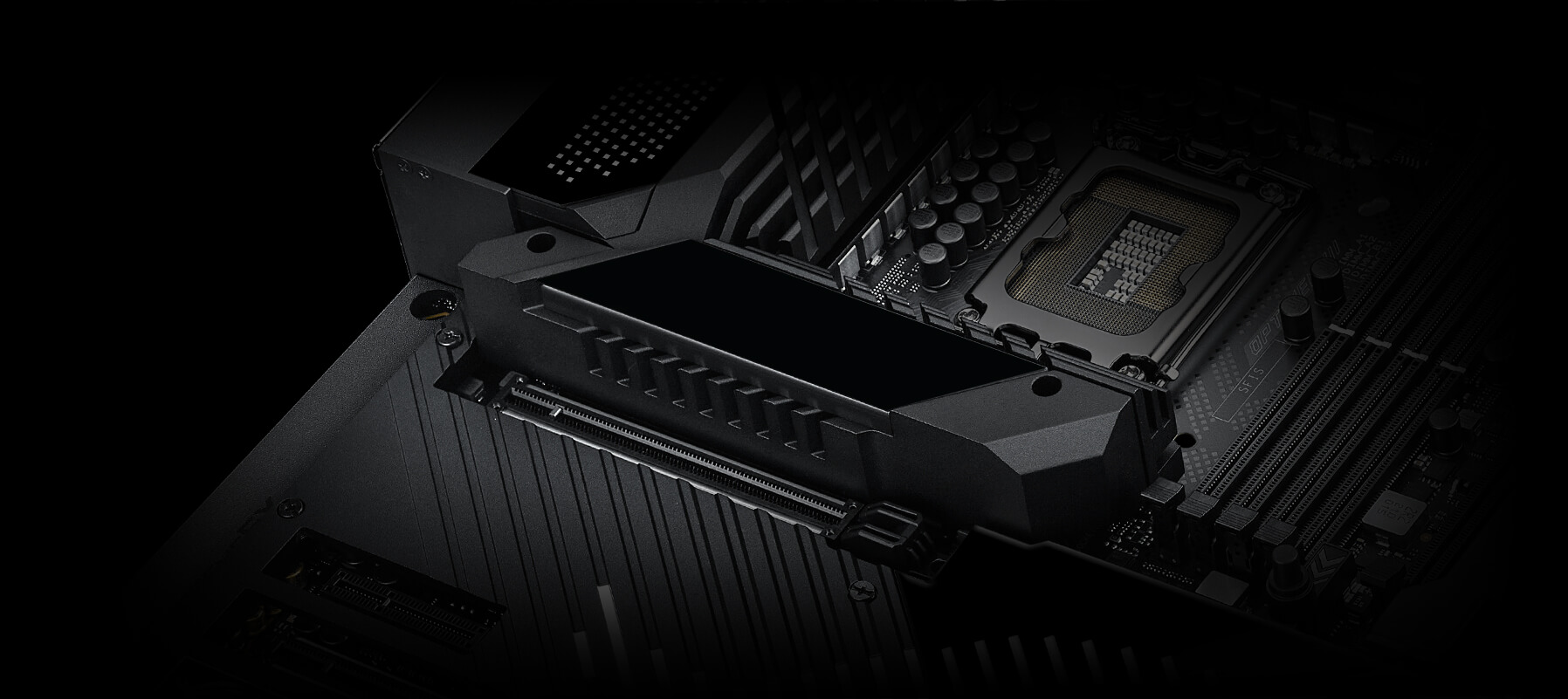 Sonic Studio III
DTS SOUND UNBOUND
Sonic Studio III
Sonic Studio supports HRTF-based (head-related transfer function*) virtual surround for headsets, casting an immersive aural landscape that draws you deeper into the action. The intuitive Sonic Studio interface also offers a range of EQ options and one-click presets, allowing you to tailor acoustics to suit personal preferences or the characteristics of your headset.
›››

Learn more about Sonic Studio III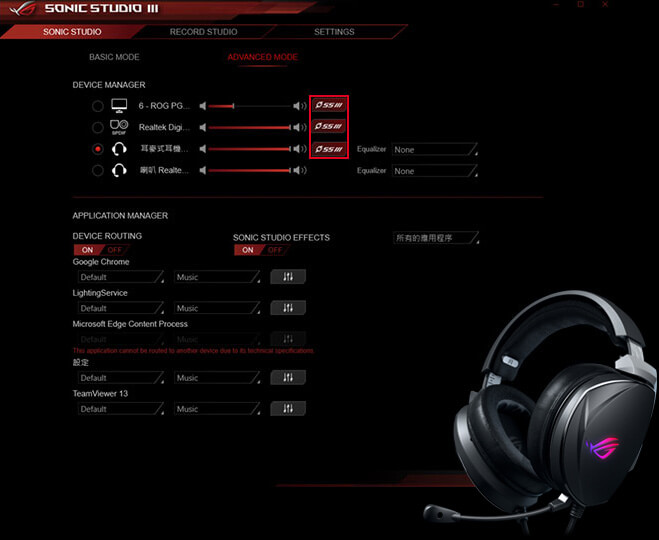 SONIC STUDIO LINK
Easily apply Sonic Studio effects on all playback devices. Simply press the Sonic Studio Link button to enjoy the effect on any playback device.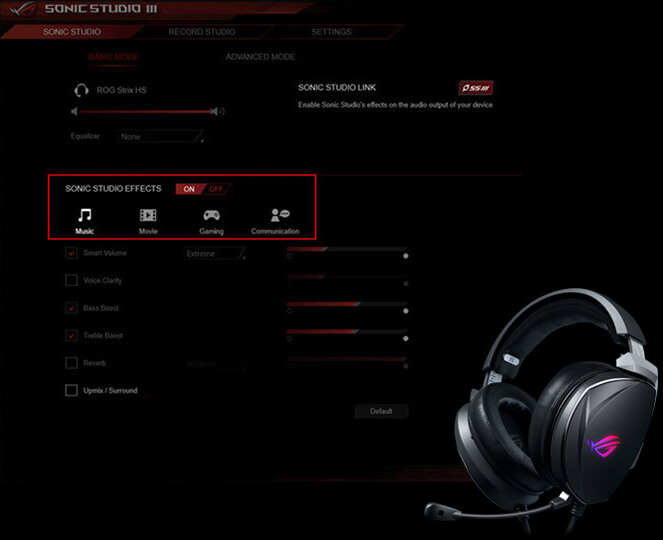 APP-SPECIFIC PROFILES
Apply customized audio settings to different applications, so everything you do is perfectly tuned to the way you want to listen.
*A head-related transfer function is an audio algorithm derived from sound data recorded through a dummy head. Test tones are played from a spherical grid around the dummy head to obtain subtle changes in sounds that come from different directions. The results are combined into an algorithm that allows Sonic Studio's virtual surround to process sound true to life.
DTS SOUND UNBOUND
Through the pre-loaded DTS® Sound Unbound™ app, the ROG Maximus Z790 Extreme envelops you in rich audio, conjuring whole new levels of immersion for extraordinary gaming and entertainment experiences. By exploiting Microsoft spatial sound technology, DTS Sound Unbound creates an audial 3D space — putting you right in the middle of the soundscape, where you can sense the location and direction of every gunshot, footstep, or other sound in your virtual environment.
* DTS Sound Unbound requires in-game support. Check with developers for supported titles.

Stereo Sound

Surround Sound

Spatial Sound
Armoury Crate
Armoury Crate is a software utility designed to give you centralized control of supported gaming products, making it easy to tune the look and feel of your system. From a single intuitive interface, Armoury Crate helps you customize RGB lighting and effects for compatible devices and synchronize them with Aura Sync to create a unified lighting scheme across your system. In addition, Armoury Crate's Fan Xpert4 tool provides comprehensive control over fans, water pumps, and all-in-one (AIO) coolers.
You can use Armoury Crate to download drivers, tools, and user manuals, and to register products. It also taps into a special news feed that connects you to the global ASUS gaming community.
*Windows 10 or 11 required for full Aura Sync functionality within Armoury Crate. For Windows 8 and earlier versions, standalone Aura Sync software is available for free download from the product support site.
Download Link ›››
AURA SYNC
Devices
Tools
Fan Controls
Gaming News Highlights
ASUS Account Management
AIDA64 Extreme
The ROG Maximus Z790 Extreme includes a one-year AIDA64 Extreme subscription, a tool that provides detailed information about hardware and software, as well as benchmarks to measure the performance of the entire system or individual components. AIDA64 Extreme includes a monitoring and diagnostics feature to detect and prevent hardware issues. All vital system sensors can be tracked in real time, allowing voltage readings, fan speeds, and temperature information to be displayed on the desktop or sent to dedicated displays or to the LCD panels of ROG AIO liquid coolers*.
*Support available for ROG Ryujin II and later models.
Learn More About AIDA64 >
ROG x AIDA64 Extreme
Hardware Monitor Display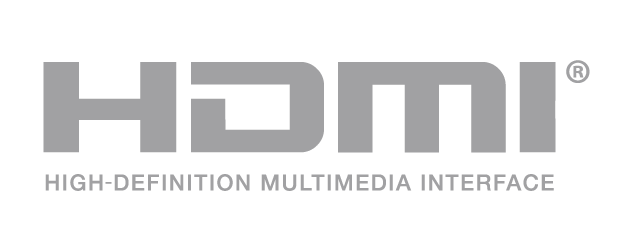 Disclaimer
The product (electrical , electronic equipment, Mercury-containing button cell battery) should not be placed in municipal waste. Check local regulations for disposal of electronic products.
The use of trademark symbol (TM, ®) appears on this website means that the word text, trademarks, logos or slogans, is being used as trademark under common laws protection and/or registered as Trademark in U.S. and/or other country/region.
The terms HDMI, HDMI High-Definition Multimedia Interface, HDMI Trade dress and the HDMI Logos are trademarks or registered trademarks of HDMI Licensing Administrator, Inc.
Products certified by the Federal Communications Commission and Industry Canada will be distributed in the United States and Canada. Please visit the ASUS USA and ASUS Canada websites for information about locally available products.
All specifications are subject to change without notice. Please check with your supplier for exact offers. Products may not be available in all markets.
Specifications and features vary by model, and all images are illustrative. Please refer to specification pages for full details.
PCB color and bundled software versions are subject to change without notice.
Brand and product names mentioned are trademarks of their respective companies.
Unless otherwise stated, all performance claims are based on theoretical performance. Actual figures may vary in real-world situations.
The actual transfer speed of USB 3.0, 3.1, 3.2, and/or Type-C will vary depending on many factors including the processing speed of the host device, file attributes and other factors related to system configuration and your operating environment.
Product Comparison
Product added to comparison. Add up to 4 products or proceed to view compare products selected.
ASUS Footer