Caractéristiques
Caractéristiques techniques
Récompenses
Galerie
Où acheter
Support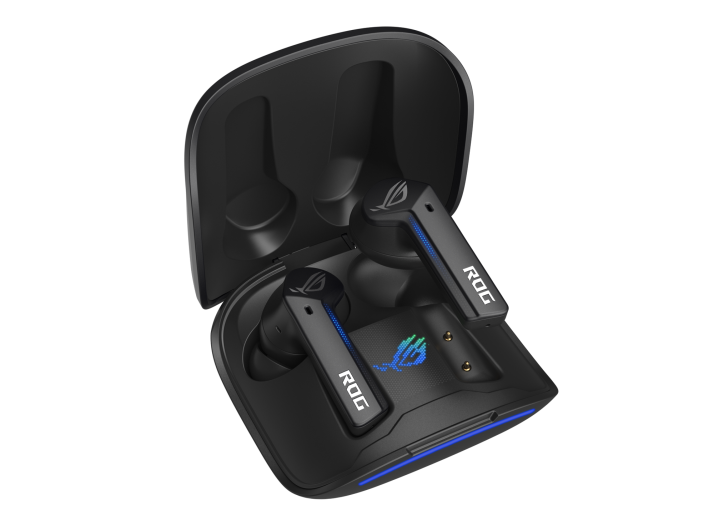 ROG Cetra True Wireless
Écouteurs gaming ROG Cetra True Wireless avec connexion sans fil à faible latence, ANC, batterie jusqu'à 27 heures avec boîtier de recharge sans fil, résistance à l'eau IPX4 et prise en charge de l'EQ/virtual 7.1 via Armoury Crate
Audio sans fil à faible latence : Le mode Gaming offre une meilleure synchronisation de l'audio avec la vidéo pour les jeux de compétition.
Active Noise Cancelation (ANC) : La technologie ANC hybride détecte et filtre les bruits provenant de l'intérieur et de l'extérieur des oreillettes, ce qui assure des expériences audio immersives.
Grande autonomie de la batterie : L'autonomie de la batterie est de 27 heures avec la technologie de charge rapide.
Charge sans fil : L'étui peut être rechargé facilement grâce à la charge sans fil.
Contrôle tactile : Des commandes par simples pressions permettent des ajustements rapides en cours de jeu.
Étanchéité : La résistance aux éclaboussures d'eau IPX4 ajoute à la protection.
I've never felt comfortable using wireless earphones for gaming as they are known to have some latency issues. However, that has changed with the introduction of the ASUS Cetra True Wireless, a low latency wireless gaming audio solution!
4/5 candies for this excellent set of earphones. At least equal to the much vaunted Apple Airpods for around half the price.
gaming headset with active noise cancellation and great sound quality and volume.
ワイヤレスゲーミングイヤホンの遅延が超少なくなってた件。FPSゲームも余裕でイケる!【ROG CETRA TRUE WIRELESS】
敵の位置が分かる「最強イヤホンで」目隠しフォトナしたら面白すぎたwww【フォートナイト】
【原神】とあるゲーム実況者の一日【Genshin Impact】
【無音の世界を創造する】ワイヤレスで見た目もカッコ良すぎるゲーミングイヤホンがやってきた。
FPSでも使える遅延が少なすぎるゲーミングイヤホン【ROG CETRA TRUE WIRELESS】【自作PC/ゲーミングPC/デバイス】
【実機比較】ゲーミングワイヤレスイヤホンの最強が見つかりました
モンハンサンブレイク直前にすげえイヤホンが送られてきた件【Bluetoothイヤホン】ROG Cetra True Wireless (アールオージーセトラトゥルーワイヤレス)
Review the first True wireless from ROG
Headset ROG Cetra True Wireless with Ai Noise and RGB
Headset ROG Cetra True Wireless with Ai Noise and RGB
Video review from the channel KonsumerTV