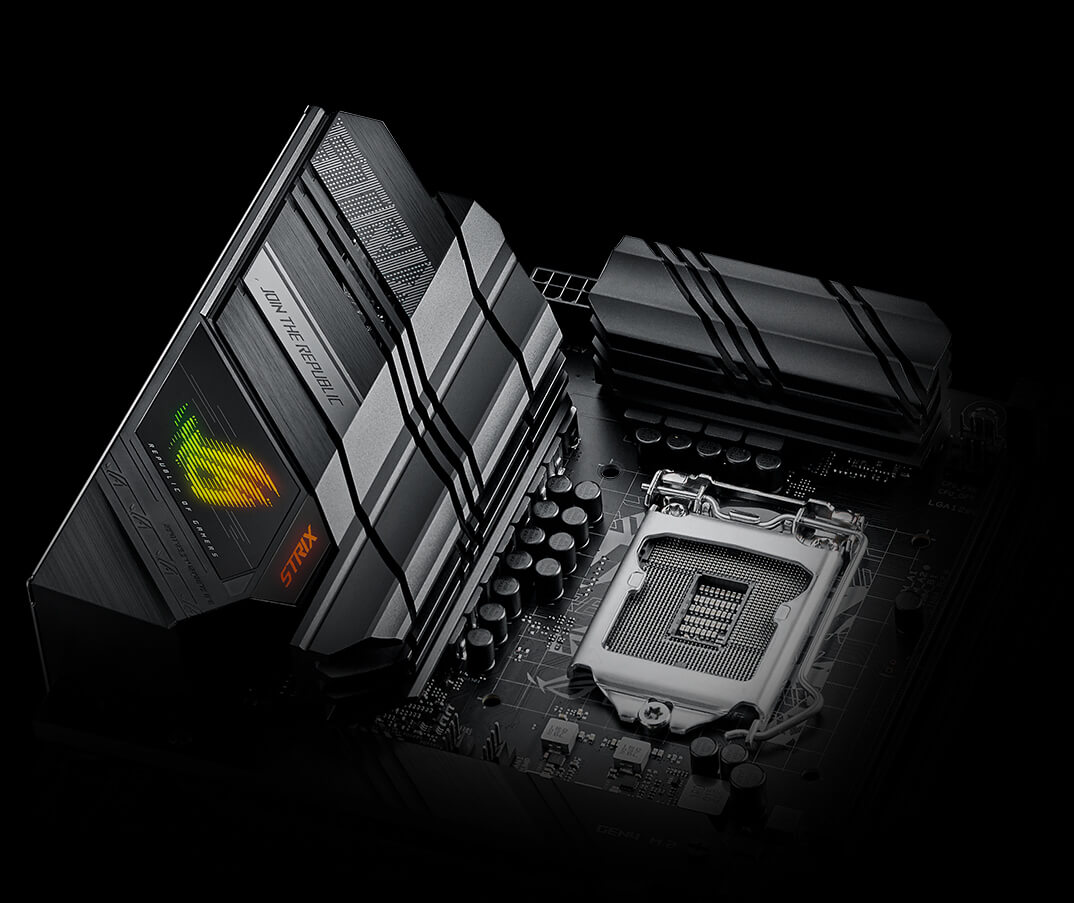 TEAMED POWER STAGES
8+2 power stages combine high-side and low-side MOSFETS and drivers into a single package, delivering the power and efficiency that the latest Intel processors demand.
ALLOY CHOKES AND CAPACITORS
Superior chokes and durable capacitors are engineered to resist extreme temperatures, enabling performance that exceeds industry standards.
PROCOOL POWER CONNECTOR
The ASUS ProCool socket is built to exacting specifications to ensure flush contact with the PSU power lines, enabling lower impedance and better heat dissipation.
DIGI+ POWER CONTROL
The built-in Digi+ voltage-regulator module (VRM) is one of the finest in the industry, ensuring ultra-smooth and clean power delivery to the CPU.
SIX-LAYER PCB
The PCB design quickly dissipates heat around the VRM to improve overall system stability and provide the CPU with more overclocking headroom.
Cooler by Design
ROG Strix B560 motherboards feature comprehensive cooling options that are configurable via Fan Xpert 4 or the UEFI BIOS.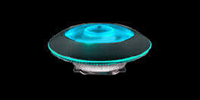 CPU Fan Header
A dedicated pair of PWM/DC fan headers for CPU coolers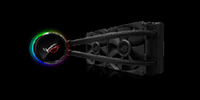 AIO Pump Fan Header
A dedicated PWM/DC header for self-contained water-cooling setups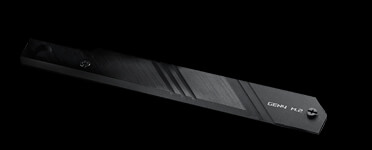 M.2 Heatsink
Keeps the M.2 SSD at the optimum operating temperature for consistent performance and reliability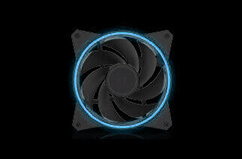 4-pin PWM/DC Fan Header
Each header supports auto-detection of PWM or DC fans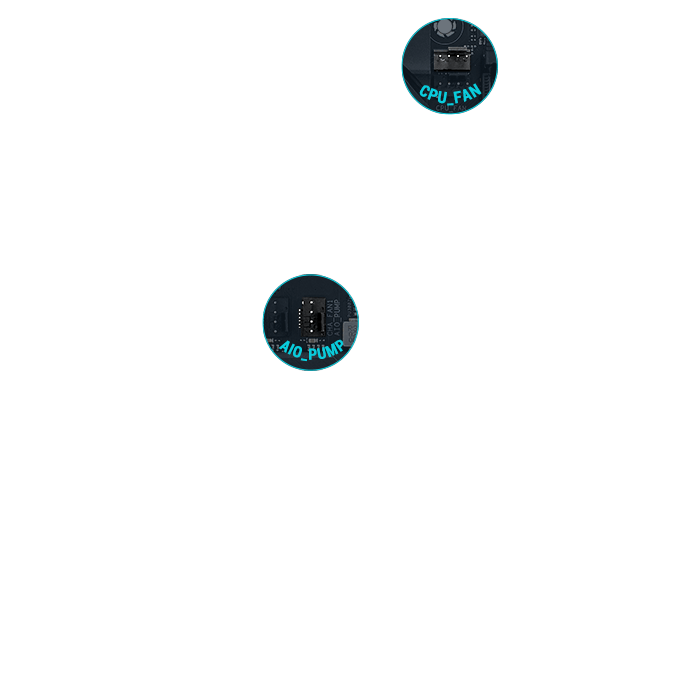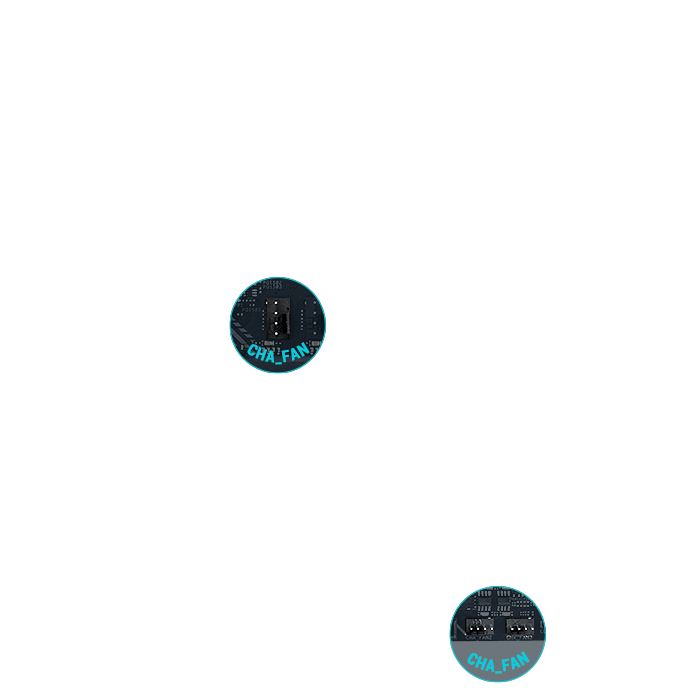 Two-Way AI Noise Cancelation
AI Networking
Two-way AI Noise Cancelation
This utility leverages a massive deep-learning database to reduce background noise from the microphone and incoming audio, while preserving vocals at the same time. Distracting keyboard clatter, mouse clicks and other ambient noises are intelligently neutralized so you can hear and be heard with crystal clarity while gaming or in calls.
*A splitter cable is necessary when using a 3.5 mm headset.
500M

Deep-Learning Database

Audio

Input/output

High

Fidelity

Minimal

Performance Impact
COD: MW - FPS (2560 x 1440)
*Testing configuration: CPU: 11th Gen Intel Core Processor ; Motherboard: ROG MAXIMUS XIII HERO; Graphics card: NVIDIA RTX 3070; DRAM: G.SKILL F4-3200C16Q-32GVK; Power: SUPER FLOWER 550W; HDD: ADATA SX910 SSD 128G; Cooling: Enermax T.B.APOLLISH; Game: CALL OF DUTY: MODERN WARFARE ; Voice Communication App: Discord (In-app noise canceling effects disabled) ; Background noise: Keyboard typing, mouse clicking, people talking, and music playing
*Actual performance varies by configuration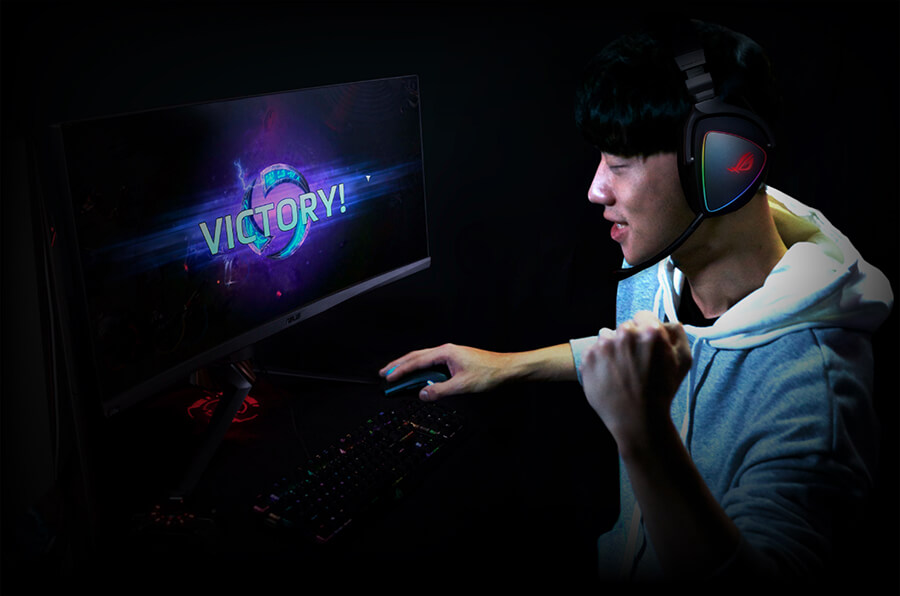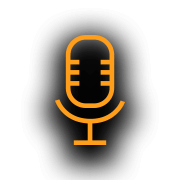 AI Networking
The proprietary ROG GameFirst VI utility is designed to help all users — beginners, experts, and everyone in between — optimize network settings to ensure smooth online gameplay. New to this generation, GameFirst VI features AI-enhanced identification and boost technology to ensure faster and smarter network optimization.
HOW IT WORKS
Identification

GameFirst VI analyzes usage patterns and the digital signatures of your applications and compares them to a database of over 200,000 apps.

Boost

GameFirst VI intelligently switches application priority and adjusts bandwidth, depending on the situation. When gaming, it accelerates and prioritizes game packets to give you supersmooth online gameplay ― even when you're streaming high-quality video or transferring large files.

Visualization

An intuitive graph provides an overview of real-time network status. Simply click on the tab to view the current bandwidth usage of each application, geolocation status of each network connection, or an analysis of the WiFi channels.
WHAT IT DOES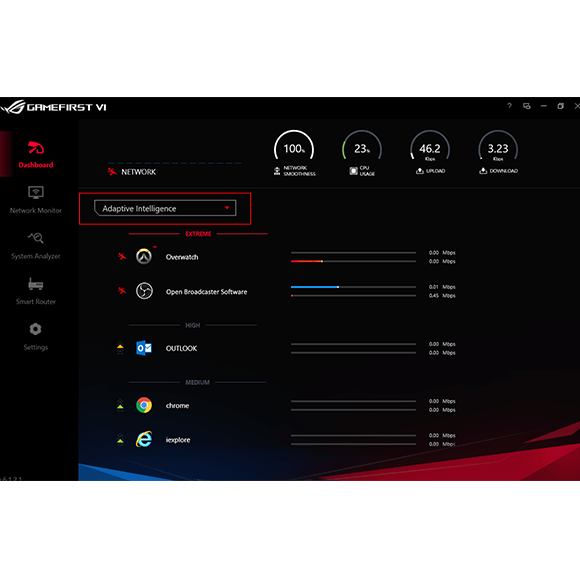 NETWORK INSIGHT
WIFI Quick Assist analyzes network information and generates a graph to give you a clear picture of current network status. In addition, when paired with an ROG router, you can scan your WiFi network to find the best channel and use Game Boost to prioritize gaming devices and packets.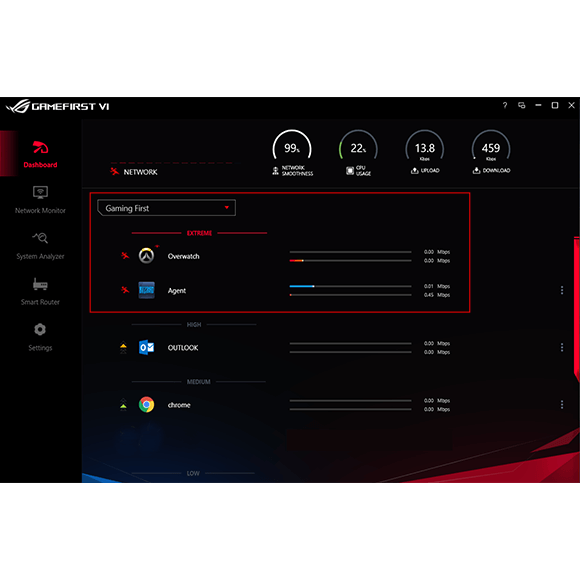 ADAPTIVE INTELLIGENCE
GameFirst VI notes what you're currently doing and adjusts bandwidth accordingly to ensure smooth online experiences, even when multitasking.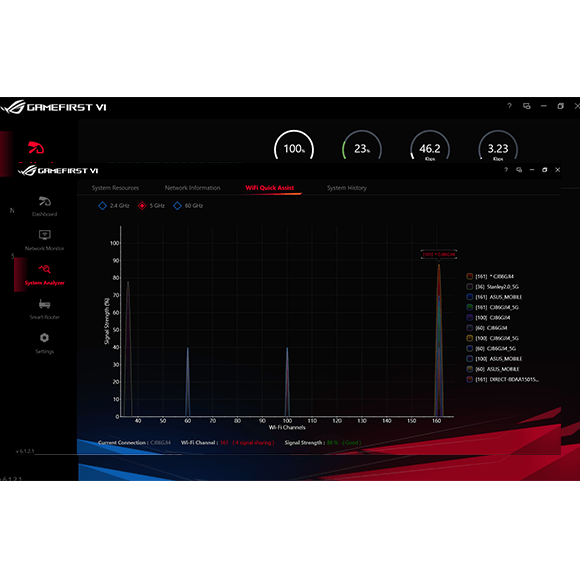 GAMING FIRST MODE
Gaming First mode leverages a massive application database and an analysis of your frequently used apps to prioritize gaming network traffic. This reduces jitter and decreases ping to give you lag-free online gaming.