Nincsenek tételek a Bevásárlókosaradban.
Áttekintés
Specifikációk
Díjak
Galéria
Támogatás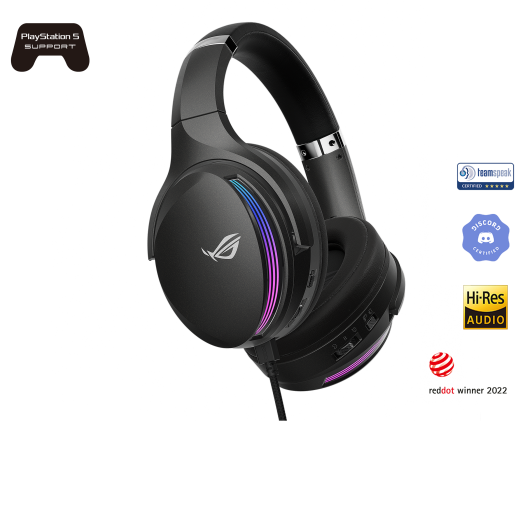 ROG Fusion II 500
RGB gamer headset magas felbontású ESS 9280 Quad DAC™ digitális-analóg átalakítóval, mély basszusokkal és magával ragadó virtuális 7.1-es surround hangzással, valamint mesterséges intelligenciával támogatott hullámformálással és zajszűréssel segített mikrofonokkal, továbbá Game Chat hangerőszabályzóval. PC-kkel, PlayStation® 5 és Nintendo Switch™ és Xbox konzolokkal is használható.
Virtuális 7.1 csatornás térhatású hang HiFi minőségű ESS 9280 QUAD DAC™ átalakítóval és ASUS Essence hangsugárzókkal az erőteljes basszusokért és a magával ragadó, életszerű hangzásért
ROG AI Beamforming és AI Noise Cancelation – mesterséges intelligenciával támogatott hullámformálás és zajszűrés a mikrofonokban a játékosok kristálytiszta kommunikációjának biztosításához
A Game Chat hangerőszabályzóval könnyű megtalálni az egyensúlyt a játék hangjai és a partnerekkel folytatott kommunikáció között
Sokféle személyre szabási lehetőség előre beállított fényeffektusokkal és több mint 16,8 szín megjelenítésére képes RGB megvilágítással
Kényelmes és könnyű, ergonomikus fülpárnákkal a tökéletes illeszkedéshez
3,5 mm-es jack, USB-C® és USB-A csatlakozó a PC és Mac gépek, a PlayStation®, Nintendo Switch™, Xbox konzolok és a mobileszközök kiszolgálásához
Videós megjelenés
The review from the channel Uldons TV
For their performance, ROG Fusion II 300 + Fusion II 500 earned Advanced Design as well as Diamond recognition.
The best GAMING HEADSET for FORTNITE
WE REMAKE YOUR GAMING ROOM ! (ft. Guillaume)
I build a 5000€ Gaming PC !
Simply put, the ROG Fusion II 500 is an awesome pair of gaming headphones
The audio is crisp with good bass
Review ROG Strix Flare II Animate: Animasinya Bikin Salah Fokus!
Asus's Gaming headphones cost 6 million so expensive? ASUS ROG FIGN II 500 Review
Review gaming headset ROG fusion ii 500 and ROG Throne QI
A video review by Jazzman's Hardware
The best gaming headset ever you can try it!
Best Wireless gaming peripherals set-up
Video review from the channel HDTanel. Rating 8/11
Video review from the channel Konsumer
Fusion II 500 are comfortable, excellent sound quality, and above all affordable headphones, which have no equal in their price range.
Termékek összehasonlítása
Termék hozzáadva az összehasonlításhoz. Adj hozzá legfeljebb 4 terméket, vagy folytasd a kiválasztott termékek összehasonlításának megtekintésével.
ASUS Footer