Overview
Tech Specs
Awards
Gallery
Support
&lt/Zephyrus G14&gt
World's Most Powerful AMD Radeon Gaming Laptop
Hingga prosesor AMD Ryzen™ 9 dan kartu grafis mobile AMD Radeon™ RX 6800S dengan teknologi MUX Switch.
ROG Intelligent Cooling: kostumisasi Vapor Chamber dan Liquid Metal didukung 0dB pendingin ramah lingkungan.
Rasio aspek 16:10, panel FHD 144Hz, Validasi Pantone®, 100% sRGB dan Dolby Vision® HDR.
AniMe Matrix™ yang ditingkatkan untuk menampilkan fungsi baru animasi yang lebih hidup dan juga mini game baru
Pengisian cepat hingga 50% dalam 30 menit, pengisian daya USB Type-C 100W, dan dukungan WiFi 6E
Quad speaker, 3D Mic Array untuk pengambilan suara, dan dukungan Dolby Atmos® memungkinkan audio yang jernih
Rp 28,999,000
Eclipse Gray
Moonlight White
AMD Ryzen™ 7 6800H
AMD Radeon™ RX 6700S
16GB
512GB M.2 NVMe™ PCIe® 4.0 SSD
Windows 11 Home
Rp 30,999,000
Eclipse Gray
Moonlight White
AMD Ryzen™ 9 6900HS
AMD Radeon™ RX 6700S
16GB
512GB M.2 NVMe™ PCIe® 4.0 SSD
Windows 11 Home
Rp 32,999,000
AMD Ryzen™ 9 6900HS
AMD Radeon™ RX 6800S
16GB
1TB M.2 NVMe™ PCIe® 4.0 SSD
Windows 11 Home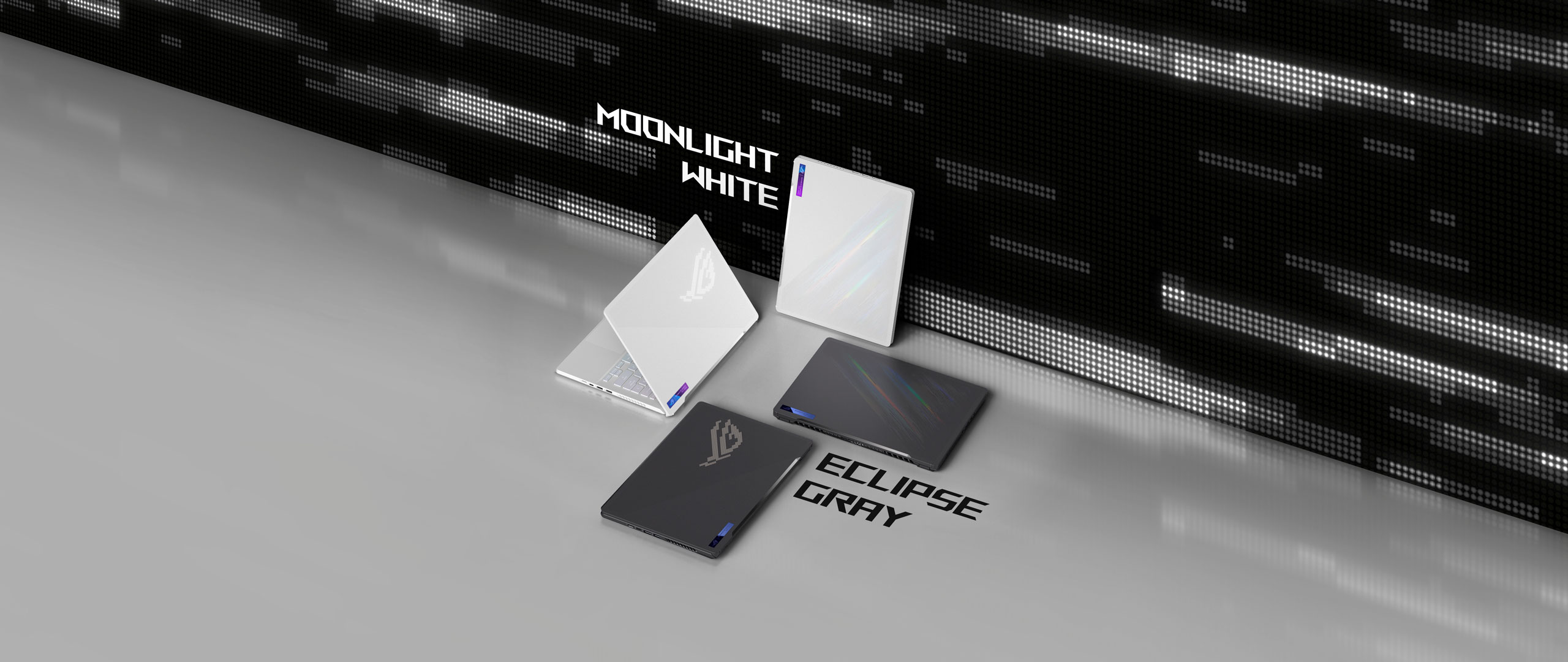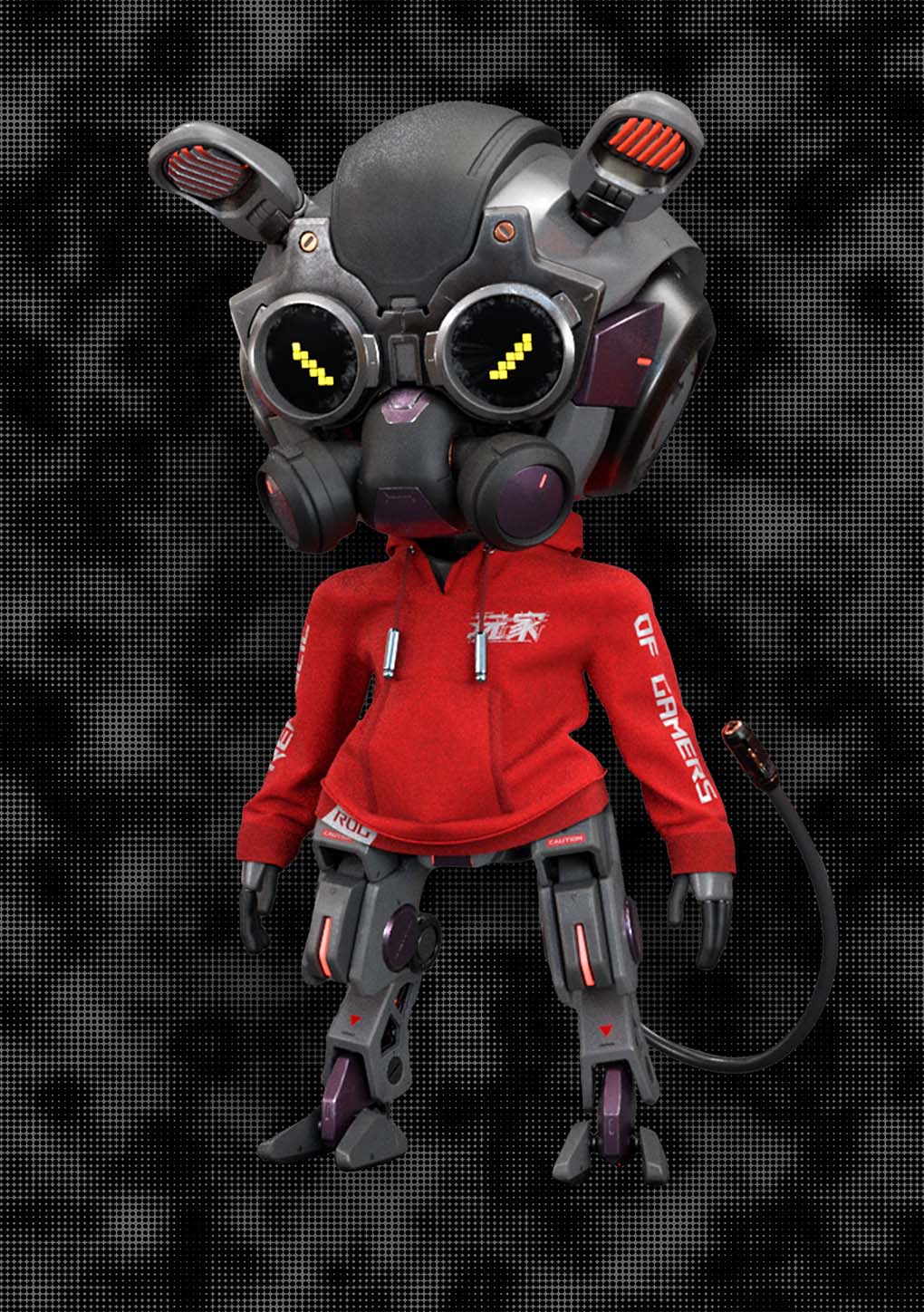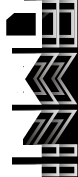 #AniMe Matrix
ENTER THE MATRIX
AniMe Matrix™ dan OMNI keduanya mendapatkan peningkatan. Lebih banyak LED berarti lebih banyak kemungkinan animasi, dan OMNI kembali dengan sejumlah mini game, seperti Mesin Slot, Shoot 'em Up, dan Whack-A-Mole. Gim ini juga akan menyalakan AniMe Matrix™ saat Anda maju, dan mendapatkan skor tinggi akan membuka lebih banyak animasi untuk OMNI saat ia bergabung dengan Anda di desktop.
ENDLESS PERSONALIZATION
Jadikan Zephyrus G14 unik milik Anda dengan opsi animasi yang dapat disesuaikan. Tampilkan pesan teks atau pemberitahuan sistem, atur matriks untuk merespons sumber audio Anda secara real time, atau buat animasi kustom Anda sendiri.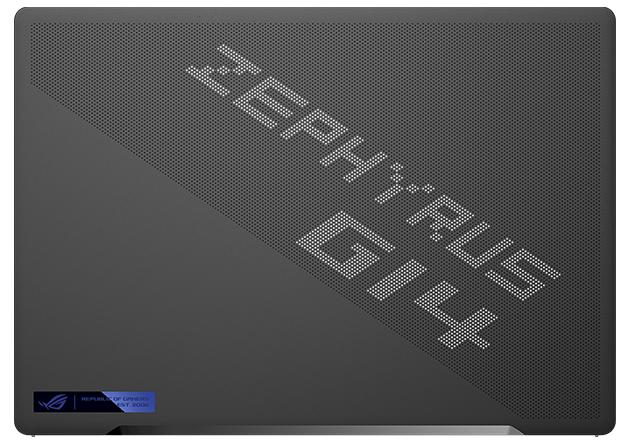 #PERFORMANCE
ALL AMD MUSCLE
Zephyrus G14 2022 yang baru ditenagai oleh AMD dan Windows 11 di luar kotak. Menampilkan prosesor Ryzen™ 9 baru dan grafis seluler Radeon™ RX 6800S, pembangkit tenaga listrik semua-AMD ini siap untuk game atau multitasking apa pun yang dapat Anda lakukan. G14 juga memanfaatkan teknologi AMD seperti Smartshift dan Smart Access Memory untuk keunggulan ekstra. AMD Smartshift memungkinkan CPU dan GPU untuk secara dinamis mengalokasikan daya kapan dan di tempat yang paling dibutuhkan, dan AMD Smart Access Memory memberikan CPU akses penuh ke VRAM penuh GPU, meningkatkan kinerja dalam game.
AMD
RYZEN™ 9 6000 Series
CPU
AMD
Radeon™ RX 6800S
Graphic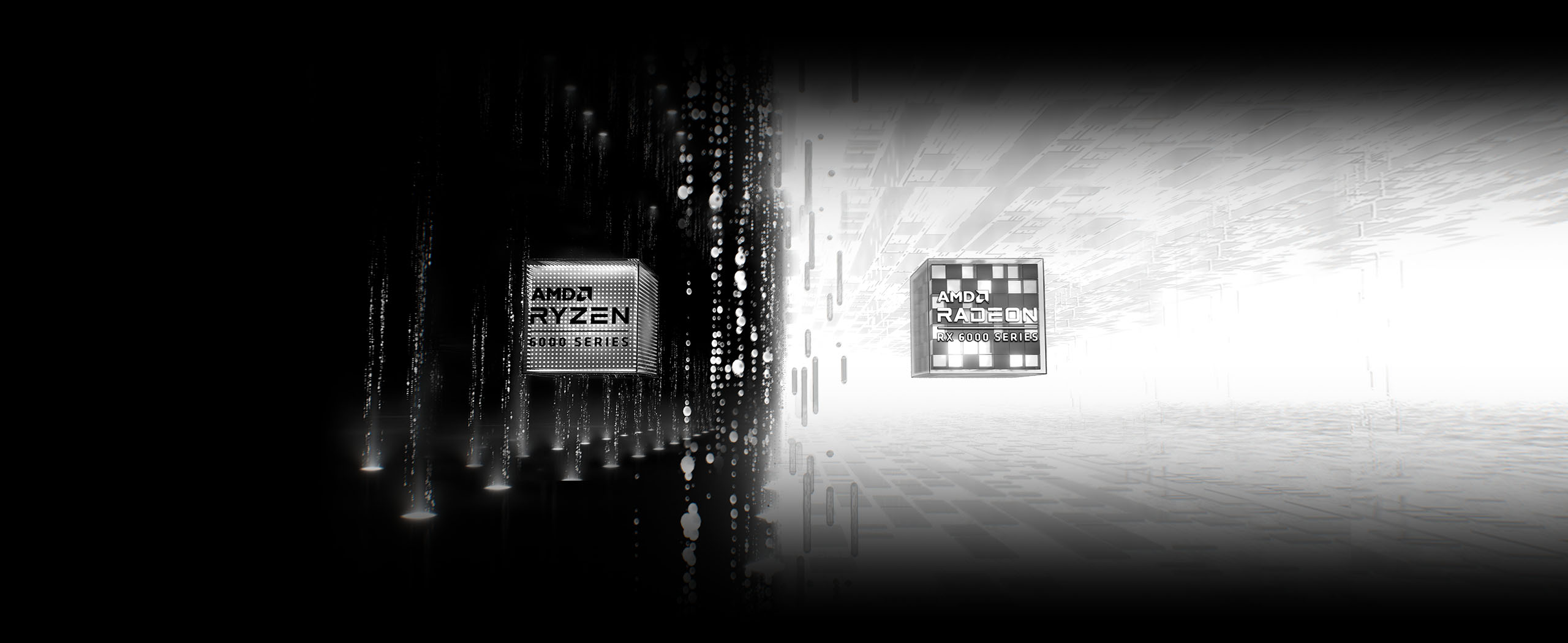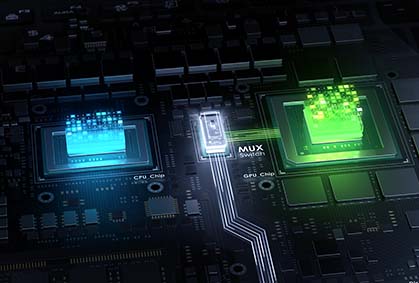 TUNED PERFORMANCE
Sebagian besar laptop gaming modern menggunakan chip grafis khusus yang kuat untuk kinerja tinggi—tetapi rutekan bingkai tersebut melalui grafis terintegrasi CPU sebelum mencapai layar untuk masa pakai baterai maksimum. Ini mencegah GPU Anda untuk memberikan kinerja terbaiknya, itulah sebabnya kami menghadirkan sakelar MUX ke semua laptop ROG 2022. Untuk game kompetitif, Anda dapat mengaktifkan mode GPU langsung yang mengurangi latensi dan meningkatkan kinerja rata-rata hingga 5-10%.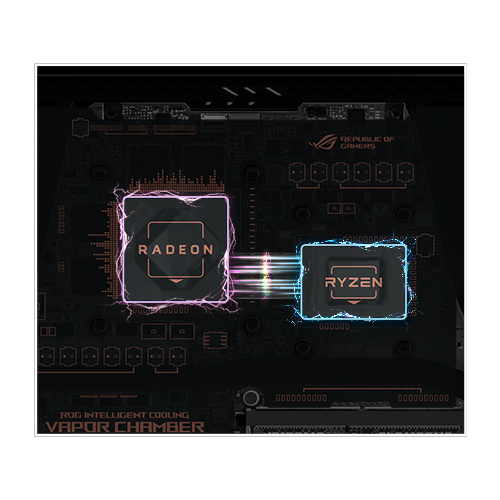 AMD SmartShift Max
Teknologi AMD SmartShift memungkinkan CPU dan GPU untuk berkomunikasi satu sama lain dan mengalokasikan daya di tempat yang dibutuhkan, saat dibutuhkan, dengan cepat. Dipandu oleh algoritme pembelajaran mesin, SmartShift menautkan CPU dan GPU melalui Infinity Fabric sehingga kedua komponen dapat bereaksi dengan cepat terhadap beban kerja dinamis.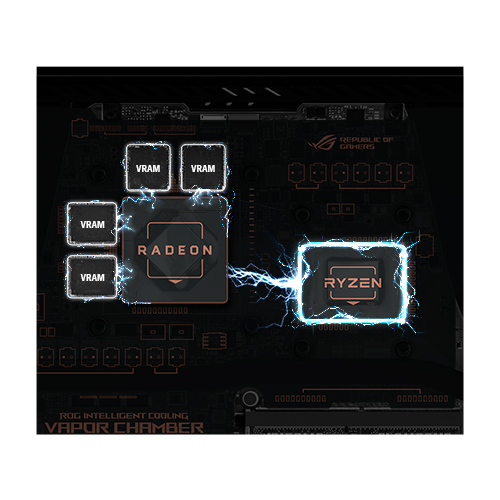 AMD Smart Access Memory
PC Windows tradisional hanya mengizinkan akses CPU ke sebagian kecil dari memori grafis (VRAM) pada satu waktu. Saat dipasangkan dengan grafis seri AMD RX 6000, Smart Access Memory menghilangkan hambatan ini dengan memungkinkan prosesor AMD Ryzen mengakses penuh VRAM untuk meningkatkan kinerja.

DDR5 Bandwidth
Manfaatkan kecepatan transfer data DDR5 yang tak tertandingi untuk mendukung game dan multitasking yang lebih responsif.

High-speed PCIe® Gen 4 SSD Storage
SSD PCIe 1TB memberikan waktu booting yang cepat, layar pemuatan game yang lebih cepat, dan responsivitas umum di seluruh sistem operasi.
pause
#THERMAL
CHILL OUT

Perangkat keras yang kuat membutuhkan pendinginan yang kuat, terutama dalam sasis yang ringkas. Zephyrus G14 mengemas ruang uap untuk CPU dan GPU dengan senyawa termal logam cair untuk transfer panas ultra-efisien dari komponen terpanas. Dalam mode operasi Senyap selama tugas daya rendah, teknologi 0dB memungkinkan kipas dinonaktifkan secara otomatis untuk pengalaman yang benar-benar senyap.

*Pelajari lebih lanjut untuk ROG Intelligent Cooling™ disini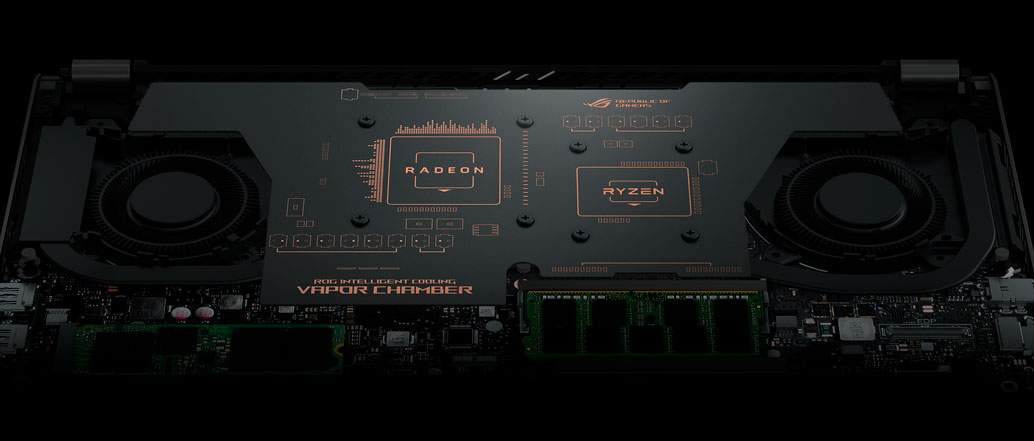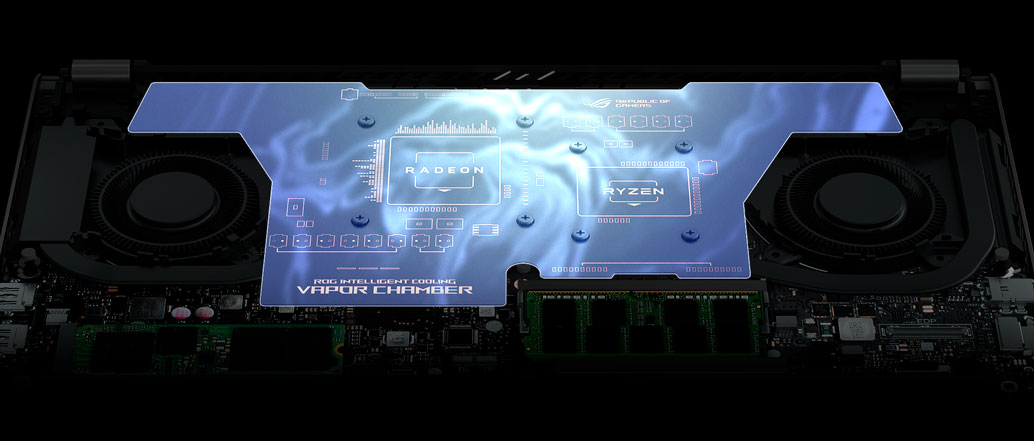 Vapor Chamber

dissipates heat faster

Dibandingkan dengan pipa panas konvensional yang hanya mentransfer panas di sepanjang porosnya, desain ruang uap menyebarkan panas ke seluruh permukaannya, menciptakan area yang lebih luas untuk pembuangan panas yang cepat di ruang kecil. Mengurangi suhu komponen daya ini membantu meningkatkan stabilitas dan keandalan jangka panjang.
Keep your CPU cool with

Liquid Metal
Up to
10° Cooler
CPU temperature
Up to
14x Better
Thermal conductivity

*Peningkatan suhu dibandingkan dengan senyawa termal gen sebelumnya, sebagaimana diuji secara internal oleh ASUS. Konduktivitas termal dibandingkan dengan standar industri.
0dB Technology

,
Zero Distractions

Nikmati pendinginan yang benar-benar senyap di bawah beban kerja ringan dengan Teknologi 0dB. Dalam mode operasi Senyap, sistem pendingin mematikan semua kipas selama tugas berdaya rendah untuk menghilangkan panas secara pasif. Ini memungkinkan Anda berkonsentrasi pada pekerjaan Anda dan membenamkan diri dalam film dengan sedikit gangguan. Jika suhu CPU atau GPU meningkat, seperti selama sesi permainan, kipas otomatis menyala kembali.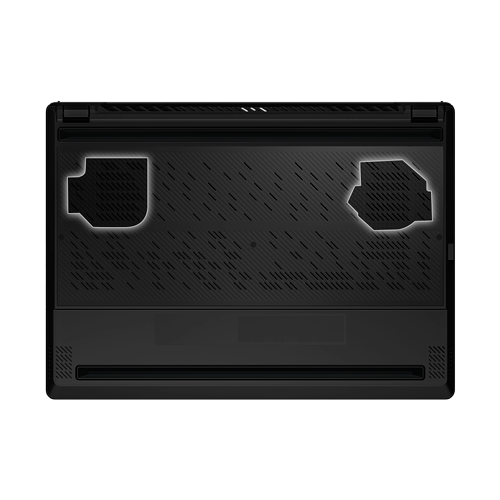 Filter in. Dust out.
Baru untuk tahun 2022, G14 kini dilengkapi filter debu untuk kedua kipasnya. Filter membantu menjaga debu dan serat agar tidak tersedot ke dalam sasis, memungkinkan CPU bekerja dengan daya 15% lebih banyak dan daya GPU 4% lebih banyak dibandingkan dengan mesin tanpa filter setelah digunakan dalam waktu lama. Semakin sedikit debu, semakin lama komputer Anda dapat berjalan pada kinerja puncak tanpa pelambatan.
*Pengujian internal dalam simulasi lingkungan berdebu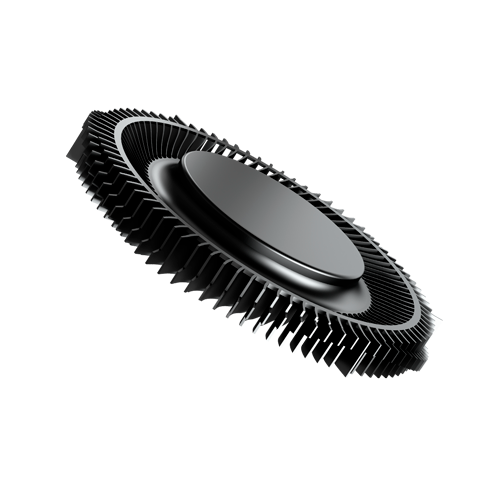 Upgraded
Arc Flow Fans™

move more air with less noise

Arc Flow Fans™ yang diperbarui menampilkan 84 bilah melengkung yang dibentuk khusus untuk memaksimalkan aliran udara dengan kebisingan minimal. Ketebalan bilah variabel, yang meruncing hingga hanya 0,1 mm di ujungnya, mengurangi turbulensi saat kipas mempercepat udara dengan gaya sentrifugal, memberi Anda peningkatan aliran udara hingga 32%* sambil tetap 2db lebih tenang. Dengan mengurangi diameter sumbu kipas, kipas 2022 G14 memiliki aliran udara 5% lebih tinggi daripada Kipas Aliran Busur standar dengan kecepatan putaran yang sama.

*Peningkatan aliran udara dibandingkan dengan desain kipas ROG 71-blade, sebagaimana diuji secara internal oleh ASUS.
Anti-Dust Tunnels 2.0

sustain system longevity

Desain modul termal kami yang ditingkatkan menampilkan terowongan anti-debu yang lebih pendek yang menyisakan lebih banyak ruang di sekitar kipas, meningkatkan aliran udara hingga 15%. Mencegah penumpukan debu memastikan stabilitas jangka panjang dan keandalan sistem Anda.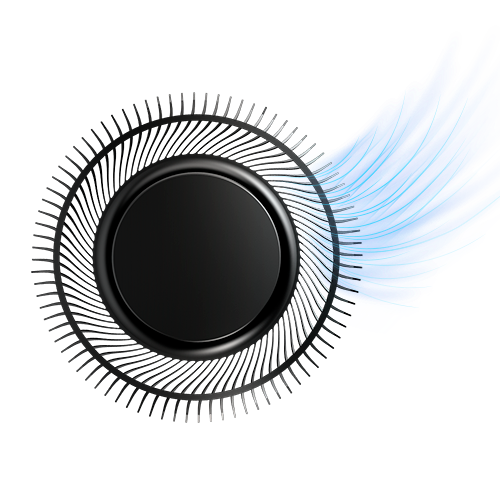 Variable Blade Thickness design

reduces air collision

Kipas kami menggunakan bilah dengan ketebalan dan bentuk yang bervariasi, secara bertahap berubah dari area bertekanan tinggi ke rendah sebelum mengeluarkan udara. Ini mengurangi turbulensi dan memaksimalkan efisiensi aliran udara dibandingkan dengan bilah kipas tradisional. Desain baru yang dipatenkan ini dimungkinkan oleh teknologi pemrosesan kristal cair-polimer terbaru yang memungkinkan kami membuat bilah kipas yang sangat tipis dan kuat untuk meningkatkan asupan udara.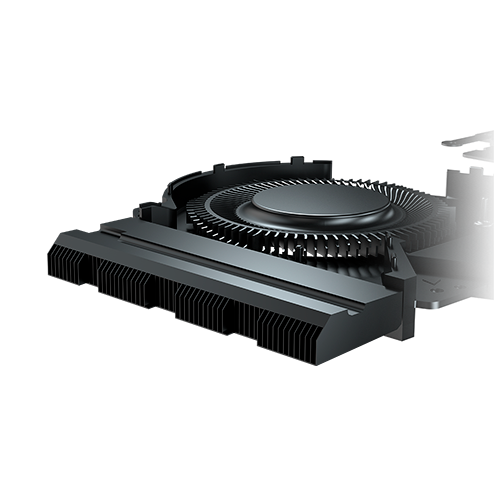 0.15mm Ultra Thin Fin

for the win

Energi panas dihilangkan oleh empat heatsink, masing-masing dilapisi dengan sirip tembaga ultra-tipis setipis 0,15mm. Sirip ini berukuran setengah dari solusi tipikal, memungkinkan kepadatan yang lebih tinggi untuk pembuangan panas dan hambatan udara yang lebih rendah untuk memungkinkan aliran yang lebih lancar. Ada hingga 211 sirip heatsink dengan total luas permukaan 75.368mm².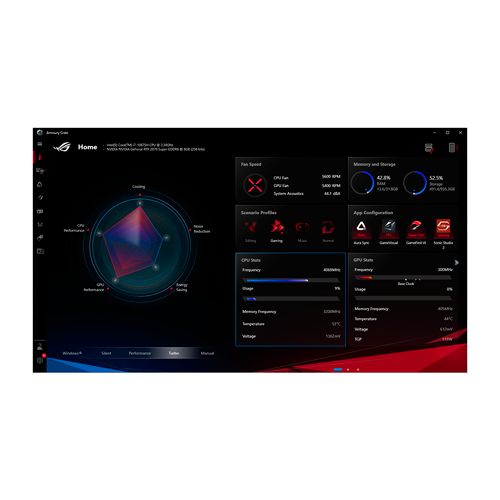 Scenario Profiles

give you the right cooling at the right time

Mode Diam, Performa, dan Turbo kami hanyalah permulaan. Profil Skenario memungkinkan sistem Anda untuk secara otomatis beralih di antara mereka berdasarkan aplikasi yang Anda jalankan, di samping pengaturan sistem penting lainnya. Beralih konfigurasi pencahayaan secara otomatis, nonaktifkan tombol Windows dan touchpad selama permainan, dan otomatiskan sesuka hati Anda. Armory Crate membuat penyesuaian dalam sekejap agar sesuai dengan tugas yang ada.
pause
#DISPLAY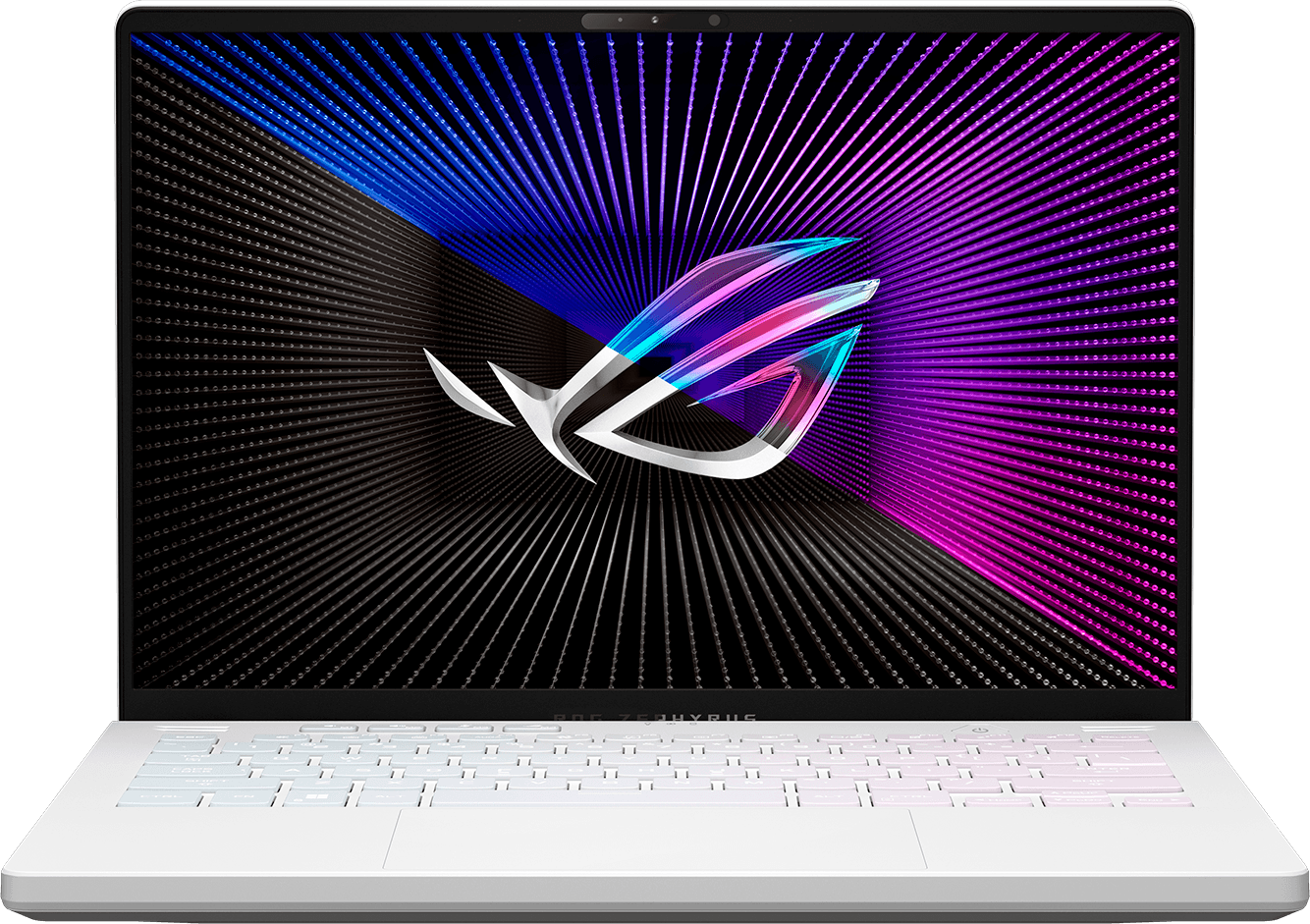 16:10
3ms
Response Time
400nits Brightness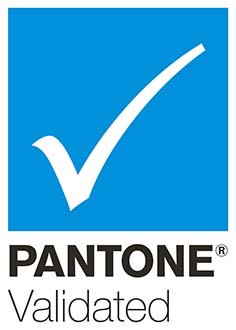 OUT OF THIS WORLD VISUALS
Layar laptop Anda adalah jendela untuk semua yang Anda lakukan di mesin. Tahun ini kami meningkatkan taruhan dengan rasio layar-ke-tubuh 91% yang sangat besar, layar 16:10. Model FHD 144Hz kami juga memenuhi standar dengan cakupan sRGB 100%, validasi Pantone®, kecerahan 400 nit dengan waktu respons hanya 3 ms. Layar yang hampir tanpa bingkai ini sama imersifnya dengan yang bisa Anda dapatkan di laptop.
Up to
400 nits
Brightness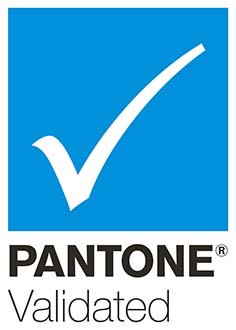 Dolby Vision® Technology
Adegan ke adegan, bingkai ke bingkai, Dolby Vision® membuat media terlihat lebih baik. Teknologi ini ditingkatkan pada video standar 4K high dynamic range (HDR), menyesuaikan visual secara dinamis untuk membuat setiap gambar di depan Anda lebih kaya, lebih cerah, dan lebih hidup. Pembuat konten dapat memfilmkan dan mengedit streaming, video, dan konten lainnya dalam format yang biasa digunakan oleh para profesional industri.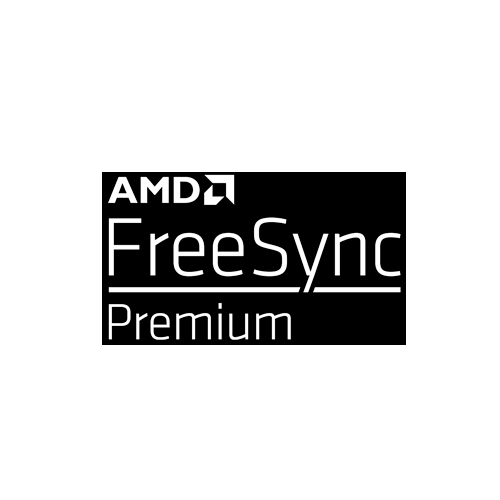 AMD FreeSync Premium Technology
Tidak ada yang dapat mematahkan imersi dalam game seperti gagap dan sobek. GPU merender bingkai dengan kecepatan yang bervariasi, tetapi tampilan biasanya disegarkan pada klip yang konstan, sehingga dapat menjadi tidak sinkron, menyebabkan hambatan dan artefak yang terlihat yang menarik Anda keluar dari tindakan. Dengan FreeSync, kecepatan refresh layar disinkronkan dengan kecepatan bingkai GPU untuk menghilangkan robekan visual, meminimalkan stuttering, dan mengurangi input lag. Bersiaplah untuk merasakan gameplay yang terlihat dan terasa lebih alami dari sebelumnya.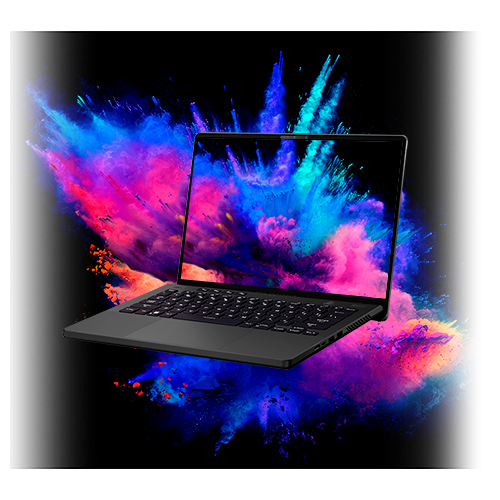 Pantone® Color Validation
Setiap tampilan level IPS dikalibrasi dari pabrik untuk memastikan bahwa warna akurat dengan palet Pantone ®. Artis, desainer, dan pembuat konten dapat menambahkan konten berkualitas tinggi ke portofolio mereka dan menikmati visual game yang lebih kaya, semuanya di mesin yang sama.
pause
#PORTABILITY
#AUDIO

FEEL THE BEAT
Suara surround 5.1.2-channel virtual yang didukung oleh teknologi Dolby Atmos ® menempatkan Anda di pusat aksi. Tweeter kembar mengeluarkan suara langsung ke arah Anda, sementara woofer Smart Amp ganda memantulkan suara dari meja di bawah mesin. Beralih di antara 6 mode prasetel yang mengoptimalkan pengaturan berdasarkan jenis permainan dan media, atau membuat modifikasi manual yang sesuai dengan preferensi Anda. Pembatalan Kebisingan AI Dua Arah menyaring audio input dan output, membuat streaming, obrolan, dan perekaman lebih jelas dari sebelumnya.

Two-Way
AI Noise Cancelation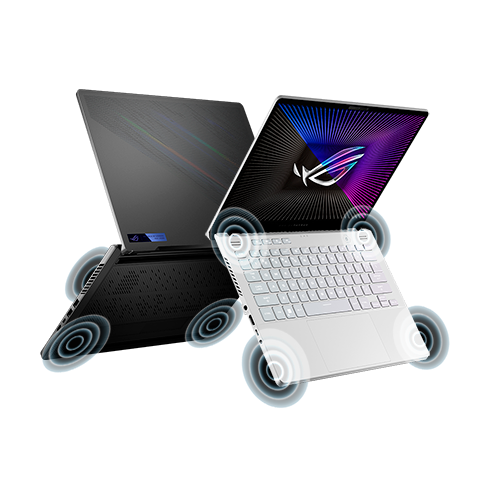 Dolby Atmos®
Baik Anda menggunakan headphone atau speaker, Dolby Atmos® meningkatkan imersi spasial dengan efek suara surround virtual yang lebih bernuansa dan berlapis yang dapat dioptimalkan lebih lanjut dengan mode preset yang disetel khusus untuk film dan game.
3D Mic Array
Tiga mode untuk susunan mikrofon terintegrasi memberi Anda kontrol lebih besar atas input Anda. Mode cardioid menangkap suara tepat di depan laptop, sambil meminimalkan input dari belakang, menjadikannya ideal untuk streaming dan bermain game. Mode stereo menggunakan saluran kanan dan kiri untuk merekam lanskap suara yang lebih luas untuk musik live atau pengalaman imersif lainnya. Mode omnidirectional mengambil suara dari semua arah secara merata untuk panggilan konferensi grup yang lebih jelas.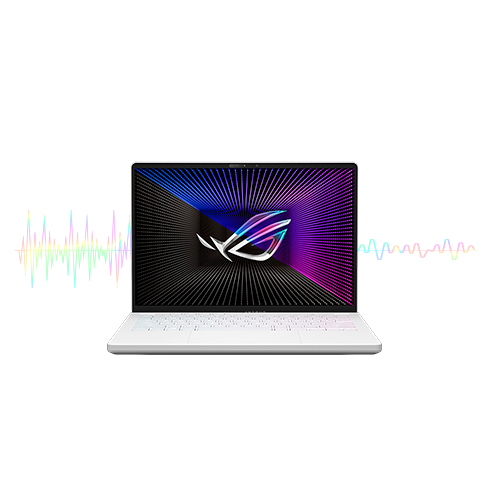 Two-Way AI Noise Cancelation
Teknologi Pembatalan Kebisingan AI Dua Arah kami yang canggih bekerja dengan perangkat input apa pun dan dengan koneksi hilir, memungkinkan Anda menghilangkan kebisingan dari mikrofon Anda sendiri dan dari umpan masuk. Ini juga berjalan pada CPU, yang membebaskan GPU untuk mencapai FPS yang lebih tinggi dalam game. Pengaturan peredam bising bahkan dapat disesuaikan per program, memfilter aplikasi tertentu seperti obrolan suara tanpa memengaruhi audio game yang Anda ingin tetap tidak tersentuh.
pause
#KEYBOARD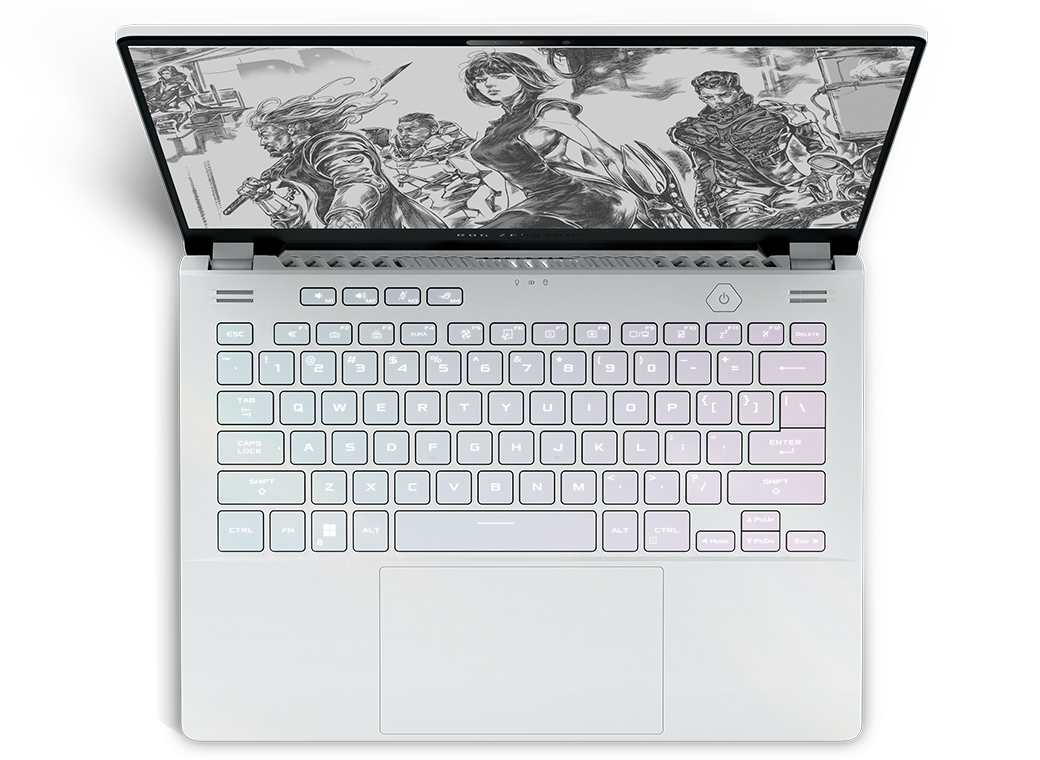 MASH UP
Zephyrus G14 2022 memiliki fitur touchpad yang lebih besar agar sesuai dengan tampilan rasio aspek 16:10 yang baru untuk kontrol responsif. Teknologi overstroke memicu lebih tinggi di setiap penekanan tombol untuk respons yang lebih cepat, dan desain ErgoLift mengangkat keyboard pada suatu sudut untuk membuat mengetik lebih nyaman. Kilau Prismatik yang mempesona menutupi keyboard, yang menyediakan hotkey khusus yang membuat volume, mikrofon bisu, dan perangkat lunak ROG Armory Crate mudah dijangkau. Tombol pintas juga sepenuhnya dapat disesuaikan, dan dapat diprogram untuk meluncurkan aplikasi, ditetapkan sebagai tombol fungsi, atau digunakan sebagai makro.
Gaming
Hotkeys
With Macro Function
Fast-actuating
Key Switches
#CONNECTIVITY
NEXT GEN WI-FI
Bahkan ketika ada banyak klien di jaringan, WiFi 6E akan membuat Anda tetap terhubung. Saat jaringan yang kompatibel tersedia, nikmati kecepatan mendekati kabel saat bermain game dan konferensi video.

ADAPTABLE CONNECTIVITY
Port USB Tipe-C ganda, satu dengan pengiriman daya dan dukungan DisplayPort™ 1.4, serta sepasang port USB 3.2 Tipe-A memberikan banyak pilihan konektivitas. Penambahan baru dari pembaca kartu microSD UHS-II sangat cocok untuk pembuat konten yang perlu mentransfer data saat bepergian.
#Software
TUNE UP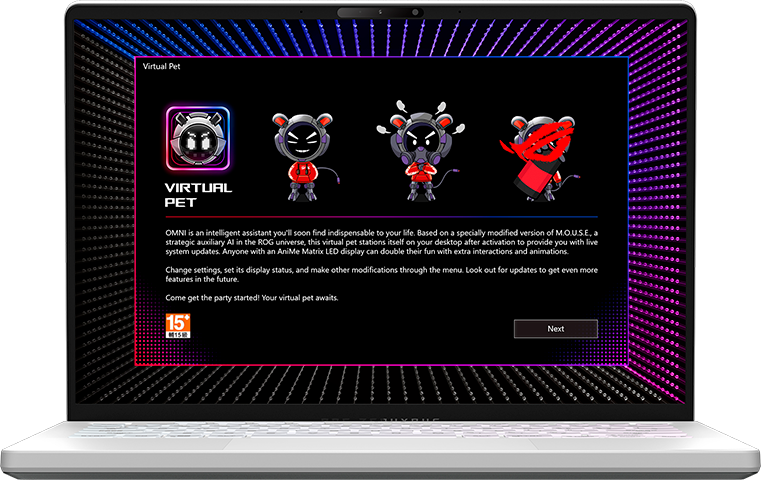 Maskot OMNI ROG sendiri bertindak sebagai sahabat karib menyenangkan yang merangkap sebagai asisten interaktif. OMNI hidup di desktop Anda setelah aktivasi dan bereaksi secara real time terhadap perubahan beban sistem dan tingkat baterai. Hewan peliharaan virtual juga dapat dikonfigurasi untuk hang out di layar AniMe Matrix™ Zephyrus G14.
Mainkan lebih dari 100 game berkualitas tinggi dengan teman di PC, konsol, ponsel, atau tablet Anda dengan satu harga bulanan yang rendah.* Dengan game yang ditambahkan setiap saat, selalu ada sesuatu yang baru untuk dimainkan.
*Syarat dan pengecualian berlaku. Katalog game bervariasi dari waktu ke waktu, menurut wilayah, dan menurut perangkat. Lihat xbox.com/gamepass dan https://www.ea.com/eaplay/terms, untuk detailnya. Xbox Cloud Gaming: Batas streaming berlaku. Memerlukan pengontrol yang kompatibel (dijual terpisah), perangkat yang didukung, dan aplikasi Xbox Game Pass; lihat persyaratan sistem. Persyaratan sistem bervariasi menurut game; skala kinerja dengan sistem kelas atas.
Perangkat lunak ROG GameVisual menawarkan enam mode grafis yang disetel secara ahli yang dirancang untuk mengoptimalkan pengalaman visual Anda untuk genre game tertentu. Mode First Person Shooter (FPS), misalnya, meningkatkan visibilitas di lingkungan gelap, memungkinkan Anda menjatuhkan musuh yang bersembunyi di balik bayangan. Gunakan GameVisual untuk mendapatkan pengalaman terbaik untuk setiap game di perpustakaan Anda.
Peralihan otomatis antara mode Senyap, Performa, dan Turbo hanyalah permulaan untuk Profil Skenario. Anda juga dapat menentukan preferensi khusus aplikasi untuk pengaturan sistem vital lainnya, seperti konfigurasi pencahayaan, apakah tombol Windows atau touchpad diaktifkan, dan profil GameFirst VI mana yang akan digunakan. Armory Crate membuat penyesuaian dalam sekejap agar sesuai dengan tugas yang ada, dan Anda dapat mengonfigurasi setiap profil persis seperti yang Anda inginkan.
Ambil aplikasi seluler Armory Crate gratis untuk Android atau iOS untuk mengakses pengaturan Anda dengan mudah tanpa mengganggu permainan Anda! Tersedia sekarang di Google Play™ dan App Store.
GEAR UP
Bundel ROG Zephyrus G14 dengan serangkaian periferal dan aksesori game. Navigasi dengan lancar dan tepat dengan mouse gaming ROG Impact. Ringankan beban Anda dengan adaptor 100W yang lebih kecil yang menawarkan daya yang cukup bagi Anda untuk tetap produktif di mana saja. Dan berikan laptop Anda sedikit keamanan ekstra di jalan dengan tas yang nyaman dan berukuran sempurna.
* Periferal yang dibundel dapat bervariasi menurut wilayah. Silakan periksa dengan vendor lokal untuk penawaran yang tepat.
Video Reviews
We face the final stretch of the review with a magnificent taste in our mouths, and there is no area in which the Asus ROG Zephyrus G14 2022 does not stand out, offering the best on the market, with the best materials, the most cutting-edge components and a system of cooling capable of keeping temperatures at bay with a more than acceptable loudness, without neglecting other aspects such as the keyboard, the panel or the aesthetics and maintaining a price that is quite contained within its range
2022 ROG Zephyrus G14 Product Video
The Zephyrus G14 2022 is the best gaming laptop of the year. The specs are freakin' exceptional.
This year they just took it to a whole new level.
Not only is this gaming laptop a beast in performance, but it is also a master of memes. Is the Asus ROG Zephyrus G14 the gaming laptop of the year?
The 2022 Zephyrus G14 is back and more stylish than ever
The Radeon RX6800s makes any game you play smooth and enjoyable
The Zephyrus G14 is quite compact, featuring a sturdy and premium built. Its slim and lightweight, perfect for on-the-go users. The performance of the machine is also impressive and justifies the price of the product.
The look of the ASUS ROG Zephyrus G14 is really nice. It gives you that high end feel but at the same time, it's not too much. It's super portable and can be easily carried to schools and colleges.
I'm definitely impressed by the Zephyrus G14. One of the best options available currently for editing
Looking for power or mobility? Do you want it for something other than playing? Among these ROG laptops you will find the one that suits you
This gaming laptop is the best for me not because of its performance, but because in general, it gives us a complete and balanced experience. It not only allows you to play games, but also work and consume multimedia content at the same level.
ROG Zephyrus G14 (2022) Gaming Laptop Unboxing + Gameplay
ROG Zephyrus G14 (2022) Gaming Laptop Unboxing + Gameplay
ROG Zephyrus G14 (2022) Gaming Laptop Unboxing + Gameplay
The newest gaming laptop from ASUS, ROG Zephyrus G14, is small, light, and powerful! We'll show you all the data, including benchmarks!
This beautiful white gaming laptop is very powerful [ROG Zephyrus G14]
The new laptop from the best-selling gaming laptop brand in Japan has arrived.
Here's what's so great about the ASUS ROG Zephyrus G14 GA402RK!
14인치 고성능 게이밍 노트북 ASUS ROG ZEPHYRUS G14 GA402 후기
【악플러들 상대로 1대1】어느 티어까지 이길 수 있을까?
Đánh Giá Chi Tiết Laptop Gaming ASUS ROG Zephyrus G14: Mẫu Laptop Gaming Mình Thích Nhất!
4 Lý do TẠI SAO mình chọn LAPTOP GAMING để LÀM ĐỒ HỌA!!
Đánh giá ROG Zephyrus G14 (2022): Sự lợi hại của AMD?
ROG Zephyrus G14 2022 (Ryzen 6800HS + RX6700S): Tò mò nhiều thứ về Laptop Gaming AMD
If you are looking for a lightweight notebook that can work, play games, ROG Zephyrus G14 is a good choice.
(2022) Asus ROG Zephyrus G14 // AMD Ryzen 9 6900HS + RX6700S
ASUS Zephyrus G14 (2022) – Jak dobrze to gra?
The New ASUS Zephyrus G14 is WAY Better!
ASUS Zephyrus G14 (2022) Review - The Best Laptop?
Asus ROG Zephyrus G14 Review - Is it ACTUALLY Any Good? [2022]
It Actually Got BETTER 🤯 - Zephyrus G14 2022 vs G14 2021
2022 ROG Zephyrus G14 - Every game is your game
The Rise of Gamers - 2022 Brand New ROG Gaming Laptops
ASUS Goes Crazy With Gaming Laptop Updates in 2022!
These NEXT-GEN Gaming Laptops will Blow Your Mind!
ASUS Is Already Killing It!
ROG Zephyrus G14 (2022) Review: Still THE Best 14" Gaming Laptop
"This 14 portable gaming laptop offers offers far better value compared to other small gaming laptops... To name a few it is lighter, has a better screen, a better battery life and a better CPU performance, all while being cheaper."" "If you want the best battery life and gaming performance... then the ASUS Zephyrus G15 is the way to go." "If you want better CPU performance and a larger 16:10 screen which just looks better while also getting better performance in creator loads."
There is a webcam, but the resolution is only HD, no RJ45 port.
The back cover of the machine is a hole making it difficult to keep clean. Fan vents come out of the front of the screen. causing heat vapor to hit your hand while in use Ports are fairly close together, no RJ45 ports.
It is a complete notebook. Comes with a light body, beautiful note page, with features with AniMe Matrix lights. The camera can be used for about one.
The power management feature is quite good, the screen is beautiful, the game can be played smoothly.
Video review from the channel Konsumer
Video review from the channel MrBegėdis
Product Comparison
Product added to comparison. Add up to 4 products or proceed to view compare products selected.
ASUS Footer