Features
Tech Specs
Awards
Gallery
Where to buy
Support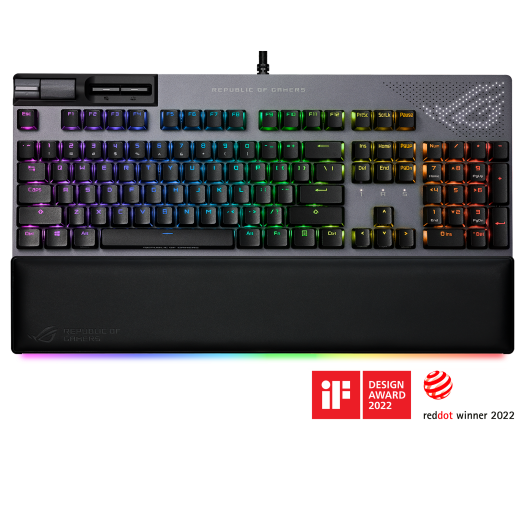 ROG Strix Flare II Animate
ROG Strix Flare II Animate gaming mechanical keyboard with AniMe Matrix™ LED display, 8000 Hz polling rate, ROG NX mechanical switches or Cherry MX switches, swappable switches, metal media controls,and a wrist rest with light diffuser
AniMe Matrix™ LED display: Personalize and express yourself in a unique way with customizable images and animations
Stylish and ergonomic: Detachable wrist rest with light diffuser
Intuitive controls: Dedicated media and volume controls are conveniently placed at the top-left corner of the keyboard
Almost-instantaneous response: 8000 Hz polling rate provides a 0.125 ms response time ― up to 8X faster than other leading gaming keyboards
Available with ROG NX or Cherry MX mechanical switches: Compatible with different switches for a unique typing feel
Learn more about ROG NX Mechanical Switches
Swappable switches: Install your preferred switch type for a unique, customized feel
ROG PBT doubleshot keycaps: Durable keycaps with mid-height profile and shorter stems reduce key wobble and feature translucent ROG script
Learn more about ROG Doubleshot Keycap Set
ROG switch stabilizer: Specially designed to ensure smooth keystrokes and stability for longer keys
Improved acoustics: Built-in sound-dampening foam helps absorb pinging noises and echoes within the keyboard
Convenient connectivity: USB passthrough port allows for easy connection to other devices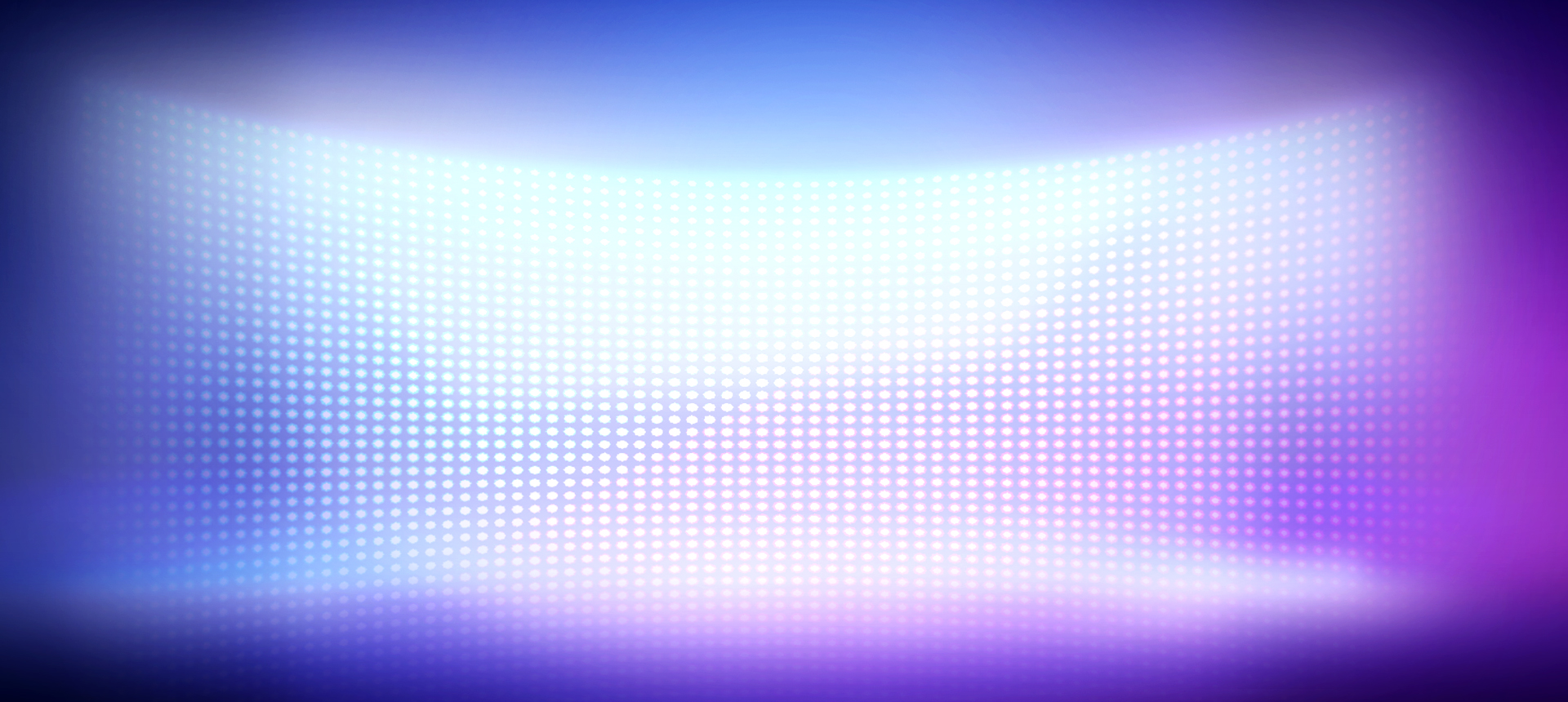 FULLY LOADED FLARE
The ROG Strix Flare II Animate is the ultimate gaming keyboard to fire up your game. It's fully loaded with a host of innovations, including the customizable AniMe Matrix™ LED display, swappable ROG NX or Cherry MX mechanical switches, PBT doubleshot keycaps, sound-dampening foam, 8000 Hz polling rate, 0.125 ms response time, dedicated media controls and a wrist rest with light diffuser.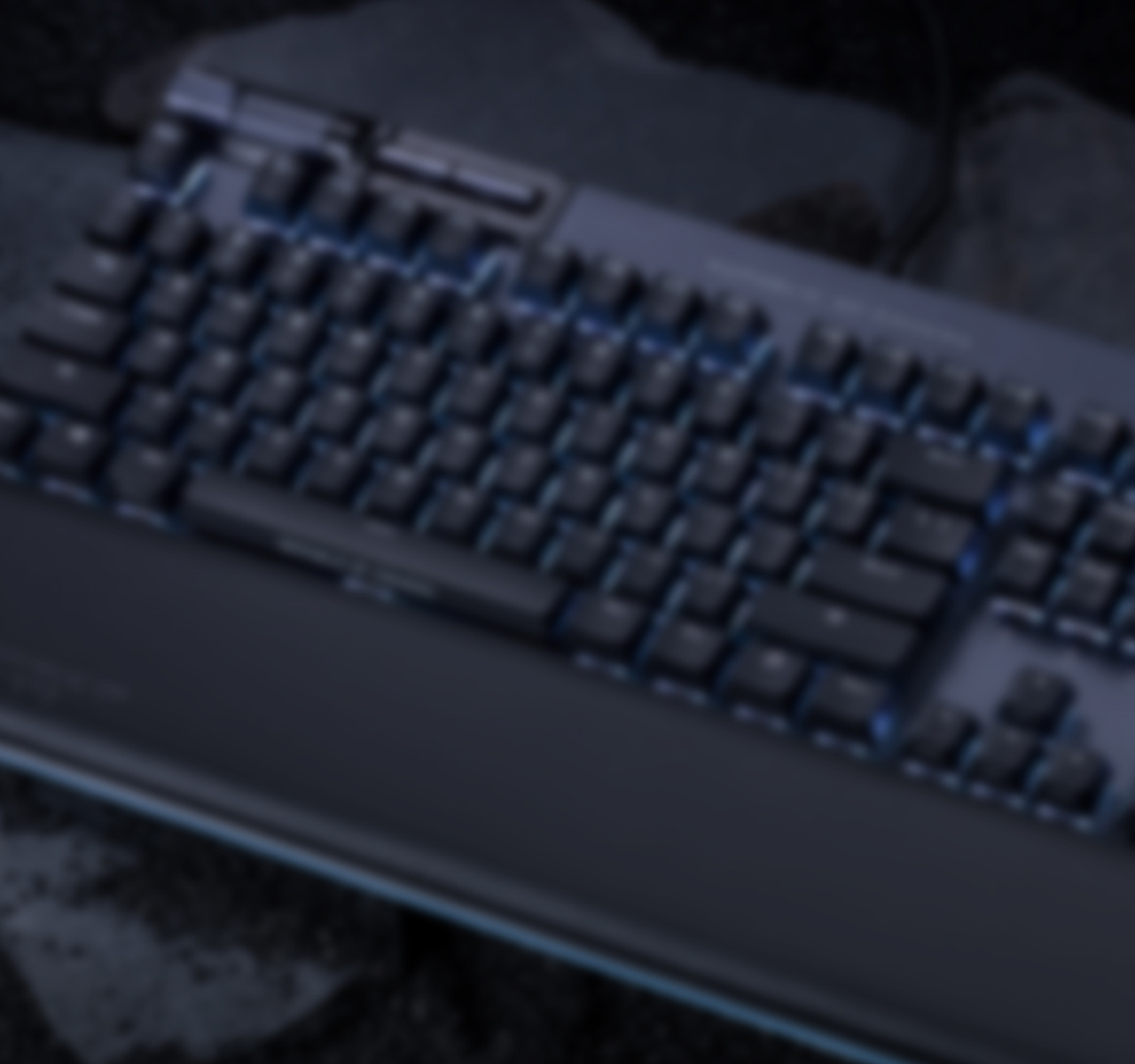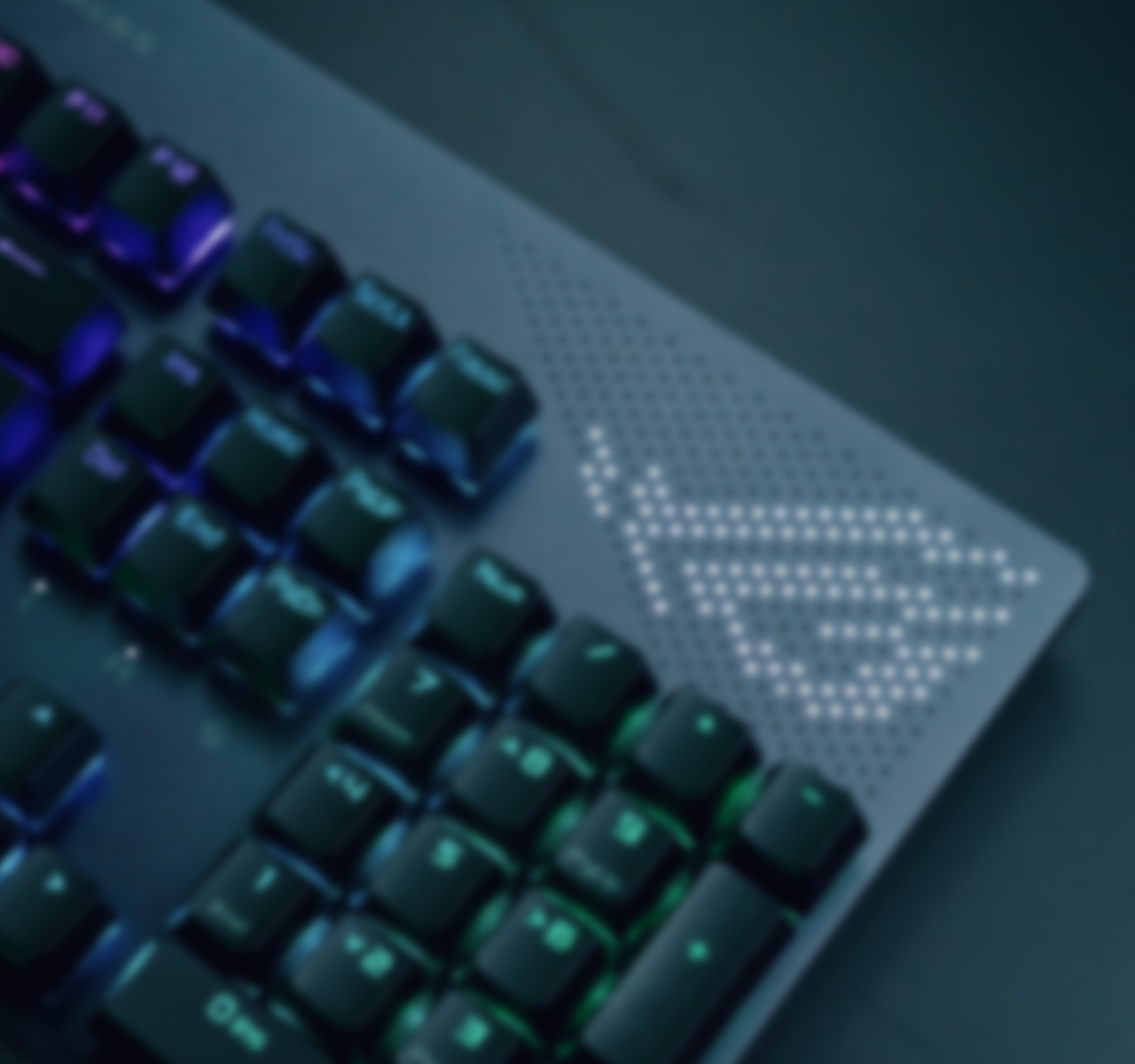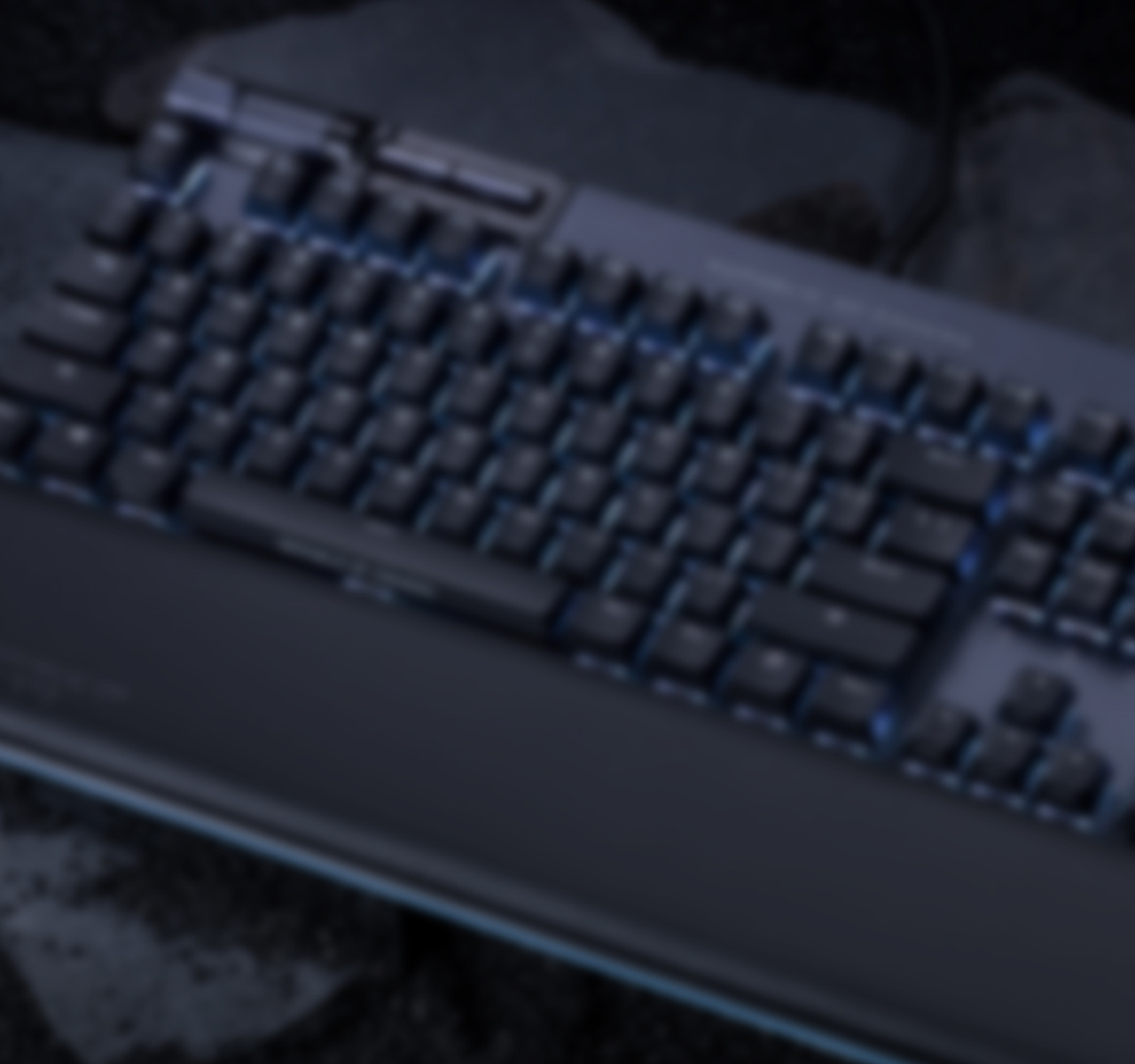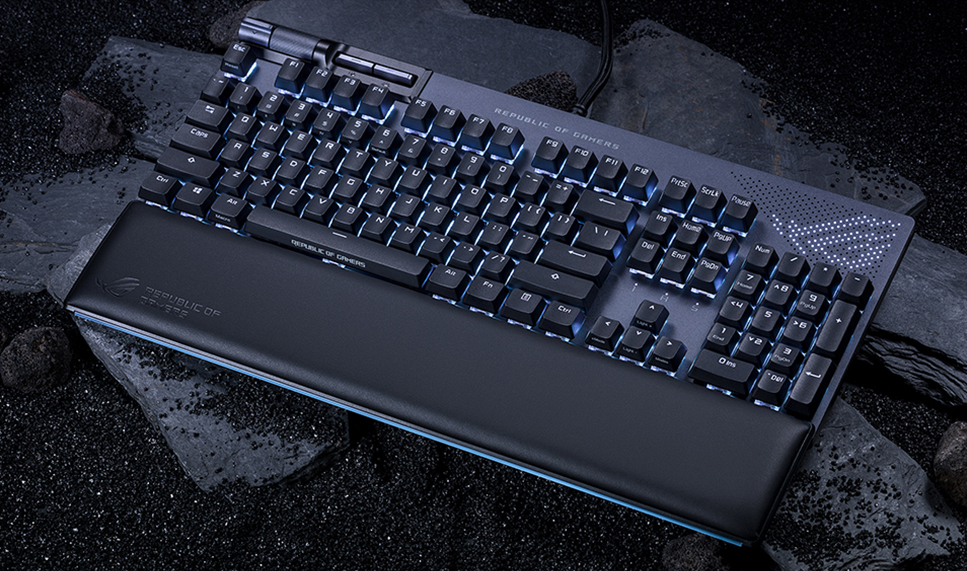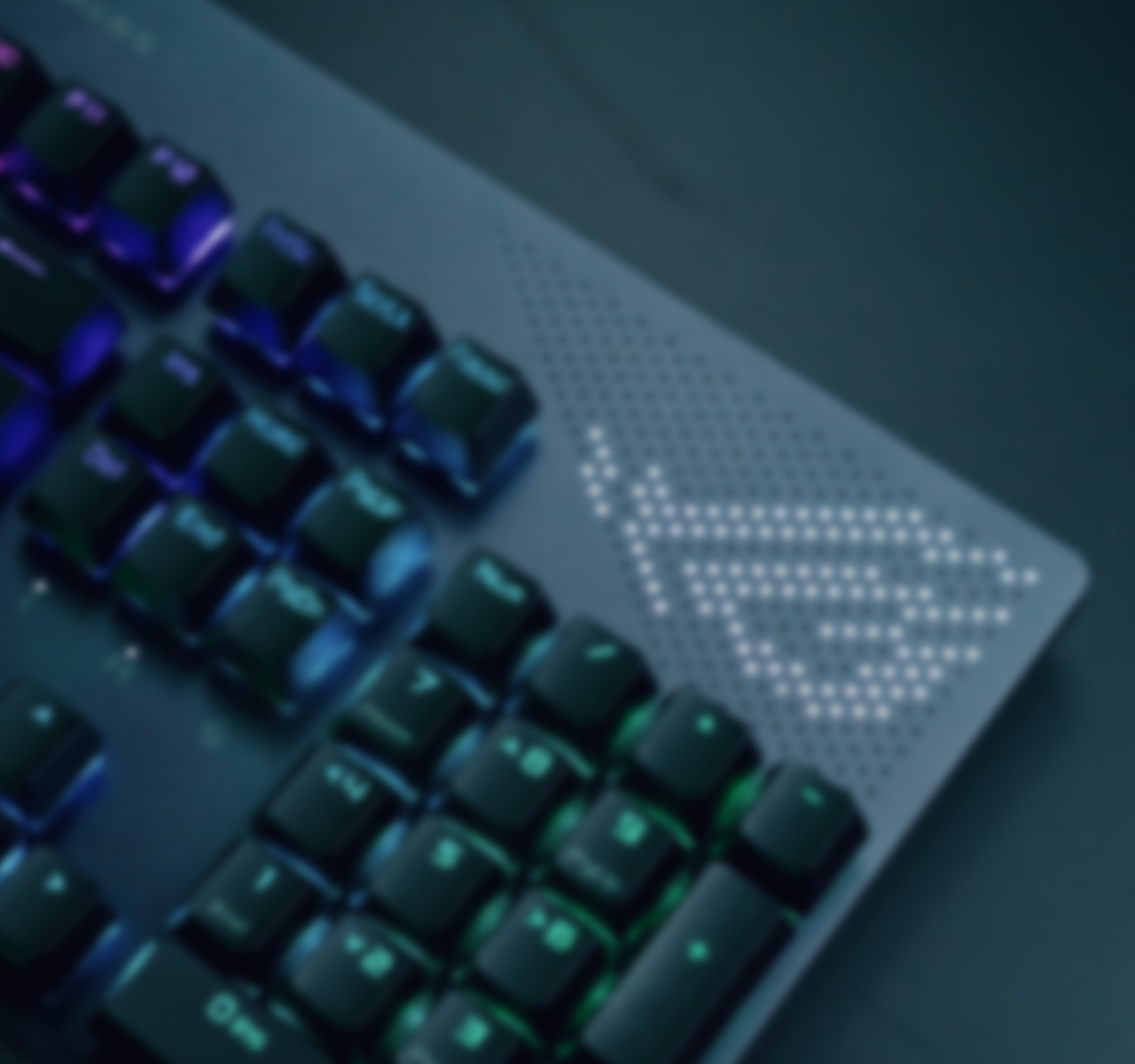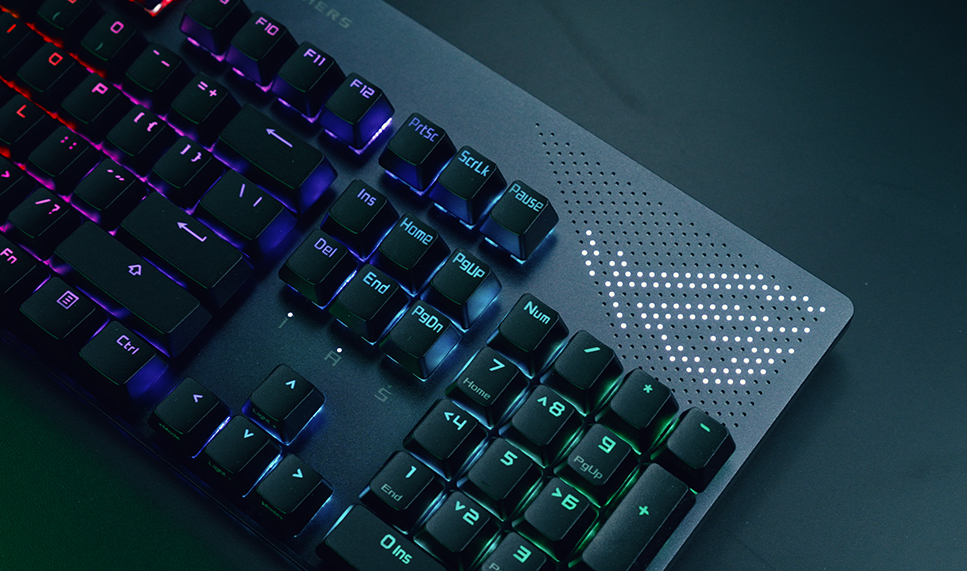 ANIME MATRIX™ LED DISPLAY
The ROG Strix Flare II Animate features an AniMe Matrix™ LED display with 312 programmable mini-LEDs that let you show custom images and animations, audio visualizations, system status or settings indicators such as brightness levels and keyboard RGB lighting modes. The display can also be used to indicate laptop battery life, mail notifications, time and date.
Animation
Audio Visualization
Setting Indicators
System Info
STYLISH & ERGONOMIC
The detachable wrist rest has a built-in light diffuser to make it glow when connected to the keyboard.
Attaching the Wrist Rest
01Remove the light diffuser from the keyboard.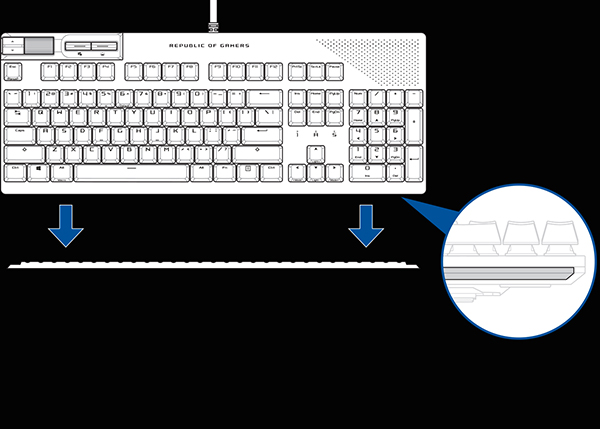 02Store the light diffuser to the wrist rest.
03Attach the wrist rest to the keyboard.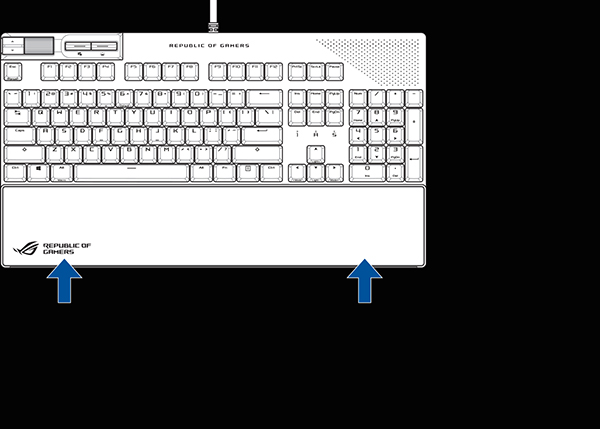 INTUITIVE CONTROLS
Metal media control keys are arranged so they're right at your fingertips, and can be programmed into hotkeys. Turn the scroll wheel to adjust volume or mute audio, and use the knob to reverse or skip tracks, pause or play.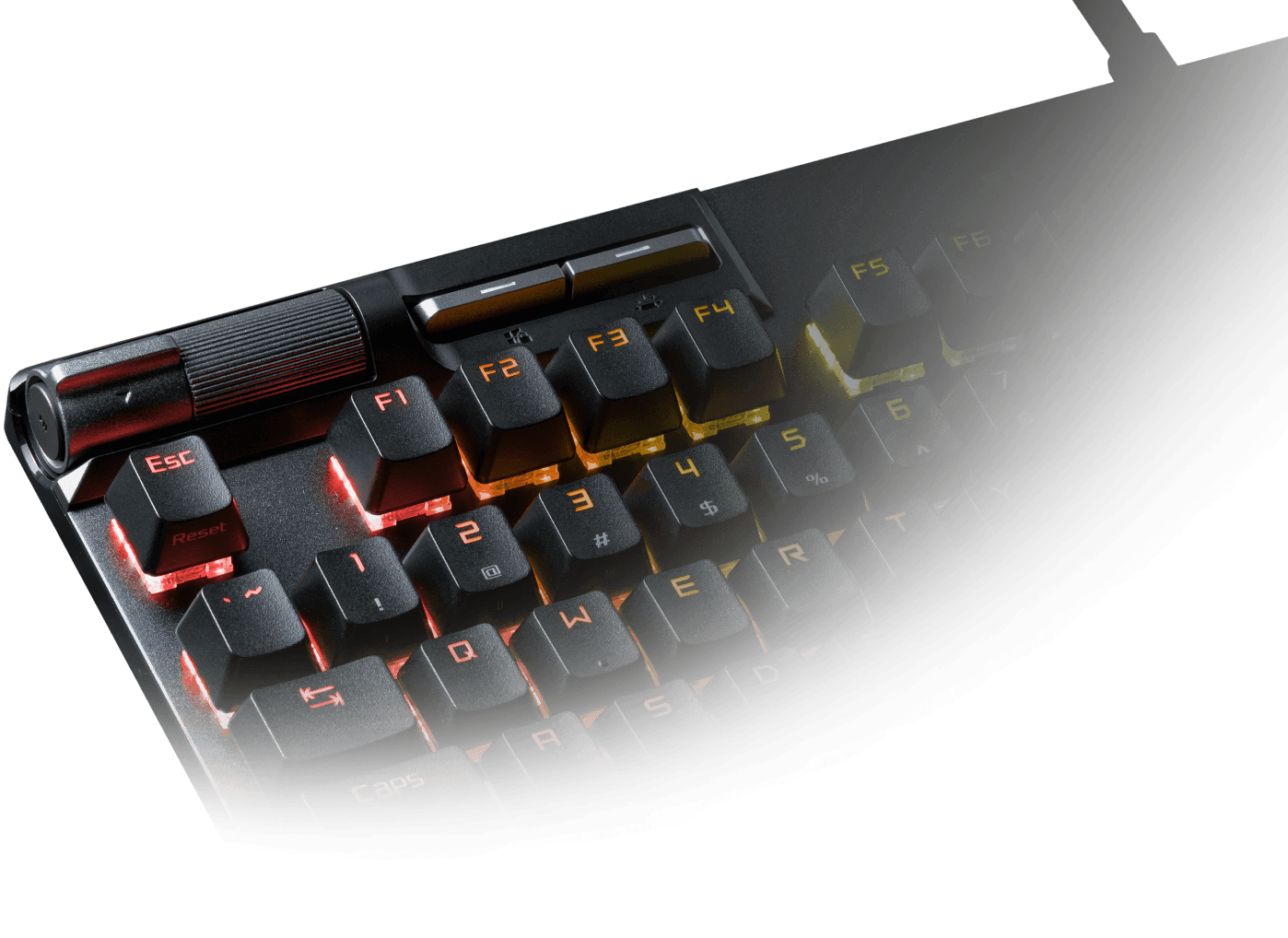 A short, rendered video of an MCU
ALMOST-INSTANTANEOUS RESPONSE
A high-speed USB microcontroller delivers an 8000 Hz polling rate that refreshes input up to 8X faster than competitor keyboards, reducing delay from 1 millisecond to a mere 0.125 ms.

ROG NX Mechanical Switch
ROG-exclusive gaming switch – ROG NX Mechanical Switch with fast actuation and ROG-tuned force curves for great keystroke feel and feedback.
Learn More.
LINEAR & SWIFT

ROG NX Red Mechanical Switches provide a 1.8mm actuation point for fast input. Initial actuation force of 40gf helps prevent accidental keystrokes, and it extends to 55gf for perfect rebound feedback. As a result, keystrokes are instantaneous and have a smooth and linear feel.

1.8mm

Actuation Point

40gf

Initial Force

55gf

Total Force

ULTRA-TACTILE

ROG NX Brown Mechanical Switches have a 2mm actuation point, as preferred by traditional brown switch users. The tactile force of 58gf combined with a click ratio of 33% gives every keystroke an obvious, more pronounced tactile response.

2.0mm

Actuation Point

58gf

Tactile Force

33%

Click Ratio

CLICKY & TACTILE

ROG NX Blue Mechanical Switches feature a 2.3mm actuation point, standard 16% click ratio, and an enthusiast-preferred 65gf tactile force — all to provide firm and superb feedback with each keystroke.

2.3mm

Actuation Point

65gf

Tactile Force

16%

Click Ratio
Cherry
MX RGB switches
Constructed with Cherry MX RGB switches, ROG Strix Flare II Animate delivers the precise mechanical feel preferred by gamers and enthusiasts alike. The premium-quality switches are manufactured in Germany, and are renowned for offering optimal actuation and responsiveness with every keystroke.
Linear response without audible click
Smooth keystrokes with a softer spring for fast and precise actuation
Actuation: 45g
Key-travel distance: 2mm to actuate, 4mm to bottom

Light tactile feedback without audible click
A less-distinct tactile bump than the blue switch, while providing enough feedback for the activation to be felt
Actuation / tactile force: 45g / 55g
Key-travel distance: 2mm to actuate, 4mm to bottom

Strong tactile feedback with an audible click
Distinct tactile bump can be felt easily, providing a satisfying typing experience
Actuation / tactile force: 50g / 60g
Key-travel distance: 2.2mm to actuate, 4mm to bottom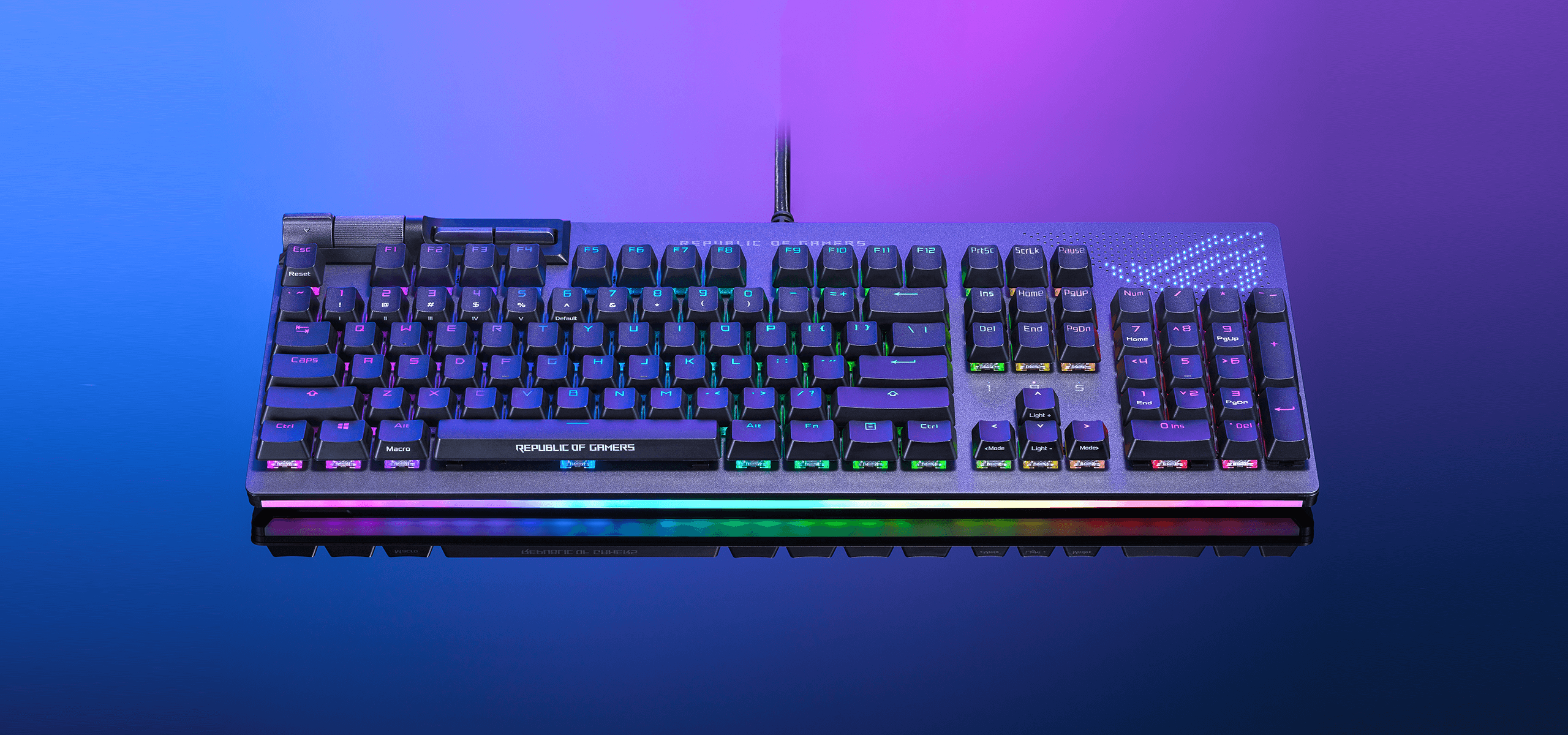 SWITCH ENHANCEMENT
ROG PBT DOUBLESHOT KEYCAPS

ROG PBT Doubleshot Keycaps* provide a unique and premium feel, as well as offer long-lasting durability. Key design has been optimized with mid-height keycaps and a shorter stem to reduce key wobble and provide a more comfortable user experience.

* Keycap material may vary by region.

SWAPPABLE SWITCHES

Swap and install your preferred switch type for a unique, customized feel*.

* Even though the switches are hot-swappable, we recommend not to swap the switches when the keyboard is turned on to prevent short circuits.

ROG SWITCH STABILIZER

A specially tuned switch stabilizer greatly reduces keystroke friction, compared to traditional stabilizer mechanisms, giving you smooth and stable keystrokes for longer keys such as the Spacebar, Shift, and Enter keys.

SOUND-DAMPENING FOAM

Integrated foam absorbs pinging noises and echoes for improved acoustics.
AURA SYNC
With Aura Sync RGB, the entire color spectrum and a range of dynamic lighting effects are at your command. Individually lit keys allow you to create a keyboard that's uniquely yours.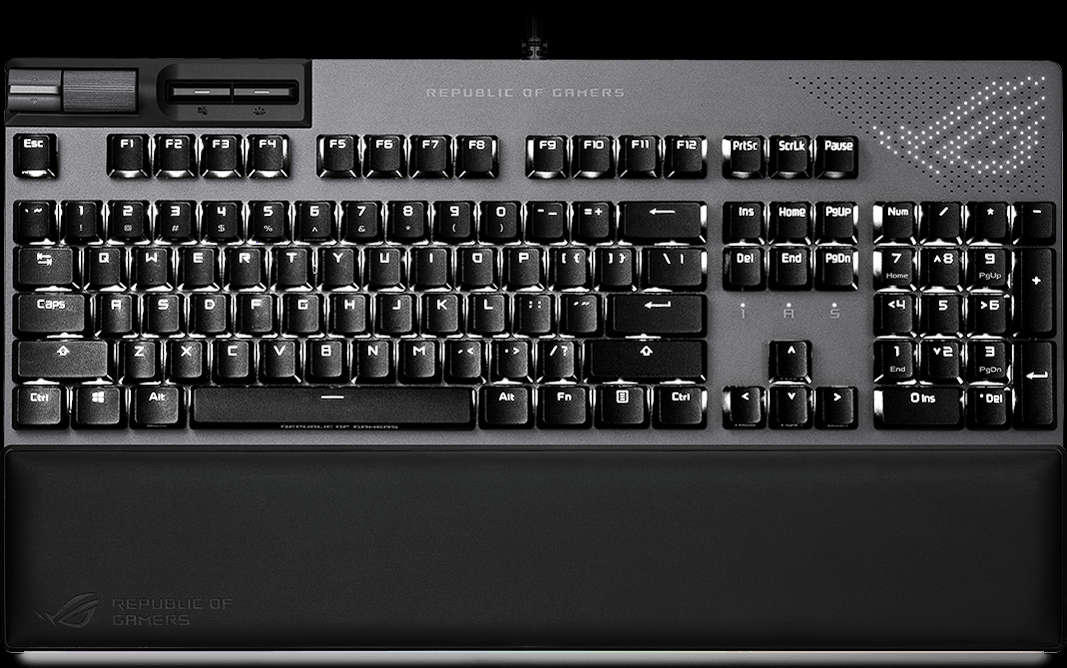 Blue :

Normal scenes

Yellow :

Alert scenes

Red :

Danger/ Hurting
Low point :

40°C

High point :

60°C
Note: Only when devices with monitoring capabilities are present.
Static

Breathing

Color cycle

Rainbow

Starry night

Strobing

Music

Adaptive

Dark

Smart
ARMOURY CRATE
Armoury Crate unifies system and lighting controls. Easily create, define and customize scenario profiles, map keys, and record macros. For ROG Strix Flare II Animate, Armoury Crate also allows you to set custom images and animations, audio visualizations, or system status monitoring.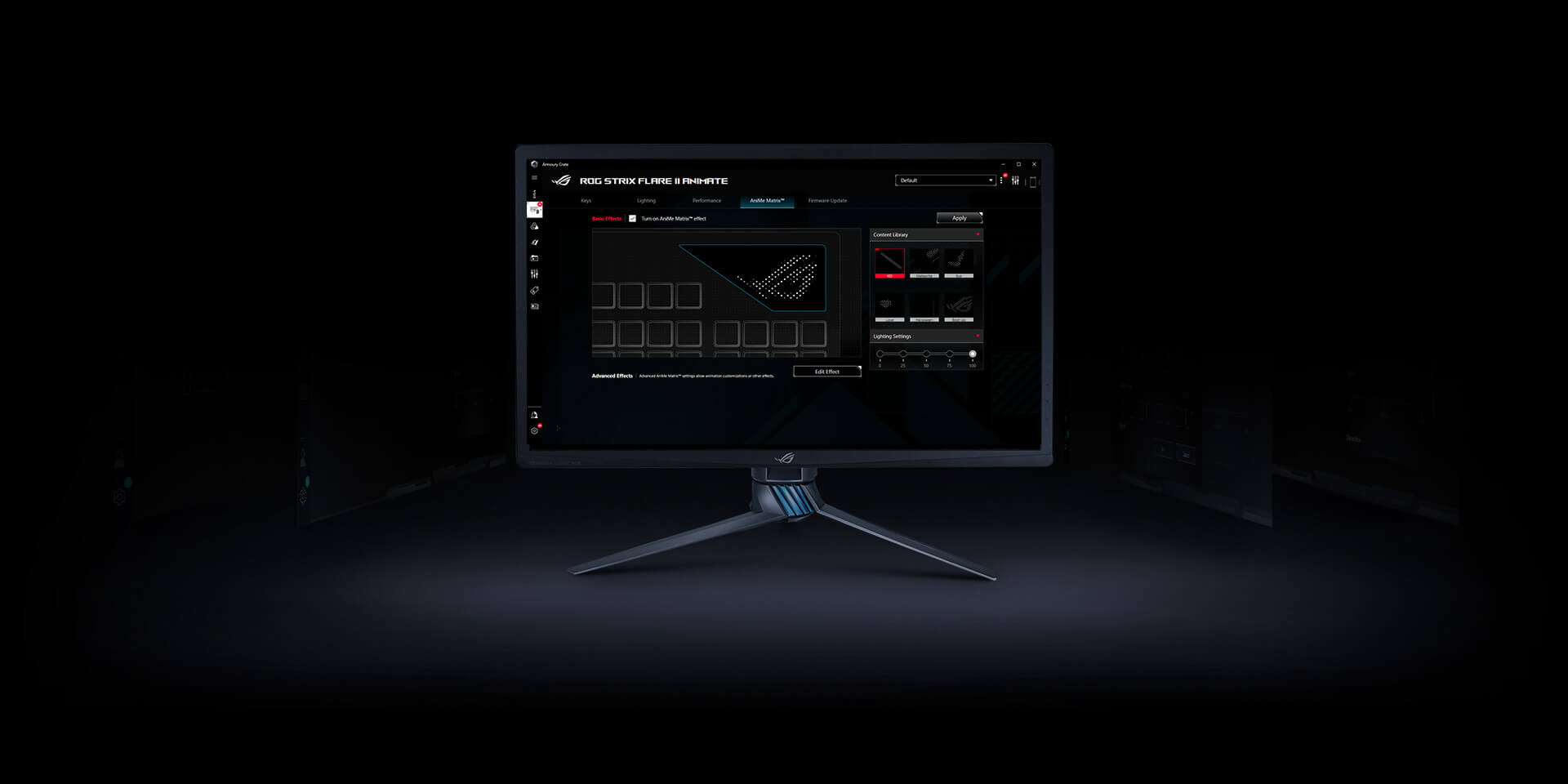 ONBOARD MEMORY

Save up to six profiles, including up to five custom schemes, and use them anytime, anywhere.

100% ANTI-GHOSTING & N-KEY ROLLOVER

Every keystroke is registered accurately without miss no matter how fast you play.

WINDOWS LOCK KEY

Disable the Windows key with a single press for undisturbed gaming.

ON-THE-FLY MACRO RECORDINGS

Record macros on the fly and map them to fully programmable keys.

USB PASSTHROUGH

USB 2.0 passthrough lets you plug in a mouse or flash drive, or charge mobile devices.
Product Comparison
Product added to comparison. Add up to 4 products or proceed to view compare products selected.
ASUS Footer