PCIe 4.0-Ready
ROG Strix B550-F Gaming WiFi II features two M.2 slots, one of which supports the PCIe 4.0 standard to provide maximum storage flexibility and the lightning-fast data speeds. Both M.2 slots support up to the type 22110 socket and NVM Express® RAID for a performance boost.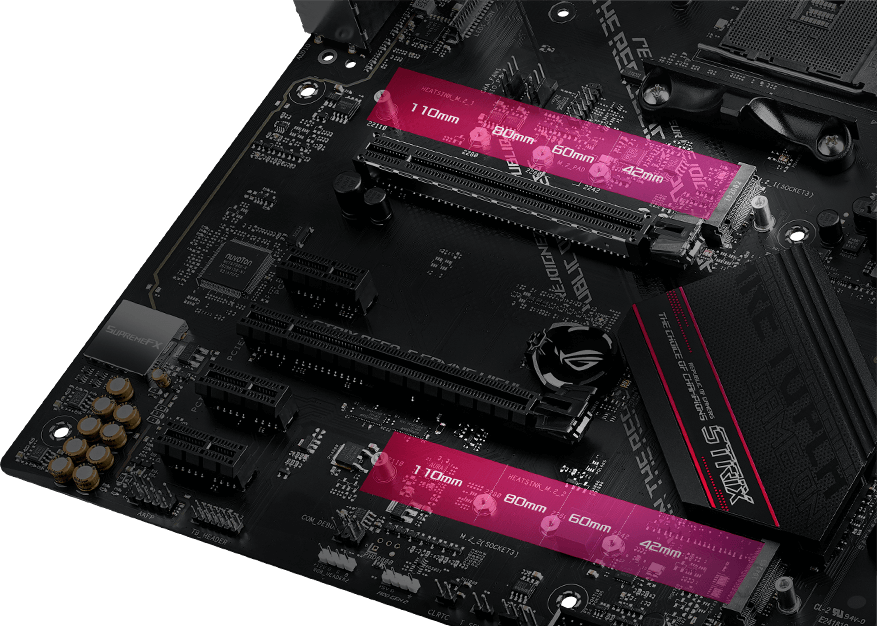 WiFi 6E

Onboard WiFi 6E technology takes advantage of the newly available radio spectrum in the 6 GHz band. It delivers ultrafast wireless networking speeds and improved capacity as well as better performance in dense wireless environments.
*WiFi 6E availability and features are dependent on regulatory limitations and co-existence with 5 GHz WiFi.
Learn more about the ASUS WiFi 6 ecosystem
.
Intel 2.5 Gb Ethernet
Onboard 2.5 Gb Ethernet gives your wired connection a boost, with speeds that are 2.5 times faster than standard Ethernet connections for speedy file transfers, lag-free gaming, and high-res video streaming.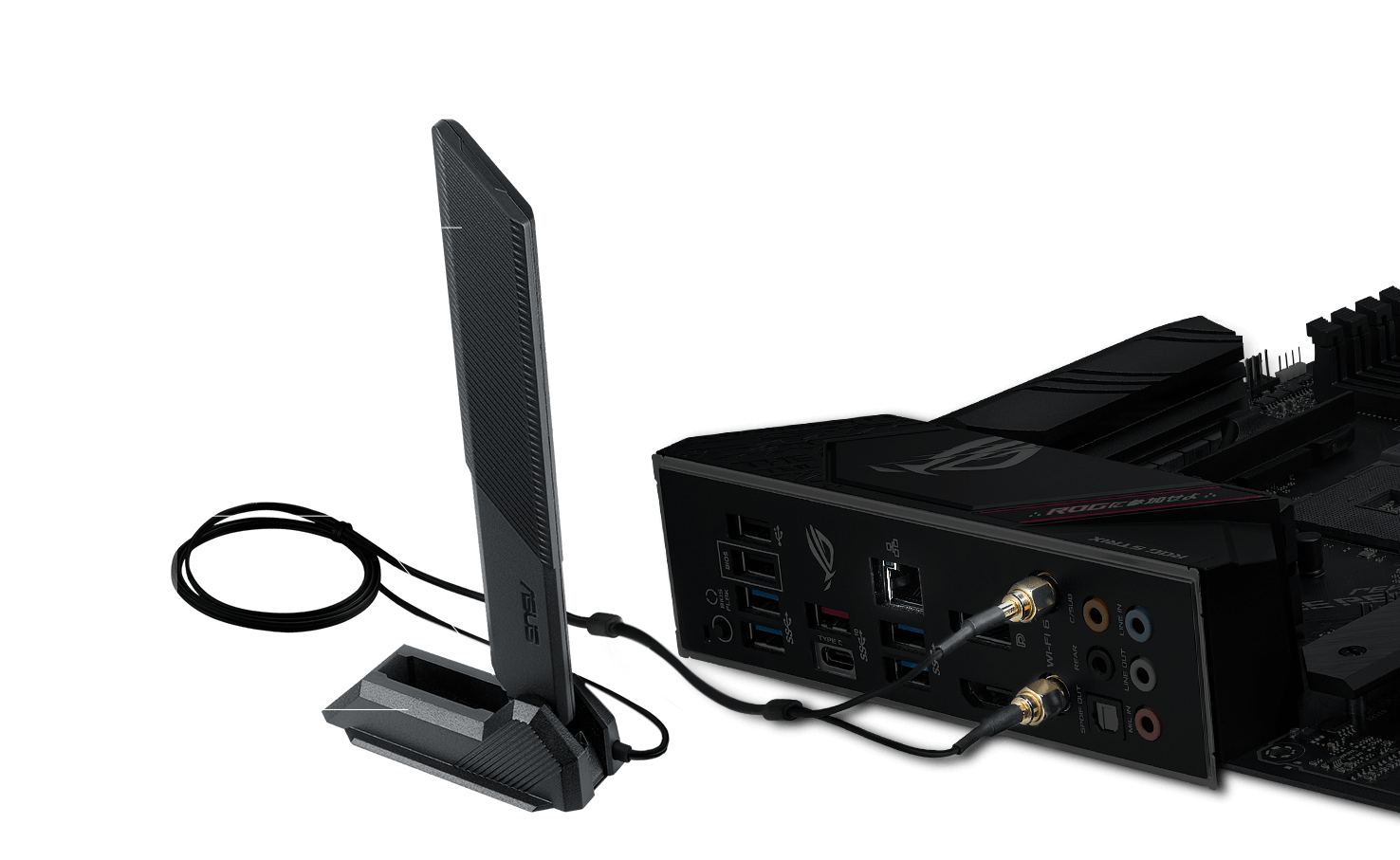 SupremeFX
Two-Way AI Noise Cancelation
Sonic Studio III
DTS Sound Unbound
SupremeFX
Built-in ROG SupremeFX audio technology ensures pristine audio for ROG Strix B550-F Gaming WiFi II. Along with ensuring a flat frequency response for a neutral, detailed sound signature, it offers two front-panel outputs driven by op amps that deliver high-quality audio to gaming headsets.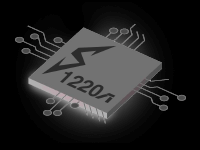 Exceptional RMAA Performance
ASUS exclusive S1220A
Standard ALC1220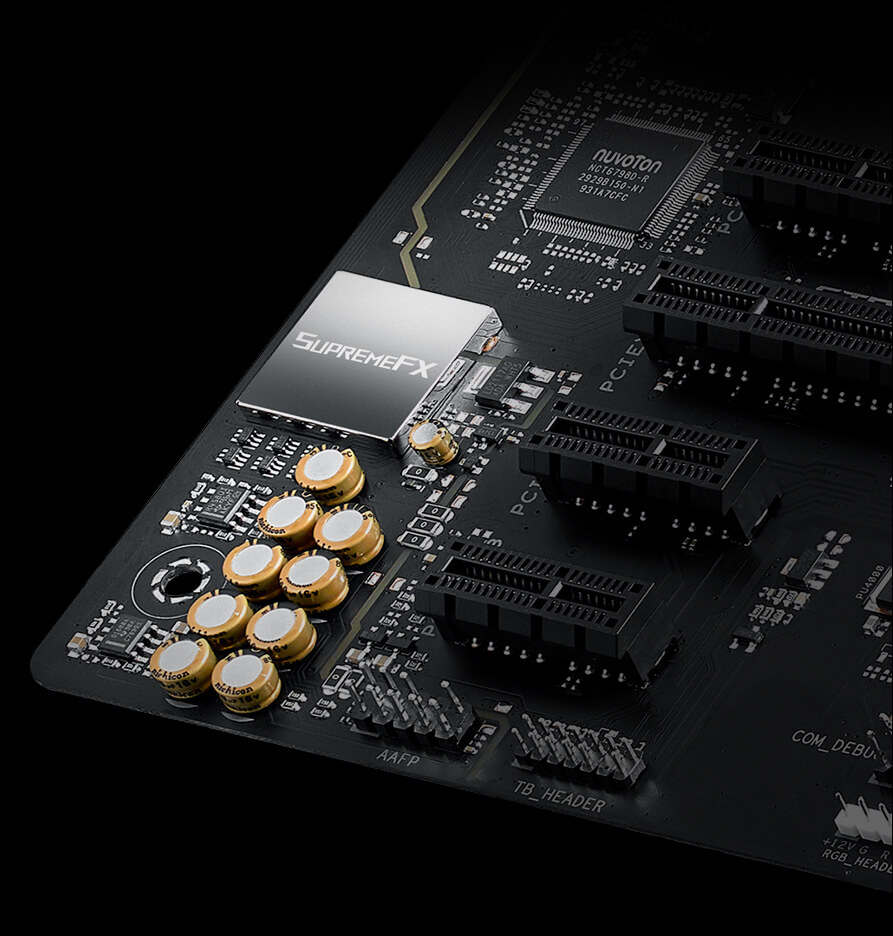 Two-way AI Noise Cancelation
This powerful ASUS-exclusive utility leverages a massive deep-learning database to reduce background noise from the microphone* and incoming audio while preserving voices. Distracting keyboard clatter, mouse clicks and other ambient noises are removed so you can hear and be heard with perfect clarity while gaming or during calls.
*A splitter cable is necessary when using a 3.5 mm headset.
500M

Deep-Learning Database

Audio

Input/output

High

Fidelity

Minimal

Performance Impact
COD: MW - FPS (2560 x 1440)
*Testing configuration: CPU: 11th Gen Intel Core Processor ; Motherboard: ROG MAXIMUS XIII HERO; Graphics card: NVIDIA RTX 3070; DRAM: G.SKILL F4-3200C16Q-32GVK; Power: SUPER FLOWER 550W; HDD: ADATA SX910 SSD 128G; Cooling: Enermax T.B.APOLLISH; Game: CALL OF DUTY: MODERN WARFARE ; Voice Communication App: Discord (In-app noise canceling effects disabled) ; Background noise: Keyboard typing, mouse clicking, people talking, and music playing
*Actual performance varies by configuration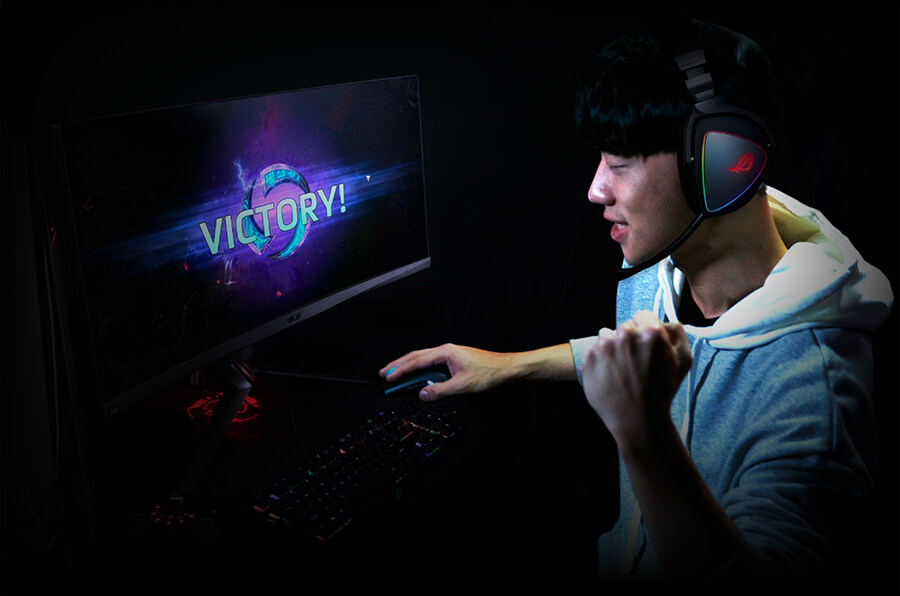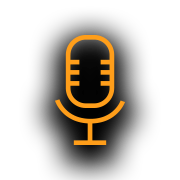 SONIC STUDIO III
Sonic Studio supports HRTF-based (head-related transfer function*) virtual surround for VR headsets, casting an immersive aural landscape that draws you deeper into the action. The intuitive Sonic Studio interface also offers a range of EQ options and one-click presets, allowing you to tailor acoustics to suit personal preferences or the characteristics of your headset.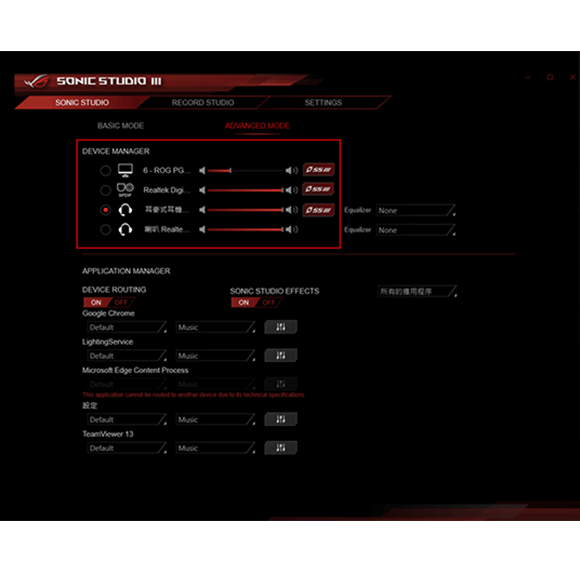 SONIC STUDIO LINK
The new Sonic Studio Link allows you to apply Sonic Studio effects on all playback devices. Simply press the Sonic Studio Link button to enjoy the effect on any connected device.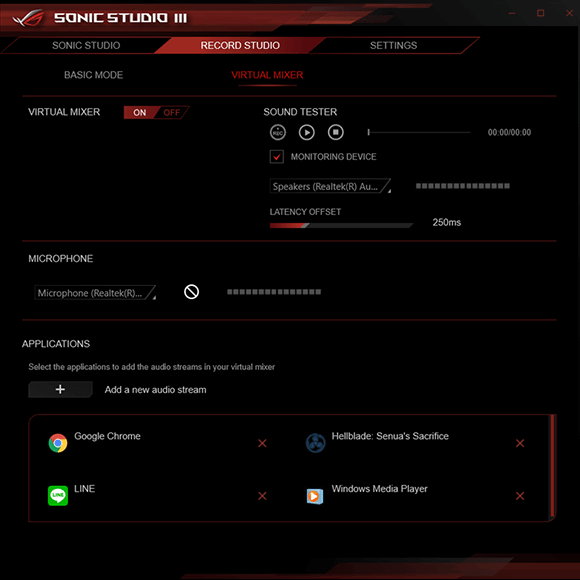 SONIC STUDIO VIRTUAL MIXER
Mix your voice and video game audio together using this software specifically designed for streaming applications. A variety of settings and monitoring.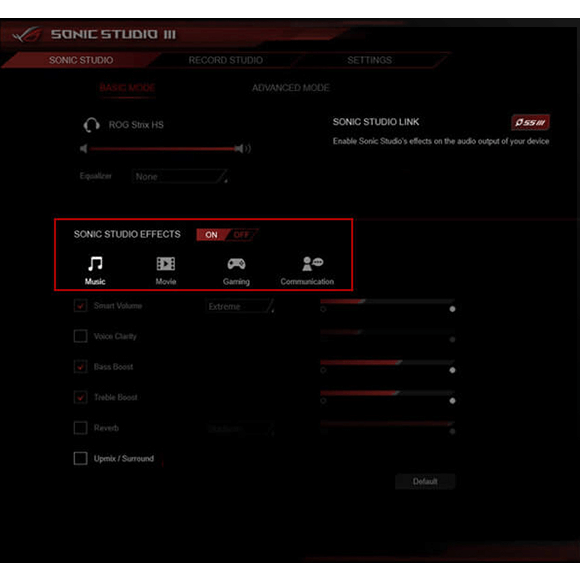 APP-SPECIFIC PROFILES
Apply customized audio settings to various applications, so that each is perfectly tuned to the way you want to listen.
*A head-related transfer function is an audio algorithm derived from sound data recorded through a dummy head. Test tones are played from a spherical grid around the dummy head to obtain subtle changes in sounds that come from different directions. The results are combined into an algorithm that allows Sonic Studio's virtual surround to process audio that's true to life.
DTS: Sound Unbound
ROG Strix B550 series motherboards are pre-loaded with the DTS® Sound Unbound™ app that envelops you in audio as never before, conjuring whole new levels of immersion for extraordinary gaming and entertainment experiences. By leveraging Windows Sonic spatial technology, DTS Sound Unbound delivers audio in a virtual 3D space — putting you right in the middle of the soundscape, where you can sense the location and direction of every gunshot, footstep or other sound in your virtual environment.

* DTS Sound Unbound requires in-game support. Check with developers for supported titles.
STEREO SOUND

Discrete left and right audio channels enable headphone or two-speaker setup.

SURROUND SOUND

Audio is split and served over multiple speaker channels – e.g., 5.1 or 7.1 – to create an enveloping experience on a single, logical plane.

SPATIAL SOUND

A virtual audio 'sphere' effect creates astonishing 360° immersion — with you at the center, where sounds seem to travel in all directions.