Non ci sono articoli nel carrello.
Descrizione
Specifiche tecniche
Premi
Galleria
Dove comprare
Assistenza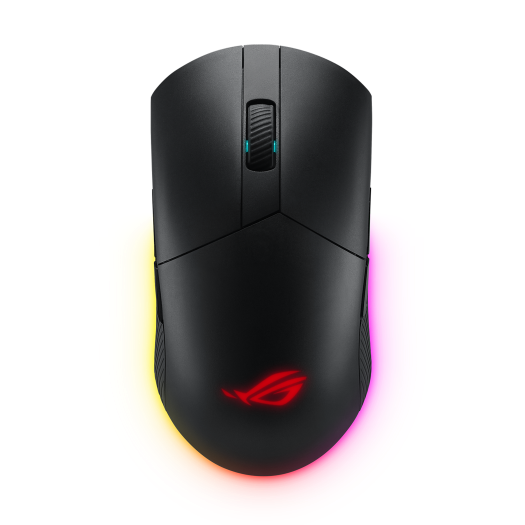 ROG Pugio II
Mouse gaming wireless leggero ambidestro ROG Pugio II con sensore ottico da 16.000 dpi, 7 pulsanti programmabili, pulsanti laterali configurabili, pulsante DPI On-The-Scroll e illuminazione RGB Aura Sync
La connettività ottimizzata include il dual-wireless 2.4GHz e il Bluetooth(BLE), oltre a quella cablata USB
Sensore ottico leader del settore da 16.000 dpi, 400 ips per prestazioni eccezionali
Mouse da gioco ambidestro con pulsanti laterali magnetici configurabili
Esclusivo design della presa per interruttori a pressione, cover superiore magnetica staccabile e badge personalizzabile per il DIY in tutta semplicità
Fino a 100 ore di gioco senza fili con sensore ad alta efficienza energetica
Gestione DPI On-The-Scroll per regolazioni di precisione senza sforzo
Design leggero per una rapida planata, controllo preciso e portabilità
Meccanismo a pulsante imperniato per una risposta rapida e prestazioni precise, accompagnato da una sensazione tattile e pulita
Recensioni Video
Video review from the channel ASUS ROG BALTICS
A scientist's third-grade daughter did a free study on the World Wide Web.
The mouse turned out to be very cool in form, which took all the best decisions from competitors and brought in its decisions, some controversial, some very cool.
Cool mouse - a very cool design, it's cool that you can change switches, all of these keys are a trifle, but nice.
I would not say that this is just marketing - if you buy this mouse, it has everything and you will have it for many years.
We have a truly versatile wireless mouse. Particular attention should be paid to the sensor - it is almost impossible to break.
I didn't pin any hopes on the top-notch product, I was probably even skeptical about this mouse, and as a result I got the mouse that I will always use on a constant basis.
For two weeks of use, I have only pleasant impressions of the mouse. Pressing the buttons is clear, there are almost no backlashes, the sensor works smoothly, without interruptions, the mouse is convenient for work and of course for games.
The mouse is comfortable to use, I liked that it is synchronized with the computer and the keyboard, everything glows in time and in tune.
With a lightweight design, seven programmable keys, as well as integrated Aura RGB lighting, the Pugio II will suit any gamer who wants perfection during the game.
Confronta Prodotto
Prodotto aggiunto per il confronto. Aggiungi fino a 4 prodotti o procedi a confrontare i prodotti selezionati.
ASUS Footer