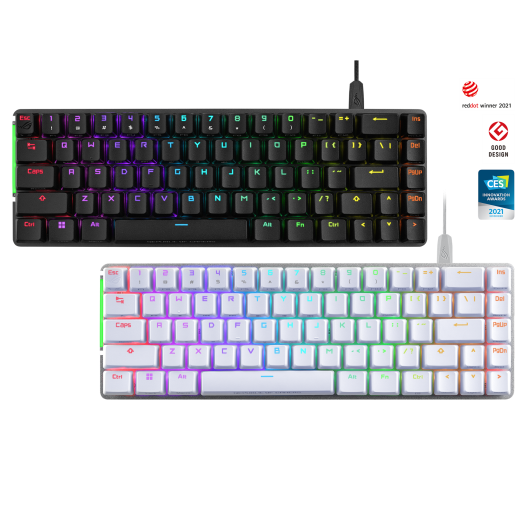 ROG Falchion Ace
ROG Falchion Ace 65%コンパクトゲーミングキーボード ー ルブ済みROG NXメカニカルスイッチ、ROGスイッチスタビライザー、消音フォーム、インタラクティブなタッチパネル、デュアルType-Cポート、3段階の角度調整、カバーケース
コンパクトなデザイン:65%キーボードが60%のフレームに矢印キーとナビゲーションキーを巧みに組み込んでいます
ROG NXメカニカルスイッチ:ルブ済みのスイッチがスムーズなクリック感を実現し、打鍵音を低減。高速な動作とROG独自の力曲線が、最高の打鍵感と安定性を実現
ROG NXメカニカルスイッチの詳細はこちら
打鍵感が向上:特別にデザインされたキーボードスタビライザーが摩擦を軽減し、長めのキーでも滑らかなキーストロークと安定した打鍵感を実現
直感的なコントロール:インタラクティブなタッチパネルで調整とカスタマイズが簡単に
デュアルUSB-C®:柔軟性に優れたポート配置により、すっきりとしたセットアップを実現し、2台のPCを素早く切り替えることも可能
人間工学に基づいた設計:キーボードを3段階の角度に調整することで快適性と操作性が向上
ポータブルデザイン:革新的なカバーケースがキーボードを外出先でも保護
レビュー動画
【真相解明】FPSガチ勢向けのゲーミングデバイスを初心者が使ってみる【ASUS ROG ACE】
ASUSの"本気"ゲーミングデバイスで揃えたらヤバかった【ROG ACEシリーズ】
【 ROG ACE SERIES 】本気で勝つためのゲーミングデバイスが登場したぞ...!
プロと共同開発したASUS最強のゲーミングデバイスを知っていますか?
プロゲーマーと共同開発された最強デバイスをレビュー【ROG×AIMLAB】
【潜入】ASUS ROG 初のE-Sportsコレクション「ACE SERIES」発表会に行ってきた【自作PC】
【ASUS本気出しすぎて草】エイムの世界記録保持者が作った最強ゲーミングデバイスが発売されました。 [ROG Harpe Ace/Horn Ace AimLab Edition]
【超軽量54g】ASUS ROGとAim Labが作ったE-Sports向け、新しいゲーミングマウスとゲーミングキーボードを使ってみた【ROG Ace】【自作PC】
【軽量54g】ROGが本気で作ったEsports向ゲーミングデバイス / ROG ACE
Build PC GAMER ROG Full White Powered by ASUS à 5000 €
Among the strengths of the ROG Harpe Ace Aim Lab Edition are its light weight and, on a quality level, its solidity. In fact, the build quality is fantastic and the shape is also well thought out. The level of this mouse is definitely high. The only negative note is the high price.
Asus ROG Falchion Ace - Review in English
The mouse is so light that when Asus sent the box, it looked like there was nothing in it.
製品比較
比較対象製品を加えてください。最大で4製品までを比較することが可能です。
ASUS Footer