Features
Tech Specs
Gallery
Support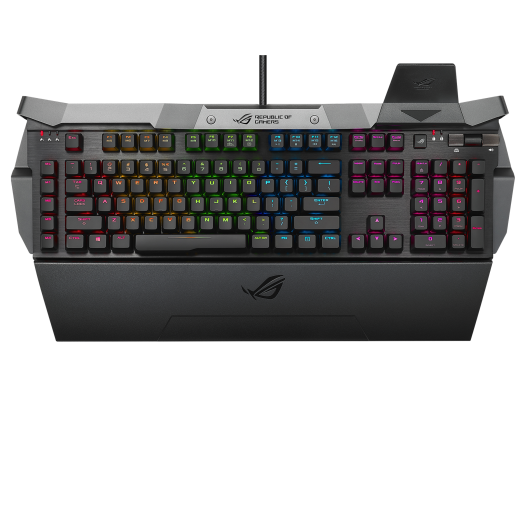 ROG Horus GK2000 RGB Mechanical Gaming Keyboard
DOMINATE THE BATTLEFIELD WITH MECHANICAL MASTERY
ASUS Aura RGB backlit keyboard with 16 million colors
Anodized brushed aluminum finish
Powerful 32-bit processor
Customizable macros via an intuitive ROG user interface
Durable Cherry MX Red mechanical switches
100% anti-ghosting with N-Key rollover
AGGRESSIVE ROG DESIGN
ASUS AURA RGB BACKLIT KEYBOARD
32-BIT PROCESSOR
SOFTWARE DESIGNED FOR GAMERS
MECHANICAL SWITCHES
ASUS AURA RGB BACKLIT KEYBOARD
SOFTWARE DESIGNED FOR GAMERS
ROG Horus RGB takes its name from a deity — Horus — who is known as the god of war and hunting. Often depicted as a falcon in ancient Egyptian hieroglyphs, Horus is the perfect name for a gaming keyboard that's designed to deliver the precision and aggression you need to ensure victory.
With a built-in 32-bit microprogrammed control unit (MCU) and 8MB of onboard memory, Horus RGB offers robust performance and an intuitive ROG user interface that allows you to customize macro and function keys to create complex multi-key commands that can be executed with a single keystroke.
The aggressive design of Horus RGB includes intricate aluminum wings and an anodized keyboard plate with a brushed finish. Because it's ASUS Aura-capable, Horus RGB offers more than 16 million colors to choose from, so you can fully customize lighting effects to match your unique gaming style.
BLACK ANODIZED
BRUSHED ALUMINUM FINISH
The ROG Horus RGB keyboard features CNC-processed aluminum wings that include a special titanium-effect topcoat. These wings perfectly complement the brushed finish of the anodized keyboard plate, giving Horus RGB a sleek and aggressive look.
ADJUSTABLE ERGONOMIC PALM REST
ROG Horus RGB features a detachable 47 x 70mm palm rest to ensure comfortable wrist support, so it's perfect for marathon gaming sessions. A two-step adjustable stand allows easy keyboard angle changes.
Horus RGB also offers a detachable stand for your mobile devices. Simply place your device on the left or right top wing for easy viewing.
LED-BACKLIT KEYS WITH ASUS AURA RGB EFFECTS
ROG Horus RGB features ASUS Aura RGB technology, so you can illuminate your LED-backlit keys for better accuracy in low-light gaming environments and personalize your rig with more than 16 million color options.
off
static
breathing
color cycle
reactives
ripple
wave
rain
star
laser
mix
customized
EXCLUSIVE GAMER-CENTRIC FEATURES AND UTILITIES
POWERFUL 32-BIT PROCESSOR
ROG Horus RGB features a 32-bit microprogrammed control unit (MCU) with 8MB of storage, allowing you to save essential macro functions, lighting controls and profile settings. With the added benefit of having all of your information stored onboard, you can use your Horus RGB with any PC without having to re-map key functions.
CUSTOMIZABLE MACROS
VIA AN INTUITIVE ROG USER INTERFACE
ROG Horus RGB offers an intuitive ROG user interface that allows you to program macro and function keys to enable complex multi-key moves with just a single keystroke. You can store up to 10 user profiles using onboard memory, and drag-and-drop various saved profiles via the Profile Management menu.
PROFILES
Easy profile management allows you to save up to 10 profiles for different games and apps. Store numerous profiles on your PC and just drag-and-drop them into the built-in memory.
KEY CUSTOMIZATION
Every key on ROG Horus RGB is customizable. Assign keys for PC and mouse functions, media controls, internet, rapid-fire settings, keyboard macros, etc.
AURA RGB LIGHTING
Choose from 9 different illumination modes to match the game you're playing, or customize 2 individual lighting modes.
MACRO RECORDER
Fire off complex multi-keystroke super-combo strikes or commands with a single key.
DURABLE CHERRY MX RED MECHANICAL SWITCHES
Mechanical switches and 4mm key travel for tactile, responsive keystrokes
Ergonomic keycaps — ideal for gaming and typing
Increased durability with a 50-million-keystroke lifespan
ASUS Aura RGB illumination offers more than 16 million colors
BUILT-IN USB PORTS FOR ADDED CONVENIENCE
Two USB ports at the rear of the keyboard enable connections for external flash drives or other peripherals. Built-in audio output ports are included for gaming headsets.
DEDICATED MULTIMEDIA CONTROLS
Onboard multimedia controls allow you to adjust or mute audio by turning a knob, or change LED effects without taking your hands off the keyboard.
100% ANTI-GHOSTING WITH N-KEY ROLLOVER
N-Key rollover (NKRO) and 100% anti-ghosting technologies ensure that each keystroke is registered — no matter how many keys are pressed!
FEATURES
Product Comparison
Product added to comparison. Add up to 4 products or proceed to view compare products selected.
ROG Footer