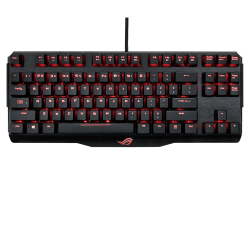 Macro Keys
All keys programmable - except Fn / Num Lock / Caps Lock / Win Lock / Scroll Lock / Right Alt
USB Report rate
(USB Report rate)
1000 Hz
Profile Hot Keys
Fn + 1/ 2 / 3/ 4/ 5/ 6: Profile 1 - 6 (6 is default profile)
Lighting Effects Hot Keys
Brightness Setting Hot Keys
Fn + Up: Brightness up (5 levels) Fn + Down: Brightness down (5 levels)
Color Setting Hot Keys
Fn + Delete: Red increase (10 levels) Fn + End: Green increase (10 levels) Fn + PageDown: Blue increase (10 levels)
Clear On-Board Memory Hot Keys
Hold Fn + Esc for 15 seconds
Macro Hot Keys
Step 1: Fn + Right-ALT to start recording Step 2: Fn + Right-ALT to end recording Step 3: Assign Macro Key
Media Hot Keys
Play/Pause (F5), Stop (F6), Previous (F7), Next (F8), Mute (F10), Volume Down (F11), Volume Up (F12).
Cable
1 X 1.8-meter braided USB cable
Contents
1 x Claymore Core keyboard 1 x USB cable 1 x ROG pouches 2 x ROG logo stickers User documentation
ROG Claymore Core
Product Comparison
Product added to comparison. Add up to 4 products or proceed to view compare products selected.
ROG Footer