Features
Tech Specs
Awards
Support
REDEFINE HOW YOU PLAY
Laptops limit cooling and lock you into a fixed position that's needlessly rigid for desktop replacements, so we've reimagined the form factor to raise your game. ROG Mothership is a portable Windows 10 Pro powerhouse with an innovative standing design that enhances cooling for its factory overclocked GeForce RTX™ 2080 GPU and 9th Gen Intel® Core™ i9 eight-core CPU. Choose between G-SYNC™ displays with a detailed 4K resolution or blazing 144Hz refresh rate, and use the detachable keyboard to adapt to how you play. SSD RAID storage and 2.5G Ethernet bring ultra-fast performance to every part of this revolutionary gaming machine.
DESIGN
Each aluminum unibody is milled to perfection with a precise CNC machining process. The chassis stands tall to improve airflow and cooling, enabling a slimmer and more portable design. It leans back on a stepless hinge to suit any setting and separates from the keyboard for additional versatility. Detach and reposition the keyboard for your ideal gaming stance, or replace it with your favorite desktop peripherals. ROG Mothership can deploy on the road or power a full battlestation at home.
NVIDIA® GeForce
RTX™ 2080
Machined metal jacket
CNC machines carve blocks of solid aluminum to create the main pieces for the chassis and keyboard. The painstaking process takes 114 tooling stages and nearly 20 hours to shape every little detail, then each piece is brushed and anodized to add a premium finish. This produces an exquisite body that's stylish enough to turn heads and strong enough to withstand the knocks and bumps of life on the road.
Stand up or lean back
The kickstand pops out automatically when ROG Mothership is placed on a desk. It props up the display at a conventional angle or tilts back at up to 127°, so you can sit in a normal position or hover over the battlefield. The stepless hinge rotates smoothly, requiring only the push of a finger to go from standing tall to fully reclined. Choose the best position for the game and situation.
Aura Sync from the inside out
RGB LEDs glow from behind slits cut into the case, complementing per-key lighting embedded in the keyboard. You can customize colors and effects to add a personal touch to the striking aesthetic. Aura Sync matches the lighting with compatible peripherals like ROG keyboards, mice, and headsets to synchronize illumination across your rig, elevating the look of your entire setup.
THERMAL
STAND TALL TO
BREATHE DEEPER
Laptops have limited airflow because most intake is from vents under the chassis, where there's little room to breathe, but ROG Mothership's unique design inhales cool air freely from the back. Standing tall lowers temperatures by up to 14°C*, and liquid metal takes CPU cooling to the next level. Seamless switching between Scenario Profiles optimizes performance and acoustics for the task at hand.
*Unless otherwise stated, figures are based on theoretical performance. Actual figures may vary in real-world situations.
Exotic Thermal Compound
Liquid metal compound from Thermal Grizzly reduces CPU temperatures by up to 13°C* compared to standard thermal paste. The right amount must be applied meticulously for the best results, so we commissioned custom equipment that automates the process with mechanical precision. The block that sits on the CPU also has a special internal fence that prevents liquid medal from leaking out over time.
*Unless otherwise stated, figures are based on theoretical performance. Actual figures may vary in real-world situations.
Eight pipes for full coverage
Transferring heat away from vital parts helps maintain performance and stability, especially beyond stock speeds, so ROG Mothership snakes heatpipes across its CPU, GPU, and the VRM supplying their power. Heat spreaders add the VRAM and additional power components to the network, while sintered walls inside each pipe accelerate thermal transfer and help keep the power components under 80 °C.
More ultra-thin heatsink fins
Thermals are dissipated by four heatsinks lining the top corners of the chassis. Each one is filled with ultra-thin copper fins that measure just 0.1mm, allowing higher density and lower air resistance than typical fins that are twice as thick. With 375 fins and 198,276mm2 of total surface area, the cooling system can handle the heat output of high-end hardware at overclocked speeds.
Self-cleaning cooling system
To keeping the heatsinks free of dust and debris that can compromise cooling performance over time, ROG Mothership ejects particles through special anti-dust tunnels in its fans. This self-cleaning system helps preserve the cooling efficiency required to sustain high clocks and peak performance, and it improves long-term stability and reliability to keep your system running smoothly for longer.
High‑performance 12V fans
ROG Mothership's dual fans run on 12V power that lets them spin faster and generate more airflow than typical 5V fans. They draw air in directly from the back of the chassis, free from the restricted airspace endured by traditional laptops that sit flat. Exhaust is pumped through four outlets at the top corners of the chassis, keeping warm air from blowing onto your mousing hand.
The right mode for the moment
Expertly tuned system profiles let you quickly adapt to different scenarios using a convenient keyboard shortcut. With the highest fan speed and frequencies, Turbo mode is the best for maximum performance. Balanced mode optimizes performance and cooling to lower noise levels under 40 dB for gaming, while Silent mode goes further to take acoustics below 35 dB for lighter workloads like watching movies.1
PERFORMANCE
TAKE THE LATEST HARDWARE
TO THE NEXT LEVEL
ROG Mothership raises the bar with a factory overclocked GPU and CPU that are unlocked for further tuning. The GeForce RTX™ 2080 boosts up to 1880MHz at 200W, and its 8GB of GDDR6 VRAM is clocked at 7200MHz, setting a new standard for laptop gaming and VR performance, while the 9th Gen Intel® Core™ i9 CPU unleashes eight cores and 16 threads on heavy workloads.* They're paired with up to three NVMe SSDs in RAID 0, with two drives connected to the CPU to reach an insane 8700MB/s.
*Unless otherwise stated, figures are based on theoretical performance. Actual figures may vary in real-world situations.
NVIDIA® GeForce
RTX™ 2080
Factory overclocked CPU
ROG Mothership has enough processor power to mix gaming with CPU-intensive streaming, or to tackle serious work like content creation and 3D rendering. Its Intel® Core™ i9-9980HK is typically limited to 4.2GHz when all eight cores are engaged, but we crank it to 4.9GHz out of the box. And the chip is fully unlocked, so you can push even higher with just a few clicks in our Armoury Crate software.
The latest Turing GPU
The new NVIDIA Turing™ graphics architecture brings real-time ray tracing and AI to games. ROG Mothership takes it to the next level with a factory overclocked GeForce® RTX 2080 GPU that runs faster than stock. The cutting-edge GPU is paired with 8GB of GDDR6 VRAM and capable of powering advanced lighting, shadow, and reflection effects that make graphics more lifelike than ever before.
Three-drive SSD RAID
HyperDrive Extreme combines up to three PCIe 3.0 x4 SSDs in a RAID 0 array that achieves high capacity with unmatched performance. The secret is connecting two drives directly to the CPU, which sidesteps the DMI link to the chipset and enables top speeds up to a staggering 8700MB/s. All three M.2 NVMe drives are covered by a heat spreader that improves cooling for sustained workloads.
* Actual performance may vary according to system configuration.
* To reach speeds of up to 8700MB/s, a Samsung PM981 and two Intel 760p SSDs (for the CPU-attached slots) are required for a RAID 0 setup comprising of three NVMe PCIe 3.0 x4 SSDs.
Load up on DDR4 memory
With four SO-DIMM slots and support for up to 64GB of memory, ROG Mothership can easily master demanding multitasking and content creation. Its power-efficient DDR4 memory is clocked at 2666MHz, yielding an 11% increase in total bandwidth compared to the previous generation.
NVIDIA® GeForce RTX™
20-series GPU
Fast, quiet performance. Real-time ray tracing and AI-enhanced graphics. And the mobility of the world's thinnest and lightest designs. It's everything you want. And it's only in GeForce RTX™ gaming laptops.
NVIDIA Turing Architecture
This revolutionary architecture, combined with our all-new GeForce RTX™ platform, fuses together real-time ray tracing, artificial intelligence, and programmable shading. You've never created and enjoyed games like this before.
Real-Time Ray Tracing In Games
Ray tracing is the definitive solution for lifelike lighting, reflections, and shadows, offering a level of realism far beyond what's possible using traditional rendering techniques. NVIDIA Turing™ is the first GPU capable of real-time ray tracing.
Amazing Performance
GeForce RTX™ gaming laptops are powered by the NVIDIA Turing™ GPU architecture and the groundbreaking NVIDIA RTX™ platform. Count on the fastest, most realistic, AI-enhanced gaming experiences.
DISPLAY
Choose from the best IPS-level displays
Immerse yourself in gorgeous graphics on one of two beautiful 17.3" displays. Choose amazingly crisp and detailed 4K visuals with a broad range of rich colors. Or opt for a faster Full HD panel whose 144Hz refresh rate and 3ms response time are tailored for fast-paced play. Both use G-SYNC™ technology to deliver smoother gameplay with lower input lag and no tearing.
100% Adobe RGB UHD resolution
100% sRGB Ultra-fast response
AUDIO
Turn up the Hi-Res Audio
Redesigning the form factor lets us arrange four speakers along the front edge to fire high-quality sound directly at you. ROG Mothership's audio is powered by a premium ESS® Sabre HiFi DAC with Hi-Res Audio certification. Smart amplification lets you pump up the volume without damaging the speakers, while virtualization simulates surround sound for stereo devices like headphones and VR headsets.
CONNECTIVITY
Stay connected at warp speed
Free yourself from gigabit bottlenecks. ROG Mothership amps up networking with 2.5G Ethernet that lifts your LAN to the next level. Next-gen Intel® Wi-Fi 6 with Gig+ (802.11ax) surpasses gigabit speeds and offers higher efficiency and performance on busy networks. Patented ROG RangeBoost tech moves the signal between pairs of antennas to maximize signal strength and reduce connection drops that hurt your game.
3X HIGHER Wi-Fi THROUGHPUT
Intel® Wi-Fi 6 (802.11ax)
*Speed may vary according to setup
KEYBOARD
Have the keyboard your way
Gaming desktops let you set the keyboard at just the right angle, and ROG Mothership offers the same freedom. Its keyboard easily pulls away from magnetic anchors and can run wirelessly on 2.4GHz or tethered via USB Type-C. Fast-firing switches put a familiar desktop layout at your fingertips. Personalize the per-key RGB backlighting for different games and load profiles automatically with Armoury Crate.
IO CONNECTION
Expand Your Battlestation
Everyone's ideal gaming setup is different. The versatile ROG Mothership design offers extensive connectivity to create your ideal gaming environment. Three USB 3.2 Gen 2 and one USB 3.2 Gen 1 ports leave ample room for all of your favorite peripherals. Attach up to three additional external monitors and multi-task like a pro via the USB 3.2 Gen 2 Type-C™ with DisplayPort™ 1.4, USB-C with Thunderbolt 3, and HDMI 2.0 ports. Play games, catch up on team chat, and browse the web on different screens, all at the same time.
SOFTWARE
UNIFIED SYSTEM TUNING AND PERSONALIZATION
ROG Armoury Crate unifies system and lighting controls to put essential settings at your fingertips in a single utility. You can easily define and customize Scenario Profiles that automatically make adjustments when you launch your favorite titles.
* Interface may vary by version.
ROG GameFirst V technology maximizes throughput for your game! It prioritizes network packets to increase bandwidth for online gaming and streaming that need it the most. Auto mode prioritizes applications automatically, while Manual mode lets you categorize programs and prioritize them yourself. In addition, ROG First ensures ROG and ASUS RT-series routers prioritize packets according to the GameFirst V settings of your ROG laptop.
ROG GameVisual software offers six expertly tuned graphic modes designed to optimize your visual experience for specific game genres. First Person Shooter (FPS) mode, for example, enhances visibility in dark environments, allowing you to get the drop on any enemies lurking in the shadows. Use GameVisual to get the best experience for every game in your library.
Sonic Studio III supports all of your in-game audio needs. Its main control panel offers manual customizations as well as access to five specially tuned audio modes for different game types. Enhanced noise cancellation, voice-volume stabilization, and echo cancellation for recording give you clearer audio transmission for team voice chat and streaming.
The new Sonic Radar III audio engine processes sounds with heightened spatial and positional clarity, giving you greater environmental awareness in-game. Visualized audio details, such as the onscreen arrow that points in the direction of incoming sounds, can help train your ears and also guide you through gameplay in circumstances where in-game audio is difficult or impossible to hear.
* Download this app for free from the Recommended Apps tab of our ROG Armoury Crate software.
Customize the RGB lighting on Aura-compatible peripherals to suit your gaming style. Aura Core's easy-to-use control panel allows you to alter a brilliant spectrum of lighting effects and colors, in addition to swapping preset lighting modes, You can also activate Aura Sync to match colors and effects across multiple devices.
Automatic switching between Silent, Balanced, and Turbo modes is just the beginning for Scenario Profiles. You can also define application-specific preferences for other vital system settings, like the lighting configuration, whether the Windows key or touchpad are enabled, and which GameFirst V and Sonic Studio III profile to use. Armoury Crate makes adjustments in an instant to best fit the task at hand, and you can configure each profile exactly how you want.
The free version of XSplit Gamecaster allows you to live stream and broadcast directly to internet streaming platforms, or make recordings for easy sharing online. You can even interact with your audience while broadcasting on YouTube and Twitch.
* Download this app for free from the Recommended Apps tab of our ROG Armoury Crate software.
Pick up the free Armoury Crate mobile app for Android or iOS to easily access your settings without interrupting your game! Available now on both Google Play™ and the App Store.
ACCESSORY
ALL THE GEAR YOU NEED
Each ROG Mothership comes with a dossier detailing the system's design and development. It tells the story behind the project and provides technical diagrams and schematics that illustrate the hardware under the hood. You can also bundle the ROG Mothership with an array of gaming peripherals and accessories; equip the right supporting cast for your setup.
* Bundle options may vary by region.
ROG GLADIUS II
ROG CERBERUS V1
ROG BACKPACK
BIRTH CERTIFICATE
1Unless otherwise stated, performance figures are based on theoretical performance. Actual figures may vary in real-world situations.
© 2018 NVIDIA Corporation. All rights reserved. NVIDIA, the NVIDIA logo, and GeForce are trademarks and/or registered trademarks of NVIDIA Corporation in the U.S. and other countries.
© 2018 Activision Publishing, Inc. ACTIVISION, CALL OF DUTY, CALL OF DUTY BLACK OPS, and the shield logo are trademarks of Activision Publishing, Inc. All other trademarks and trade names are property of their respective owners.
Related Products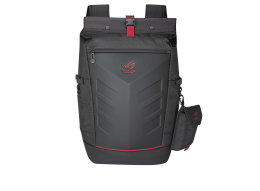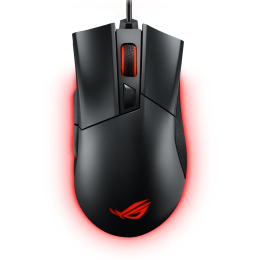 Ergonomic optical gaming mouse optimized for FPS featuring push-fit switch socket design, Aura RGB lighting with Aura Sync-support and DPI target button

Disclaimer
The standard Asus test environment for battery life is as follows: Windows operating system, display module with 150 nits of brightness, lighting off, and other application settings.
Video Playback: Testing is done with Wi-Fi/Bluetooth off, Windows Power Plan set to Balanced, Taskbar Power Mode set to Battery Saver, system volume at 67%, and video at full screen, 1080p resolution
Web Browsing: Testing is done with Wi-Fi/Bluetooth, Windows Power Plan set to Balanced, Taskbar Power Mode set to Better Battery, and using the Weblooper Top50 website in Google Chrome to play the video with a refresh time of 10 seconds.
Factors that affect battery life include laptop configuration, power settings, and the way it is used. Battery capacity fades with its cycle count and age.
Quick-charging times apply when using the proper ASUS/ROG adapter included alongside the select model and the system is powered off (via the "shut down" command). In compatible scenarios, batteries can be recharged to 50% within 30 minutes under the optimal temperature range of 20-45 degrees Celsius. Charging times may vary +/- 10% due to system tolerance.
The terms HDMI, HDMI High-Definition Multimedia Interface, HDMI Trade dress and the HDMI Logos are trademarks or registered trademarks of HDMI Licensing Administrator, Inc.
The actual HDMI version of the products should be checked in the product specifications page respectively.
Unit with RJ45 port does not support "Power over Ethernet" (PoE), only support data transmission.
Products certified by the Federal Communications Commission and Industry Canada will be distributed in the United States and Canada. Please visit the ASUS USA and ASUS Canada websites for information about locally available products.
All specifications are subject to change without notice. Please check with your supplier for exact offers. Products may not be available in all markets.
Specifications and features vary by model, and all images are illustrative. Please refer to specification pages for full details.
PCB color and bundled software versions are subject to change without notice.
Brand and product names mentioned are trademarks of their respective companies.
Unless otherwise stated, all performance claims are based on theoretical performance. Actual figures may vary in real-world situations.
The actual transfer speed of USB 3.0, 3.1, 3.2, and/or Type-C will vary depending on many factors including the processing speed of the host device, file attributes and other factors related to system configuration and your operating environment.
Product Comparison
Product added to comparison. Add up to 4 products or proceed to view compare products selected.
ROG Footer