Features
Tech Specs
Awards
Gallery
Support
Fight till Daylight
Aim for esports excellence with the ROG Strix SCAR III, engineered to compete at the top tier of Windows 10 Pro gaming. Intelligent Cooling unleashes the raw power of the 9th Gen Intel Core CPU and GeForce RTX™ graphics, while the world's fastest 240Hz/3ms laptop display lets you play at the speed of pro gaming. Jump into multiplayer matches anywhere with stronger RangeBoost Wi-Fi, show off your personality with the wraparound Aura Sync light bar, and gain privacy for personal data with the new ROG Keystone.
15-INCH MODEL
17-INCH MODEL
Design
FORWARD-THINKING FUNCTIONAL DESIGN
Efficiency and innovation unite in the sleek, gunmetal grey ROG Strix SCAR III. Its strategic design is inspired by our collaboration with BMW Designworks Group, and carves out a cooling advantage with its 3D Flow Zone. The subtle, carbon-patterned interior is accented by Aura Sync lighting that extends across the new wraparound light bar, keyboard, and ROG logo. Whether you're gearing up for competition or hopping into quickplay, this metal-capped machine is fine-tuned and ready for action.
INSPIRED LINES
The striking design is inspired by our collaboration with BMW Designworks Group to imagine the future of gaming laptops. Raised ridges riff off the swooping gills of the Face Off concept, adding a sculpted surface that draws your eye to the extra venting above the rear exhaust. Docking an ROG Keystone triggers a transformation that shapes the look and feel of the system with a distinctly physical interaction, evoking a deeper connection that parallels another key theme explored by the project.
LIGHTEN YOUR MOOD
Game in the glow of the all-new expanded light bar. Diffused RGB LEDs wrap around the rim of the chassis, illuminating the front and side edges with customizable colors and effects. Personalize illumination across your entire suite of compatible Aura Sync peripherals, and set the right mood for focusing your competitive mindset.
SLIM BEZELS FOR BIG IMMERSION
Super-narrow bezels frame the edges of the display, allowing us to fit a larger screen into a more compact footprint than typical laptops in this class. The bezels practically disappear, immersing you fully in the action without distraction. With a screen-to-body ratio of up to 81.5%, you get an expansive view of games, streams, movies, and more.
STRONG SCISSOR-DOOR HINGES
Inspired by gullwing doors, the silky scissor-door hinges effortlessly emerge when the lid is lifted and discreetly disappear back into the chassis when shut. This hidden hinge design keeps a low profile and opens up additional space for venting and cooling around the heatsinks at the back. The concealed hinges are also better protected from cracks that can affect exposed alternatives.
EASY-OPEN CHASSIS
The Strix SCAR III simplifies upgrades by making the memory slots and storage bays readily accessible. Standard screws secure the bottom of the chassis; they're well within reach and can be removed without special tools. The hooks holding the edges together are smaller and stronger than before, with a looser fit that makes it easier to separate the bottom panel and get under the hood.
KEYSTONE
INTRODUCING THE KEYSTONE
Keystones offer a versatile new way to personalize your machine and protect your personal data. These physical, NFC-enabled keys fit neatly into the Strix SCAR III's chassis, adding a subtle accent along the trim. When docked, they instantly transform your machine with different effects and game-specific profiles, or unlock access to a secret Shadow Drive for covert private storage. This is only the beginning of the Keystone's potential. Glimpse the future today.
INVISIBLE SECURITY
Secret away private files in a virtual safe linked to your Keystone. Used like a real key, it reveals a hidden Shadow Drive within your computer. The encrypted storage space offers additional security for personal data, programs, and files you don't want to fall into the wrong hands. Link the drive to multiple Keystones to share access or create backup keys of your own.
THE KEY TO CUSTOMIZATION
Save personalized configs in Armoury Crate, and link them to Keystones to access profiles on command. Docking a Keystone makes your carefully tuned settings and customizations available through the ROG utility, so it's easy to add a personal touch for your favorite games. When you're gaming away from home or sharing your laptop with friends, Keystones provide a physical link to profiles through Armoury Crate.
Display
See the Game at Professional Speed
Play at the speed of professional esports with the world's fastest gaming laptop display. The 240Hz/3ms panel enables true high-FPS gameplay capable of keeping up with competitive gaming at the highest level. Stay in the flow of fast-paced action with impeccably smooth, crisp visuals that heighten your immersion. Get an edge in combat where rapid response and environmental awareness are crucial to victory. Experience games the way the pros do, and take your skills to the next level.
* Specifications vary according to model.
Performance
PERFORM AT THE HIGHEST LEVEL
Everything from hardcore gaming to everyday multitasking is fast and smooth with the ROG Strix SCAR III. Cutting-edge GeForce RTX™ graphics bolstered by ROG Boost up to 1540MHz at 115W in Turbo mode enable stunningly silky gameplay. The powerful 9th gen Intel® Core processor paired with up to 32GB of DDR4-2666 RAM slices through intensive work and play. With up to a 1TB M.2 NVMe SSD and 1TB FireCuda™ SSHD, storage is speedy and spacious enough to take your entire game library anywhere and play on the go.
The latest 9th Gen Intel Core CPUs
Power through intensive tasks with up to the latest 9th Gen Intel® Core™ i9-9880H CPU. This 8-core processor pushes frequencies as high as 4.1GHz with a single core, and Hyper-Threading enables up to 16 parallel threads to accelerate heavy multitasking. Content creators can work on massive projects, like video editing and 3D rendering, quickly and efficiently, while gamers can play, chat, and live-stream the action all at the same time.
NVIDIA® GeForce RTX 20-Series
Visual fidelity is enhanced by the latest NVIDIA® GeForce RTX™ GPUs. The new Turing™ architecture's mix of CUDA, RT, and Tensor cores blends programmable shading, ray tracing, and artificial intelligence in real time to enhance in-game lighting and effects, from realistic reflections to shifting shadows. This potent processing power can also be harnessed to accelerate a range of other workloads, from content creation to 3D modeling to deep learning.
Powerful Memory
Multitask like a pro with up to 32GB of dual-channel DDR4-2666 memory. Clocked at 2666MHz, this high-performance RAM stands up to any challenge thrown its way, while offering an 11% performance boost over DDR4-2400. Gamers can play the latest AAA titles, stream, and chat with teammates without missing a beat, while serious power users and multimedia creators can run every program they need for maximum productivity.
Lightning-Fast SSD
Equipped with an ultra-responsive M.2 NVMe PCIe® 3.0 SSD, massive games and apps load at blazing fast speeds, giving you a smoother experience and saving your time for tasks that matter. Up to 1TB of storage capacity provides enough room for big projects like complex videos and 3D scenes, with plenty of space left for your growing library of games.
Ultra-Efficient SSHD
Supplementing the SSD is a 5400RPM FireCuda solid-state hybrid drive (SSHD) that offers up to 1TB of space for mammoth games, programs, and media. The speedy SSHD loads games in less than half the time taken by 1TB 7200RPM HDDs, and it's quieter as well. Integrated flash memory caches frequently accessed data to deliver quicker access to your favorite games, programs, and files.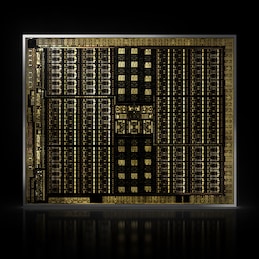 NVIDIA Turing™ Architecture
This revolutionary architecture, combined with our all-new GeForce® RTX platform, fuses together real-time ray tracing, artificial intelligence, and programmable shading. You've never created and enjoyed games like this before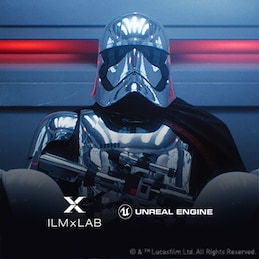 Real-Time Ray Tracing In Games
Ray tracing is the definitive solution for lifelike lighting, reflections, and shadows, offering a level of realism far beyond what's possible using traditional rendering techniques. NVIDIA Turing™ is the first GPU capable of real-time ray tracing.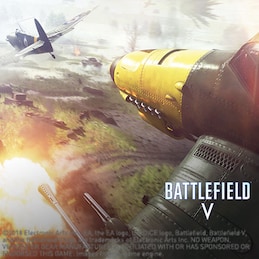 Performance
GeForce® RTX gaming GPUs come loaded with next-generation GDDR6 memory, support for DirectX 12 features, and more. This is graphics reinvented.
Game Ready Drivers
Get the highest levels of performance, and the smoothest experience possible, from the moment you start playing.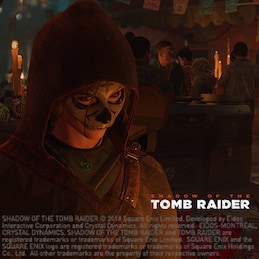 Breakthrough Gaming Technologies
Get the latest NVIDIA GameWorks™ technologies for smooth gameplay, cinematic experiences, and revolutionary 360-degree image capture-even in VR. Plus, get the performance to drive the latest displays, including VR, ultra-high-resolution, and multiple monitors.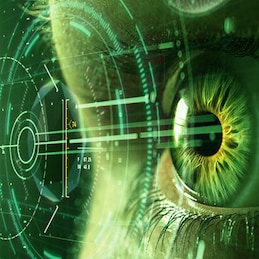 VR Ready
Experience next-generation VR performance, the lowest latency, and plug-and-play compatibility with leading headsets-driven by NVIDIA VRWorks™ technologies. VR audio, physics, and haptics let you hear and feel every moment.
Cooling Design
INTELLIGENT COOLING IMPROVES YOUR EXPERIENCE
ROG's Intelligent Cooling philosophy mixes the right features and system settings to ensure the best experience for each situation. The Strix SCAR III augments its well-ventilated exterior with a self-cleaning thermal module that ejects dust to improve longevity. Dual n-Blade fans spin 83 blades to increase airflow, and ultra-thin fins expand the surface area for heat dissipation. ROG Armoury Crate software seamlessly switches between operating modes to optimize performance and acoustics for the task.
GO WITH THE AIRFLOW
Ample airflow is a fundamental aspect of effective cooling, so the hinges are shifted forward to leave more room at the back for a heavily ventilated 3D Flow Zone that lets the Strix SCAR III exhale more effectively. Perforated ridges race across the rear to facilitate extra flow that helps reduce component temperatures. A patented, trapezoidal cut carves out the bottom of the screen, ensuring nothing obstructs the venting below, while giving the Strix SCAR III its signature, asymmetric appearance.
MORE BLADES INCREASE AIRFLOW
The Strix SCAR III has two n-Blade fans designed for maximum airflow. Carefully shaped intake shrouds use curved edges and raised guides to help the fans draw in more air. Once inside, it's blasted toward the heatsinks by blades that are 33% thinner than conventional designs yet strong enough to spin at high RPMs. The Strix SCAR III matches our highest blade density with 83 per fan, improving airflow by up to 15%.
COOLZONE KEYBOARD
Extended gaming sessions warm up internal components and can cause the keyboard above to become uncomfortable to touch over time. To keep your fingers cool, the Strix SCAR III is strategically vented around the WASD keys to allow airflow from the fan below, improving comfort for longer gaming marathons by reducing the surface temperature by 2° Celsius compared to the previous generation.
SELF-CLEANING COOLING SYSTEM
Keeping the heatsinks free of debris is critical to maintaining optimal thermal dissipation, so our engineers designed a special anti-dust tunnel that catches and channels particles outside the chassis to prevent them from collecting on the fins. This self-cleaning system helps ensure consistent cooling performance over time, which improves long-term stability and overall reliability.
MORE ULTRATHIN FINS
Thermal energy is dissipated by heatsinks in the flanks. Each one is lined with ultra-thin copper fins as slim as 0.1mm, allowing higher density and lower air resistance than typical fins that are twice as thick. Depending on the CPU and GPU, there are up to 189 heatsink fins totaling 102,500mm2 of surface area, increasing heat dissipation by 10.4%, while reducing air resistance by 8.2%.
EXTENDED HEAT SPREADER
The comprehensive thermal design includes an extended heat spreader that absorbs heat from the GPU and CPU and redistributes it to minimize thermal throttling. The heat spreader stretches across up to 5 heat pipes, allowing it to efficiently keep power components below 85° Celsius. This consistent thermal management helps sustain and extend the overall performance, reliability, and lifespan of your system.
THE RIGHT MODE FOR THE MOMENT
Gaming laptops are versatile enough to tackle a range of tasks, but requirements vary wildly, so Intelligent Cooling adapts accordingly. It automatically switches between operating modes that optimize performance and acoustics for different games and applications. Turbo mode uses the highest fan speed and clocks to sustain maximum speed, Balanced mode adjusts the clocks and cooling to lower noise levels for gaming, and Silent mode runs even quieter for lighter work and entertainment.
Aura Sync
AURA SHINES BRIGHTER THAN EVER
Dim the lights and let Aura Sync take center stage. RGB glows behind the metallic ROG logo splashed across the lid, and illumination extends to the optional light bar wrapped around the outer rim of the chassis. Clear edges around the keys and transparent WASD caps highlight crucial keyboard commands. Access the full spectrum of colors and effects in the Aura control panel to let your personality shine, and add your favorite Aura Sync devices to make a matching gaming environment all your own.
Connectivity
SUSTAIN THE STRONGEST WI-FI SIGNAL
ROG RangeBoost technology ensures the most stable Wi-Fi signal possible. The unique RangeBoost algorithm evaluates the signal strength of four internal antennas and picks the best pair to use for your location, minimizing dead spots and increasing wireless range by up to 30%. Paired with the latest Intel® 802.11ac (2x2) Gigabit Wi-Fi, which offers peak wireless bandwidth of up to 1.7Gbps, you can connect and game at speed almost anywhere.
* Specifications vary by model.
WI-FI COVERAGE
*Visuals to simulate Wi-Fi performance.
Traditional Dual-Antenna Design
RangeBoost Multi-Antenna Design
Keyboard
STRIKE WITH PRECISION
Get a competitive edge in esports on a durable keyboard designed for precise play. Stay focused on the game with spaced function keys for easy identification, and gaming hot keys for fast access to vital commands. Transparent WASD keys aid visual recognition for common controls, or per-key RGB lighting* lets you highlight your own time-saving shortcuts. Built to withstand over 20 million keypresses, the Strix SCAR III can maintain its accuracy and reliability over a long lifespan of serious gaming.
*Per-key customization requires Aura Creator, available starting June 2019.*Specifications vary by model.
Gaps between the function keys for easier identification.
Isolated arrow keys for the most accurate fingertip control.
The Space key has also been extended and reshaped for more comfort and fewer misses.
TAILORED FOR GAMING
Taking inspiration from the best desktop gaming keyboards, the Strix SCAR III features function keys that are spaced for fewer misses, and directional arrows that are isolated for precise fingertip control. The Space bar is extended and reshaped for greater comfort and accuracy when you need to jump into the thick of battle. The 15-inch G531 features a digital numpad on the touchpad available at the press of a button, while the 17-inch G731 offers a full numeric keypad.
Gaps between the function keys for easier identification.
Isolated arrow keys for the most accurate fingertip control.
The Space key has also been extended and reshaped for more comfort and fewer misses.
GAMING HOTKEYS
Five dedicated gaming hotkeys sit isolated above the keyboard for quick access to the volume and mic mute controls, performance modes, and Armoury Crate. They're positioned on the upper left side, so you can access them instantly without tabbing out or taking your right hand off the mouse. Switch on your mic to strategize with your team or turn up the volume to hear every enemy movement in your vicinity without losing focus on the game.
MORE ACTIONS PER MINUTE
ROG Overstroke technology registers keypresses earlier in the stroke, enabling a more responsive typing experience for intense gaming and work. Early actuation offers effortless input, which can improve your accuracy over time, while the resulting longer post-actuation travel distance makes each press feel more comfortable and controlled. Increase your actions per minute with a keyboard calibrated for precision gaming.
PRECISE UNDER PRESSURE
Play more precisely in the heat of battle with full N-Key rollover and anti-ghosting technology. Together, they ensure that every keypress is properly detected and registered, regardless of how many commands are being entered at once. Shortcuts, functions, and other inputs that require simultaneous presses can be executed more accurately at any speed. Game with more confidence and enjoy a competitive edge when rapid response matters.
Audio
A SOUND ADVANTAGE
Immersive, side-firing speakers put you in the thick of the action. Smart Amp technology monitors audio output and makes real-time adjustments to keep the speakers within thermal and excursion limits, preventing damage to the cones. The resulting sound has less noise distortion, higher dynamic range, more bass, and significantly higher potential output. Pump up the volume and hear every enemy movement, firefight, and environmental audio cue in the game.
I/O Ports
CONNECT ALL YOUR FAVORITE DEVICES
Hook up your favorite peripherals and get in-game quickly. Enjoy blazing fast transfers at Gen 2 speeds via the USB 3.2 Gen 2 Type-C™ with DisplayPort™ 1.4, or connect an external display for superior multi-tasking. Three Type-A USB 3.2 Gen 1 ports are ready for all of your must-have gear, while HDMI 2.0b allows you to enjoy movies and games on a 4K monitor or TV at up to 60Hz. Integrated Gigabit Ethernet boasts lower networking latency for competitive multiplayer gaming, complementing the built-in Wi-Fi.
*Specifications vary according to model.
3.5mm Audio Jack
USB3.2 Gen x 3
RJ-45 Jack
HDMI 2.0b
USB 3.2 Gen 2 Type-C
Power
VR/MR
EXPLORE NEW VIRTUAL WORLDS
Discover the latest virtual and augmented reality titles with the ROG Strix SCAR III. Its GeForce RTXTM graphics deliver smooth, low-latency, and stutter-free VR for a wide variety of experiences. Plug-and-play compatibility with leading headsets means it's easy to access new environments on the platforms you prefer. Explore digital worlds with a cinematic smoothness that enables seamless visual immersion.

*GeForce GTXTM 1660 Ti or better is required for smooth VR gaming.
SOFTWARE
Armoury Crate
ROG Armoury Crate unifies system and lighting controls to put essential settings at your fingertips in a single utility. You can easily define and customize Scenario Profiles that automatically make adjustments when you launch your favorite titles. Pairing these customizations with the new ROG Keystone lets you quickly load your fine-tuned settings.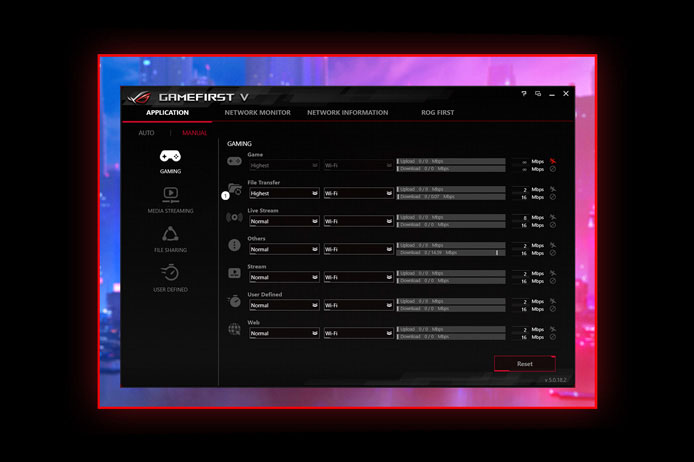 ROG GameFirst V technology maximizes throughput for your game! It prioritizes network packets to increase bandwidth for online gaming and streaming that need it the most. Auto mode prioritizes applications automatically, while Manual mode lets you categorize programs and prioritize them yourself. In addition, ROG First ensures ROG and ASUS RT-series routers prioritize packets according to the GameFirst V settings of your ROG laptop.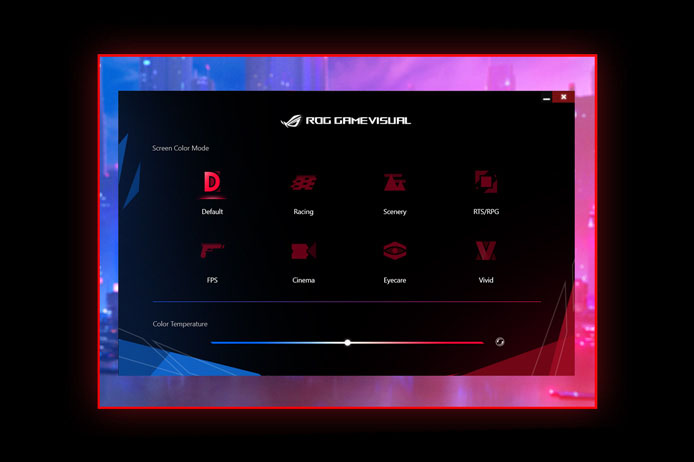 ROG GameVisual software offers six expertly tuned graphic modes designed to optimize your visual experience for specific game genres. First Person Shooter (FPS) mode, for example, enhances visibility in dark environments, allowing you to get the drop on any enemies lurking in the shadows. Use GameVisual to get the best experience for every game in your library.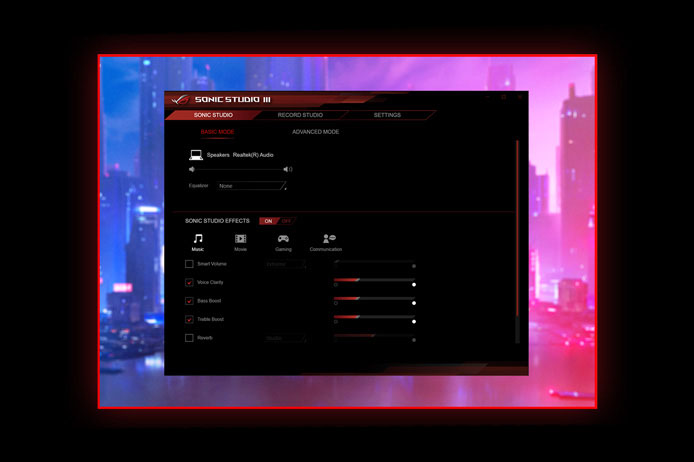 Sonic Studio III supports all of your in-game audio needs. Its main control panel offers manual customizations as well as access to five specially tuned audio modes for different game types. Enhanced noise cancellation, voice-volume stabilization, and echo cancellation for recording give you clearer audio transmission for team voice chat and streaming.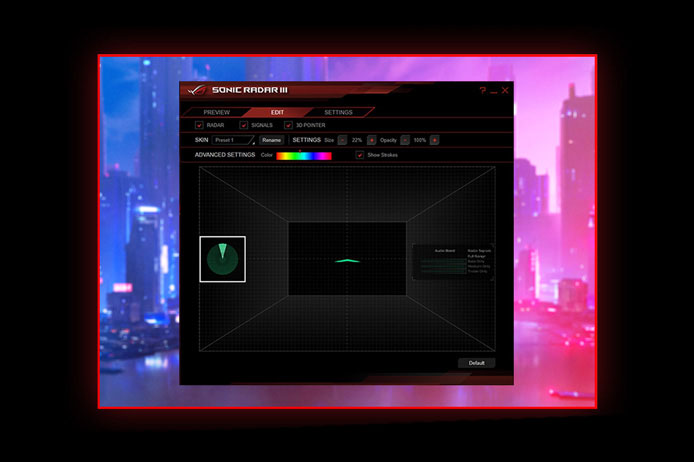 The new Sonic Radar III audio engine processes sounds with heightened spatial and positional clarity, giving you greater environmental awareness in-game. Visualized audio details, such as the onscreen arrow that points in the direction of incoming sounds, can help train your ears and also guide you through gameplay in circumstances where in-game audio is difficult or impossible to hear.

* Download this app for free from the Recommended Apps tab of our ROG Armoury Crate software.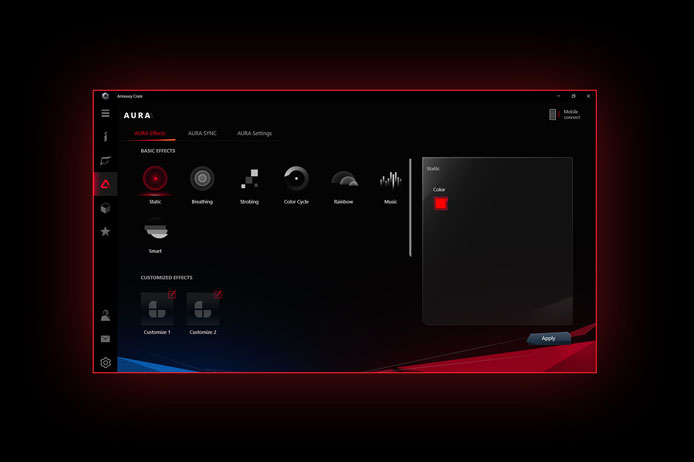 Customize the RGB lighting on Aura-compatible peripherals to suit your gaming style. Aura Core's easy-to-use control panel allows you to alter a brilliant spectrum of lighting effects and colors, in addition to swapping preset lighting modes, You can also activate Aura Sync to match colors and effects across multiple devices.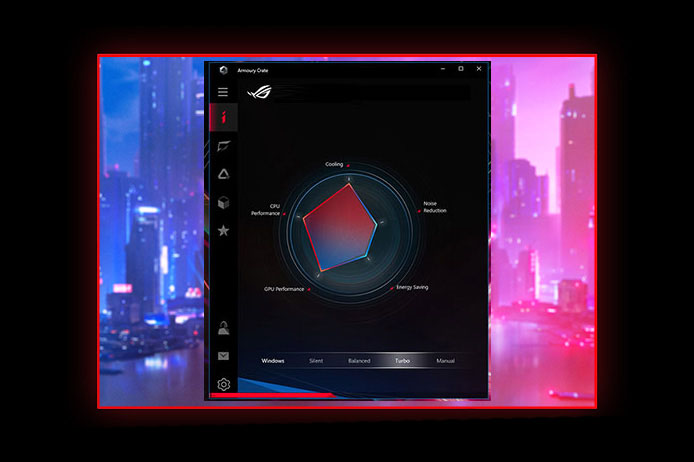 Automatic switching between Silent, Balanced, and Turbo modes is just the beginning for Scenario Profiles. You can also define application-specific preferences for other vital system settings, like the lighting configuration, whether the Windows key or touchpad are enabled, and which GameFirst V and Sonic Studio III profile to use. Armoury Crate makes adjustments in an instant to best fit the task at hand, and you can configure each profile exactly how you want.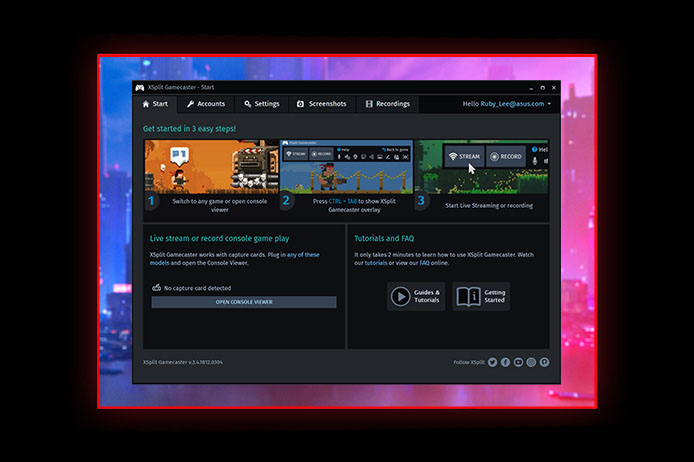 The free version of XSplit Gamecaster allows you to live stream and broadcast directly to internet streaming platforms, or make recordings for easy sharing online. You can even interact with your audience while broadcasting on YouTube and Twitch.

* Download this app for free from the Recommended Apps tab of our ROG Armoury Crate software.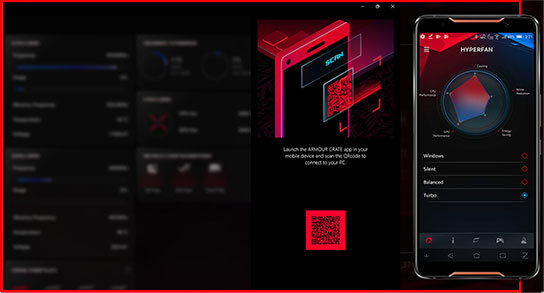 Pick up the free Armoury Crate mobile app for Android or iOS to easily access your settings without interrupting your game! Available now on both Google Play™ and the App Store.
Accessories
ALL THE GEAR YOU NEED
Bundle the ROG Strix SCAR III with an array of gaming peripherals and accessories. Gear up and rule the game!
*Bundle options may vary by region
Product Comparison
Product added to comparison. Add up to 4 products or proceed to view compare products selected.
ROG Footer