Caracteristicas
Especificaciones Técnicas
Premios
Galería
Soporte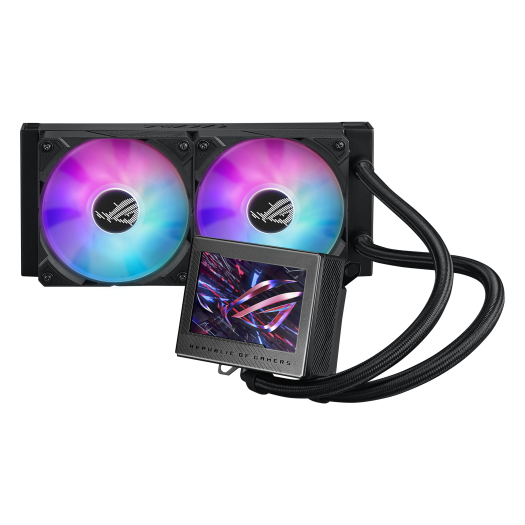 ROG RYUJIN III 240 ARGB
Enfriamiento de CPU líquido todo en uno ROG Ryujin III 240 ARGB con pantalla LCD de 3.5", bomba Asetek de 8.ª generación, ventilador integrado en la bomba y 2 ventiladores ARGB magnéticos con radiador ROG de 120 mm conectables en cadena.
La pantalla LCD de 3.5" proporciona monitoreo instantáneo de información del hardware y animaciones GIF personalizables, ahora con el doble de espacio de almacenamiento.
La última bomba Asetek de 8.ª generación con motor trifásico ofrece el máximo rendimiento de refrigeración, mayor flujo y menor impedancia, además de reducción de ruido.
Un ventilador integrado con un nuevo diseño de marco en forma de anillo y canales de flujo de aire avanzados mejora la reducción del calor alrededor del área VRM.
Los ventiladores magnéticos ROG ARGB de primera calidad conectables en cadena con LED Gen 2 permiten a los usuarios personalizar los efectos de iluminación.
Armoury Crate ofrece control completo de las velocidades de la bomba, el ventilador integrado y el ventilador del radiador, y permite mostrar animaciones personalizadas y estadísticas del sistema en la pantalla LCD.
También se proporciona una licencia AIDA 64 gratuita de un año para el monitoreo avanzado del sistema.
Video Reseñas
Honestly, the AP201 is a good deal with the specs and features it brings to the table.
VALORACIÓN DE LOS CLIENTES
Comparación de productos
Producto agregado para comparación. Agregue hasta 4 productos o proceda a ver los productos seleccionados.
Footer ASUS