Caracteristicas
Especificaciones Técnicas
Premios
Galería
Soporte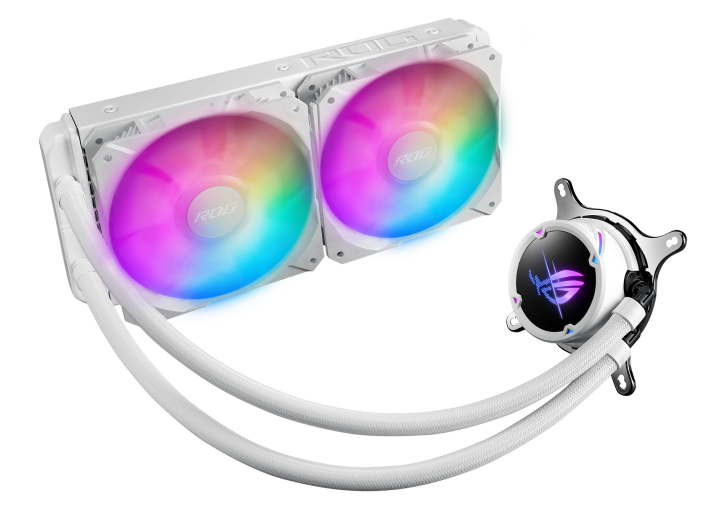 ROG STRIX LC II 240 ARGB WHITE EDITION
Enfriamiento líquido de CPU todo en uno ROG Strix LC II 240 ARGB White Edition con Aura Sync, compatibilidad con Intel® LGA1700 / 1200 / 1150 / 1151 / 1152 / 1155 / 1156 / 2011 / 2011-3 / 2066 y AMD AM4 / TR4 y dos ventiladores ROG de 120mm para radiador con RGB direccionable.
La bomba Asetek de séptima generación ofrece un enfriamiento excepcional y un ruido mínimo con un rango de funcionamiento a partir de 840rpm.
Dos ventiladores de radiador diseñados por ROG proporcionan un flujo de aire optimizado y presión estática.
La iluminación ARGB en la cubierta de la bomba revestida con NCVM y los ventiladores del radiador transmite un diseño elegante y moderno.
La estética complementa perfectamente a las tarjetas madre ROG desde el centro del escenario.
Los tubos reforzados trenzados ofrecen una mayor durabilidad.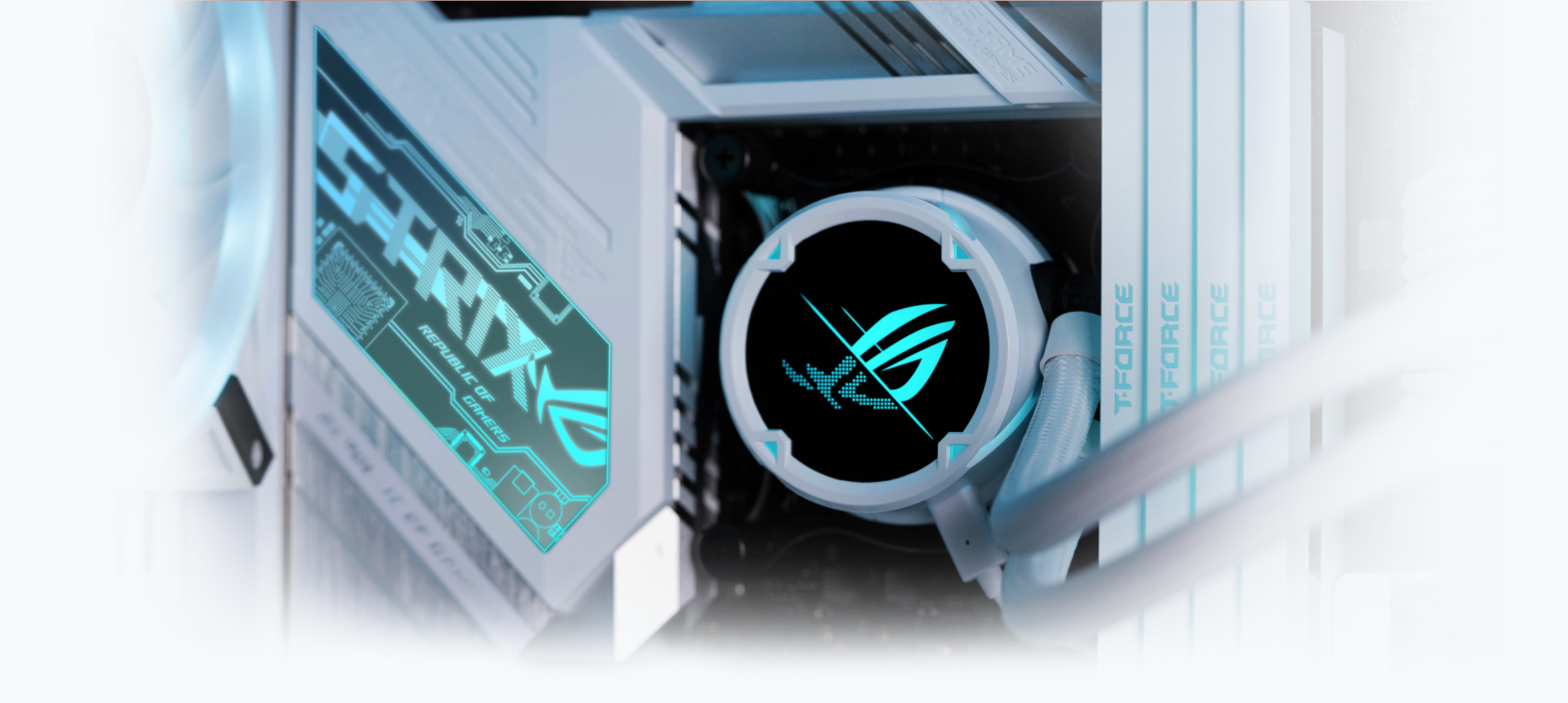 ROG Strix LC II ARGB White Edition CPU coolers deliver high-performance liquid cooling in style with a distinctive Moonlight White aesthetic, and support for the latest LGA 1700 socket for 12th Gen Intel® Core™ processors. Featuring a closed-loop design and addressable RGB radiator fans, the Strix LC II ARGB White Edition unleashes the full potential of your unlocked AMD or Intel CPU while elevating your build with brilliant multi-color lighting effects. With the performance, features and style you expect from ROG, Strix LC II ARGB White Edition coolers are ready to become an essential part of your rig.​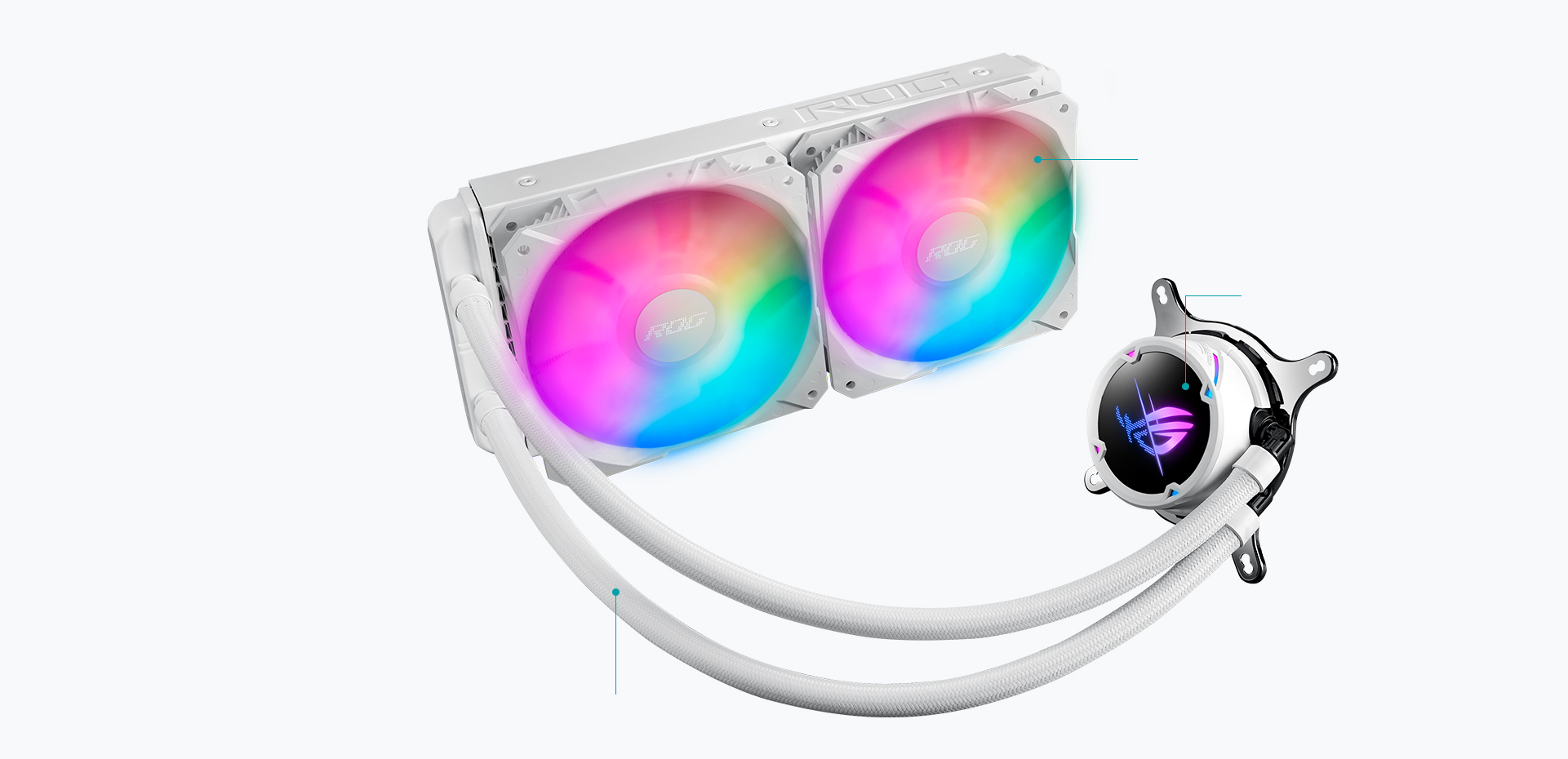 ROG ARGB Radiator Fans

380 mm Sleeved Rubber Tubing

Illuminated ROG Logo
*A motherboard with onboard 3-pin addressable headers is required. The radiator fans are not compatible with 4-pin RGB headers.
Next Level of Customization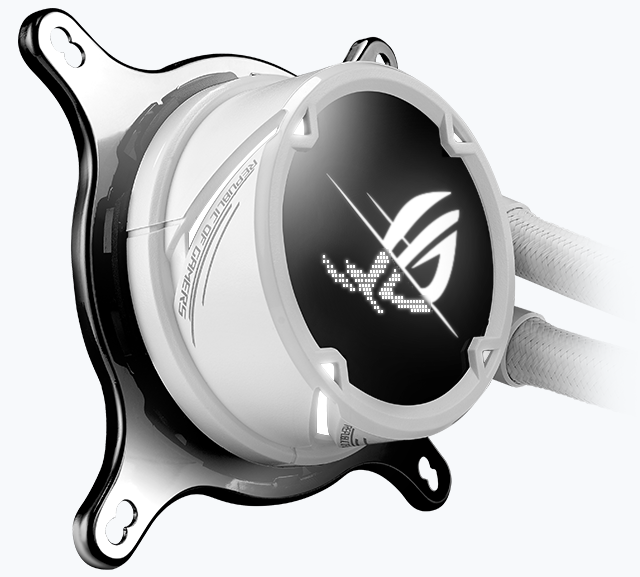 Radiate Your Gaming Identity
Intricate new designs on ROG Strix LC II 240 ARGB White Edition showcase the iconic ROG aesthetic, and every detail shines with the spirit of Strix. Aura Sync support on the pump cover's new illuminated ROG logo and ARGB radiator fans allows you to coordinate lighting effects with ROG build components — and show off your personal style. Also, engraved ROG lettering on the radiator's side complements the iridescent lettering on the hubs of each fan.
Static

Breathing

Strobing

Rainbow

Color cycle

Starry night

Smart

Dark

Adaptive color

Music
Armoury Crate
Armoury Crate is a software utility that provides centralized control of supported ROG gaming products. From a single intuitive interface, Armoury Crate puts command of all your Aura gear at your fingertips, with the new Aura Creator ready. The software also provides control of settings for a select and growing number of ROG products, making it easier to tune the look and feel of your system. Armoury Crate even features dedicated product registration and ROG news feeds areas to help you stay in touch with the ROG gaming community.
*Windows 10 required for full Aura Sync functionality within Armoury Crate. For Windows 8 and earlier versions, standalone Aura Sync software is available for free download from the product support site.​
Aura Sync RGB settings
Device Configuration
Driver & manual downloads
Gaming news highlights
ASUS account management
Fan Control
COOL TO THE CORE
Optimized Fan Design
The ROG radiator fans are specifically tuned to deliver optimum performance on ROG Strix LC II ARGB White Edition series radiators. The fans generate 81 CFM / 5.0 mmH2O for exceptional cooling efficiency.
Airflow

ROG Radiator Fan

81 CFM

Other AIO Fan

71 CFM

Static Pressure

ROG Radiator Fan

5.00 mmH2O

Other AIO Fan

4.65 mmH2O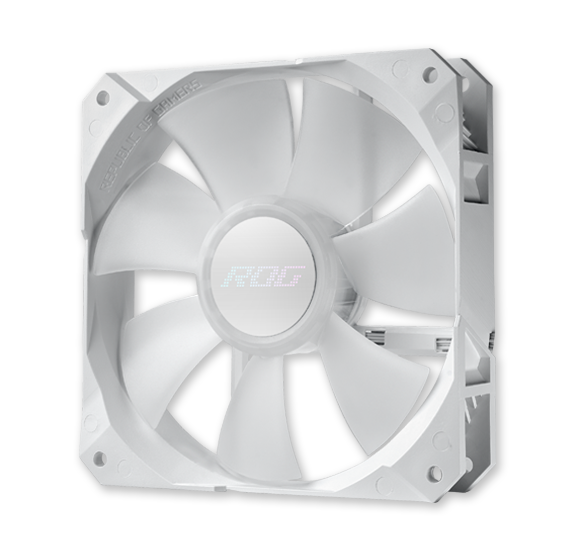 Enhanced Pump Design

ROG Strix LC II ARGB White Edition series is equipped with the latest cooling-plate design. Machined from pure copper, the plate features an array of fine micro-channels that reduce thermal resistance and increase surface area, resulting in lower CPU temperatures.

PWM-Controlled Pump and Fans

PWM control enables both the pump and radiator fans to spin at slower speeds when the CPU is idling or under light load, helping to keep noise levels to a minimum.
Extended compatibility
ROG Strix LC II ARGB White Edition series is compatible with a wide range of Intel® and AMD motherboard platforms, giving you the flexibility to pair it with your choice of processor. With 380mm of tubing at your disposal, radiator installation is equally as flexible in a variety of chassis.
CPU socket support
Intel

LGA 1700, 1200, 115X, 2011, 2011-3, 2066

AMD

AM5, AM4, TR4/sTRX4*​

*The mounting bracket is bundled with TR4/sTRX4 processor package​
VALORACIÓN DE LOS CLIENTES
Descargo de responsabilidad
Los colores y las especificaciones técnicas del producto varían de país en país; por favor contacte con un vendedor autorizado ASUS para confirmar las configuraciones del producto y/o las opciones de crecimiento (RAM, Disco Duro etc.) disponibles en su país. La información de los productos está sujeta a cambios sin previo aviso. El color de la PCB y las versiones del software incluido están sujetas a cambio sin previo aviso. La marca y los nombres de los productos mencionados son marcas registradas por sus respectivas compañías.
Los productos certificados por la Comisión Federal de Comunicaciones e Industry Canada se distribuirán en los Estados Unidos y Canadá. Visite los sitios web de ASUS USA y ASUS Canada para obtener información sobre productos disponibles localmente. Todas las especificaciones están sujetas a cambios sin previo aviso. Por favor, consulte con su proveedor para ofertas exactas. Los productos pueden no estar disponibles en todos los mercados. Las especificaciones y características varían según el modelo, y todas las imágenes son ilustrativas. Consulte las páginas de especificaciones para obtener todos los detalles. El color de PCB y las versiones de software incluidas están sujetas a cambios sin previo aviso. Los nombres de marcas y productos mencionados son marcas comerciales de sus respectivas compañías. A menos que se indique lo contrario, todas las declaraciones de rendimiento se basan en el rendimiento teórico. Las cifras reales pueden variar en situaciones del mundo real. La velocidad de transferencia real de USB 3.0, 3.1, 3.2 y / o Tipo-C variará dependiendo de muchos factores, incluida la velocidad de procesamiento del dispositivo host, los atributos del archivo y otros factores relacionados con la configuración del sistema y su entorno operativo.
Comparación de productos
Producto agregado para comparación. Agregue hasta 4 productos o proceda a ver los productos seleccionados.
Footer ASUS