Caracteristicas
Especificaciones Técnicas
Premios
Galería
Soporte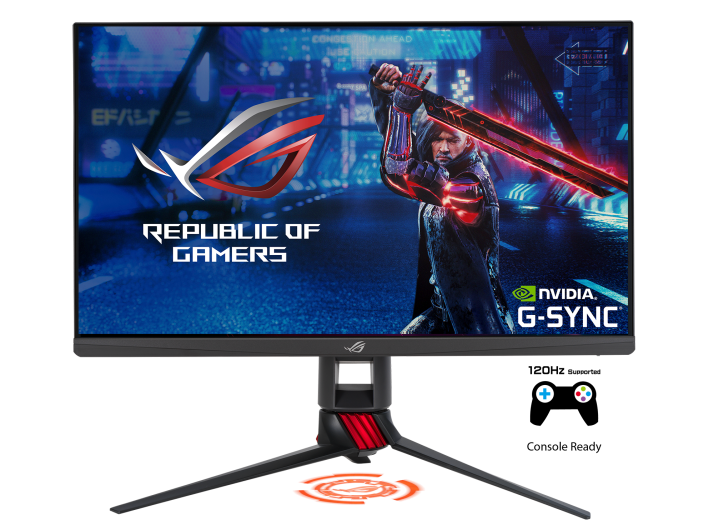 ROG Strix XG279Q
Monitor Gamer HDR ROG Strix XG279Q: 27 pulgadas, WQHD (2560x1440), FastIPS, 170 Hz (OC. a partir de 144 Hz) , 1 ms (GTG), ELMB SYNC, G-SYNC Compatible, DisplayHDR™ 400
Monitor de Gaming WQHD (2560 x 1440) de 27 pulgadas con tecnología FastIPS y una frecuencia de refresco de 170 Hz* para disfrutar de una experiencia gaming totalmente fluida.
La tecnología FastIPS de ASUS reduce el tiekmpo de respuesta a 1 ms para ofrecerte imágenes más nítidas y frame rates altos.
Certificación G-SYNC Compatible: Soporta un rango de refresco variable (VRR) que asegura una experiencia de juego sin defectos de imagen.
La tecnología ASUS Extreme Low Motion Blur Sync (ELMB SYNC) ofrece las ventajas de ELMB y G-SYNC Compatible para que disfrutes de una experiencia de juego fluida y más framerates.
La tecnología de alto rango dinámico (HDR) junto al 95% de la gama de colores DCI-P3 ofrecen un rendimiento de contraste y color que que se ajusta a los requerimientos de la certificación DisplayHDR™ 400.
Video Reseñas
[LIVE & Giveaway ROG] We were here! Game puzzle?
[LIVE & GIVEAWAY ROG] Closed Beta Home Sweet Home : Survive
[LIVE & GIVEAWAY ROG] Challenge ngga ngomong kasar pas main game sama Octa!! - Valorant
[LIVE & GIVEAWAY ROG] Unrated Valorant !
Buat kamu yang penasaran sama spesifikasi & harga dari semua perlengkapan Pro Gamers dari ROG ini, cek langsung di bawah ini ya!
INI DIA MONITOR, GAMING GEAR, DAN ROUTER YANG BLI MADE PAKE DARI ASUS ROG! 😍
Monitor & Peripheral Gaming ROG Paling Laku 2021! Wawancara Eksklusif dengan Tim ASUS ROG Component
I am delighted with the final set up, I love the aesthetics and the white components which I find very elegant. Special mention to the portable 16 inch ROG Strix, personally I am using it for portable consoles because it is very convenient to move around but also when travelling. The moonlight white peripherals then complete the set up in a minimalist way.
The monitor came to me and I got a lot of pleasure from the smoothness and clarity of the picture in games, and in the hands of a skilled cyber sportsman such a monitor can become an indisputable advantage in competitions.
A good, excellent display monitor, an ideal tool for work and play, but the cost will obviously be rather high.
If you want to buy yourself one monique, then as a flagship it is certainly a top.
ASUS has once again released a decent monitor that can offer its player a quality matrix with the fastest refresh rate of 180 Hz.
VALORACIÓN DE LOS CLIENTES
Comparación de productos
Producto agregado para comparación. Agregue hasta 4 productos o proceda a ver los productos seleccionados.
Footer ASUS