Caracteristicas
Especificaciones Técnicas
Premios
Galería
Soporte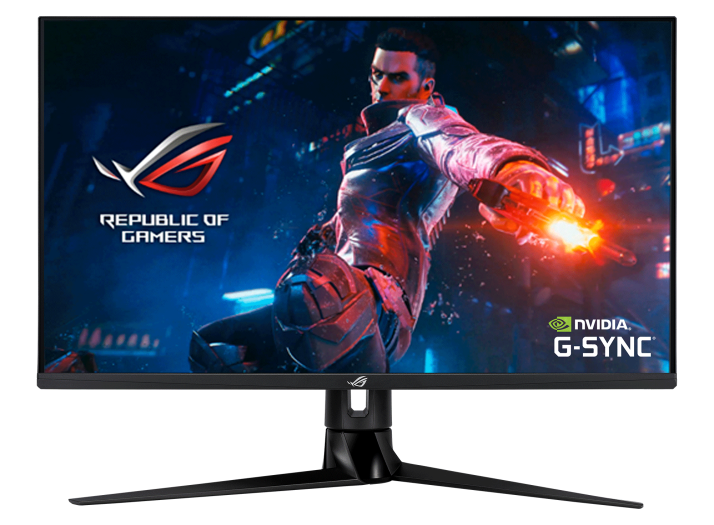 ROG Swift PG329Q
Monitor para juegos ASUS ROG Swift PG329Q: WQHD de 32 pulgadas (2560 x 1440), IPS rápido, 175 Hz *, 1 ms (GTG), Extreme Low Motion Blur Sync, compatible con G-SYNC, DisplayHDR™ 600
Monitor de juegos IPS rápido WQHD de 32 pulgadas (2560 x 1440) con frecuencia de actualización ultrarrápida de 175 * Hz diseñado para jugadores profesionales y juegos inmersivos
La tecnología Fast IPS permite un tiempo de respuesta de 1 ms (GTG) para imágenes de juego nítidas con altas velocidades de cuadro.
Compatible con G-SYNC, que ofrece una experiencia de juego perfecta y sin rasgaduras al habilitar VRR (frecuencia de actualización variable) de forma predeterminada.
La tecnología ASUS Extreme Low Motion Blur Sync (ELMB SYNC) habilita ELMB junto con G-SYNC Compatible, eliminando el efecto fantasma y el desgarro para obtener imágenes de juego nítidas con altas velocidades de cuadro.
La tecnología de alto rango dinámico (HDR) con una gama de colores profesional ofrece un rendimiento de contraste y color que cumple con la certificación DisplayHDR™ 600
ROG Swift PG329Q
The PERFECT BALANCE
Highly detailed visuals and contrast
Features WQHD (2560 x 1440) panel that delivers up to 77% more onscreen desktop space than standard Full HD (1920 x 1080) displays.Also, delivers an astounding 1,000:1 contrast ratio.
ASUS Fast IPS Display−1ms (GTG) Response Time
ASUS Fast IPS Display allows the display's liquid crystal elements to switch up to 4X faster than conventional IPS panels for improved response. With a 1 ms gray-to-gray response time, smearing and motion blur are virtually eliminated. This display also delivers superior images with outstanding colors thanks to DCI-P3 98% color gamut and an astounding 1,000:1 contrast ratio. Wide 178-degree viewing angles ensure minimal distortion and color shift even when you're viewing from extreme positions.
INCREDIBLY FAST 175HZ REFRESH RATE
You'll experience amazingly -fluid gaming visuals, giving you the upper hand in first-person shooters, racing, real-time strategy and sports titles.
Certified NVIDIA G−SYNC Compatible
Delivers a seamless, tear-free gaming experience by enabling VRR by default on NVIDIA GeForce GTX 10-Series and NVIDIA GeForce RTX 20-Series graphics cards.
EXTREME LOW MOTION BLUR SYNC
With ELMB SYNC, you can enable ELMB (low-motion-blur technology) and Adaptive-sync at the same time, eliminating ghosting and tearing for sharp visuals and high frame rates while gaming.
Adaptive-sync™ technology delivers the smoothest, fastest and most breathtaking gaming visuals by eliminating screen tearing and choppy frame rates, and minimizing display stutter and input lag.


ASUS Extreme Low Motion Blur provides a 1ms response time (MPRT) to eliminate smearing and motion blur. It also makes moving objects appear even sharper, so gameplay is more fluid and responsive.


ACCURATE, WIDER COLOR PALETTE
Provides a wider range of colors with a cinema-standard DCI-P3 98% color gamut and sRGB 160%. To ensure color accuracy, all the monitors are factory pre-calibrated with a factory calibration report.
ASUS AURA SYNC LIGHTING
With exclusive ASUS Aura Sync lighting technology, ROG Strix series provides ambient lighting that can be synchronized with other Aura-enabled components and peripherals.
*Aura Sync feature is also supported by Armoury Crate application
HIGH DYNAMIC RANGE (HDR) WITH DISPLAYHDR™ 600
HDR technology supports across a range of luminance to deliver a wider color range and higher contrast than traditional monitors. The brightest whites and the darkest blacks bring out details like never before. Also, it can get peack brightness of 600 nits to meet the requirement for DisplayHDR™ 600 certification.
Now you can choose from multiple HDR modes to adjust monitor HDR performance based on the current viewing scenario.
ASUS Dynamic Shadow Boost technology automatically clarifies dark areas of the game without changing other areas, improving overall viewing while also making it easier to spot enemies hidden in dark areas of the map.
ASUS GameVisual Technology has seven pre-set display modes to optimize visuals for different types of content. This unique feature can be easily accessed through a hotkey or the on-screen display settings menu.
Reduces input lag, making it ideal for racing games when G-SYNC technology is on.
Enhances the color of opponent health/mana bars so you know when to strike.
Cools and saturates colors for more immersive movies.
Enhances color saturation and contrast sharpness to give you better, brighter colors and detailed visuals for real-time strategy (RTS) or RPG games.
High contrast brightens up darker areas and shadows onscreen to help gamers spot hidden enemies.
Perfect for surfing the web or editing photos.
Provide more contrast gradations makes grass greener and skies bluer so it's ideal for slide shows.
Flicker-Free technology reduces flicker to minimize eyestrain for improved comfort when you're embroiled in long gaming sessions.
Ultra-Low Blue Light technology
ASUS Ultra-Low Blue Light technology reduces the amount of potentially harmful blue light emitted by the display. Four different filter settings are available to control the amount of blue light reduction.
Low Blue Light Level
Extensive connectivity options, including, I/O: DisplayPort1.2, HDMI (v2.0)x2 support a wide array of multimedia devices.
With an ergonomically-designed stand, it provides tilt, swivel, and height adjustments so you can easily find your ideal viewing position. The display is also VESA-compatible for wall mounting.
Height Adjustment
(0 ~100mm)
Swivel (+25°~-25°)
Tilt(+20° ~ -5°)
VALORACIÓN DE LOS CLIENTES

Descargo de responsabilidad
La velocidad de transferencia real de USB 3.0, 3.1, 3.2 y / o Tipo-C variará dependiendo de muchos factores, incluida la velocidad de procesamiento del dispositivo host, los atributos del archivo y otros factores relacionados con la configuración del sistema y su entorno operativo.
Los términos HDMI, HDMI High-Definition Multimedia Interface, la Imagen comercial de HDMI (Trade dress) y los logotipos de HDMI son marcas comerciales o marcas registradas de HDMI Licensing Administrator, Inc.
Los productos certificados por la Comisión Federal de Comunicaciones e Industry Canada se distribuirán en los Estados Unidos y Canadá. Visite los sitios web de ASUS USA y ASUS Canada para obtener información sobre productos disponibles localmente. Todas las especificaciones están sujetas a cambios sin previo aviso. Por favor, consulte con su proveedor para ofertas exactas. Los productos pueden no estar disponibles en todos los mercados. Las especificaciones y características varían según el modelo, y todas las imágenes son ilustrativas. Consulte las páginas de especificaciones para obtener todos los detalles. El color de PCB y las versiones de software incluidas están sujetas a cambios sin previo aviso. Los nombres de marcas y productos mencionados son marcas comerciales de sus respectivas compañías. A menos que se indique lo contrario, todas las declaraciones de rendimiento se basan en el rendimiento teórico. Las cifras reales pueden variar en situaciones del mundo real. La velocidad de transferencia real de USB 3.0, 3.1, 3.2 y / o Tipo-C variará dependiendo de muchos factores, incluida la velocidad de procesamiento del dispositivo host, los atributos del archivo y otros factores relacionados con la configuración del sistema y su entorno operativo.
Comparación de productos
Producto agregado para comparación. Agregue hasta 4 productos o proceda a ver los productos seleccionados.
Footer ASUS