Caracteristicas
Especificaciones Técnicas
Premios
Galería
Soporte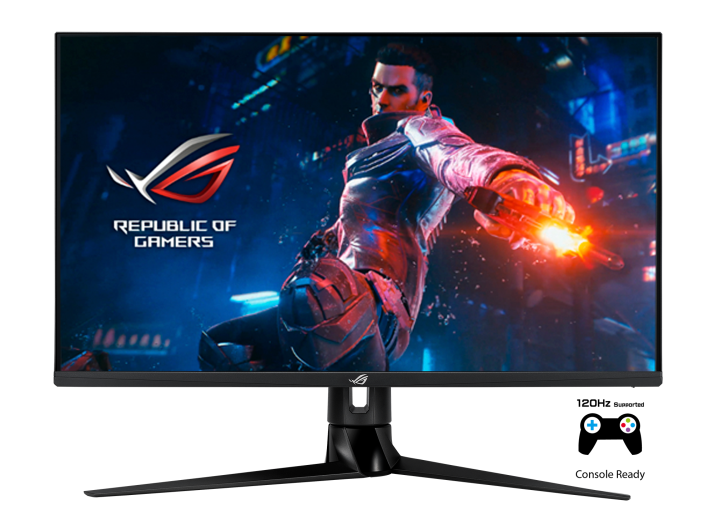 ROG Swift PG32UQ
Monitor para juegos ROG Swift PG32UQ HDMI 2.1 - 32", 4K UHD (3840 x 2160), IPS, 144 Hz, 1ms MPRT, NVIDIA G-SYNC Compatible, DSC, ELMB Sync, Overdrive variable, DisplayHDR 600, 98% DCI-P3 , Tecnología Quantum-Dot, DisplayPort 1.4
Monitor de juegos profesional IPS 4K UHD (3840 x 2160) de 32 pulgadas con frecuencia de actualización de 144Hz para juegos inmersivos en PC y consola.
HDMI® 2.1 admite juegos nativos de 4K a 120 Hz sin submuestreo de croma (4: 4: 4) en PlayStation & reg; 5 y Xbox Series X.
ASUS Extreme Low Motion Blur Sync (ELMB Sync) funciona simultáneamente con la tecnología de frecuencia de actualización variable para eliminar las imágenes fantasma y el desgarro para obtener imágenes de juego nítidas con altas velocidades de cuadro.
NVIDIA® G-SYNC® Compatible y la tecnología exclusiva Variable Overdrive ofrece un juego perfecto y sin rasgaduras.
Tecnología de alto rango dinámico (HDR) con DisplayHDR™ 600 Compliance combinado con la gama de colores DCI-P3 del 98% garantiza un contraste y un rendimiento de color excepcionales.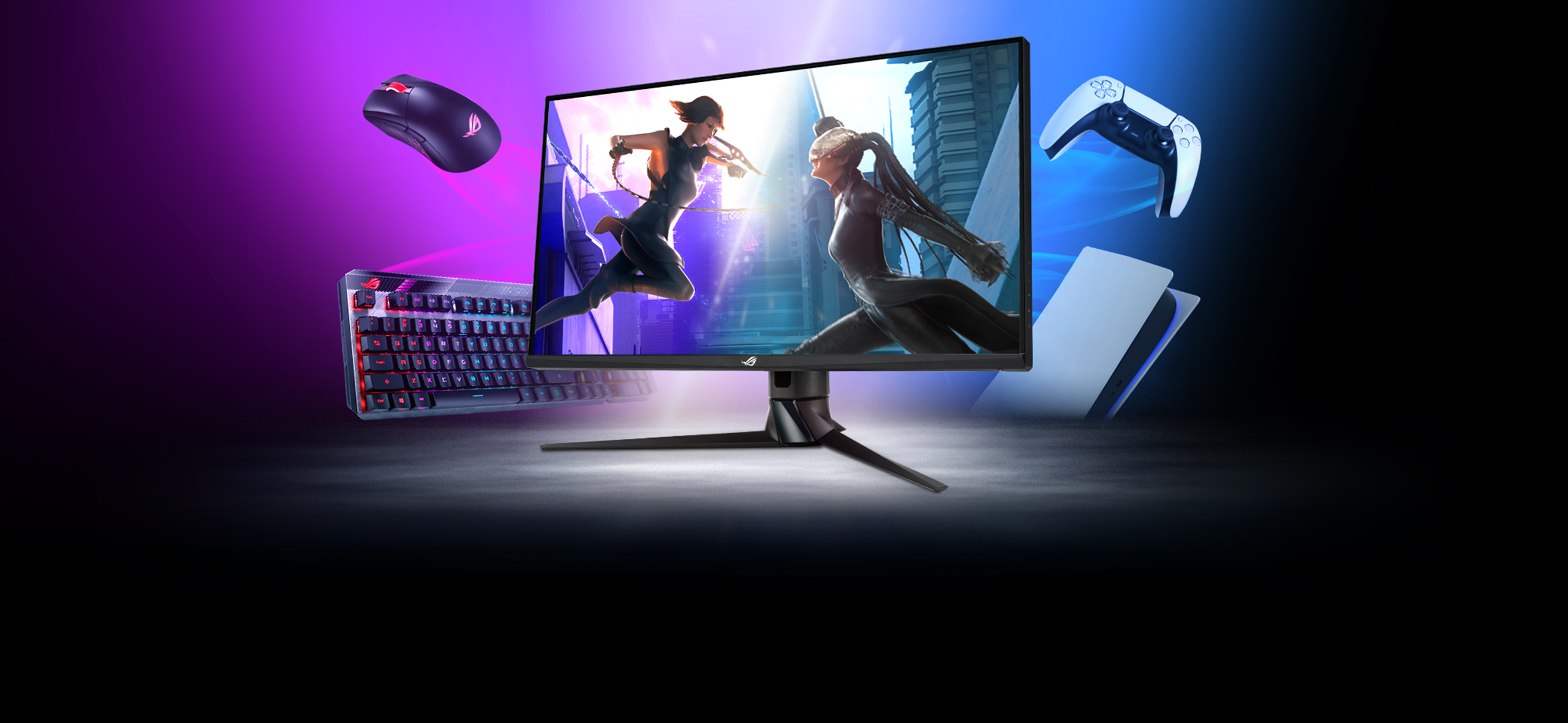 BATTLE READY FOR
NEXT-GEN GAMING
The ROG Swift PG32UQ is a 32 inch 4K UHD IPS professional gaming monitor designed for 144 Hz gaming. It features the latest HDMI® 2.1 standard to support up to native 4K 120 Hz visuals on the latest consoles without subsampling, and Display Stream Compression (DSC) technology and NVIDIA® G-SYNC® Compatible enable supersmooth experiences on PCs. A 98% DCI P3 color gamut and DisplayHDR™ 600 certification complete the package, ensuring exceptional colors for incredibly immersive, lifelike gaming.
Watch Video
NEXT-GEN GAMING WITH HDMI 2.1
Native 4K @120Hz refresh rate on the latest consoles
HDMI 2.1 with full 48 Gbps bandwidth (Learn More)
Variable Refresh Rate (VRR)
Auto Low Latency
SUPERFAST 4K GAMING ON PC
4K @ 144 Hz on PCs with the latest graphics cards
DSC technology supports 4K visuals via a single DisplayPort 1.4 connection
ULTRAFAST REFRESH RATE AND RESPONSE TIME
Complementing the lightning-fast 144 Hz refresh rate, the Swift PG32UQ offers near instantaneous 1 ms moving picture response time (MPRT) for buttery smooth visuals without smearing and motion blur.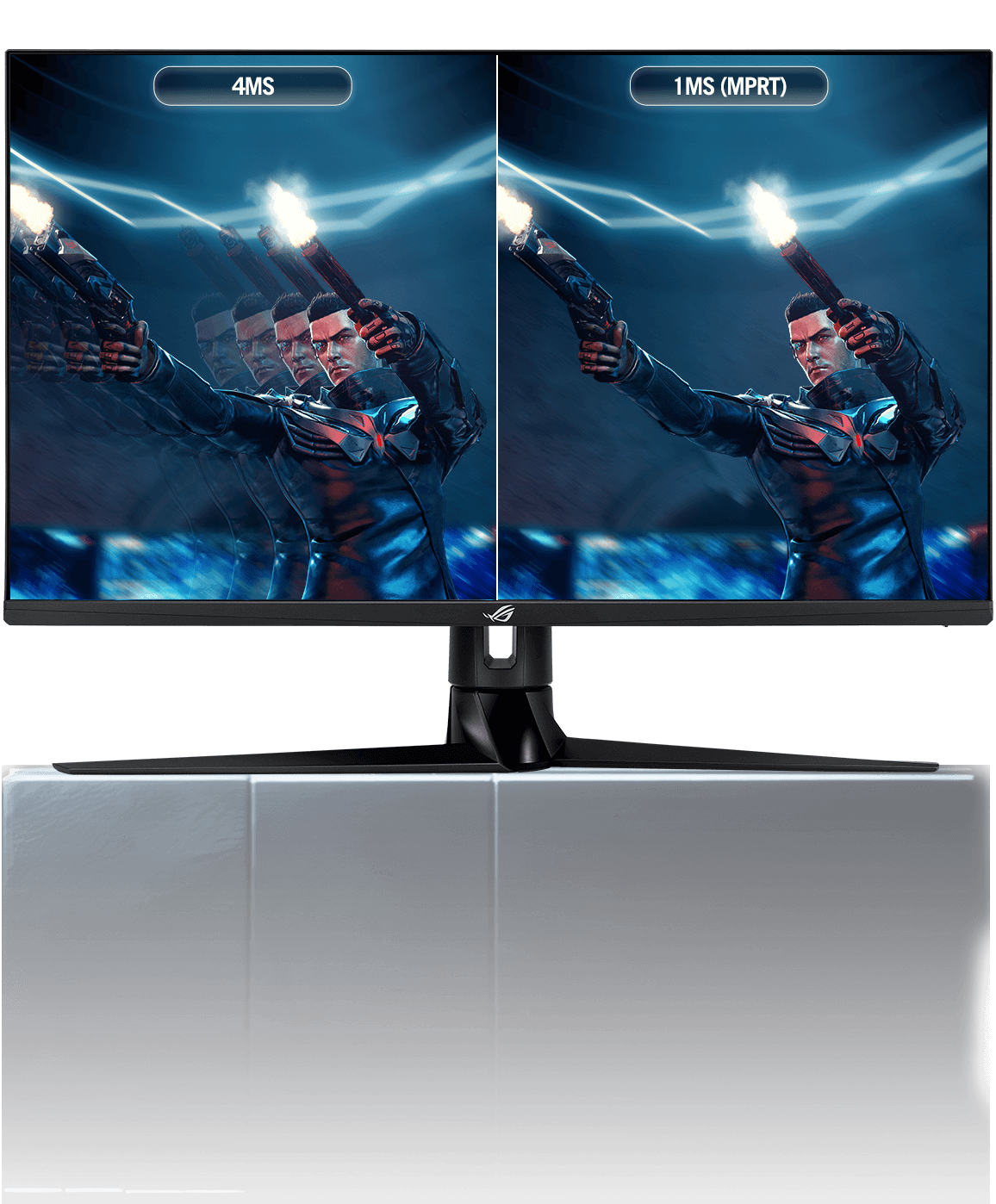 CERTIFIED NVIDIA G-SYNC COMPATIBLE
The Swift PG32UQ delivers a seamless, tear-free gaming experience by enabling variable refresh rate technology as a default on NVIDIA GeForce® graphics cards.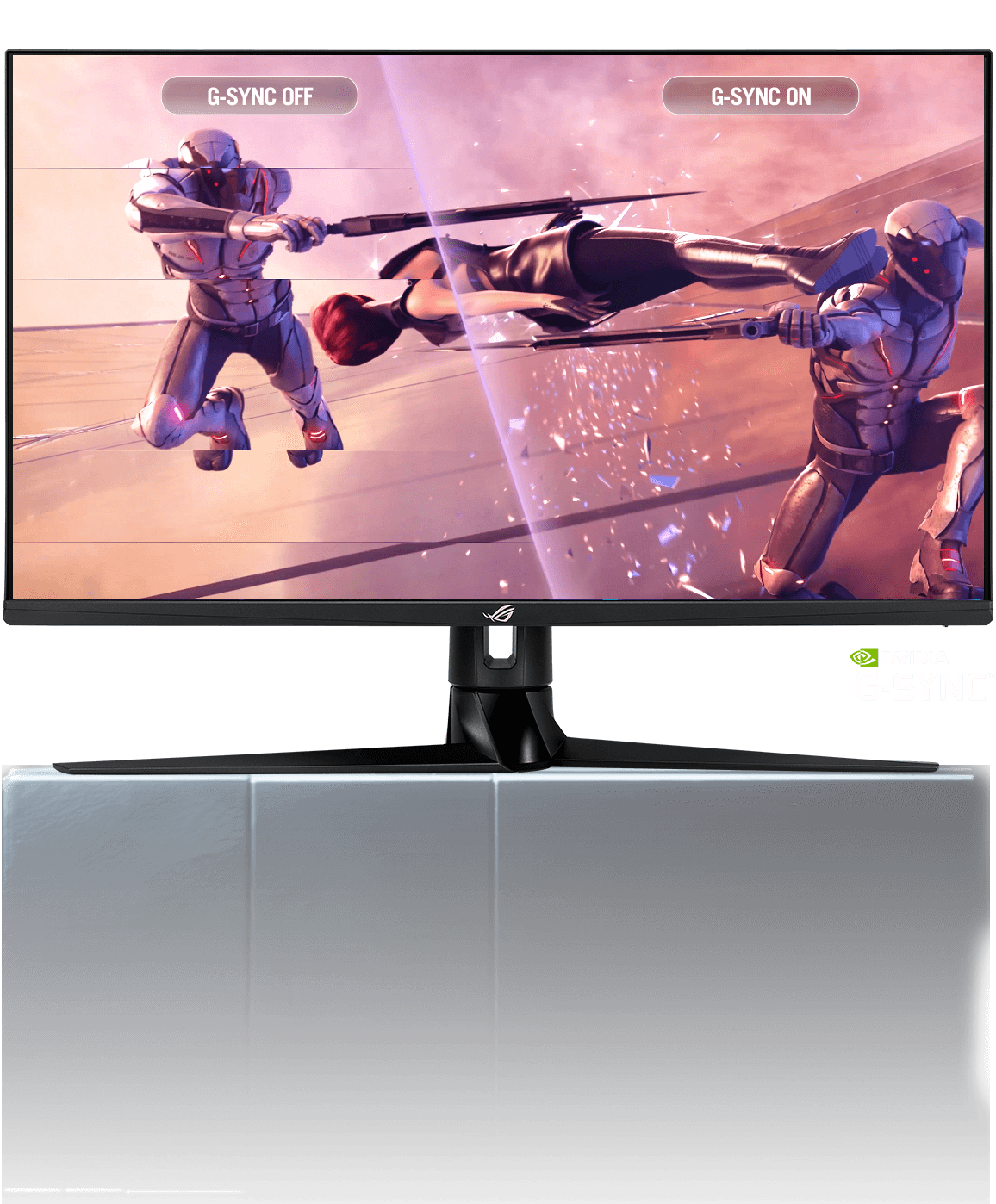 HDR
AMAZING CINEMA-GRADE COLORS
HDR and quantum dot technologies enable the Swift PG32UQ to deliver a wider color range and higher contrast levels than traditional monitors, offering the brightest whites and darkest blacks.
DisplayHDR™ 600

98% DCI P3

Quantum Dot Technology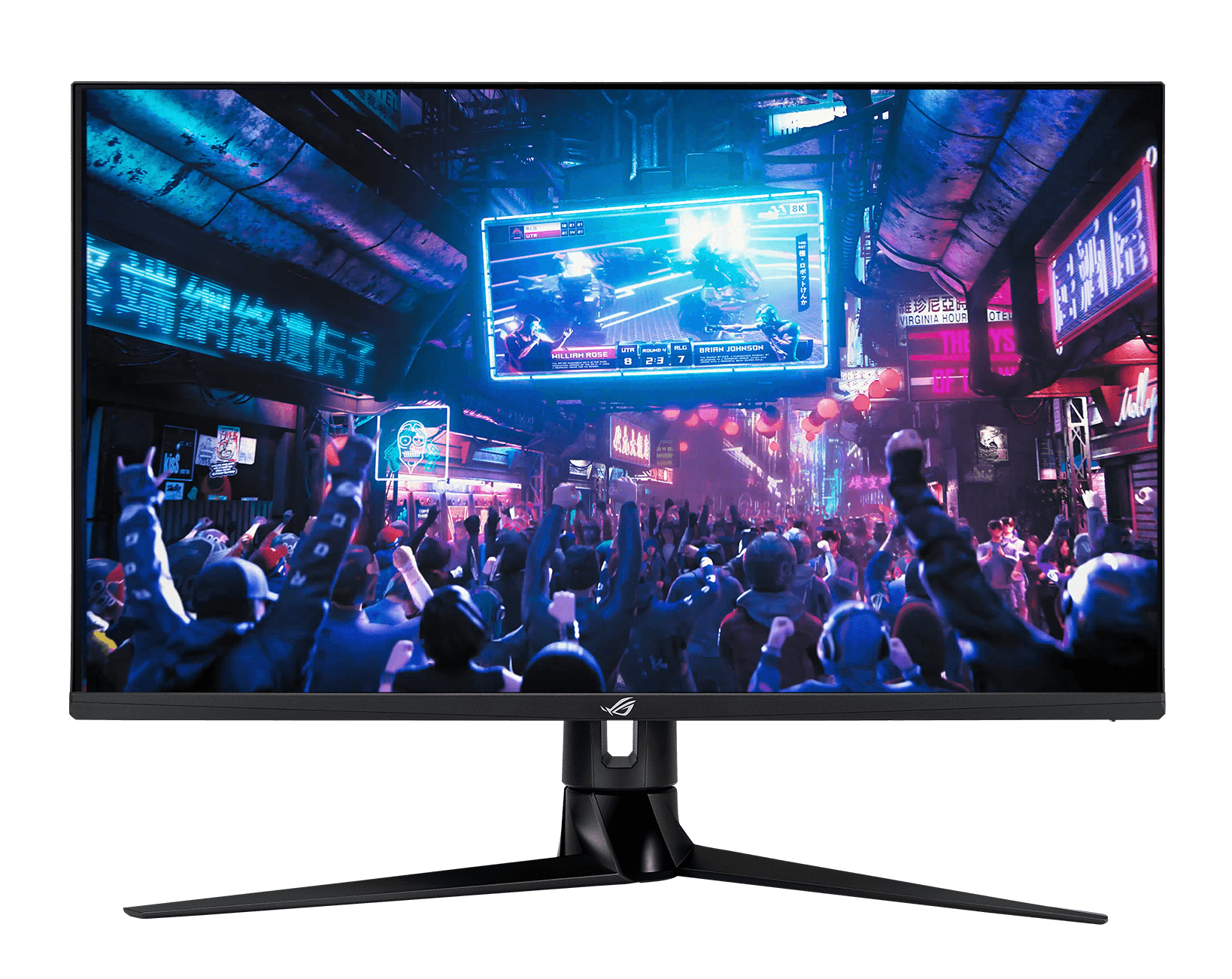 Extreme Low Motion Blur Sync Technology
VESA® Adaptive-Sync technology delivers breathtakingly smooth and fast gaming visuals by eliminating screen tearing and choppy frame rates while minimizing display stutter and input lag.

Meanwhile, ASUS Extreme Low Motion Blur technology provides a 1 ms response time (MPRT) to eliminate smearing and motion blur. It also makes moving objects appear even sharper, so gameplay is more fluid.

With ELMB Sync*, you can enable ELMB (low-motion-blur technology) and Adaptive-Sync at the same time, eliminating ghosting and tearing for sharp visuals and high frame rates while gaming.

* Ideal for fast-paced games, works better over 85Hz.





ASUS Variable Overdrive
The Swift PG32UQ includes six pre-set Variable Overdrive modes that dynamically adjust overdrive settings as frame rates fluctuate, eliminating ghosting for exceptionally smooth visuals.
IN-GAME ENHANCEMENTS
GAMEPLUS

GAMEVISUAL

FLICKER-FREE
TECHNOLOGY

ULTRA-LOW BLUE
LIGHT TECHNOLOGY
The ASUS-exclusive, integrated GamePlus hotkey offers in-game enhancements that help you get more out of the game. Co-developed with input from pro gamers, GamePlus functionality allows you to practice and improve gaming skills.
Stopwatch

Crosshair

Timer

FPS Counter

Display Alignment
ASUS GameVisual technology has seven pre-set display modes to optimize visuals for different types of content. This unique feature can be easily accessed through a hotkey or the on-screen display settings menu.
Racing

MOBA

Cinema

RTS/RPG

FPS mode

sRGB

Scenery
Reduces input lag, making it ideal for racing games when G-SYNC technology is on.

Enhances the color of your opponents' health/mana bars, so that you can simultaneously respond and be the first to destroy the opposing team's main.

Cools and saturates colors for more immersive movies.

Enhances color saturation and contrast sharpness to give you better, brighter colors and detailed visuals for real-time strategy (RTS) or RPG games.

High contrast brightens up darker areas and shadows onscreen to help gamers spot hidden enemies.

Perfect for surfing the web or editing photos.

Provide more contrast gradations makes grass greener and skies bluer so it's ideal for slide shows.
Flicker-Free technology reduces flicker to minimize eyestrain for improved comfort when you're embroiled in long gaming sessions.
ASUS Ultra-Low Blue Light technology reduces the amount of potentially harmful blue light emitted by the display. Four different filter settings are available to control the amount of blue light reduction.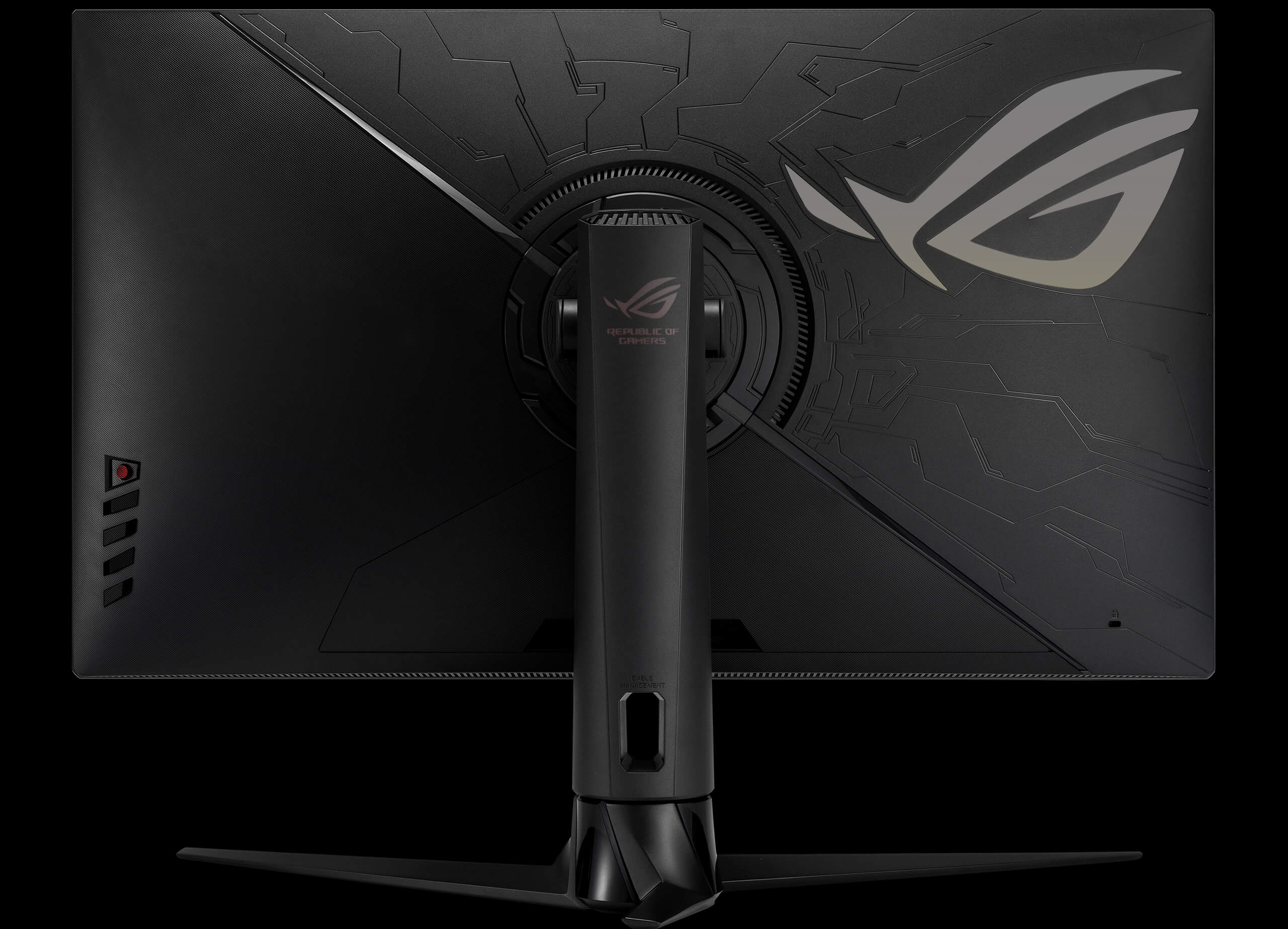 EXTENSIVE CONNECTIVITY
A multitude of connectivity options, including HDMI 2.1, USB 3.0, and DisplayPort 1.4 (DSC), ensures wide Compatible with a variety of input sources.
USB 3.0

USB 3.0

HDMI 2.1

HDMI 2.1

DisplayPort 1.4
(DSC)

3.5mm
Earphone Jack
ERGONOMIC DESIGN
Designed for your comfort, the stand offers tilt, swivel, and height adjustments to allow you to find the ideal viewing position. In addition, Swift PG32UQ is also VESA wall mount-compatible for more flexible placement options.
HEIGHT ADJUSTMENT

0~100MM

TILT

+20° ~ -5°

SWIVEL

+25°~-25°
VALORACIÓN DE LOS CLIENTES

Descargo de responsabilidad
La velocidad de transferencia real de USB 3.0, 3.1, 3.2 y / o Tipo-C variará dependiendo de muchos factores, incluida la velocidad de procesamiento del dispositivo host, los atributos del archivo y otros factores relacionados con la configuración del sistema y su entorno operativo.
Los términos HDMI, HDMI High-Definition Multimedia Interface, la Imagen comercial de HDMI (Trade dress) y los logotipos de HDMI son marcas comerciales o marcas registradas de HDMI Licensing Administrator, Inc.
Los productos certificados por la Comisión Federal de Comunicaciones e Industry Canada se distribuirán en los Estados Unidos y Canadá. Visite los sitios web de ASUS USA y ASUS Canada para obtener información sobre productos disponibles localmente. Todas las especificaciones están sujetas a cambios sin previo aviso. Por favor, consulte con su proveedor para ofertas exactas. Los productos pueden no estar disponibles en todos los mercados. Las especificaciones y características varían según el modelo, y todas las imágenes son ilustrativas. Consulte las páginas de especificaciones para obtener todos los detalles. El color de PCB y las versiones de software incluidas están sujetas a cambios sin previo aviso. Los nombres de marcas y productos mencionados son marcas comerciales de sus respectivas compañías. A menos que se indique lo contrario, todas las declaraciones de rendimiento se basan en el rendimiento teórico. Las cifras reales pueden variar en situaciones del mundo real. La velocidad de transferencia real de USB 3.0, 3.1, 3.2 y / o Tipo-C variará dependiendo de muchos factores, incluida la velocidad de procesamiento del dispositivo host, los atributos del archivo y otros factores relacionados con la configuración del sistema y su entorno operativo.
Comparación de productos
Producto agregado para comparación. Agregue hasta 4 productos o proceda a ver los productos seleccionados.
Footer ASUS