Caracteristicas
Especificaciones Técnicas
Premios
Galería
Soporte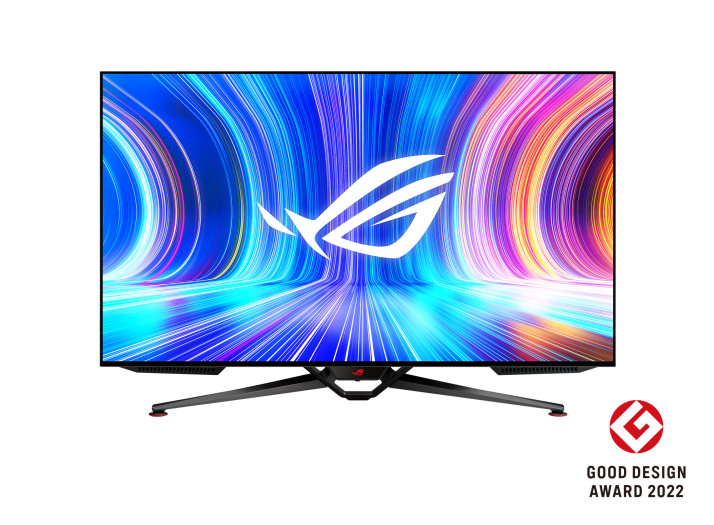 ROG Swift OLED PG42UQ
Monitor gamer ROG Swift OLED PG42UQ: 41,5 pulgadas, 4K, OLED, 138 Hz (OC.), 0,1 ms (GTG), G-SYNC® Compatible, revestimiento de microtextura antirreflejos, disipador térmico personalizado, brillo uniforme, DCI-P3 al 98 %, 10 bits reales, HDMI® 2.1, DisplayPort™ 1.4
Monitor gaming OLED 4K (3840 × 2160) de 41.5 pulgadas con una frecuencia de actualización OC. de 138 Hz, diseñado para juegos inmersivos.
Ofrece unos negros profundos y penetrantes, un alto brillo perceptivo y un tiempo de respuesta ultrarrápido de 0.1 ms, una gama de colores DCI-P3 del 98 % y una diferencia de color Delta E <2 para un rendimiento HDR asombroso.
El gran disipador térmico personalizado permite reducir la temperatura hasta un 8 % para mejorar el rendimiento OLED a largo plazo.
Ajuste opcional para jugadores para obtener un brillo aún más uniforme.
El revestimiento de microtextura reduce los reflejos para obtener colores precisos y una mejor experiencia de visualización.
Amplias opciones de conectividad que incluyen DisplayPort™ 1.4 con Display Stream Compression (DSC, compresión de flujo de pantalla), HDMI® 2.1, concentrador USB y una toma para trípode en la parte superior del monitor.
Video Reseñas
Honestly, Asus has done a really good job with the ROG Swift OLED PG42UQ and we daresay that it is worth that extra bit of cash for it especially if you're going to be using it with a PC. Having a DisplayPort is a huge benefit, and so are the other nifty things like a USB 3.2 Gen 2 Hub, the matte coating, the implementation of Uniform Brightness and the fast wake from sleep amongst many other things.
Its peak spot brightness in HDR is 700 nits and it looks just phenomenal!
BEST Gaming OLED Monitor? | Asus PG42UQ in the test
SHOULD YOU BUY A 4K GAMING MONITOR IN 2022 ?
My New Setup for 2023, You Judge!
TO START THE YEAR OFF RIGHT!
大画面ブームが来る!?今はまだ高いけど将来絶対流行る!ASUS PG42UQ [超猫拳]
The ASUS ROG SWIFT PG42UQ is the best gaming oled monitor currently available on the market. This product is designed for everyone who has a top of the line configuration, because it fits into it without a problem. The qualities of the ROG SWIFT PG42UQ include superior contrasts and colors, and the high price is justified precisely by the high quality. The only flaw is the size, perhaps a bit excessive for a monitor.
It is a wonderful monitor, with very low response time and a very up-to-date Oled panel. Since it is a monitor, it is great for pc, with the inputs best suited for a mixed pc-console setup
The highlight is the oled technology. The remote control is very useful for navigating the control panel. Very good response time. Price is high but fair for the experience it offers. In conclusion, the PG42UQ offers to date a perfect and unforgettable gaming experience, imposing itself as the best gaming monitor currently available on the market that a fan of adventure, simulation or shooter titles, budget and desk permitting, really cannot give up.
The monitor is absolutely great, color rendition, contrast. For gaming, OLED is definitely worth it, but you need to have a powerful PC setup in mind as well.
The ASUS ROG Swift OLED PG42UQ OLED display looks gorgeous - and with a high refresh rate, it's perfect for gaming.
ROG SWIFT OLED (PS5, Xbox, PC) 😳 The most powerful full -time games screen
VALORACIÓN DE LOS CLIENTES
Comparación de productos
Producto agregado para comparación. Agregue hasta 4 productos o proceda a ver los productos seleccionados.
Footer ASUS