Caracteristicas
Especificaciones Técnicas
Premios
Galería
Soporte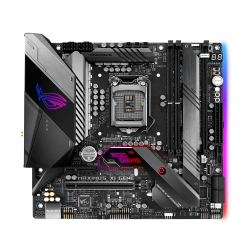 CPU
Build in Intel® 9th / 8th Gen Intel® Core™, Pentium® Gold and Celeron® Processors
Supports Intel® Turbo Boost Technology 2.0
Memoria
2 x DIMM, Max. 64GB, DDR4 4800(O.C.)/4700(O.C)/4600(O.C)/4500(O.C)/4400(O.C)/4266(O.C.)/4133(O.C.)/4000(O.C.)/3866(O.C.)/3600(O.C.)/3466(O.C.)/3400(O.C.)/3333(O.C.)/3300(O.C.)/3200(O.C.)/3000(O.C.)/2933(O.C.)/2800(O.C.)/2666/2400(O.C.)/2133(O.C.) MHz Non-ECC, Un-buffered Memory *
* Double Capcity DRAM support depends on the DRAM models
Supports Intel® Extreme Memory Profile (XMP)
Dual Channel Memory Architecture
* Refer to www.asus.com for the Memory QVL (Qualified Vendors Lists).
Gráficos
Integrated Graphics Processor- Intel® UHD Graphics support
- Supports HDMI 1.4b with max. resolution 4096 x 2160 @ 30 Hz
Slots de Expansión
Socket 1151 for 9th / 8th Gen Intel® Core™, Pentium® Gold and Celeron® processors
Intel® Z390 Chipset
Almacenamiento
2 x ROG DIMM.2 Module supports 2 M.2 Socket 3 , with M key, type 2242/2260/2280/22110 storage devices support (PCIE 3.0 x 4 mode)
2 x M.2 Socket 3, with M Key, type 2242/2260/2280 storage devices support (x4 PCIE mode)
Socket 1151 for 9th / 8th Gen Intel® Core™, Pentium® Gold and Celeron® processors :
Intel® Z390 Chipset :
Intel® Optane™ Memory Ready
LAN
Intel® I219V, 1 x Gigabit LAN Controller(s)
Datos de redes inlámbricas
Intel® Wireless-AC 9560
Supports channel bandwidth: HT20/HT40/HT80/HT160. Up to 1.73Gbps transfer speed
Supports dual band frequency 2.4/5 GHz
Audio
- High quality120dBSNR stereo playback output113dBSNR recording input
ROG SupremeFX8-Channel High Definition Audio CODEC S1220A
- SupremeFX Shielding™ Technology
- Impedance sense for front and rear headphone outputs
- Supports : Jack-detection, Multi-streaming, Front Panel Jack-retasking
- Sonic Studio III + Sonic Studio Link
Audio Feature :
- Optical S/PDIF out port(s) at back panel
Puertos USB
4 x USB 3.1 Gen 2 port(s) (3 x Type-A+1 x Type-C)
8 x USB 3.1 Gen 1 port(s) (2 at mid-board)
Intel® Z390 Chipset :
1 x USB 3.1 Gen 2 front panel connector port(s)
Caracteristicas Overclocking
CMOS button
Double Power :
Slow Mode
Safe Boot Button
LN2 Mode
ROG CloneDrive
ROG CPU-Z
Pre-mounted I/O Shield
Overwolf
Mem TweakIt
ReTry Button
Start Button
Reset Button
ROG Aura
Extreme Engine Digi+ :
- 10K Black Metallic Capacitors
USB BIOS Flashback®
ROG Exclusive Software
Caracteristicas Especiales
AI Overclocking
- ASUS Q-LED (CPU, VGA, Boot Device LED)
ASUS Optimem II:
AURA: RGB Lighting Control
- Optimem (Improved DDR4 stability)
Gamer´s Guardian:
- BIOS Flashback® Button
ASUS 5X Protection III :
- ASUS LANGuard: Protects against LAN surges, lightning strikes and static-electricity discharges!
- Improved DDR4 Stability
ASUS Exclusive Features :
- ASUS NODE : hardware control interface
ASUS Quiet Thermal Solution :
ASUS Q-Design :
Puertos I/O Traseros
3 x USB 3.2 Gen 2 (red)Type-A,
1 x USB 3.2 Gen 2 (red)Type-C
1 x Wi-Fi antenna port(s)
1 x PS/2 keyboard/mouse combo port(s)
BIOS
1 x 128 Mb Flash ROM, UEFI AMI BIOS, PnP, DMI3.0, WfM2.0, SM BIOS 3.0, ACPI 6.0, Multi-language BIOS, ASUS EZ Flash 3, CrashFree BIOS 3, F11 EZ Tuning Wizard, F6 Qfan Control, F3 My Favorites, Last Modified log, F12 PrintScreen, F3 Shortcut functions and ASUS DRAM SPD (Serial Presence Detect) memory information.
Capacidad de gestión
WfM2.0, DMI3.0, WOL by PME, PXE
Disco Soporte
Overwolf
1-year Anti-Virus software
Daemon Tools Software
WinRAR
Factor de forma
9.6 inch x 8.9 inch ( 24.4 cm x 22.6 cm )
ROG MAXIMUS XI GENE
Comparación de productos
Producto agregado para comparación. Agregue hasta 4 productos o proceda a ver los productos seleccionados.

Descargo de responsabilidad
El producto (equipos eléctricos, electrónicos, pilas de botón con mercurio) no debe depositarse en la basura municipal. Consulte las regulaciones locales para la eliminación de productos electrónicos. El uso del símbolo de marca comercial (TM, ®) que aparece en este sitio web significa que la palabra texto, marcas comerciales, logotipos o lemas, se está utilizando como marca comercial bajo la protección de las leyes comunes y / o registrada como marca comercial en EE. UU. Y / u otro país / región .
Los términos HDMI, HDMI High-Definition Multimedia Interface, la Imagen comercial de HDMI (Trade dress) y los logotipos de HDMI son marcas comerciales o marcas registradas de HDMI Licensing Administrator, Inc.
Los productos certificados por la Comisión Federal de Comunicaciones e Industry Canada se distribuirán en los Estados Unidos y Canadá. Visite los sitios web de ASUS USA y ASUS Canada para obtener información sobre productos disponibles localmente. Todas las especificaciones están sujetas a cambios sin previo aviso. Por favor, consulte con su proveedor para ofertas exactas. Los productos pueden no estar disponibles en todos los mercados. Las especificaciones y características varían según el modelo, y todas las imágenes son ilustrativas. Consulte las páginas de especificaciones para obtener todos los detalles. El color de PCB y las versiones de software incluidas están sujetas a cambios sin previo aviso. Los nombres de marcas y productos mencionados son marcas comerciales de sus respectivas compañías. A menos que se indique lo contrario, todas las declaraciones de rendimiento se basan en el rendimiento teórico. Las cifras reales pueden variar en situaciones del mundo real. La velocidad de transferencia real de USB 3.0, 3.1, 3.2 y / o Tipo-C variará dependiendo de muchos factores, incluida la velocidad de procesamiento del dispositivo host, los atributos del archivo y otros factores relacionados con la configuración del sistema y su entorno operativo.
Footer ASUS