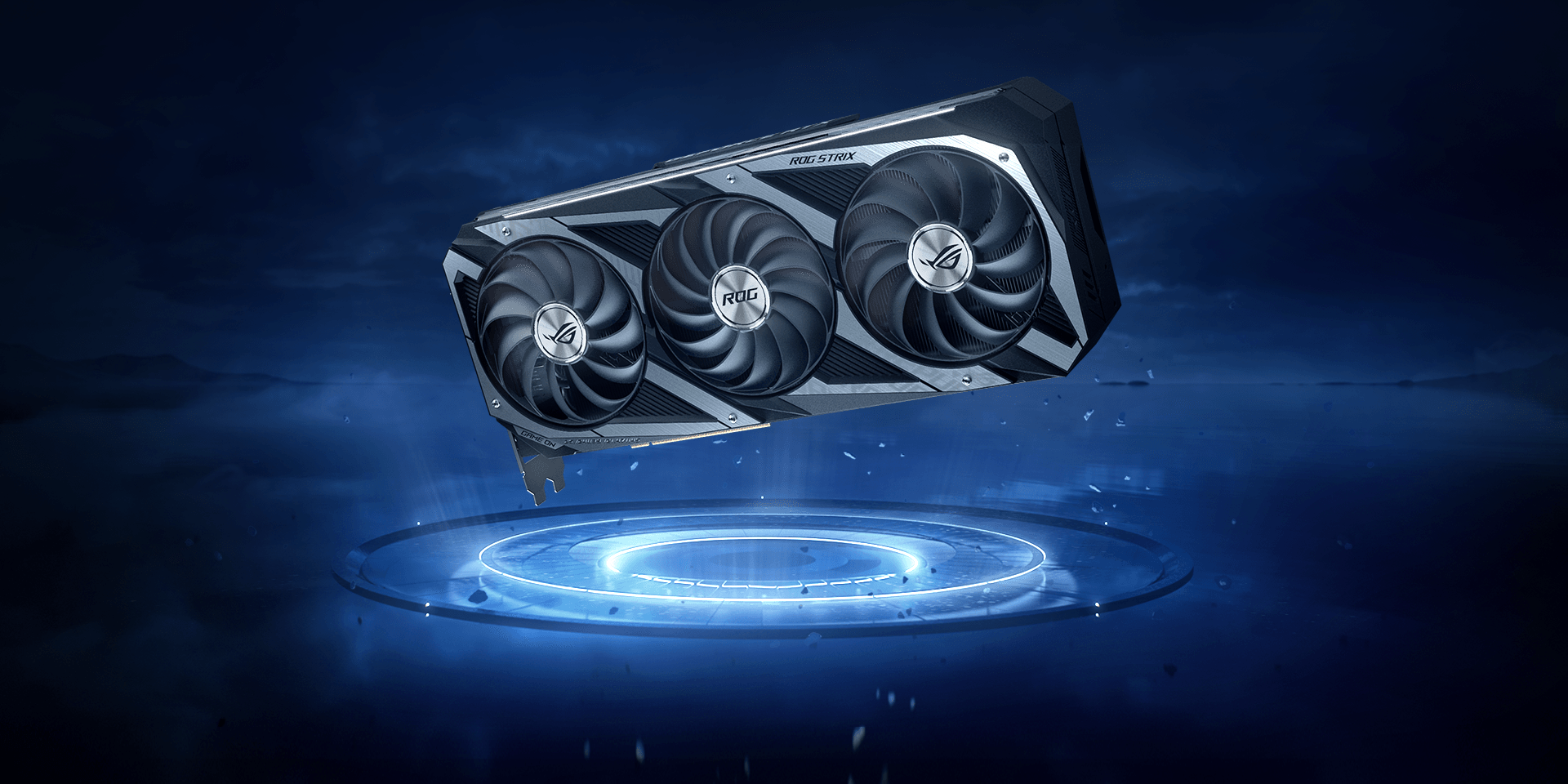 ROG STRIX
GeForce RTX™ 3060 Ti
ROG STRIX
GeForce RTX™ 3060 Ti
Take Flight
From top to bottom, the ROG Strix GeForce RTX™ 3060 Ti has been radically improved to accommodate the impressive new NVIDIA Ampere architecture and to deliver the next wave of gaming performance innovation to the market. A fresh design and more metal surrounds a grouping of Axial-tech fans. Last gen's uniform fan layout has been usurped by a new rotation scheme and specialized roles for central and auxiliary fans. Below the blades, a larger, more impressive heatsink is ready for the most demanding thermal loads. The PCB has some new tricks up its sleeves, and even the backplate has received some performance-boosting changes. You've been waiting for the latest and greatest in graphics card design - and this is it.
Fans
Axial-tech Upgrades
Our Axial-tech fan design has been optimized for a new, larger heatsink that features more fins and surface area than last gen. The blade count has been increased on all three fans, with 13 on the center fan and 11 on the auxiliary fans. The barrier ring on the side fans has been slimmed down to allow for more lateral intake and to provide better airflow through the cooling array. The center fan's extra blades and full-height ring provide boosted static pressure to blast air directly onto the GPU heat spreader.
Fans
New Directions
To bolster the specialized roles of the center and auxiliary fans, the rotational direction of the center fan is reversed. This reduces air turbulence inside the cooling array for another boost to overall thermal performance. The fans also shut off completely when card power consumption is low and the GPU temperature falls beneath 48 Celsius, keeping noise levels down when the system is under a light load.
Heatsink
MaxContact
To get heat up off the die and into the heatsink array to benefit from the new fan design requires special attention. We use a manufacturing process that polishes the surface of the heat spreader to improve smoothness at the microscopic level. The extra flatness allows for better contact with the die for improved thermal transfer.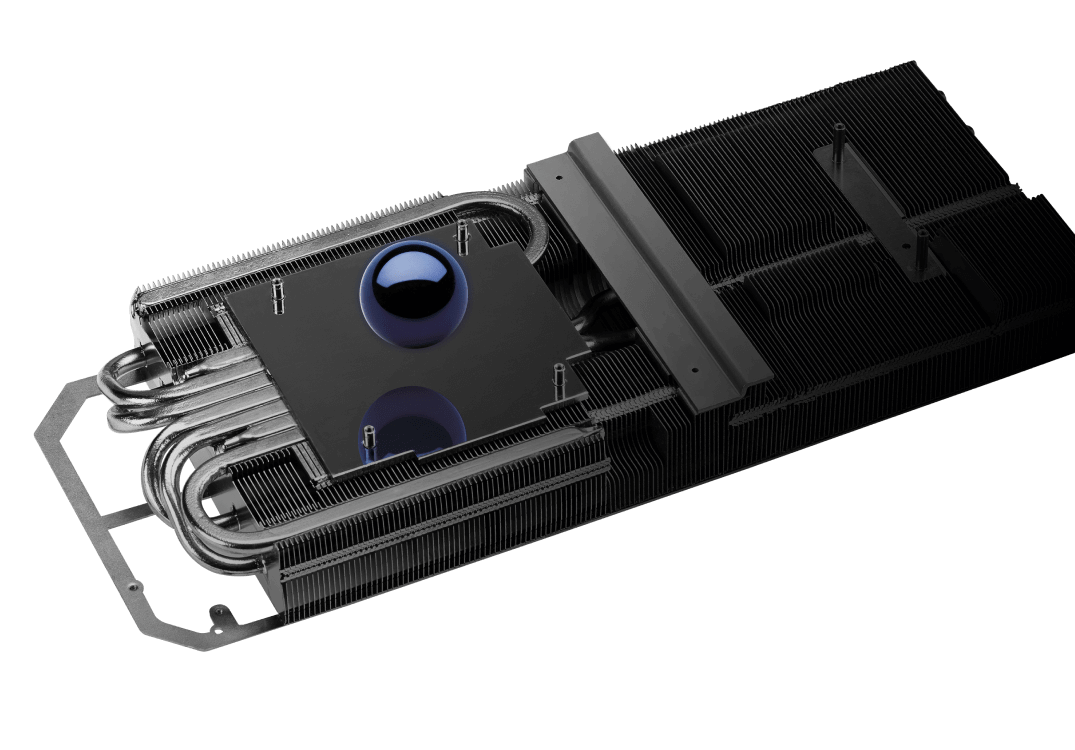 Increased Height
Heatsink
2.9-slot Design
The heat spreader draws heat up into heatpipes that carry it through a fin stack that fills a large 2.9-slot footprint. Increasing the heatsink size compared to the last generation provides more thermal headroom to account for the new high-performance chipset.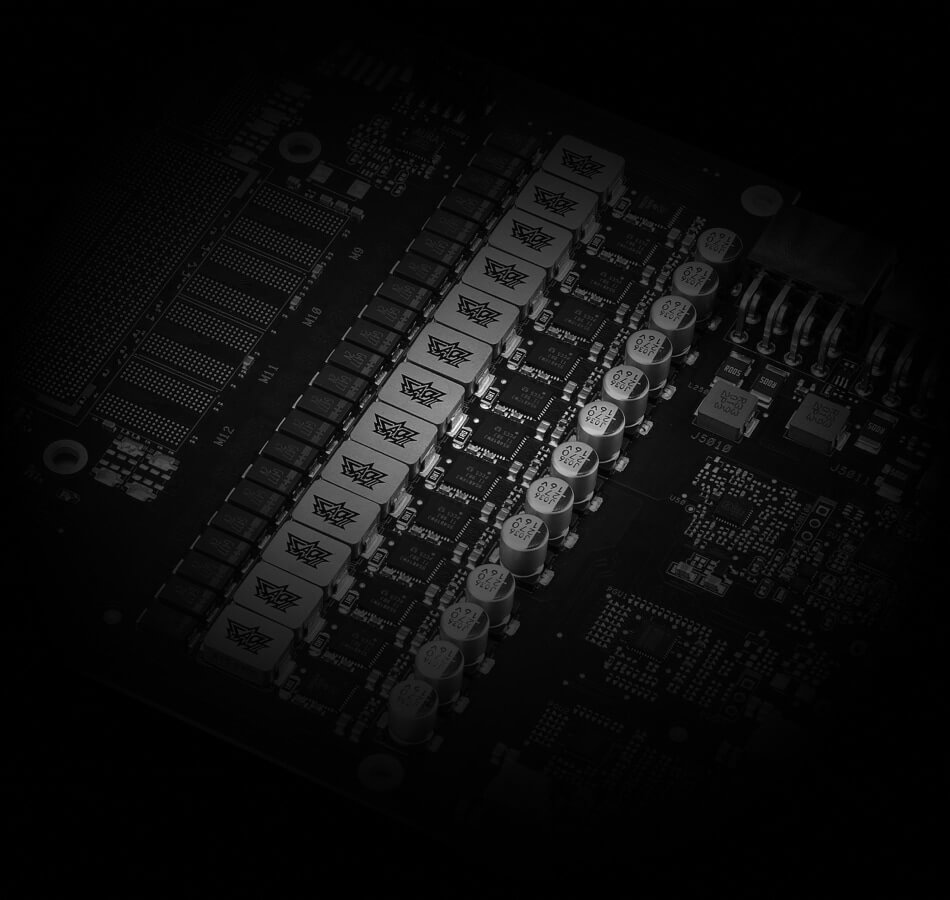 PCB
Premium Components
Top-shelf capacitors, chokes, and MOSFETs are selected to effortlessly deliver hundreds of watts at a millisecond's notice. The Super Alloy Power II parts are soldered to the PCB using our advanced Auto-Extreme automated manufacturing process. Smooth joints on the rear of the PCB and the elimination of human errors ensures each graphics card meets our rigorous specifications.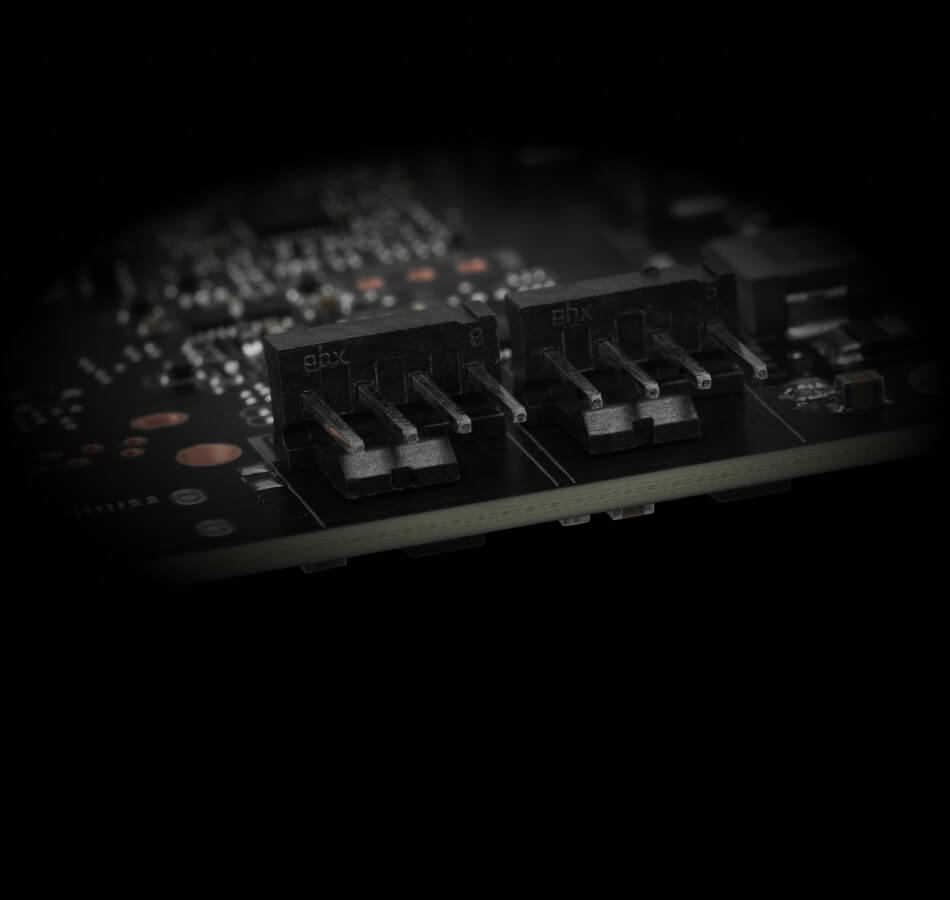 PCB
FanConnect II
The rear of the ROG Strix graphics card sports two PWM FanConnect headers that provide additional DIY flexibility. Chassis fans can be directly attached to the GPU and tuned with a curve that is based on CPU or GPU temperature, providing extra intake or exhaust for demanding 3D tasks.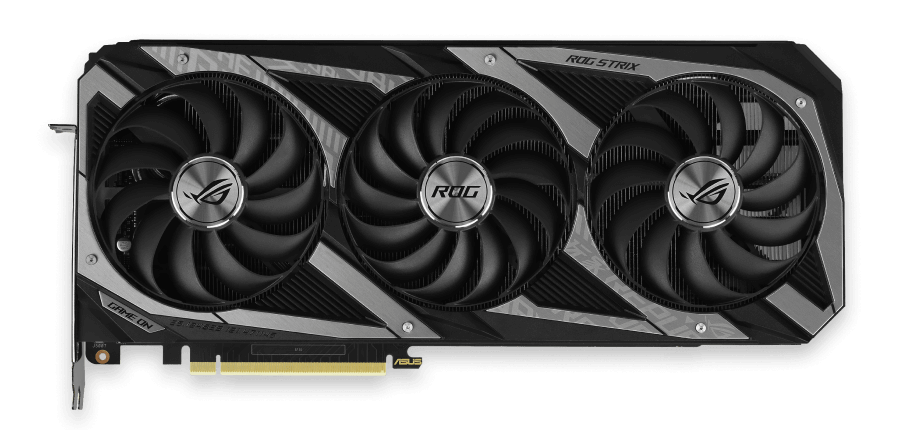 Design
Fresh Shroud
In addition to under-the-hood design changes, the ROG Strix features a new face with metal accents that mirror the design aesthetic of ROG and ROG Strix motherboards. Mixing surface textures and materials make a statement when vertically mounted and lit by chassis LEDs. For those who prefer a sleeker, more subtle look, the greyscale colorway allows it to seamlessly blend into the build.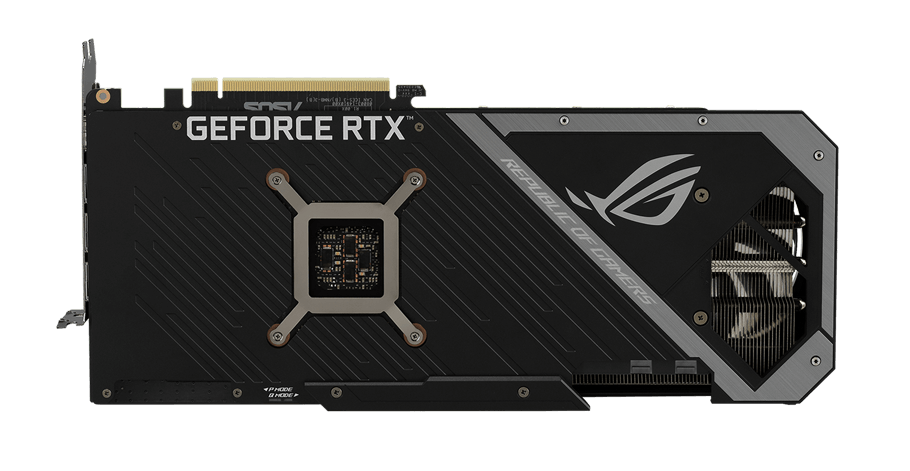 Design
It's Cooler Out Back
Flipping the card around reveals more design improvements. A wide backplate vent and shortened PCB allows hot air to escape towards chassis exhaust fans instead of being recycled by the GPU's circulating cooler design. A GPU bracket provides extra stability to the critical connection between die and heat spreader. The I/O bracket is made from stainless steel to protect ports and provide a more secure mount. A conveniently placed Dual Bios switch allows quick selection between "performance" and "quiet" mode for basic customization of the card's default behavior without software.

Design
Functional Front
Careful attention has been paid to the front of the GPU, as it's the most visible part of the card in typical configurations. A new addressable RGB element can be customized with Armoury Crate to create a uniform look along with other ROG components. To fulfill the power demands of the GeForce RTX 3060 Ti, two 8-pin power connectors are present, along with an onboard circuit that monitors PSU rail voltage. The circuit is fast enough to catch any transients that result in the rail voltage dropping too low. If that happens, a red LED will light up to indicate a power supply issue. The Strix's reinforced metal frame is also visible here, adding a literal layer of durability.
Choose Color
By GPU
Temperature
Low point : ℃

High point : ℃
Select
Mode
Static

Breathing

Strobing

Rainbow

Color cycle

Starry night

Comet

Dark
software
GPU Tweak II
The ASUS GPU Tweak II utility takes graphics card tuning to the next level. It allows you to tweak critical parameters including GPU core clocks, memory frequency, and voltage settings, with the option to monitor everything in real-time through a customizable on-screen display. Advanced fan control is also included along with many more features to help you get the most out of your graphics card.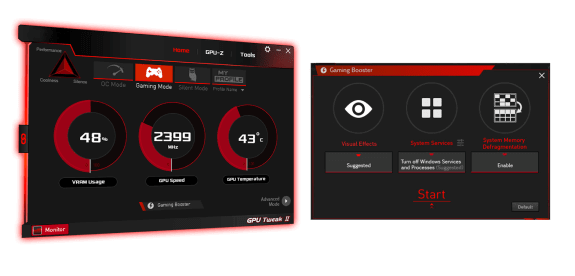 We've partnered with wtfast to help you to play free from lag, latency issues, and lost packets. With a 6-month subscription to the wtfast Gamers Private Network, you'll enjoy lower ping for a smoother, more fluid online gaming experience. Buy an ASUS graphics card - and don't be left waiting!

Learn more about wtfast

XSplit offers a premium streaming experience with in-game annotations and other advanced features. Enjoy a free license with the purchase of select ASUS graphics cards. See you online!

Learn more about XSplit

Quantumcloud is a simple and secure service that lets you effortlessly earn extra money by putting your idle GPU to work. Earnings are automatically transferred to your WeChat or PayPal account, and your privacy remains intact because Quantumcloud doesn't collect your personal data. Get started making money today!

Learn more about Quantumcloud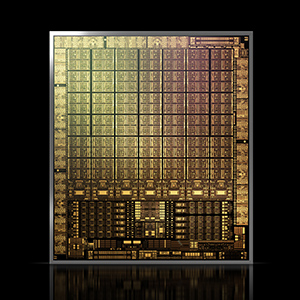 NVIDIA AMPERE ARCHITECTURE
The all-new NVIDIA Ampere architecture delivers the ultimate play, featuring advanced 2nd generation Ray Tracing Cores and 3rd generation Tensor Cores with greater throughput.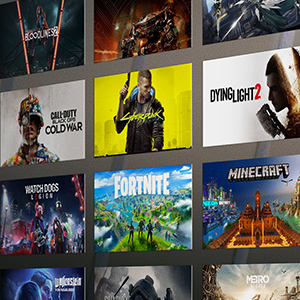 RTX. IT'S ON.
Experience today's biggest blockbusters like never before with the visual fidelity of real-time ray tracing and the ultimate performance of AI-powered DLSS.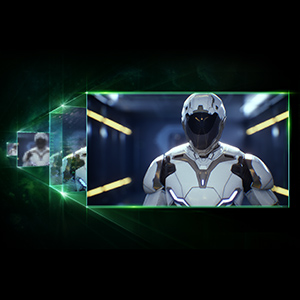 DLSS AI ACCELERATION
NVIDIA DLSS is groundbreaking AI rendering that boosts frame rates with uncompromised image quality using the dedicated AI processing Tensor Cores on GeForce RTX. This gives you the performance headroom to crank up settings and resolutions for an incredible visual experience. The AI revolution has come to gaming.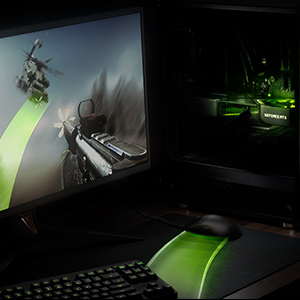 VICTORY MEASURED IN MILLISECONDS
NVIDIA Reflex delivers the ultimate competitive advantage. The lowest latency. The best responsiveness. Powered by GeForce RTX 30 Series GPUs and NVIDIA® G-SYNC® monitors. Acquire targets faster, react quicker, and increase aim precision through a revolutionary suite of technologies to measure and optimize system latency for competitive games.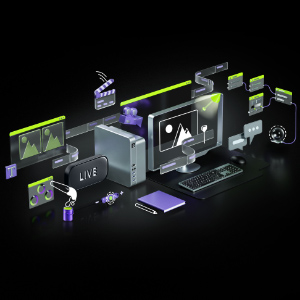 UP YOUR CREATIVE GAME
Take your creative projects to a new level with GeForce RTX 30 Series GPUs. Delivering AI-acceleration in top creative apps. Backed by the NVIDIA Studio platform of dedicated drivers and exclusive tools. And built to perform in record time. Whether you're rendering complex 3D scenes, editing 8K video, or livestreaming with the best encoding and image quality, GeForce RTX GPUs give you the performance to create your best.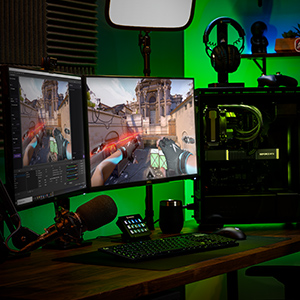 STREAM LIKE A BOSS
Steal the show with incredible graphics and smooth, stutter-free live streaming. Next-generation hardware encoding and decoding combine to show off all your best moments in exquisite detail. And the all-new NVIDIA Broadcast app gives you powerful AI capabilities to improve audio and video quality with effects like virtual background, webcam auto frame, and microphone noise removal. So you can give your audience your best—every time.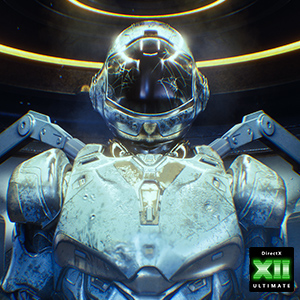 DIRECTX 12 ULTIMATE
Developers can now add even more amazing graphics effects to Microsoft Windows-based PC games. GeForce RTX graphics cards deliver advanced DX12 features like ray tracing and variable rate shading, bringing games to life with ultra-realistic visual effects and faster frame rates.