Features
Tech Specs
Awards
Gallery
Support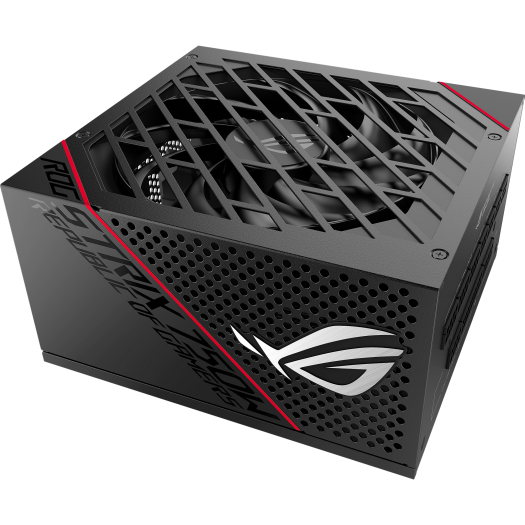 ROG-STRIX-750G
The ROG Strix 750W Gold PSU brings premium cooling performance to the mainstream.
ROG heatsinks cover critical components. Lower temps result in a longer lifespan and reduced noise.
Axial-tech fan design features a smaller fan hub that facilitates longer blades and a barrier ring that increases downward air pressure.
Dual ball fan bearings can last up to twice as long as sleeve bearing designs.
0dB Technology lets you enjoy light gaming in relative silence.
An 80 Plus Gold Certification is the result of Japanese capacitors and other premium components.
Cosmetic customization is enabled by a magnetic logo and stickers that help you reskin the visible side to your liking.
Fully modular cables keep your rig neat and tidy.
10-year warranty included.
Video Reviews
A strong, strong assembly for games, all pieces of Asus
We offer him a 2600€ Gaming PC
My dad is building a Gaming PC for the first time !
Summary of the building of the ProArt PC for my video editor !
What's the result of my video editor's ProArt PC ?
How does the ProArt PC benefits my Video Editor?
How to build your PC in 2022 !
A very good motherboard with pre-mounted I/O shield, PCIe 5.0 slot.
AMD最後のラスボス!Zen3最強ゲーミングCPU? 強いのはFPSだけじゃない!Ryzen 7 5800X3D [超猫拳]
A scientist's third-grade daughter did a free study on the World Wide Web.
The entire system is powered by a 750 W bronze PSU, the power elements in it are of high quality, and the circuitry is even closer to the gold blocks.
The video review from the channel Pakapak
Product Comparison
Product added to comparison. Add up to 4 products or proceed to view compare products selected.
ASUS Footer