Features
Tech Specs
Gallery
Support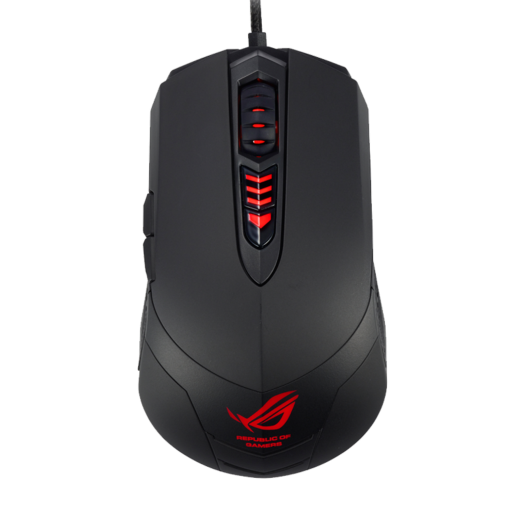 ROG GX860 Buzzard Mouse
Supreme precision. Unerring accuracy.
Ergonomic design for comfortable gaming
Unmatched precision and accuracy
LED illumination
Two-way DPI switch
High quality Omron switches
Giving you more durability and control
Tailored gameplay with easy-to-use software
Brand History
Republic of Gamers Empowering you with new gaming experiences
Since its inception, ASUS has put an ever-greater emphasis on PC gaming. In 2006, Republic of Gamers (ROG) ( http://rog.asus.com/about-rog/ ) was founded with the aim of delivering the most innovative gaming hardware for hardcore gamers.  

Through the years, ROG has delivered a steady flow of gaming technologies and peripherals, and has established itself as the go-to brand for gaming enthusiasts. ROG isn't just about gaming hardware though, it plays an active part in the global gaming community and helps develop the industry by sponsoring events like PAX, BlizzCon, and Dreamhack.

ROG is recognized by worldwide media as a leader in PC gaming and overclocking, with ROG products garnering awards and accolades across the globe.

ROG believes in delivering unprecedented gaming experiences; the latest ROG gaming keyboards, gaming mice, bags, and mouse pad are named after birds of prey, and are the ideal tools for you to conquer the digital battlefield.

It all started with the GX1000 Eagle Eye mouse, which redefined gaming mouse design and performance, as well as providing a brand new user interface that exudes that distinct ROG style. Hot on its heels come the ROG GK2000 Horus Gaming Keyboard. This gaming keyboard has been stringently tested and designed to give you the outstanding performance you have come to expect from ROG.
Design
LED illumination
ROG GX860 features LED accents that switch between three striking colors (red, orange, green) to indicate current settings – so you know that it's ready for battle. Easy-to-use software helps you set up new profiles easily, optimizing your GX860 for your next adventure.
Two-way DPI switch
ROG GX860 lets you switch DPI settings on the fly; a simple tap allows you to tweak DPI settings for improved speeds and accuracy.
Control
Giving you more durability and control
ROG GX860 is armored for battle with non-peel, heat-resistant side grips with intricate Mayan-inspired detailing. It also features built-in forward and back buttons, as well as a customizable thumb button to fully equip you for victory.
Ergonomic
Ergonomic design for comfortable gaming
Whatever grip type you use, the ergonomically-designed ROG GX860 sits comfortably in your hand – making it ideal for marathon gaming.
Performance
Unmatched precision and accuracy
An ultra-precise laser sensor with a 50-8200dpi resolution range and smooth-gliding fluoropolymer feet give you supreme control and accuracy – the vital edge needed for victory!
High quality Omron® switches
ROG GX860 features durable, high quality Omron® switches under both left and right buttons for superior feel, response and accuracy.
Tailored gameplay with easy-to-use software
ROG software engineers are obsessive gamers themselves, so creating the tools to customize GX860 controls has been a work of passion. The simple, intuitive interface makes short work of tweaking any aspect of your gaming experience, from DPI levels, button functions and illumination settings. You have control over many advanced settings including angle-snapping, lift height cut-off, double-click speed and USB polling rate. A test arena serves as a virtual proving ground where you're free to experiment and experience how your changes affect GX860 — now get out there and prepare for battle!
ROG GX860 is a high performance gaming mouse without compromise. Our engineers pooled their unrivalled expertise and conducted extensive trials and testing to create a mouse that caters to all gamers across all gaming genres. It epitomizes the ROG spirit – ambidextrous design, high-accuracy laser sensor, customizable controls, and a smooth-glide underside. A durable matte-black coating and striking LED accents emit a glow to get you all fired up for battle. The emblazoned ROG logo reminds you that you are now a member of an elite group – the Republic of Gamers!
Durable, 1.8m-long weaved cable for notebook or desktop use.
Left and right buttons: Omron switches with 5-million-click lifespan.
Comfortable scroll wheel design .
Two-way (+/-) adjustable DPI lets gamers switch settings on-the-fly.
Internet keys for forward/backward page browsing; additional function button.

All buttons are customizable, which give gamers ultimate usages to rule them all!
Product Comparison
Product added to comparison. Add up to 4 products or proceed to view compare products selected.
ROG Footer