Visión general
Especificaciones técnicas
Premios
Galería
Dónde comprar
Soporte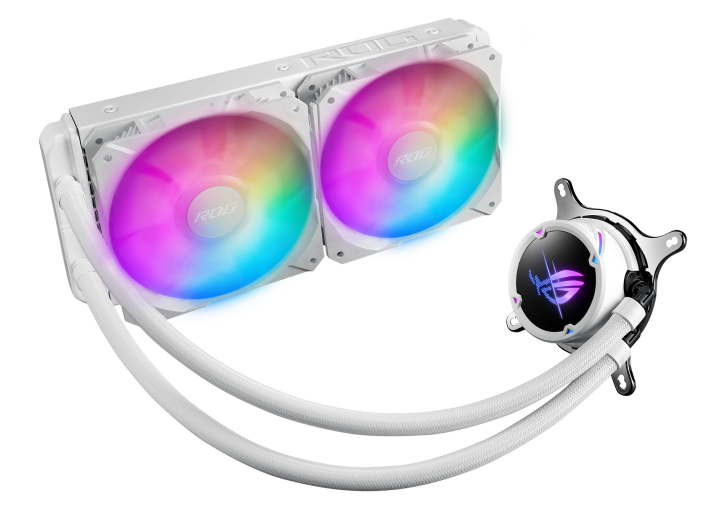 ROG STRIX LC II 240 ARGB WHITE EDITION
Enfriamiento líquido de CPU todo en uno ROG Strix LC II 240 ARGB White Edition con Aura Sync, compatibilidad con Intel® LGA1700 / 1200 / 1150 / 1151 / 1152 / 1155 / 1156 / 2011 / 2011-3 / 2066 y AMD AM4 / TR4 y dos ventiladores ROG de 120mm para radiador con RGB direccionable.
La bomba Asetek de séptima generación ofrece un enfriamiento excepcional y un ruido mínimo con un rango de funcionamiento a partir de 840rpm.
Dos ventiladores de radiador diseñados por ROG proporcionan un flujo de aire optimizado y presión estática.
La iluminación ARGB en la cubierta de la bomba revestida con NCVM y los ventiladores del radiador transmite un diseño elegante y moderno.
La estética complementa perfectamente a las tarjetas madre ROG desde el centro del escenario.
Los tubos reforzados trenzados ofrecen una mayor durabilidad.
Video Reseñas
Configuration PC copper but terrible souls of underground giants: 80k shell, 80 million furniture
Test PC PC and the successful conclusion !!!
Opening the early spring machine with PC Setup hundred million! - Brilliant case case, unexpected strength: Core i7/RTX 3080 Ti
Configuration PC Make money for Content Creator with combo Asus Proart: Make - Play out to play!
Assemble a computer for 160,000THB, the best with ASUS GEFORCE RTX 3080
CALIFICACIONES DE CLIENTES
Comparación de productos
Producto agregado a la comparación. Agregue hasta 4 productos o continúe para ver los productos seleccionados.
ASUS Footer