Visión general
Especificaciones técnicas
Premios
Galería
Dónde comprar
Soporte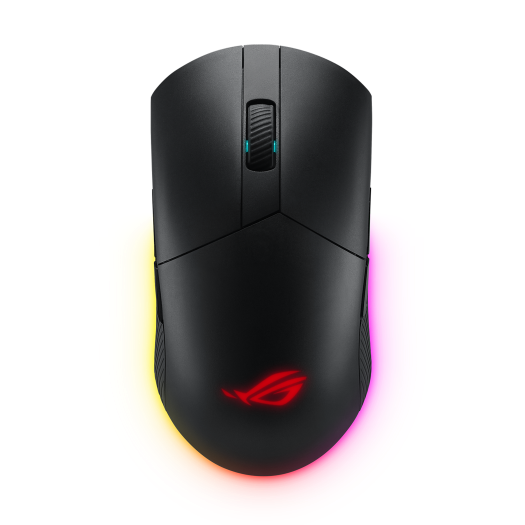 ROG Pugio II
Ratón inalámbrico para juegos ligero y ambidiestro ROG Pugio II con sensor óptico de 16.000 ppp, 7 botones programables, botón de ajuste de DPI sobre la marcha e iluminación Aura Sync RGB
La conectividad optimizada incluye doble conexión inalámbrica de 2,4 GHz y Bluetooth (BLE), además de USB con cable
Sensor óptico de 16.000 ppp y 400 ips líder en la industria para un rendimiento excepcional
Ratón para juegos ambidiestro con botones laterales configurables
Manipulación de DPI sobre la marcha para realizar ajustes de precisión sin esfuerzo
Diseño exclusivo de enchufe de interruptor de ajuste a presión, cubierta superior magnética desmontable y placa personalizable para bricolaje sin esfuerzo
Hasta 80 horas de juegos inalámbricos con sensor de bajo consumo
Diseño liviano para deslizamiento rápido, control preciso y portabilidad
Mecanismo de botón giratorio para una respuesta rápida y un rendimiento preciso, acompañado de una sensación táctil limpia
La interfaz exclusiva Armory II permite ajustes de configuración fáciles e intuitivos
Video Reseñas
Video review from the channel ASUS ROG BALTICS
A scientist's third-grade daughter did a free study on the World Wide Web.
The mouse turned out to be very cool in form, which took all the best decisions from competitors and brought in its decisions, some controversial, some very cool.
Cool mouse - a very cool design, it's cool that you can change switches, all of these keys are a trifle, but nice.
I would not say that this is just marketing - if you buy this mouse, it has everything and you will have it for many years.
We have a truly versatile wireless mouse. Particular attention should be paid to the sensor - it is almost impossible to break.
I didn't pin any hopes on the top-notch product, I was probably even skeptical about this mouse, and as a result I got the mouse that I will always use on a constant basis.
For two weeks of use, I have only pleasant impressions of the mouse. Pressing the buttons is clear, there are almost no backlashes, the sensor works smoothly, without interruptions, the mouse is convenient for work and of course for games.
The mouse is comfortable to use, I liked that it is synchronized with the computer and the keyboard, everything glows in time and in tune.
With a lightweight design, seven programmable keys, as well as integrated Aura RGB lighting, the Pugio II will suit any gamer who wants perfection during the game.
CALIFICACIONES DE CLIENTES
Comparación de productos
Producto agregado a la comparación. Agregue hasta 4 productos o continúe para ver los productos seleccionados.
ASUS Footer