Visión general
Especificaciones técnicas
Galería
Soporte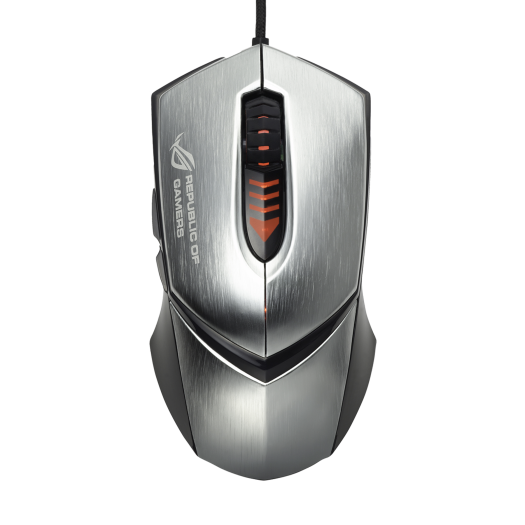 GX1000 Eagle Eye Mouse
Nacido para controlarlo todo
Sensor láser ultrapreciso con un rango de resolución de 50 dpi a 8200 dpi
Los acabados en aluminio cepillado y el diseño ergonómico otorgan las mejores sensaciones para disfrutar de los juegos más radicales
ROG Eagle Eye y las marcas en cuatro colores muestran el perfil en uso
Indicador LED para la resolución dpi. Permite configurar 6 macros, tres slots de función y ajustar el peso
La interfaz dedicada permite ajustar la resolución, la configuración de los botones, los macros y los perfiles
The ROG GX1000 gaming mouse was crafted for only one purpose: attain gaming superiority. Equipped with high precision laser sensors capable of up to 8200dpi and PTFE feet for effortless surface gliding, it gives you instant-strike capabilities with every move. Even as your opponents tire after long gaming sessions, the ergonomic ROG GX1000 keeps you in prime shape with optimal hand comfort to stop fatigue and prevent gaming mishaps. Never fear losing control with instant customizable dpi switching and indication, plus six programmable macros. All specifically cater to gamers in any genre. With the unique ROG logo emblazoned on the mouse, it truly signifies the wielder as belonging to an elite group of gamers: the Republic of Gamers.
8200 dpi

High Precision 8200dpi tracking speed

Laser Sensor

Laser Optical Sensor

Programmable buttons

Setup your own flexible button mapping and functions for greater convenience.

Weight System

Adjust the mouse weight by your preference.

DPI Switch

You could switch the DPI instantly.

Custom-built Gamer UI

Special game-centric features such as response speed settings make for better play, letting gamers customize different profiles.

Customized Profile

With 4 independent profiles for setting.
Imbued with the spirit of ROG
The ROG emblem and Eagle Eye-shaped indicator define the design, placed on the GX1000, which uses refined textured aluminum surfaces to highlight your gaming lifestyle and taste. Get better control in the heat of the action with the cool design, and achieve rapid superiority in any situation.

Following extensive testing and trials, the ROG design team succeeded in crafting an industry-leading gaming mouse. With its sleek yet tough brushed aluminum finish and premium coating, the GX1000 embodies the built-to-last ROG gaming creed. Its ROG logo lights up in four colors, which can be defined by users and assigned to different profiles. Using advanced technology and distinct ROG styling, the GX1000 ushers a new phase in premium gaming control excellence.
1.Scroll wheel with LED lighting
2.Striking LED indicator shows current dpi status
3.Sleek brushed –hairline aluminum
4.Mouse belt
5.Three programmable side buttons
6.ROG Eagle Eye-shaped profile indicator
Adjust the mouse weight by your favorite
Customized ROG mouse pad maximizes GX1000 movement precision and sensor fidelity
Effortlessly access more capabilities through intuitive UI settings
CALIFICACIONES DE CLIENTES
Productos recomendados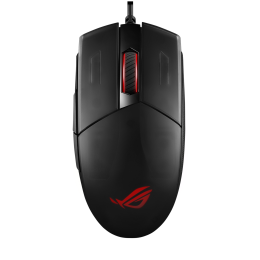 ROG Strix Impact II ambidextrous ergonomics gaming mouse featuring 6200-dpi optical sensor, push-fit switch-socket and Aura Sync RGB lighting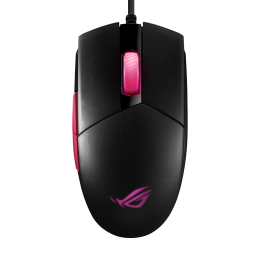 ROG Strix Impact II Electro Punk
ROG Strix Impact II Electro Punk is an ambidextrous, ergonomic gaming mouse featuring 6,200 dpi optical sensor, lightweight design and Aura Sync RGB lighting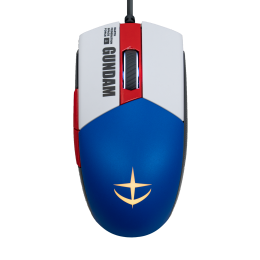 ROG Strix Impact II GUNDAM EDITION
ROG Strix Impact II GUNDAM EDITION ergonomic gaming mouse features a lightweight and ambidextrous design, 6,200 dpi optical sensor and Aura Sync RGB lighting.
Productos relacionados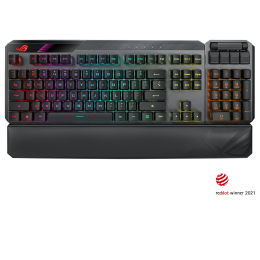 ROG Claymore II modular TKL 80%/100% gaming mechanical keyboard with ROG RX Optical Mechanical Switches, detachable numpad & wrist rest, wired & wireless 2.4G modes, extra customizable clicky hotkeys, volume control wheel and wireless Aura Sync.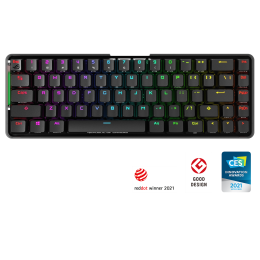 ROG Falchion 65% wireless mechanical gaming keyboard with 68 keys, wireless Aura Sync lighting, interactive touch panel, keyboard cover case, Cherry MX switches, and up to 450-hour battery life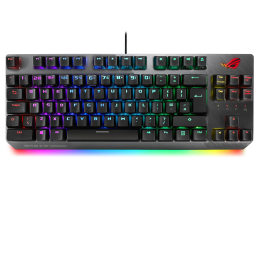 ROG Strix Scope TKL wired mechanical RGB gaming keyboard for FPS games, with Cherry MX switches, aluminum frame, and Aura Sync lighting
Descargo de responsabilidad
Los colores y las especificaciones técnicas del producto varían de país en país; por favor contacte con un vendedor autorizado ASUS para confirmar las configuraciones del producto y/o las opciones de crecimiento (RAM, Disco Duro etc.) disponibles en su país. La información de los productos está sujeta a cambios sin previo aviso. El color de la PCB y las versiones del software incluido están sujetas a cambio sin previo aviso. La marca y los nombres de los productos mencionados son marcas registradas por sus respectivas compañías.
Los productos certificados por la Comisión Federal de Comunicaciones e Industry Canada se distribuirán en los Estados Unidos y Canadá. Visite los sitios web de ASUS USA y ASUS Canada para obtener información sobre productos disponibles localmente. Todas las especificaciones están sujetas a cambios sin previo aviso. Por favor, consulte con su proveedor para ofertas exactas. Los productos pueden no estar disponibles en todos los mercados. Las especificaciones y características varían según el modelo, y todas las imágenes son ilustrativas. Consulte las páginas de especificaciones para obtener todos los detalles. El color de PCB y las versiones de software incluidas están sujetas a cambios sin previo aviso. Los nombres de marcas y productos mencionados son marcas comerciales de sus respectivas compañías. A menos que se indique lo contrario, todas las declaraciones de rendimiento se basan en el rendimiento teórico. Las cifras reales pueden variar en situaciones del mundo real. La velocidad de transferencia real de USB 3.0, 3.1, 3.2 y / o Tipo-C variará dependiendo de muchos factores, incluida la velocidad de procesamiento del dispositivo host, los atributos del archivo y otros factores relacionados con la configuración del sistema y su entorno operativo.
For pricing information, ASUS is only entitled to set a recommendation resale price. All resellers are free to set their own price as they wish.
Price may not include extra fee, including tax、shipping、handling、recycling fee.
Comparación de productos
Producto agregado a la comparación. Agregue hasta 4 productos o continúe para ver los productos seleccionados.
ASUS Footer