Visión general
Especificaciones técnicas
Premios
Galería
Dónde comprar
Soporte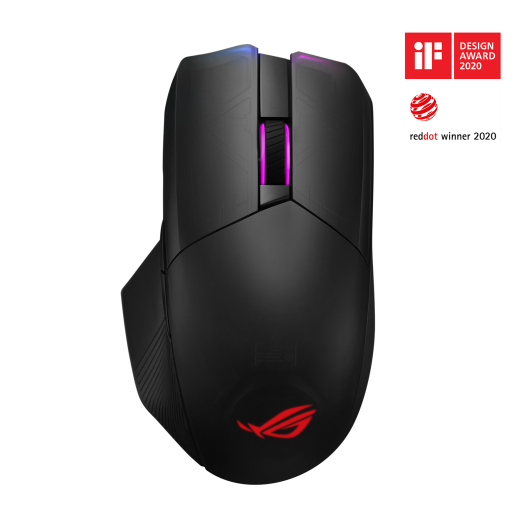 ROG Chakram
Ratón inalámbrico RGB gamer con carga Qi, joystick programable, tres modos de conexión (cable, 2,4 GHz y Bluetooth), sensor avanzado de 16000 DPI, diseño magnético sin tornillos e iluminación Aura Sync
Tres formas de conectarlo: wireless 2,4GHz, Bluetooth (BLE) y cable USB.
Sensor óptico líder de la industria de 16.000 DPI, 400 IPS y tasa de sondeo de 1.000 Hz a través de 2,4 GHz y por cable.
El joystick programable y desmontable permite crear configuraciones personalizadas y disfrutar de un control superior en los juegos.
Carga rápida por cable (hasta 12 horas cargándolo 15 mins.) y carga inalámbrica Qi.
Botones y cubiertas magnéticas (sin tornillos), interruptores a presión e insignia personalizable para amantes del DIY.
Los botones pivotantes ofrecen una respuesta rápida y precisa, y sensaciones táctiles optimizadas para gamers.
Ajusta los DPI con la rueda de desplazamiento.
La interfaz Armory II permite un ajuste intuitivo del joystick, los botones, el rendimiento y la iluminación.
Verificado oficialmente para NVIDIA Reflex Latency Analyzer para monitorear la capacidad de respuesta del mouse – Conoce más
Video Reseñas
Video review from the TheTanelChannel
When I saw the ROG Glaymore II, I instantly wanted it. The ROG Chakram is my favourite mouse
I offered him a 6500€ Setup GAMER !
It's a cool gaming mouse, almost unique because it offers good autonomy, a pretty eye-catching design and a powerful stuffing.
For the rest, as for me, this is a universal soldier who can do anything.
I can recommend a wired option for people working at a computer who really need additional buttons to hang additional functions on them.
If you have ever liked ROG Chakram, but you were not ready to pay such a price for it - then keep the flagship at an affordable price!
I asked ASUS to send a set of gaming peripherals so that there was something to drive Cyberpunk on - and that's what they sent me.
The mouse is primarily interesting for its shape, plus it's cool that the wireless one can live for a very long time or forever if you have a mat with QI.
It's cool that the company thinks about alternative folk, although the mouse offers, by and large, almost all the same bonuses as the older model.
In general, the mouse leaves a good impression - it is well-assembled, looks nice with an unusual joystick
Video review from the channel HDTanel
Based on the overall impression, Chakram is a mouse that will meet all the conditions for which he earned the Ruby Nerds and Advance Design awards.
The ASUS Chakram Ćore mouse is definitely the best mouse in this price range, and because of that it received two awards from ours, that is. Stubble Ruby and Stubble Advance Design Award.
CALIFICACIONES DE CLIENTES
Comparación de productos
Producto agregado a la comparación. Agregue hasta 4 productos o continúe para ver los productos seleccionados.
ASUS Footer