Visión general
Especificaciones técnicas
Premios
Galería
Dónde comprar
Soporte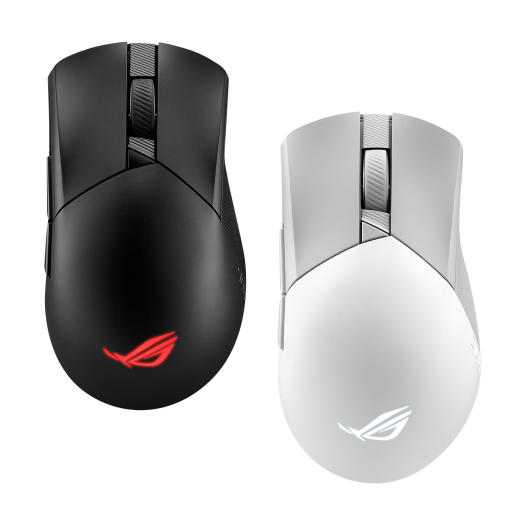 ROG Gladius III Wireless AimPoint
El ROG Gladius III Wireless AimPoint es un mouse para juegos RGB inalámbrico liviano de 79 gramos que cuenta con un sensor óptico ROG AimPoint de 36,000 ppp, conectividad trimodal, tecnología inalámbrica ROG SpeedNova, switches de mouse intercambiables, microswitches ROG, mecanismo de botón giratorio para latencia de clic de 0 ms, diseño ergonómico, ROG Paracord, pies de mouse 100% PTFE, seis botones programables y lija autoadherible para mouse.
Precisión perfecta: Sensor óptico ROG AimPoint de 36 000 ppp con 650 ips y tasa de aceleración de 50 g, más tasa de sondeo de 1000 Hz.
Aspecto clásico, con mayor ligereza: La reconocida estética asimétrica de la serie Gladius, reducida a solo 79 gramos.
Conectividad trimodal: Juega durante hasta 119 horas con RF de baja latencia de 2,4 GHz, conecta hasta tres dispositivos a través de Bluetooth® o cargar y jugar con USB con cable.
Tecnología inalámbrica ROG SpeedNova: Ofrece un rendimiento inalámbrico fiable y de baja latencia y una solución de energía optimizada en el modo RF de 2.4 GHz.
Push-Fit Switch Socket II: Diseño de switch intercambiable para una fácil personalización; Gladius III Wireless AimPoint incluye microswitches ROG y es compatible con otros microswitches mecánicos de 3 pines y ópticos de 5 pines.
Lija antideslizante para mouse con diseño ROG: Brinda a los usuarios un agarre más seguro y un poco más de estilo.
Movimientos suaves y rápidos: ROG Paracord y pies de ratón 100% PTFE.
También disponible en Moonlight White
NVIDIA®Reflex: Oficialmente verificado para NVIDIA Reflex Latency Analyzer para monitorear la capacidad de respuesta del mouse. Conoce más
Video Reseñas
I also like the fact that the mouse comes with user-replaceable switches, as well as extensive set of accessories
To sum up, the ROG Gladius III Wireless AimPoint is deserving of its status as a premium wireless gaming mouse, where it sports an industry-leading 36000 DPI optical sensor in a well-built package. Throw in an extensive set of accessories, and user-replaceable mouse switches, and you have a package that is hard to beat.
If you are not someone that really cares too much about having the lightest mouse, then defnitely consider the ROG Gladius III Wireless Aimpoint and ROG Keris Wireless Aimpoint.
Everyone defines the perfect gaming setup differently - this combo is definitely pretty cool!
ASUS ROG: I tested the ultimate keyboard/mouse kit for gamers
I'M DOING AN €8500 SETUP CONTEST!!! 😱 (incredible)
Playing good games need to buy "expensive mouse"?
Gaming Mouse upgrade Accurate response with ROG Aimpoint 36,000 dpi
Review ROG Gladius III Wireless & Keris Wireless Upgrade ROG AimPoint OPTICAL SENSOR
Personally, I think the updates in these mice are very timely and necessary. If you have a larger hand and you hold the mouse with your entire palm, take Gladius.
In the first place I have convenience and ergonomics, and I am sure that in this parameter it will suit a lot of people.
ASUS ROG GLADIUS III - AimPoint edition! | 4K REVIEW
Reear development in Rog Gladius III WIRELESS AIMPOINT games
Preview 3 professional giming mouse
ROG GAMING MICE - 3 Ultimate
Both mice earned our highest accolade – AXetraordinary.
CALIFICACIONES DE CLIENTES
Comparación de productos
Producto agregado a la comparación. Agregue hasta 4 productos o continúe para ver los productos seleccionados.
ASUS Footer