Features
Tech Specs
Awards
Gallery
Support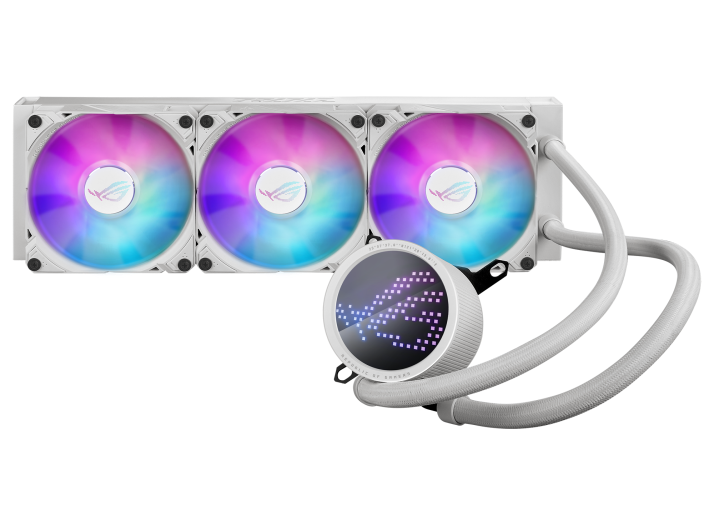 ROG RYUO III 360 ARGB WHITE EDITION
ROG Ryuo III 360 white edition all-in-one liquid CPU cooler with Asetek 8th gen pump solution, Anime Matrix™ LED Display and ROG ARGB cooling fans
The latest 8th gen Asetek pump is armed with a 3-phase motor that delivers ultimate cooling performance with higher flow and lower impedance
The ASUS-exclusive Anime Matrix™ is a mini LED array that can display ROG-exclusive anime content, core system stats, and customized animations
Premium ROG ARGB fans offer high airflow and optimized noise levels
Aluminum components and vacuum coating provide high durability and flagship aesthetics
The ROG Ryuo series is styled to complement the ROG motherboards at the heart of a high-end build
Video Reviews
In this video, we take a look at the ROG Ryuo III 360 all-in-one CPU liquid color with Asetek 8th gen pump solution, Anime Matrix™ LED Display and ROG ARGB cooling fans. We will review its features, performance, and overall value to help you decide if it's the right choice for your needs.
ASUS ROG RYUO III 360 ARGB - Installation Guide (LGA 1700)
ASUS' RYOU III AIOs are up there with the best AIOs that we have ever tested
ASUS ROG RYUO III 360 ARGB, a watercooling even more beautiful in white!
Build PC GAMER ROG Full White Powered by ASUS à 5000 €
Brutal design and performance
【自作PC】強すぎる白いゲーミングPC作る! RTX4080 + 13900K ROG TUF APEX 240fps【初心者向け 組み立て解説付き】
【自作PC】美しすぎるケースとオールホワイトのパーツで白いPCを組む【ASUS|i5 13600K|RTX3060】
【自作PC】美しすぎるケースとオールホワイトのパーツで白いPCを組む【ASUS|i5 13600K|RTX3060】
【自作PC】デザイン最高な真っ白のゲーミングPCを作りたい
【驚異の91万円】白いRTX4090を搭載した現行最強のゲーミングPCを組んでみました。
Those who follow me know that I am a die-hard micro ATX fan, and this video is dedicated to that. The build behind me is atomic cool and beautiful, this is a total white ASUS configuration. ASUS PRIME AP201 is the absolute star of this video, it is very interesting because very few cases of this format come out and this one, while not costing a lot lends itself to builds of a certain level.
ASUS products used for build
Building this PC was supposed to BE A TOY...
We're building a new high end PC into ROG Hyperion!
Full collection from Asus 2023
Design, quality of materials, ease of installation, performance, AniMe Matrix screen, warranty.
Product Comparison
Product added to comparison. Add up to 4 products or proceed to view compare products selected.
ASUS Footer