Characteristics
Techn. specs
Onderscheidingen
Galerij
Waar te koop
Ondersteuning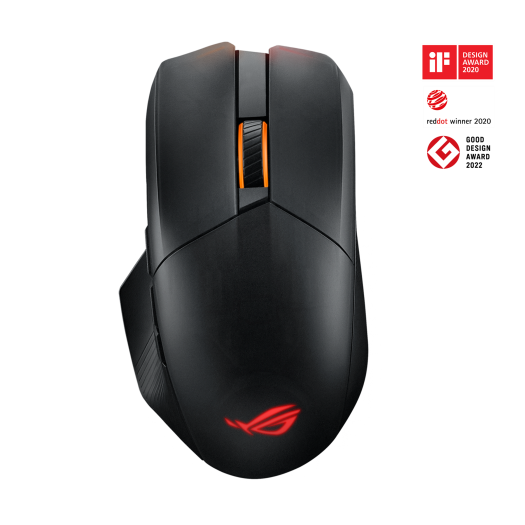 ROG Chakram X
ROG Chakram X draadloze RGB gaming-muis met next-gen 36.000 dpi ROG AimPoint optische sensor, 8000Hz polling rate, lage-latentie tri-modus connectiviteit (RF 2.4GHz / Bluetooth / bedraad), 11 programmeerbare knoppen, een analoge joystick en hot-swappable microschakelaar-sockets (mechanisch / optisch ).
ROG AimPoint optische sensor: next-gen 36.000 dpi optische gaming-sensor met 8000Hz polling rate voor ultieme precisie
Tri-modus connectiviteit: flexibiliteit met bekabelde USB, lage-latentie 2.4GHz RF, plus een Bluetooth®-modus om tot drie apparaten te koppelen.
Programmeerbare joystick nieuwe afneembare joystick verkrijgbaar in verschillende maten voor verfijnde analoge of digitale lineaire bediening
Meer controle binnen handbereik: zeven knoppen en een vierweg directionele joystick bieden in totaal 11 programmeerbare knoppen voor veelzijdige sneltoets-functies
Geweldig klik-gevoel: pivoterend knopmechanisme biedt snelle respons en een puur, tastbaar gevoel
Onmiddellijke DPI aanpassingen: DPI On-The-Scroll maakt moeiteloze directe in-game aanpassingen mogelijk
Push-Fit Switch Socket II: hot-swap compatibiliteit met 3-pins mechanische schakelaars en 5-pins optische microschakelaars om de klikkracht te variëren en de levensduur van de muis te verlengen
Vloeiende en snelle beweging: ROG Paracord en muisvoetjes van 100% PTFE
Handig opladen: opladen met een kabel of via draadloze Qi voor tot 114 uur ononderbroken gameplay
Moeiteloos zelf aan te passen: schroefloze magnetische knoppen en cover, plus een aanpasbare badge om het gevoel en uiterlijk gemakkelijk te veranderen
NVIDIA®Reflex: officieel geverifieerd voor NVIDIA Reflex Latency Analyzer om de responsiviteit van de muis te controleren - Meer info
Video Reviews
Ultimate $5000 Gaming Setup 2022! [ASUS PG48UQ, RTX 3090, Peripherals & More!]
The Most Excessive Gaming Setup... Ever.
I'm TRYING TO MAKE TOP 1 MIRROR KEYBOARD AFTER 5 YEARS OF PLAYING HANDSET!
Wireless gaming peripherals terbaru dari ROG! Jom kita tengok
The latest 2022 ROG gaming gear designed for gamers!
【デバイスチート!?】まさかのジョイスティック付きゲーミングマウス!?が発売されてしまいました…
Review Gaming Mouse with Joystick
Review Gaming Mouse with Joystick
Review Gaming Mouse with Joystick
I'm excited because I've been dreaming of doing a collaboration with Asus for years and we're finally here! Today we will assemble my new computer for the one million special. I can't wait then to try this ORG Wingwall, I think I'm one of the first to try it and it looks super cool.
The surprise is the ROG Delta S Core, probably the best microphone I've experienced with Asus. I'm also excited about the ROG Strix Flare II Animate keyboard, I'll definitely be back to that one.
Creativity of Asus Rog Chakram X
Maherco Assembly #1: New Game 2022
Asus ROG Smart Game Products from
Best Wireless gaming peripherals set-up
Today we had the opportunity to test the ROG Chakram X. We have already tested the original ROG Chakram mouse at AX, which became part of Dulet's ROG setup.
The Chakram X is one of the best mice I've had the chance to test so far on the channel.
The review from the channel Texnoplov
Productvergelijking
Product toegevoegd aan vergelijking. Voeg maximaal 4 producten toe of ga verder met het vergelijken van de geselecteerde producten.
ASUS Footer