Characteristics
Techn. specs
Onderscheidingen
Galerij
Waar te koop
Ondersteuning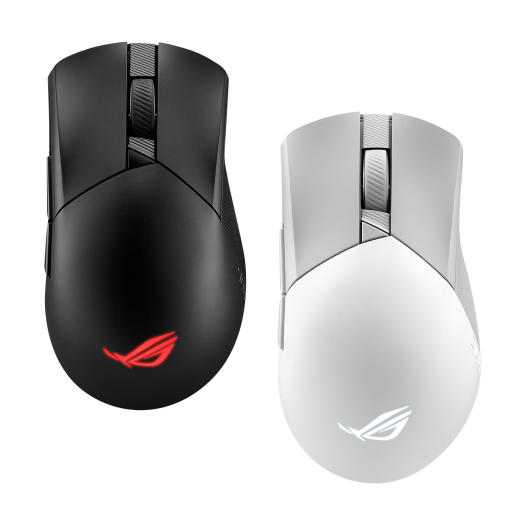 ROG Gladius III Wireless AimPoint
De ROG Gladius III Wireless AimPoint is een lichtgewicht draadloze RGB gaming-muis van 79 gram, met een 36.000 dpi ROG AimPoint optische sensor, tri-modus connectiviteit, ROG SpeedNova draadloze technologie, verwisselbare muis-switches, ROG Micro Switches, pivoterend knopmechanisme voor 0 ms kliklatentie, ergonomisch ontwerp, ROG Paracord, 100% PTFE muisvoetjes, zes programmeerbare knoppen en muisgrip-tape.
Perfecte precisie: 36.000 dpi ROG AimPoint optische sensor met 650 ips en 50 g acceleratie, plus 1000 Hz polling rate
Klassieke look, met extra lichtheid: de vermaarde asymmetrische esthetiek van de Gladius-serie, teruggebracht tot slechts 79 gram
Tri-modus connectiviteit: game tot wel 119 uur lang door met lage latentie 2.4GHz RF, pair tot drie apparaten via de Bluetooth®-modus, of laad op en speel met bedrade USB
ROG SpeedNova draadloze technologie: levert betrouwbare draadloze prestaties met lage latentie en een geoptimaliseerde voedingsoplossing in de 2.4GHz RF-modus
Push-Fit Switch Socket II: verwisselbaar switch-ontwerp voor eenvoudige aanpassing; Gladius III Wireless AimPoint bevat ROG micro switches en is compatibel met andere 3-pins mechanische en 5-pins optische micro switches
Antislip muisgrip-tape met ROG-patroon: biedt gebruikers stevigere grip en een extra beetje flair
Vloeiende en snelle bewegingen: ROG Paracord en muisvoetjes van 100% PTFE
Ook verkrijgbaar in Moonlight White
Video Reviews
I also like the fact that the mouse comes with user-replaceable switches, as well as extensive set of accessories
To sum up, the ROG Gladius III Wireless AimPoint is deserving of its status as a premium wireless gaming mouse, where it sports an industry-leading 36000 DPI optical sensor in a well-built package. Throw in an extensive set of accessories, and user-replaceable mouse switches, and you have a package that is hard to beat.
If you are not someone that really cares too much about having the lightest mouse, then defnitely consider the ROG Gladius III Wireless Aimpoint and ROG Keris Wireless Aimpoint.
Everyone defines the perfect gaming setup differently - this combo is definitely pretty cool!
ASUS ROG: I tested the ultimate keyboard/mouse kit for gamers
I'M DOING AN €8500 SETUP CONTEST!!! 😱 (incredible)
Playing good games need to buy "expensive mouse"?
Gaming Mouse upgrade Accurate response with ROG Aimpoint 36,000 dpi
Review ROG Gladius III Wireless & Keris Wireless Upgrade ROG AimPoint OPTICAL SENSOR
Personally, I think the updates in these mice are very timely and necessary. If you have a larger hand and you hold the mouse with your entire palm, take Gladius.
In the first place I have convenience and ergonomics, and I am sure that in this parameter it will suit a lot of people.
ASUS ROG GLADIUS III - AimPoint edition! | 4K REVIEW
Reear development in Rog Gladius III WIRELESS AIMPOINT games
Preview 3 professional giming mouse
ROG GAMING MICE - 3 Ultimate
Both mice earned our highest accolade – AXetraordinary.
Productvergelijking
Product toegevoegd aan vergelijking. Voeg maximaal 4 producten toe of ga verder met het vergelijken van de geselecteerde producten.
ASUS Footer