Nie masz żadnych produktów w koszyku.
Funkcje
Specyfikacja
Nagrody
Galeria
Wsparcie klienta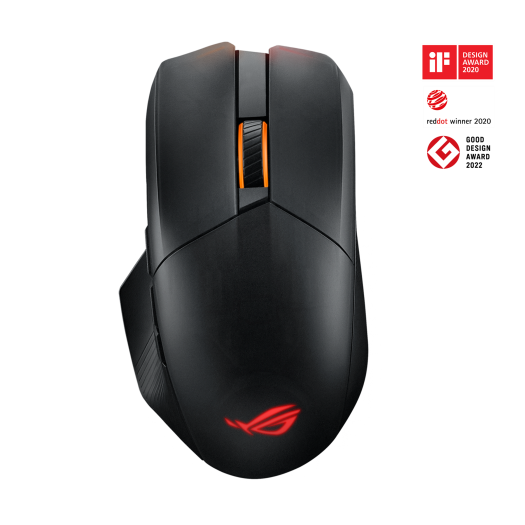 ROG Chakram X
ROG Chakram X – bezprzewodowa mysz gamingowa z oświetleniem RGB, z czujnikiem optycznym ROG AimPoint najnowszej generacji o czułości 36 000 DPI, częstotliwością raportowania 8000 Hz, trzema trybami połączenia o niskim poziomie opóźnień (na falach radiowych 2,4 GHz / Bluetooth / przewodowo), 11 programowalnymi przyciskami, analogowym joystickiem i wymiennymi gniazdami mikroprzełączników (mechaniczne/optyczne).
Czujnik optyczny ROG AimPoint: najnowszej generacji czujnik optyczny o czułości 36 000 DPI idealny do rozgrywki – z częstotliwością raportowania 8000 Hz dla najwyższej precyzji
Trzy tryby połączenia: elastyczność dzięki przewodowemu połączeniu przez USB, połączeniu na falach radiowych 2,4 GHz o niskim poziomie opóźnień, a także trybowi Bluetooth® do sparowania maksymalnie trzech urządzeń.
Programowalny joystick: nowy odłączany joystick dostępny w różnych rozmiarach do optymalnego sterowania analogowego lub liniowego cyfrowego
Więcej opcji sterowania w zasięgu Twoich palców: siedem przycisków i czterodrożny joystick zapewniają łącznie 11 programowalnych przycisków, umożliwiając wszechstronne konfiguracje klawiszy skrótów
Doskonałe wrażenia podczas klikania: obracający się pod kątem 90° mechanizm przycisków oferuje błyskawiczną responsywność z wyraźnymi, dobrze odczuwalnymi kliknięciami
Natychmiastowa regulacja wartości DPI: przycisk do regulacji DPI w kółku przewijania umożliwia szybkie dostosowanie precyzji w trakcie rozgrywki
Push-Fit Switch Socket II: obsługa "hot swap"– można zainstalować 3-pinowe przełączniki mechaniczne lub 5-pinowe mikroprzełączniki optyczne, co umożliwia zmianę siły potrzebnej do kliknięcia lub wymianę zużytych przełączników i wydłużenie żywotności myszy
Płynne i szybkie sterowanie: kabel ROG Paracord i stopki myszy wykonane w 100% z tworzywa PTFE
Wygodne ładowanie: możesz doładować urządzenie przewodowo lub bezprzewodowo w technologii Qi, aby cieszyć się maksymalnie 114 godzinami nieprzerwanej rozgrywki
Wygodna personalizacja "zrób to sam": przyciski i osłona mocowane na magnes i bez użycia śrub, a ponadto spersonalizowana plakietka pozwalająca łatwo zmienić styl i wygląd myszy
NVIDIA®Reflex: oficjalnie zatwierdzona kompatybilność z analizatorem opóźnień NVIDIA Reflex do monitorowania responsywności myszy dowiedz się więcej
Recenzje wideo
Ultimate $5000 Gaming Setup 2022! [ASUS PG48UQ, RTX 3090, Peripherals & More!]
The Most Excessive Gaming Setup... Ever.
ASUS ROG: I tested the ultimate keyboard/mouse kit for gamers
I'm TRYING TO MAKE TOP 1 MIRROR KEYBOARD AFTER 5 YEARS OF PLAYING HANDSET!
Wireless gaming peripherals terbaru dari ROG! Jom kita tengok
The latest 2022 ROG gaming gear designed for gamers!
【デバイスチート!?】まさかのジョイスティック付きゲーミングマウス!?が発売されてしまいました…
Asus Chakram X - super virtual gaming mouse!
This mouse has everything you don't need! | Review Asus Rog Chakram X
Review Gaming Mouse with Joystick
Review Gaming Mouse with Joystick
Review Gaming Mouse with Joystick
I'm excited because I've been dreaming of doing a collaboration with Asus for years and we're finally here! Today we will assemble my new computer for the one million special. I can't wait then to try this ORG Wingwall, I think I'm one of the first to try it and it looks super cool.
The surprise is the ROG Delta S Core, probably the best microphone I've experienced with Asus. I'm also excited about the ROG Strix Flare II Animate keyboard, I'll definitely be back to that one.
Maherco Assembly #1: New Game 2022
Creativity of Asus Rog Chakram X
Asus ROG Smart Game Products from
Best Wireless gaming peripherals set-up
The Chakram X is one of the best mice I've had the chance to test so far on the channel.
Today we had the opportunity to test the ROG Chakram X. We have already tested the original ROG Chakram mouse at AX, which became part of Dulet's ROG setup.
The review from the channel Texnoplov
Porównanie produktów
Produkt został dodany do porównania. Dodaj maks. 4 produkty lub wyświetl porównanie wybranych produktów.
ASUS Footer