Nie masz żadnych produktów w koszyku.
Funkcje
Specyfikacja
Nagrody
Galeria
Wsparcie klienta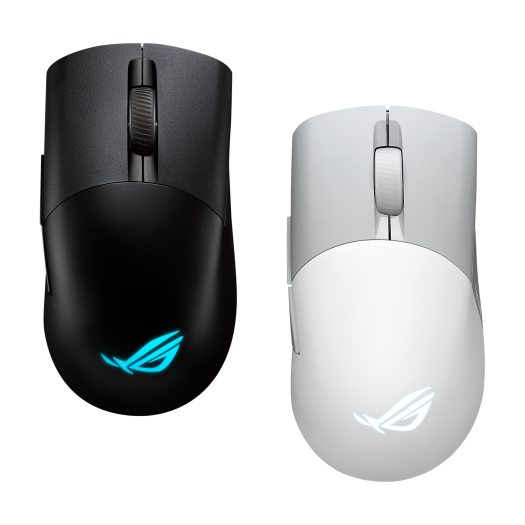 ROG Keris Wireless AimPoint
ROG Keris Wireless AimPoint to lekka, ważąca 75 gramów bezprzewodowa mysz gamingowa z oświetleniem RGB. Oferuje ona czujnik optyczny ROG AimPoint o rozdzielczości 36 000 DPI, trzy tryby połączenia, technologię bezprzewodową ROG SpeedNova, wymienne przełączniki, mikroprzełączniki ROG, przyciski z PBT, kabel ROG Paracord, nóżki wykonane w 100% z PTFE, pięć programowalnych przycisków, taśmę do myszy ROG poprawiającą chwyt.
Idealna precyzja: Sensor optyczny ROG AimPoint o rozdzielczości 36 000 DPI z maksymalną szybkością 650 IPS i akceleracją 50 g, a także częstotliwością raportowania 1000 Hz
Trzy tryby połączenia: Możesz grać z włączonym oświetleniem RGB przez maksymalnie 119 godzin przy połączeniu bezprzewodowym RF na paśmie 2,4 GHz o niskim poziomie opóźnień, sparować do trzech urządzeń przez Bluetooth®, a także ładować akumulator i grać przy przewodowym połączeniu przez USB
Technologia bezprzewodowa ROG SpeedNova: Niski poziom opóźnień, niezawodna wydajność połączenia bezprzewodowego i zoptymalizowane rozwiązanie zasilania w trybie RF 2,4 GHz
Konstrukcja o niskiej wadze: Udoskonalona konstrukcja z wytrzymałą strukturą wewnętrzną przekłada się na niską wagę myszy – zaledwie 75 gramów
Gniazdo przełącznika Push Fit II: Konstrukcja z wymiennymi przełącznikami dla łatwego dostosowania, mysz Keris AimPoint zawiera mikroprzełączniki ROG i jest kompatybilna z innymi 3-pinowymi mechanicznymi i 5-pinowymi optycznymi mikroprzełącznikami
Przyciski lewy/prawy z PBT: posiadają trwałą powłokę antypoślizgową, która jest odporna na zużycie i powstawanie efektu połysku, aby zapewnić stabilne wrażenia podczas używania.
Antypoślizgowa taśma do myszy z wzorem ROG: zapewnia użytkownikom bardziej pewny chwyt i stanowi stylistyczny akcent
Płynny i szybki ruch: kabel ROG Paracord i nóżki myszy wykonane w 100% z PTFE
Model dostępny również w odcieniu Moonlight White
Recenzje wideo
If you are not someone that really cares too much about having the lightest mouse, then defnitely consider the ROG Gladius III Wireless Aimpoint and ROG Keris Wireless Aimpoint.
Build PC GAMER ROG Full White Powered by ASUS à 5000 €
In this video, I take a look at the best wireless ROG gaming setup! The ROG Cetra True Wireless, ROG Keris Wireless Aimpoint, and the ROG Strix Scope RX TKL Wireless Deluxe
The ROG Keris Wireless AimPoint gaming mouse has the same ROG design but is updated and feels more refined. The Aimpoint sensor is exciting and a step in the right direction too!
Is one of the most complete mice that has ever passed through the editorial staff.
【ガチ勢発狂w】ASUSの最新ゲーミングキーボードとゲーミングマウスがヤバすぎてワロタw
あの名作ゲーミングマウス&キーボードの新作が登場しました。
【ガチ勢発狂w】ASUSの最新ゲーミングキーボードとゲーミングマウスがヤバすぎてワロタw
Playing good games need to buy "expensive mouse"?
Review ROG Gladius III Wireless & Keris Wireless Upgrade ROG AimPoint OPTICAL SENSOR
Gaming Mouse upgrade Accurate response with ROG Aimpoint 36,000 dpi
This is an excellent mouse whose attractive design, precision and light weight have rightfully earned it a more than deserved place of honor in its price range.
Personally, I think the updates in these mice are very timely and necessary. If you need a smaller size and more versatility - Keris is for you.
In fact, when we reviewed the previous version of the mouse, I was already looking at it, but it has significantly better characteristics. This mouse was "sold" to me not by some killer feature, but by a combination of all sorts of interesting things.
Asus ROG Keris AimPoint has many good additional features that can be used even without installing additional software. This makes using the mouse difficult and makes it ideal for both amateurs and professionals.
Rog Strix IIII III and Keris Wireless Aimpointgames
ROG GAMING MICE - 3 Ultimate
Preview 3 professional giming mouse
The review from the channel HDTanel (score 8/10)
There are even three-mode connections, ROG SpeedNova wireless technology, replaceable switches, ROG micro switches (switches), PBT buttons, ROG Paracord, 100% FE feet, five programmable keys, as well as a ROG mouse strap.
Porównanie produktów
Produkt został dodany do porównania. Dodaj maks. 4 produkty lub wyświetl porównanie wybranych produktów.
ASUS Footer