Nie masz żadnych produktów w koszyku.
Funkcje
Specyfikacja
Nagrody
Galeria
Wsparcie klienta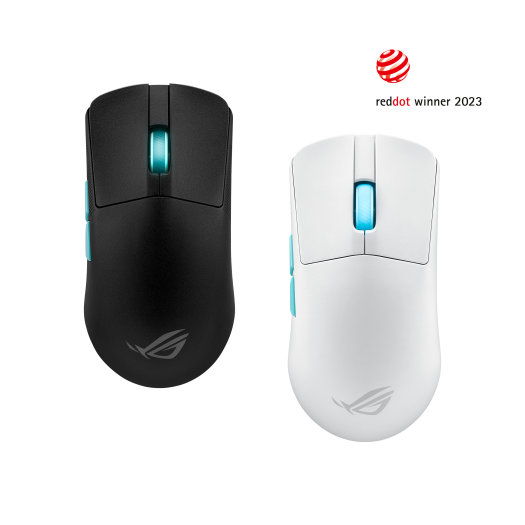 ROG Harpe Ace Aim Lab Edition
ROG Harpe Ace Aim Lab Edition to ultralekka, ważąca tylko 54 gramy bezprzewodowa myszka gamingowa o przetestowanej przez profesjonalistów konstrukcji obudowy, z sensorem optycznym ROG AimPoint o rozdzielczości 36 000 DPI, technologią połączenia bezprzewodowego ROG SpeedNova, trzema trybami połączeń, mikroprzełącznikami ROG, pięcioma programowalnymi przyciskami i funkcjami ustawień profilu do zapewnienia synergii – z narzędziem Aim Lab Settings Optimizer.
Konstrukcja obudowy przetestowana przez profesjonalistów: kształt obudowy myszki został opracowany przy współpracy z profesjonalnymi graczami e-sportowymi, aby zagwarantować maksymalną stabilność i kontrolę podczas przesuwania i namierzania.
Aim Lab Settings Optimizer: oprogramowanie służące zapewnieniu synergii analizuje mocne strony użytkownika i jego styl rozgrywki, aby stworzyć indywidualną konfigurację ustawień myszki dostosowaną do gracza.
Konstrukcja o lekkiej wadze 54 gramów: ekstremalną redukcję wagi uzyskano dzięki doskonałym rozwiązaniom inżynieryjnym i innowacyjnej konstrukcji z nylonu na bazie biologicznej
Sensor optyczny ROG AimPoint: najnowszej generacji sensor optyczny o rozdzielczości 36 000 DPI z wiodącym w branży współczynnikiem odchyleń CPI <1% dla zapewnienia najwyższej precyzji
Trzy tryby połączenia: niezrównaną elastyczność użytkowania dzięki połączeniu przewodowemu przez USB, połączeniu bezprzewodowemu RF na paśmie 2,4 GHz o niskim poziomie opóźnień, a ponadto możliwości sparowania z maksymalnie trzema urządzeniami w trybie Bluetooth®.
Technologia bezprzewodowa ROG SpeedNova: niski poziom opóźnień, niezawodna wydajność połączenia bezprzewodowego i zoptymalizowana efektywność zużycia energii w trybie RF 2,4 GHz.
Zintegrowane opcje sterowania: umożliwia bezpośrednie dostosowanie często używanych ustawień myszki za pośrednictwem różnych skrótów poleceń aktywowanych przyciskami myszki.
Mikroprzełączniki ROG: zapewniają żywotność na poziomie 70 milionów kliknięć i kontrolowane, stabilne wrażenia podczas klikania
Taśma do myszki poprawiająca przyczepność: zapewnia lepszy chwyt i ulepsza wygląd
Kabel ROG Paracord i nóżki myszki wykonane w 100% z PTFE: wykonanie z wysokiej jakości materiałów ułatwia płynne i szybkie ruchy myszką
Recenzje wideo
Is this pointless? Asus ROG Harpe Ace Aim Lab edition
AIM LAB made an INSANE 54g GAMING MOUSE?
ROG Harpe Ace Aim Lab Edition Unboxing (ASMR) #shorts
ROG Harpe Ace Aim Lab Edition Review - Just 54 Grams! Without Holes.
These could be my new favourite ROG products.
I WAS CHALLENGED to PLAY Mouse Keyboard again after 5 years and a half of playing with a controller! ⌨️🖱️
HOW TO GET BETTER at FPS with an app (Harpe ACE Mouse by Asus ROG x AIM Lab)
【最強】ROGがAim Labと作ったゲーミングマウスがヤバい!圧倒的軽さと握り心地でメインマウス待ったなし!【ROG Harpe Ace Aim Lab Edition】
【真相解明】FPSガチ勢向けのゲーミングデバイスを初心者が使ってみる【ASUS ROG ACE】
ASUSの"本気"ゲーミングデバイスで揃えたらヤバかった【ROG ACEシリーズ】
【 ROG ACE SERIES 】本気で勝つためのゲーミングデバイスが登場したぞ...!
プロと共同開発したASUS最強のゲーミングデバイスを知っていますか?
プロゲーマーと共同開発された最強デバイスをレビュー【ROG×AIMLAB】
【潜入】ASUS ROG 初のE-Sportsコレクション「ACE SERIES」発表会に行ってきた【自作PC】
【ASUS本気出しすぎて草】エイムの世界記録保持者が作った最強ゲーミングデバイスが発売されました。 [ROG Harpe Ace/Horn Ace AimLab Edition]
【超軽量54g】ASUS ROGとAim Labが作ったE-Sports向け、新しいゲーミングマウスとゲーミングキーボードを使ってみた【ROG Ace】【自作PC】
【軽量54g】ROGが本気で作ったEsports向ゲーミングデバイス / ROG ACE
ASUS ROG Harpe Ace レビュー / つかみ持ち特化?Aim Labプロと共同開発した54グラムのワイヤレスマウス
Among the strengths of the ROG Harpe Ace Aim Lab Edition are its light weight and, on a quality level, its solidity. In fact, the build quality is fantastic and the shape is also well thought out. The level of this mouse is definitely high. The only negative note is the high price.
If you play competitive FPS games and prefer light mice, you can easily choose Asus ROG Harpe Ace Aim Lab Edition mouse and ROG Hone Ace Aim Lab Edition mouse pad.
The mouse is so light that when Asus sent the box, it looked like there was nothing in it.
The mouse is better ultraweight than Logitech's in my opinion. So for me it is the best mouse I have tested so far and also the cooperation with Aimlab will set the mouse values really well into the 5th profile of the mouse memory.
This time I tested a hot new product from ASUS. It's an ultra-lightweight ROG Harpe wireless mouse specialized for esport games. Better yet, it was developed in collaboration with AimLab.
THE ONLY CURRENT MOUSE ?! |ASUS HARPE ACE x ASUS HONE ACE AIMLAB EDITION!
Harpe Ace Aim Lab Edition is a very complex and very good gaming mouse. It offers an extremely fast and precise sensor, a small body and software that allows changing many parameters through the Armory Crate software. The small body will not suit everyone, but that makes it light for quick maneuvers.
Video review from the channel ASUS ROG CIS
ROG and Aim Lab have joined forces to raise the bar for esports gaming with the ROG Harpe Ace Aim Lab Edition wireless mouse. Designed for esports and aspiring gaming professionals, this ultralight 54 gram mouse includes the Aim Lab Settings Optimizer feature that measures and analyzes user performance to create the best possible combination of settings.
Porównanie produktów
Produkt został dodany do porównania. Dodaj maks. 4 produkty lub wyświetl porównanie wybranych produktów.
ASUS Footer