Características
Especificações
Prémios
Galeria
Onde Comprar
Suporte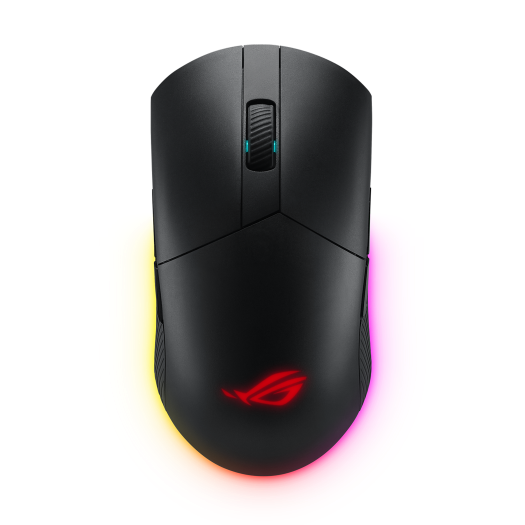 ROG Pugio II
Rato Gaming Wireless ROG Pugio II ambidestro leve com sensor ótico 16.000 dpi, 7 botões programáveis, botões laterais configuráveis, DPI no botão de Scroll e iluminação Aura Sync RGB
Conetividade otimizada incluindo duas redes wireless 2.4GHz e Bluetooth (BLE), além de USB com fios
Sensor ótico de topo com 16 000 dpi e 400 ips para uma performance excecional
Rato Gaming verdadeiramente ambidestro com botões laterais magnéticos configuráveis
Design Exclusivo do Socket para Comutadores Push-Fit, cobertura superior magnética removível e distintivo Personalizado para DIY descomplicado
Até 100 horas de gaming wireless com sensor energeticamente eficiente
Manipulação de DPI On-the-scroll para ajustes de precisão descomplicados
Design leve para deslizar rapidamente com controlo preciso e portabilidade
Mecanismo do botão em pivot para uma resposta rápida e performance precisa, acompanhada por uma sensação tátil suave.
Video Reviews
With a lightweight design, seven programmable keys, as well as integrated Aura RGB lighting, the Pugio II will suit any gamer who wants perfection during the game.
A scientist's third-grade daughter did a free study on the World Wide Web.
The mouse turned out to be very cool in form, which took all the best decisions from competitors and brought in its decisions, some controversial, some very cool.
Cool mouse - a very cool design, it's cool that you can change switches, all of these keys are a trifle, but nice.
I would not say that this is just marketing - if you buy this mouse, it has everything and you will have it for many years.
We have a truly versatile wireless mouse. Particular attention should be paid to the sensor - it is almost impossible to break.
I didn't pin any hopes on the top-notch product, I was probably even skeptical about this mouse, and as a result I got the mouse that I will always use on a constant basis.
For two weeks of use, I have only pleasant impressions of the mouse. Pressing the buttons is clear, there are almost no backlashes, the sensor works smoothly, without interruptions, the mouse is convenient for work and of course for games.
The mouse is comfortable to use, I liked that it is synchronized with the computer and the keyboard, everything glows in time and in tune.
Video review from the channel ASUS ROG BALTICS
Comparação de Produtos
Product added to comparison. Add up to 4 products or proceed to view compare products selected. Produto adicionado para comparação. Adiciona até 4 produtos ou continua para comparares os produtos selecionados.
ASUS Footer