Características
Especificações
Prémios
Galeria
Onde Comprar
Suporte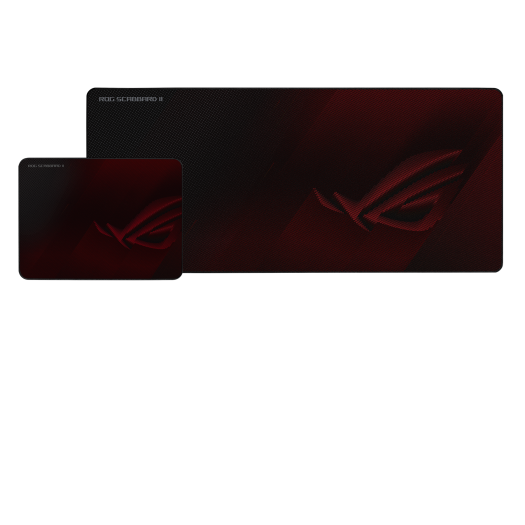 ROG Scabbard II
Tapete Gaming Extended ROG Scabbard II com nano revestimento protetor para uma superfície que repele água, óleo e pó, com arestas anti-desgaste, pontas lisas e uma base de borracha antiderrapante
O revestimento nano protetor de classe militar proporciona uma superfície impermeável à água, óleo e pó, e assegura um deslizamento suave do rato
Cantos anti-desgaste e costurados com pontos invisíveis
O design da moldura com pontos estreitos garante uma durabilidade longa e uma estética mais limpa
Video Reviews
WE REMAKE YOUR GAMING ROOM ! (ft. Guillaume)
I build a 5000€ Gaming PC !
I'm TRYING TO MAKE TOP 1 MIRROR KEYBOARD AFTER 5 YEARS OF PLAYING HANDSET!
I'M DOING AN €8500 SETUP CONTEST!!! 😱 (incredible)
Discover Inoxtag's incredible JUNGLE Gaming PC mod for €10,000, a piece of art!
处女秀开箱!一起来开箱看看 ASUS Republic of Gamers 最新的无线外设! Mousepad:ROG Scabbard II Mouse:ROG Keris Wireless Keyboard:ROG Falchion Headset:ROG Strix Go 2.4 Keycap:ROG PBT Doubleshoot Keycap Set
我第一次把油倒在mousepad上,有点怕怕哈哈哈哈哈 虽然这期影片有点长,但是资讯满满哦!
Looking to spend some cash? January presents 4 new products in under 4 minutes - see, nice, BUY!
Need somewhere to spend your duit raya? Laphel presents 4 new products in under 4 minutes - see, nice, BUY! ;)
MamaJess' gaming setup just got a brand-new makeover from ASUS Republic of Gamers! Check out her unboxing of the entire collection 😎
Do you love your gaming gear like Nyan Yan does? If not, it's time to buy ROG gear and syok together 🥳
Have you checked out Zizan Razak 's latest all ROG PC build lately!? 🤩 If you haven't, click on the link and admire this absolute beauty of a build!
I built a white gaming PC.
MousePad SULTAN ! - ROG SCABBARD 2 Review Indonesia
Review the new ROG Gaming Gear
Review the new ROG Gaminf Gear
Review Gaming Gear and Monitor for monster hunter rise
Review Gaming Keyboard with ROG NX Switch and Gaming Gear Set
The review from the channel stupidmadworld
Comparação de Produtos
Product added to comparison. Add up to 4 products or proceed to view compare products selected. Produto adicionado para comparação. Adiciona até 4 produtos ou continua para comparares os produtos selecionados.
ASUS Footer